How to Make a Movie on an Android Phone: The Best Guide Out There
Smartphones are considered handheld computers. With its portability and functionality, everything you can do on a standard computer is also doable here. You can play games, watch movies, browse the internet, download apps, and more. How convenient it is to use smartphones, especially Android phones. Many applications are available to download on Android, including applications to create movies. These applications can be free or paid, but all are capable of producing decent films. And in this article, you know how to make a movie on an Android Phone using two methods. Yet, another method to create a movie compatible with your Android phone uses a desktop tool. Continue reading below to know what is in store for you.

Part 1. How to Make a Movie on Android
There are two ways to make a movie using your Android phone: using Google Photos or downloading a video maker app from Google Play Store.
Google Photos
Well then, beneath is a quick guide on how to make a movie on an Android phone using Google Photos.
Step 1
Launch Google Photos on your phone. On the bottom area of the interface, tap Library and then Utilities.
Step 2
Next, choose the Create New section, then press Movie. After that, tap New Movie and select photos and videos for your footage. Tap Create to make a movie.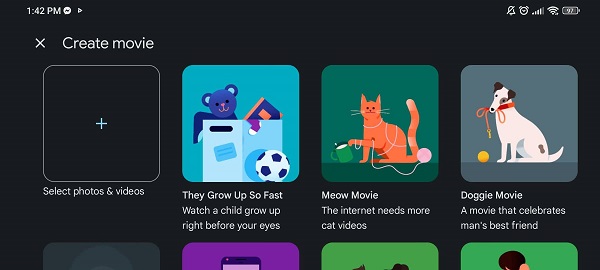 Step 3
To change the music of your clip, press the Music icon. You can choose My Music, Theme Music, and No Music.
Step 4
Once you are okay with your work project, click Save to store it on your device and cloud storage.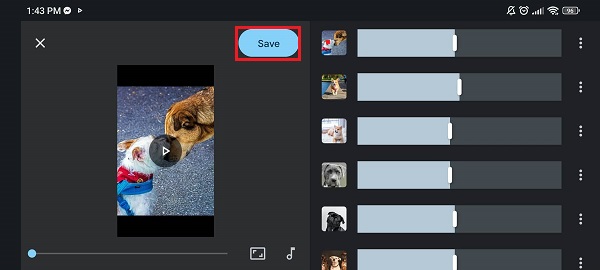 InVideo
The next app we will use is a free-to-download app called InVideo. Refer to the steps below on how to make a movie on an Android phone using this app.
Step 1
Download the app on Google Play Store and wait for the installation to finish. Open the app and tap Camera Roll to use photos from your media library.
Step 2
Use the editing tools and functions like adding music, voice-over, text, overlay, and more to enhance your work. You can also modify the frame dimension of the movie to landscape or portrait.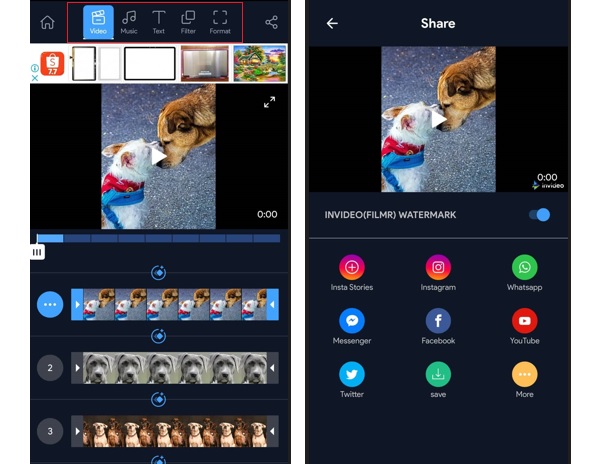 Step 3
Click the Export icon and choose the final video output resolution and frame rate. Tap the Export button and wait for the process to finish. The movie will appear in your photo library.
Part 2. How to Make a Movie on a Computer for Android
Desktop video editing programs are much superior and more convenient than mobile applications. You can use larger and multiple screens for the multitasking process. There are also features that desktops can only handle. For that matter, you can try this excellent tool, Video Converter Ultimate. This beginner-friendly program packs plenty of powerful tools that you can use to create movies easily. You can use the MV feature that contains templates that you can use for free, making your videos exceptional. Other features include adding effects and filters, putting watermark logos, adding texts, integrating background music, etc.
Key Features:
* Supports various audio and video file formats (FLAC, MP3, AAC, AIFF, MP4, MPEG, MOV, etc.)
* Plenty of templates and filters for videos
* Free-to-download on Windows and Mac devices
* Simple interface with well-laid-out buttons
Step 1
Visit the program's official website via a web browser or tap the Download button to begin downloading. Run the .exe file and proceed to install the software. Wait for the installation process to end. After that, the tool will open automatically. Use the MV feature to start making a movie using this program.
Step 2
On the MV feature, there is a + Add button on the bottom part of the interface. Use the said button to include media files from your computer. After uploading the images and videos into the program, you can edit them. Click the Edit button, and a pop-up window will appear. You can add filters, adjust effects, add a watermark, and more on the panel. Tap OK to apply changes.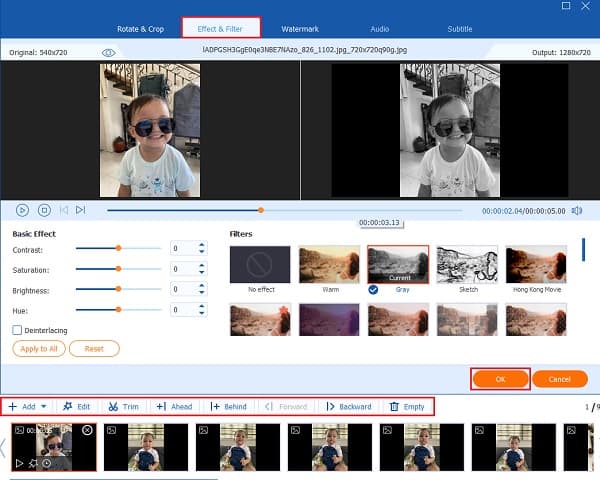 Step 3
Use the Setting tab to use music from your device as background music of your choice. Click the drop-down list button, then tap Add. You will then get to browse your audio files. Choose your desired music, then click OK.
Step 4
Head to the Export tab to set the file destination of your created movie to your device storage. Click Start Export to commence the export process. Keep in mind that the processing time depends on the length of your work. Once the process ends, the output folder of the file will pop immediately.
Step 5
Change the format of the movie that is compatible with Android phones. To begin, go to the Converter feature. Then, click the +Add Files button and add the movie. Hit the Format icon, then select Android under the Device tab. Choose the highest resolution available for the best quality.
Step 6
After setting the file output format, click Convert All, which will start the file conversion process. Wait for the program to finish so you can transfer the output to your phone. Finally, enjoy watching the masterpiece you created using this movie maker.
Part 3. FAQs on How to Make a Movie on Android
Which video file formats does Android Support?
The default video player in Android usually supports these formats: H.263, H.264 AVC, and VP8. You may need to employ a file converter program to play videos in other formats like AVI, MKV, and FLV. However, you can use the Converter feature of Video Converter Ultimate as this program supports many video and audio file formats compatible with Android.
Can you download iMovie on an Android phone?
Unfortunately, no. Apple still has no plan to make iMovie available on Android phones. Regardless, there are plenty of movie-making apps similar to iMovie on the Google Play Store.
What is Google Photos?
Google Photos is a photo organizing application available on Android, Chrome OS, and iOS. This app can store, view, edit, and share photos and videos online and offline. There is cloud storage available that you can use to back up your media files.
Conclusion
Great! You have learned how to make a movie on an Android phone. Indeed, this will significantly help you whenever you need to make a movie for school and work. And if you are not fond of using Android apps to create movies, you can always use your desktop. Don't hesitate to use Video Converter Ultimate and choose it as your favorite movie maker program. Your next movie will look professionally made, and your viewers will surely be amazed by it.