3 Impressive Ways on How to Make a Music Video on PC & iPhone
Music videos are popular on social media platforms and online streaming sites. You get to enjoy listening and watching your favorite artist, musician, and band. It is one of the best forms of entertainment. You might be wondering how they make music that stunningly. The answer to that question is you need a professional editor and a powerful video editing tool. But nowadays, you don't need to be so good at editing to make stunning music videos. All you need is a video editing tool that offers all the features and functions for video making. This post includes applications you can try for computers and iPhones. Guides and tutorials are also covered on how to make a music video creatively. Let's dive in!
Part 1: How to Make Music Videos on a Computer
The best option to make a music video is by using and working on a computer. Desktops and laptops are the most convenient device to use for video editing. You have a big screen, excellent video editing apps, keyboard shortcuts for faster working time, and a better overall experience. Speaking of excellent video editing apps, one desktop program caught our attention: Video Converter Ultimate. This program's main function is to convert files into file formats. But it has a feature dedicated to making music videos, called MV. With the help of this function, you can create videos without difficulty. You get to use tools and features to apply themes, filters, add texts, subtitles, and background music, which is perfect for music videos and movies. In addition, you can operate this program on Windows and Mac computers, and it is free to download.
Key Features:
1. Smooth and stable application
2. Well-designed user interface
3. Multi-functional program (File Converter, DVD Ripper, Collage Maker, Toolbox, etc.)
4. Unlimited import of audio, video, and images
5. Numerous templates with different themes
Here's a demo guide on how to make a music video using the most recommended desktop program.
Step 1
Download Video Converter Ultimate on its official website, or you can just click the Free Download above. Follow the instructions of the installation tool to install it properly. Once complete, launch the app and use the MV feature to start making videos with music.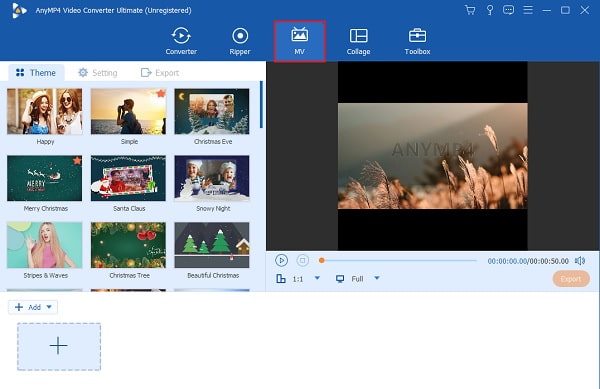 Step 2
On MV, you will see the +Add button for importing media files from your device folders. Click the said button to add video clips to the desktop program. You can rearrange them on the timeline, then click Edit to enhance the videos. You can rotate, crop, and add filters and effects to each clip. Tap OK to apply the adjustments.
Step 3
Tap Setting to import songs and use them as your background music. To add, tap the drop-down list menu and click the Add button, then click the audio track to select and include them in the program.
Step 4
To finish your music video, go to Export. Click the drop-down menu at the side of Format to choose your desired output format. MP4 is the best choice. This is one of the popular formats today. If you are done editing, hit Start Export. The music video will then be saved automatically on your PC. Close the program and start watching your newly made music video. You also can use this software to make a slideshow with music.
Part 2: How to Make a Video with Music Online
Clideo is an online application that you can use for quick video editing. You can use this web tool to gain experience in making and creating videos. This tool contains basic editing tools like cropping, resizing, rotating and merging videos. You can also add texts and music that corresponds with your video, adding uniqueness to it. Other features include Meme Maker, Video Cutter, and Video Compressor.
Additionally, the good thing about Clideo is that you don't need to download it in order to use it. But that is also a disadvantage because you are required to be connected to the internet at all times. Nevertheless, Clideo is safe to use as it offers standard security features for information privacy. Use the guide below on how to create a video with music using Clideo.
Step 1
Head to Clideo's official site to begin editing a video. Use the Video Maker feature and click the Choose Files button to upload videos. You can upload from Google Drive, Dropbox, and your computer file folders. Select one video and wait for it to upload.
Step 2
The user interface of Clideo is simple. There are options for adding more video files, modifying the aspect ratio, and adding background music. Click Add Audio to import songs from your Google Drive, Dropbox, and file folders.
Step 3
After uploading the music, click Trim Audio to shorten the music suitable to the video. You can choose which part of the music you will use as background music. Tap the Volume button to adjust the audio track and video sound volume according to your preference.
Step 4
To finalize the video, choose a final output format like MP4, 3GP, AVI, etc. Afterward, click the Export button to export the video. You can then download it to save on your computer.
Part 3: How to Make Music Videos on iPhone
iMovie is a versatile Apple-exclusive application dedicated to video making and editing. You can download and use it on any Apple device such as iPhone, iPad, and Mac computers. This is free, by the way. Using iMovie is the same as other video editing apps. You get video-making and editing tools like transition effects, filters, subtitles, texts, and adding audio music as background. It is a viable tool for making music videos. You won't have a hard time integrating music as it supports iTunes and Apple Music. There are free soundtracks available in the app as well. Below is a guide for you to follow on how to make a music video on iPhone with iMovie.
Step 1
Download the video maker on your iPhone in the Apple App Store. Open iMovie and choose the option Movie to begin creating a music video.
Step 2
iMovie will open your Photos library so you can choose any video you want to edit. Tap the video or videos, then click Create Movie to move to iMovie's workspace.
Step 3
Click the Plus button to see the other options you can use, like adding more videos and photos, changing the background, inserting voice-over, and adding audio. Tap Audio to add songs.
Step 4
On the Audio tab, there are three options to choose from, Soundtracks, My Music, and Sound Effects. If you don't have music on your iPhone, you can use the songs on Soundtracks, which are free to use. Select the music you like, which will automatically be included in the video timeline.
Step 5
Play the video before you exit the program to see if it is the desired outcome. Tap Done to save the music video project. You can save the video on your Photos library or share it on social media platforms like Facebook, TikTok, and Instagram.
Part 4: FAQs on How to Make a Music Video
Does the free version of Clideo add watermarks to the videos you make?
Sadly, watermarks are present in the videos you make using the free version of Clideo. You can remove the watermark if you avail the premium version it offers.
Which is better for making a music video, computer or smartphone?
Smartphones are great because of their portability and vast applications you can download, but they lack the power to run applications long enough compared to computers. They are also battery-powered, have a smaller screen, and have lesser functions. In short, computers are better for making music videos.
How long should a music video last?
The recommended time for a music video to last is about 2 minutes. Longer videos are fine as long as it is compelling to your viewers.
Conclusion
Have you enjoyed reading about how to make a music video with just you by using your computer or iPhone? It is enjoyable to do one, especially with the right program that makes editing easier. Video Converter Ultimate truly is one of the best programs you can use to create music videos at home. Regardless if it is the free version or not, you can still get great results from using it. Create your own music video now and post it on your social media accounts. We hope to see the videos you are making soon.