Outstanding Online and Offline Solutions on How to Create a Slideshow [100% Working]
No one can deny how photographs made our visitation in the past possible. And perhaps, scrolling through your album, either physically or digitally, is one of the most enjoyable things you do. Whether you want to look at your parent's wedding day, the first birthday celebration of your younger sibling, or an unforgettable trip to a foreign land.
Yet, you can now see those captured memories in motion by curating them in a slideshow. A slideshow consists of static pictures combined in a timeline to give you a bit of information. It is advantageous because you can easily play them on your media players, TVs, phones, tablets, etc. Plus, you do not just get to watch them and satisfy your eyes. You can also add a piece of soothing music in the background for your ears' delight. Therefore, stay tuned until the end as we guide you on how to create a slideshow using the best programs in the market.

Part 1: Two Ways on How to Make a Slideshow on Windows & Mac
Way 1: Bluraycopys Video Converter Ultimate
If you want an excellent slideshow output, you also need a great tool to do the job effortlessly and efficiently. Bluraycopys Video Converter Ultimate is a cross-platform program geared toward a slideshow maker. When we say cross-platform, it means that it perfectly works on various operating systems like Windows and Mac. While the program's primary purpose is to convert one format to another, you can rely on it when you want to add a touch of spice to your static photos.
One more thing, Video Converter Ultimate possesses a user-friendly interface that suits both the beginner and a pro editor. From the program, you can choose several templates for any occasion, which makes your photos more engaging and impressive. What is more, you can set outstanding effects when transitioning your image from one to another.
Key Features:
1. Holds a wide range of picture formats like JPG, TIFF, GIF, BMP, and more.
2. Windows and Mac operating systems are supported.
3. Supports popular audio formats for your background music.
4. Photo Collage Maker.
5. DVD Ripper for extracting DVD files and for creating DVDs.
If you want to get a hand with this powerful program, ready your photos in a folder and follow the guide below on making a slideshow.
Step 1
Download the best slideshow maker
First, tick the Free Download button above that is appropriate for your device. After that, double-click the program file and follow the installation process.
Step 2
Upload photos to the program
When the program is already launched, go to the MV tab to start working on your project. Then, select the theme according to your preference. Once done, hit the Plus icon below the interface. Then, another window will appear, directing you to the computer folder for you to select the target photos.
Step 3
Enhance photo
Another feature you can try on with this slideshow maker is you can edit your photos individually. To edit your picture, select the Edit button that appears like a magic wand. From there, a window will appear where you can rotate, add filters and effects, and layer a watermark on your file. While editing, you can check your modifications as the program shows your original and edited picture in a real-time preview.
Step 4
Adjust the slide duration
By default, your photos are set to play within a five-second duration. If you want to shorten or lengthen the slide, hit the Trim button. Moreover, you can change the sequence of the photos by clicking the Forward and Backward buttons. Alternatively, simply drag the picture and locate it in its respective position.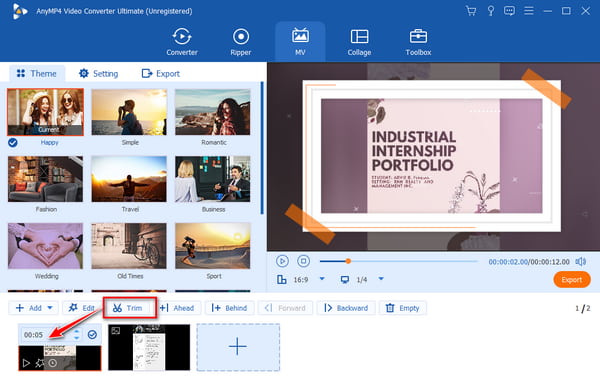 Step 5
Add a background music
When you select a certain theme from the program, it is also incorporated with background music. However, if you want to add your own music file, go to the Settings tab and uncheck the Keep Orignal Audio Track. After that, hit the Plus icon on the Background Music section and upload your audio.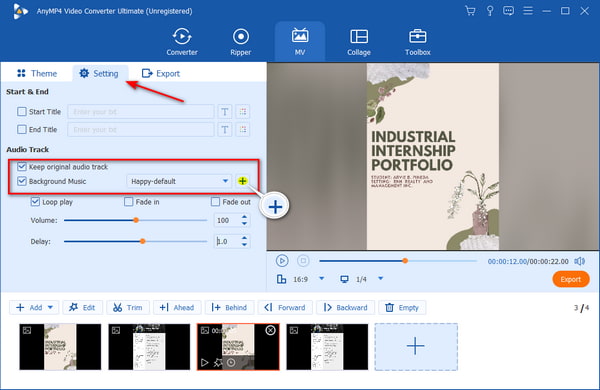 Step 6
Export your final output
If you are satisfied with your work, begin to hit the Export button to save the output on your device. On the left side panel, set your desired format, frame rate, resolution, and even the folder location for your project. When all is set, hit the Start Export button to commence the process.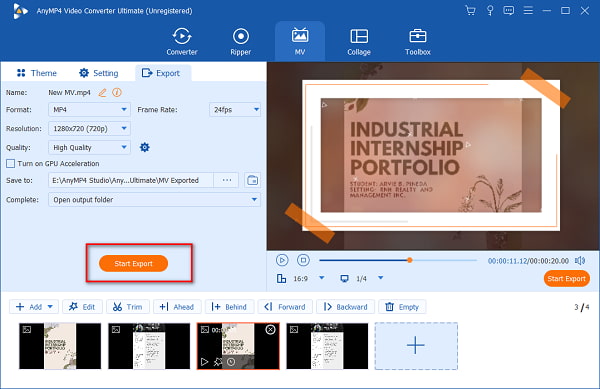 Way 2: Movavi Video Suite
Another slideshow maker suited for your Windows and Mac devices is the Movavi Slideshow Maker. This program comes with a dark color interface that appeals aesthetically pleasing to your sight. Like the Video Converter Ultimate, you can create your one-of-a-kind slideshow with just a few clicks of your fingers. It can also take your photos to the next level as it offers numerous options for filters, transitional effects, music backgrounds, and the like. But if you are a professional user, this tool might not be the one for you. It has limited effects and transitions and lacks advanced editing tools. It also slows down when rendering heavy video files.
If you like to learn how to do a slideshow using the program, refer to the tutorial right here.
Step 1
After launching the Movavi Slideshow Maker, start importing your files to the program by clicking the File Import. Alternatively, press Ctrl + I on your keyboard. Once your photos are loaded on the Media Bin, drag the files and drop them on the timeline located below the program's interface.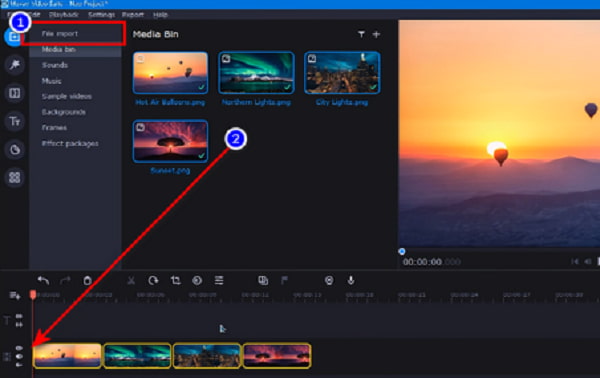 Step 2
Next, select the appropriate duration for each file by selecting the Clip Properties icon. In the general tab, you can also adjust the time for the Fade In and Fade Out effects of each slide.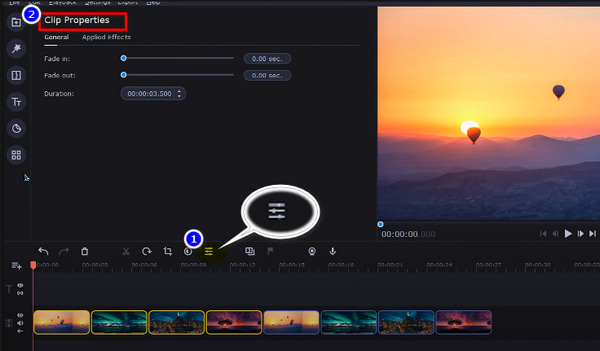 Step 3
Once done adjusting your slides, start to upload your preferred background music. Similar to what you did on the photos, drag the audio file from the Media Bin and drop it on the Audio timeline.
Step 4
Now, hit the Preview button to check the sequence of your photos. If you are already satisfied with the work, hit the Export button to save the file on your computer device.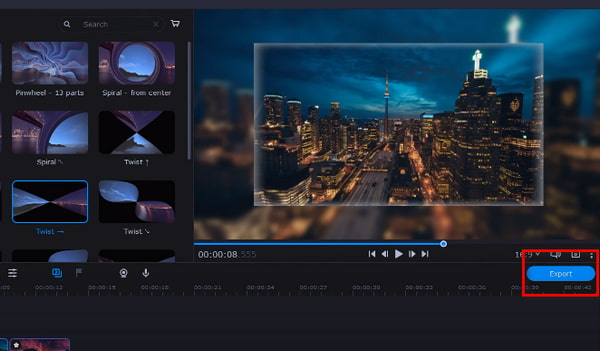 Part 2. How to Make a Slideshow Online
While using an offline program is a great option when creating slideshows, you can also use an online tool like Clideo. This program is an online slideshow maker and supports a variety of photo formats like JPG, PNG, GIF, TIFF, and more. As for the features, this tool can also edit your photos but at a limited option when using the unpaid version. If you are on a tight budget and do not want to install an offline program on your device, this tool is ready to serve your needs. The downside of using an online slideshow maker is that you need to be connected to the internet at all times.
Moving on, here is a quick guide for you in using the online program.
Step 1
First, type in the name of the program in your favorite browser to land on their official website. Then, click the Choose File button to upload the photos to their program. Then, your computer folder will appear, and select the images you want to sew together on a slideshow.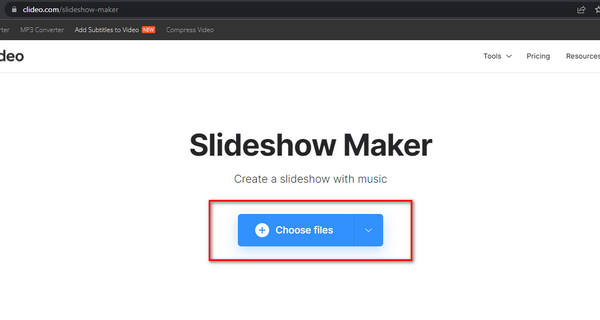 Step 2
Next, begin to adjust the frame size of your photos on the Crop Options. Also, expand the Duration tab and select the appropriate seconds for each image when played.
Step 3
After that, scroll down the tool panel, and you will see the Add Audio textbox. Add your favorite background music to add another element to your output. After that, you can also change the format of your output by expanding the Format button below the program's interface. When all is set, hit the Export button to download your work.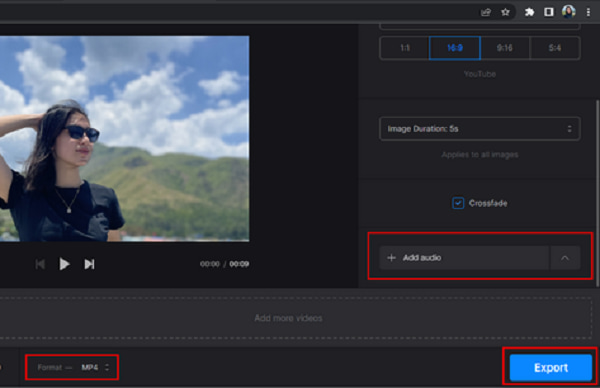 Extended Reading:
How to Make a Slideshow on iPhone Using 3 Effective Methods
Top 6 MKV to DVD Video Converter Online & Offline Use
Part 3: FAQs about Slideshow Making
Can I make a slideshow from videos?
Definitely, yes! Basically, creating a slideshow out of your personal videos is similar to the process when using photos. However, you need to find a program that supports video formats. Bluraycopys Video Converter Ultimate is one of the programs that have the capability to create video slideshows.
Are online slideshow makers safe?
Most of the time, online slideshow makers are considered safe. Like Clideo, it automatically deletes all of the user's uploaded photos on their site within 24 hours.
Can I add text to my slideshow?
Absolutely, yes! Especially when your slideshow aims to tell a story or sequence of events, you can add captions to each of your photos.
Conclusion
And there you have it! By this time, you know how to make a slideshow video! For sure, from the list of methods given in this post, you will always have solutions whether you are using a Windows or Mac computer or even when you want to use an online program. Movavi Video Suite and Clideo require you to be connected to the internet all the time to use them. It is not great if you are in a place with weak or unusable internet. And in terms of reliability, Bluraycopys Video Converter Ultimate excels because you can use it offline. And aside from the slideshow maker, it also has file conversion, collage maker, DVD ripper, and many more. A great all-in-one solution in just one program.