Ultimate Guide on How to Make Captivating Videos for Instagram
Instagram is a famous social media platform alongside Facebook and TikTok. You can post your own videos, images, or media files from the internet and other social media platforms. You're unrestricted to post whatever you like as long as it is not explicit content. Also, you cannot just upload any videos to your Instagram without editing them first. You should put effort into making your videos beautiful to attract and gain new followers. And with that, we are here to help you make your next mesmerizing videos for Instagram. We will teach you how to make videos for Instagram that will guarantee you gain plenty of likes. There are also tips included, so read the whole post to learn everything.
Part 1. How to Make Videos for Instagram on a Compute
We all have smartphones, and it is very convenient for us to use them for making videos to post on Instagram. We rarely use our computers for browsing and posting videos on Instagram. But editing videos on a computer is much more suitable than on a smartphone. You can get powerful video editing tools with more functions and a bigger screen. Here's a program that will certainly help you in creating stunning videos, Video Converter Ultimate. This reliable free-to-download program allows you to make excellent videos using the MV feature. You can make presentations, slideshows, movies, and videos worthy of social media posts. Additionally, you can easily edit your videos by adding themes, filters, texts, effects, and more for a few minutes.
Key Features:
* Supports videos up to 4K HD at 60fps
* Supports 500+ audio and video formats (MP3, AAC, WAV, MP4, AVI, MOV, etc.)
* Play 4K videos in MP4, H.264/MPEG-4 AVC, H.265/HEVC
* Editing options like Rotating, Cropping and Merging videos
* Available to download on Windows and Mac systems
Here's a detailed step guide on how to make videos for Instagram using this highly commendable video editing program for desktops.
Step 1
To start, click the Download button above to obtain the program. Run the installation wizard on your PC and wait for the process to finish. Open the tool and use the MV feature to start editing videos.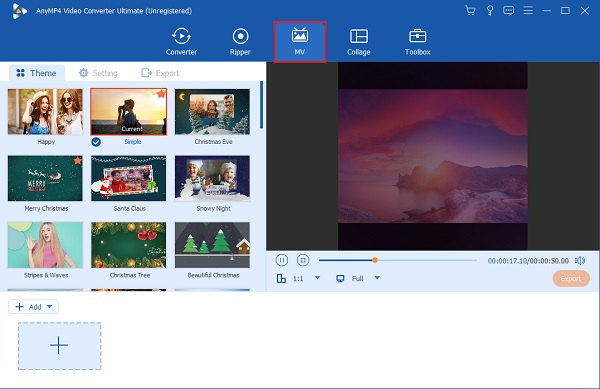 Step 2
On the MV tab, there are templates with different themes that you can use and apply to the video. Click the +Add button to add the video to the program. After adding the video, you can hit the Edit button to enhance your video by applying effects and filters, watermarks, and more. Tap OK to apply the changes.
Step 3
Move to the Setting tab to alter the background music to your video by adding your own. Click the Plus sign button to change the music by using any music from your device.
Step 4
For the final step, head to the Export tab. Choose a file destination folder on your computer so you can locate your file easily. Click Start Export to begin exporting the video. Wait for the process to end before shutting the program. You also can use this function to make videos for TikTok.
Part 2. How to Make a Video for Instagram with Pictures on a Phone
Turning pictures into a video so you can post it on your Instagram account using your phone is so easy. You can download plenty of free video editing applications on your phone. Here's an application you can try using for videos for Instagram that is available on Android and iPhone.
InShot is a widely known application for creating videos, making photo and video collages, and editing your images and video clips. This tool is also great for creating videos for your Instagram posts. It supports videos up to 4K HD at 60fps frame rate, but it only supports MP4 and MOV file formats.
Follow this uncomplicated tutorial on how to make a video for Instagram with pictures using this popular video editing phone app.
Step 1
Download the video maker on Apple's App Store or Google Play Store. Open the app, then choose Video to start creating a video for your Instagram.
Step 2
After that, choose video clips or photos from your photo library that you will use for your video. Tap the Check button and wait for the uploading process to finish.
Step 3
In the next step, you can edit the photos individually. There are plenty of editing tools, like adding texts, filters, stickers, voice-over, etc. Head to the Crop tool to change your video's aspect ratio, which is ideal for Instagram. After customizing, you can tap the Share button above to save the video.
Step 4
Before saving, you have the option to change the resolution, frame rate, and format. It also displays the estimated file size of the video. Hit the Save button to store it on your device. You can also share it directly on your social media accounts like Instagram so your friend can see your new video.
Part 3. Tips: How to Make a Video Fit on Instagram
Instagram only supports limited image and video formats, and mostly the widely used ones like JPEG and MP4. This poses a problem if the format of the video is different. But there is a simple solution to that problem, you can use Video Converter Ultimate to change it to a format fit on Instagram for free.
Here's a short guide on how to make a video fit on Instagram using the most outstanding tool.
Step 1
Open the program and head to the Converter feature. Click the +Add Files button to start adding the video that needs to change its aspect ratio for Instagram.
Step 2
After adding the video to the program, click the Format icon where all of the supported file formats for audio, video, and device are located. Choose the Instagram-compatible format and select the highest quality possible for the best viewing experience.
Step 3
For the last part, click the Convert All button to start the conversion process. Wait for the process to finish. Open the file destination folder on your device and share the newly created video on your Instagram account.
Part 4. FAQs on How to Make a Video for Instagram
What are the four categories of video posts on Instagram?
Here's a list and brief explanations about their purpose. IG Video- These videos usually appear on your feed and posts and have a limit of 60 seconds. IG Story- These short videos disappear from your profile after 24 hours and have a limit of 15 seconds. IG Reels- These videos appear on your feed and can be expanded to full screen when you tap them. It can go up to 60 seconds long. IG Carousel Video- These posts appear on your feed and contain multiple images and videos in one post.
What are the video formats you can use for Instagram?
Instagram supports three video formats that are commonly used today. Here are the said video file formats. MP4- this is the ideal Instagram video format with H.264 codec and AAC audio. This is also the default format on smartphones. MOV- Instagram can also handle .mov files, the native video format of Apple. GIF- which also stands for graphics interchange format, is a short, soundless repeating video. To upload a GIF, you must convert it to a video at least 4 seconds long.
What is the largest video file size you can upload on Instagram?
The largest video file size you can upload on Instagram is 3.6GB for 60-minute videos. This is for Instagram Video. Instagram Live videos can go 4GB and higher when archived.
What is the recommended aspect ratio of videos on Instagram?
The best and most recommended aspect ratio of a video on Instagram is 9:16, but 4:5 also works well. And to make your videos look better, you should upload them in 1080p resolution. This is the highest video resolution that Instagram supports.
Conclusion
Good work! You have fully grasped how to make videos for Instagram effortlessly, whether on a desktop or on the phone. Both are practical to use, but desktop programs are superior in terms of features and editing tools available. For that matter, Video Converter Ultimate would be the best video editing program for beginners and advanced users when you make a video for Instagram.