How to Make Slideshows with Music on Windows/Android/iOS
The best slideshow always has music included in it. Music makes a video very catchy. The same is true for slideshows. You would know that the person is a professional if the slideshows they make are complete with effects, music, and filters. Aside from that, they are also using reliable programs that can produce such results. And with the help of this post, all the quick ways you can use how to make a slideshow with music are here. Let's start learning.

Part 1: How to Make Slideshows with Music on Windows 10/11
The best device to use whenever you want to create a slideshow with music is a desktop or laptop. Desktops and laptops have great specs that can handle demanding applications, especially video making and editing. And for Windows 10/11, one such app excels in slideshow making. Video Converter Ultimate is a file conversion program with a powerful feature for creating slideshows. The MV function can also do short movies, music videos, and educational and tutorial videos as well. You are free to use all the templates, filter effects, and add texts and subtitles.
Furthermore, you have the freedom to import images, video clips, and soundtracks without restrictions. The user interface is simple but full of functions. You can have this program on Mac devices as well.
Key Features:
1. Can export videos at lightning-fast speed.
2. Audio Sync function for syncing the song correctly with the video
3. Video Cropper- for cropping unnecessary parts of a video
4. Support several Video Aspect Ratios
Please refer to the step-by-step process on how to make a slideshow with music on Windows 10/11 using this outstanding desktop app.
Step 1
Click the provided Free Download button above to download the application to your PC. Wait for the EXE file to finish downloading, then run it. Follow the instructions of the installation wizard. After it ends, the program starts automatically. Use the MV feature to start creating slideshows.
Step 2
With the MV feature, you can select templates with suitable themes for slideshows. After that, you can now choose and add images from your device to the program. Click +Add to import media files from your file folders. You can reorganize them in the sequence you want them to appear. Then tap Edit to apply filters and effects on the media files. Tap OK to set the changes.
Step 3
Proceed to Setting to use a song from your device as background music for the slideshow. To accomplish that, click the drop-down list beside Background Music and tap Add. select any music you like and import it into the application.
Step 4
For the last step, move to Export. Use the drop-down list next to Format and choose what final video format is good. MP4 is an excellent choice as it works on almost all platforms. Click Start Export to store the slideshow on your PC. Wait for the exporting process to finish, and then close the program.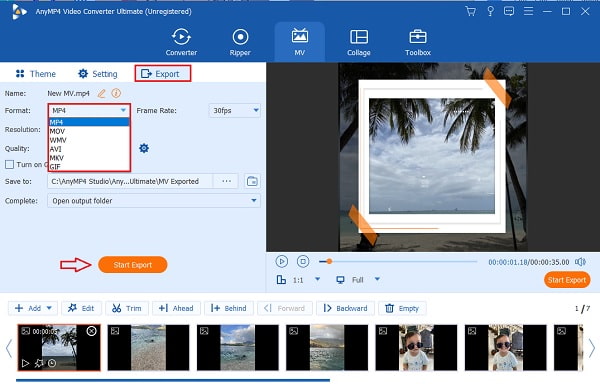 Part 2: How to Make Slideshows with Music on Android
Smartphones have all sorts of applications available to download for free and paid. And for Android users out there, you can download a dedicated slideshow maker on the Google Play Store. Scoompa Video is one of the apps you can use to make slideshows with music amazingly. Here's a walkthrough on how to make a slideshow with music on Android using this application.
Step 1
Download Scoompa Video on Google Play Store. Open the app, then click the orange Plus button to create a new project slideshow.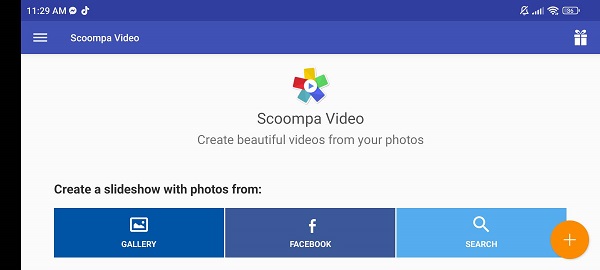 Step 2
You can use photos from your Gallery, Facebook, or images from the internet. Click the orange Check button to add the chosen pictures to the app for the slideshow.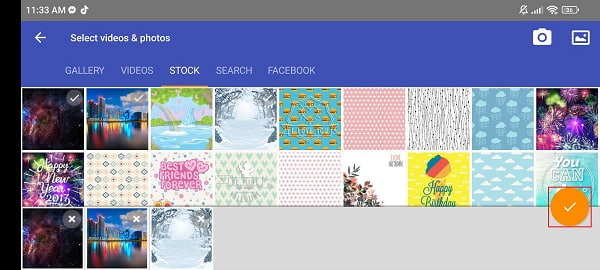 Step 3
It is time to edit your slideshow. You can use the given tools below your screen. You get 60+ transition effects, set video aspect ratio, add background music, filter effects, and many more. Use the features to create one amazing slideshow.
Step 4
After finalizing your picture slideshow with music, tap the Share icon to export your project. You can save it in your media gallery or share it on Youtube, Facebook, Messenger, TikTok, and other websites.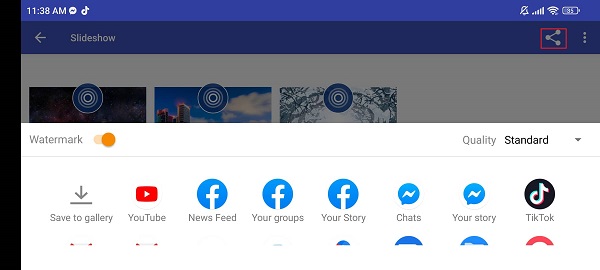 Part 3: How to Make Slideshows with Music Online
You can try using an online program if you are too lazy to download an offline program or cannot download one because of the slow internet. Google Photos is a free Google app where you can store media files. This is cloud-based storage if you are not aware of it. You get 15GB of storage and is free to access using your Google account. You can also create a slideshow with music with this application. We will guide you on how to make a slideshow with music with Google Photos online. Let's start.
Step 1
Use any web browser on your computer, type and search Google Photos and log in to your account. Choose Utilities located on the menu on the left side of your screen. Select Movies to create a slideshow with music.

Step 2
Tap New Movie so you can begin creating a slideshow. Select photos from your cloud storage, and you can add up to 50 items. Afterward, click Create to import the images.
Step 3
You can now start editing your slideshow. You have the freedom to change the duration of each photo and apply a filter for each one. To add music, click the Music icon and choose Theme Music to select one as your background music.
Step 4
Click Save to store the newly made photo slideshow with music on the Google Photos' cloud storage. The media will be seen first on the list and can share directly on Facebook and Twitter or create a link you can send to your friends.
Part 4: How to Make Slideshows with music on iPhone
For iPhone users, you can use a native application of Apple that has been pre-downloaded on your smartphone since day one. You don't need to search on the App Store for a suitable slideshow, the Photos app is more than enough for the job. Your media gallery has the option to create slideshows instantly. It is called Memories, a compilation of images with similar categories, places, and dates. We will show you how to make a video slideshow with music on the iPhone Photos app.
Step 1
Click the app on your iPhone to open. Then tap the For You section, which is placed on the bottom part of the interface. This is where you will select Memories.
Step 2
Memories are like an album. Tap See All to expand the list of Memories on the application. Choose one Memory that you want to edit and enhance.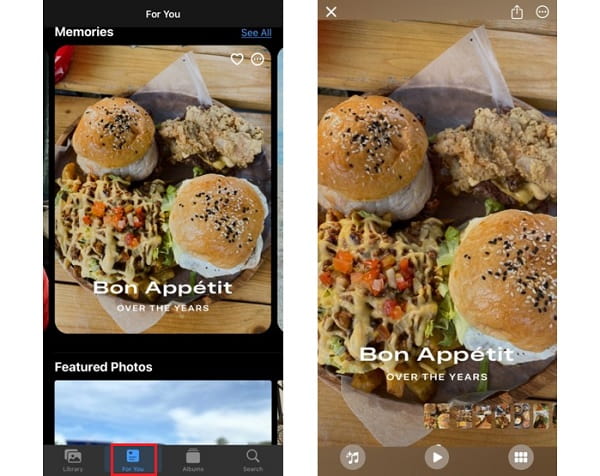 Step 3
Memories are already edited by default, but you can still change the background music and the filter effect. You can choose a filter with corresponding background music that compliments the effect or customize one. Tap the Music button below and select a new song from Apple Music.
Step 4
After editing the slideshow, hit the Export icon to share the slideshow on Messenger, Facebook, e-mail, and via Airdrop. You can also save it as a video file on the Photos app.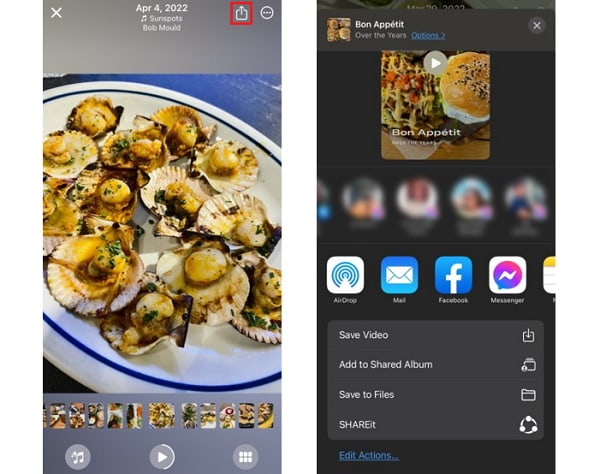 Part 5: FAQs on How to Make a Slideshow with Music
Why can't I use my songs from Apple Music as background music for the slideshow?
If you are encountering this problem, there are two reasons for that. First is that you are not registered on Apple Music or do not have downloaded music. The second is that Apple Music does not allow the app you are using to access your songs.
Does Windows 11 have a native app for creating slideshows?
Windows 11 has a default app named Photos, an image viewing app with editing functions. You can view your compilation of pictures using the Slideshow option. Here's how to do it.
1. Open the Photos app on the Windows Start menu.
2. Select an album or create a new one that you will use for the slideshow.
3. Click Create to set the album.
4. Hit the Slideshow button to view your photo slideshow, and done.
Does Google Slides support adding music to the slideshow?
No. Google Slides does not support adding songs to its slideshow presentations. But it allows you to add videos with music. The video will continue playing as long as you do not move on to the next slide panel.
Conclusion
You now understand how to make a slideshow with music on a PC, Android, and iOS devices. This is another great achievement to be proud of. You no longer have to struggle when creating a slideshow for school, work, or personal reasons. And for Windows 10/11 users out there, Video Converter Ultimate is a must-try program. It is free, simple to use but has excellent features, no restrictions when making slideshows, and many editing features. Create your next slideshow with this program to surprise your friends and families.