Complete Tutorial on How to Make a Split Screen Video in PowerDirector
PowerDirector of CyberLink is one of those powerful video editing platforms with extensive features. It runs on Mac and Windows 7 to 11 computer devices and with various retail editions. One of the great features of PowerDirector is the split screen videos, wherein it can work to play two different video clips simultaneously on one screen. This mode of feature has been very intentional to filmmaking nowadays. Unlike before, moviemakers can express the movie characters' reactions at the same time. On the other hand, a typical person like you and others can also enjoy this mode if we want to split screen our videos. So, moving forward, by reading this article, you will be astonished to learn how to make a split-screen video in PowerDirector.
In addition, another powerful video editing software will join us as we introduce its ultimacy in video editing. So, without further adieu, let's start this apprehension by proceeding with the following content.

Part 1: How to Make a Split Screen Video in PowerDirector
Aside from the cut, effects, and adding titles to the videos, PowerDirector offers a high-class and intuitive interface that also works to make split-screen videos. However, the boons that are in this software might turn you off. One of those boons, besides being expensive software, PowerDirector produces a watermark on your video output that appears within the first five seconds of the video. Not to mention the genuine review from the other users for having too many ads for its free trial version. On the other hand, if you are the type of user who does not see these cons as a problem, then you may proceed with the tutorial on how to split screen on PowerDirector.
Step 1
Start by patiently installing the software on your computer device. And after the successful installation, launch it. Then, go to the Plugins menu on the main interface and click the Video Collage Designer.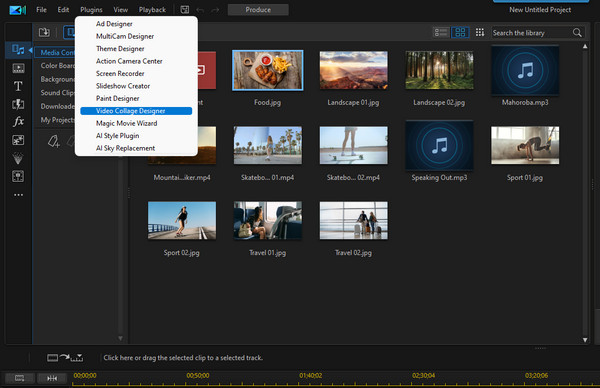 Step 2
On the new window, choose the layout you want to use for your videos. Once you have selected one, start uploading your videos by dragging them from your Imported Media section into the layout you choose at the center.
Step 3
Then, you can adjust the presets shown on the preview side for the border, size, and color of your split screen. Then hit the OK tab to keep the changes.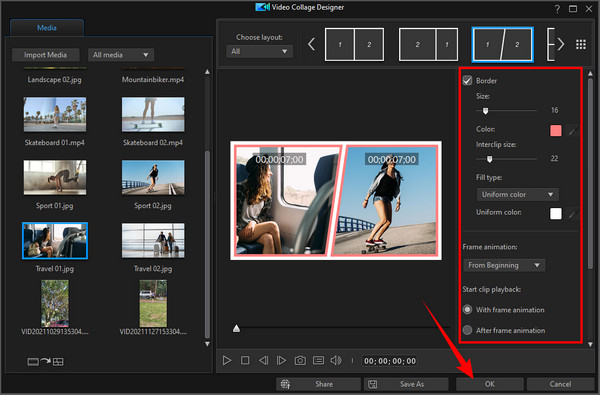 Step 4
By clicking the Ok button, the tool will move you to its timeline page. From there, hit the Save icon for you to keep a copy of your project. So, that is how to make a split-screen video in PowerDirector.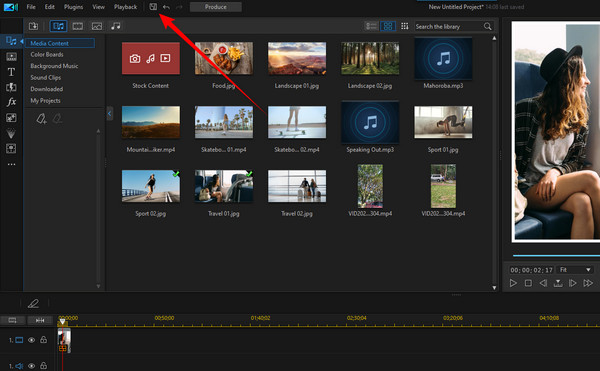 Part 2: Best Alternative to PowerDirector in Making Split Screen Videos
After trying out the previous tutorial, you might notice that PowerDirector only produces the video product into a PDS file. Therefore, if this matter disappoints you, then we have a backup solution for you. We are acquainting you with another powerful video editing software Video Converter Ultimate. As its name suggests, it is an ultimate video editing software that comes with ultimate tools in splitting screens, video conversion, movie maker, video enhancer, recorder, and all the editing tools in your mind! Furthermore, it produces those projects of yours in more than 300 choices of file formats. On top of that, you will surely love its hardware acceleration technology, too, which protects and results in your device functioning well, as it works rapidly with video conversion and customization.
Unlike when you split screen on Powerdirector, in Video Converter Ultimate, you can have multiple choices of templates and layouts for your split-screen videos. Imagine it you can even collide 13 videos on one screen! Tag along with that is the alluring filter selection that will make your videos extra exceptional and compelling. No wonder many users fell in love with this software right after using it for the first time. Why not if you can have these extra features below;
1. Best split screen maker with exciting layouts, styles, and templates like with professionals.
2. One-time pass at a reasonable cost for an ultimate and all-in-one software.
3. A multi-platform software with hardware acceleration and ultrafast conversion technologies.
4. An easy-to-use interface that doesn't require experience, which in other words, fits all types of users.
How to Make Split Screen Video with Video Converter Ultimate
Step 1
Get the Software
For this initial step, you must get the software on your computer device via free download. This procedure will only take you less than a minute to do so if you click the Download button above.
Step 2
Once you get it, you can proceed to launch it. Then, on its main interface, hit the tool we will use to split the screen, the Collage feature.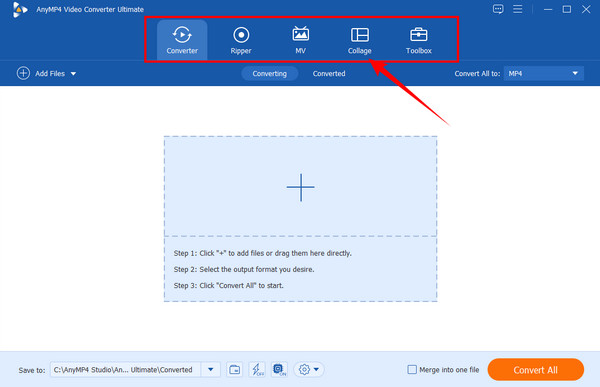 Step 3
Now on the feature page, select one among the layouts available under the Template selection. As you notice, it has various options, unlike making a split screen on PowerDirector. Then, proceed with importing the videos by clicking the Plus icons that are on the left side of the timeline.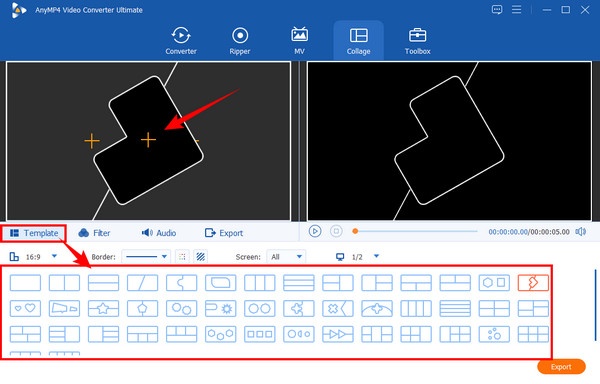 Step 4
After that, if you may want to add a filter for your video, just click the Filter menu. Then, under it, select the one that you desire among the other beautiful selections. Note that you can always check the changes you apply in the Preview display, where you can actually play the video.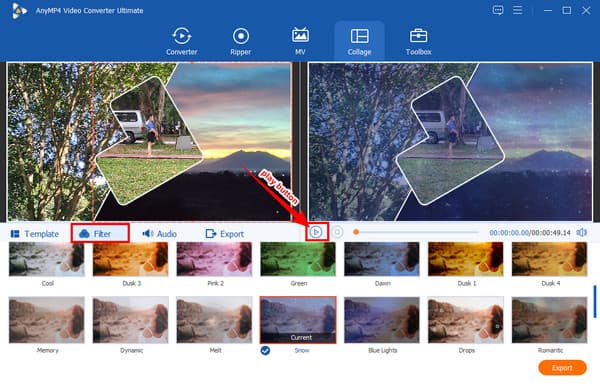 Step 5
Finally, you can now access the Export menu. Here, you can adjust to changing the format if you want to produce a video that fits your player. Also, you can adjust the Resolution of the video in which you can have it to Ultra HD (4K). Otherwise, hit Start Export to proceed with producing the file already.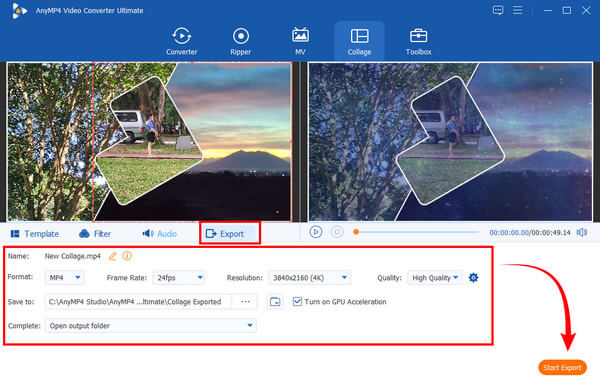 Further Reading:
Tutorial on How to Split Screen Using Adobe After Effects
iMovie Split Screen: How to Make Split Screen Videos Easily
Part 3: FAQs about PowerDirector and Splitting Screen
Can I split the screen on PowerDirector for free?
Yes, by using its free version. However, expect to have limitations on making split-screen videos on the free trial.
Is there a preview window on PowerDirector?
Yes. PowerDirector provides users with a preview window while editing their video.
How much will it cost me to purchase PowerDirector?
The amount depends on the edition that you want to buy. PowerDirector offers two kinds of paid editions, the Ultra at $99.99 and the Ultimate at $129.99.
Conclusion
You have just seen the ability of PowerDirector when it comes to splitting screens. You can now free yourself from asking how to make a split-screen video in PowerDirector because we already showed you how. On the other hand, if you have realized that PowerDirector doesn't fit your preference, then use Video Converter Ultimate.