3 Free Ways to Combine/Merge MOV Files on Mac and Windows 10/11 PC
How to merge two MOV files? Are you looking for a free way to join MOV files together on a Mac or a Windows 10 PC?
It's a common need that you would like to join two or more segmented MOV files together while editing or creating a new video. This post tells 3 simple ways to help you combine MOV files on Mac and Windows computer.
Part 1. Join MOV Files in QuickTime
If you are a Mac user, you may be familiar with various MOV files. MOV is the default video container format for Apple products including Mac, iPhone and iPad. It is developed by Apple and natively supported by QuickTime. This part gives you a free and simple way to combine MOV files into a single file on Mac using QuickTime.
Step 1
Locate the MOV videos you want to join on your Mac and open one of them with the QuickTime Player. You can put all these MOV files into one folder. QuickTime is pre-installed on Mac as the default media player.
Step 2
Now this video will be automatically played in QuickTime. You can drag and drop the other MOV file onto the playback window. You are allowed to click and drag the video clips to rearrange them in a right order.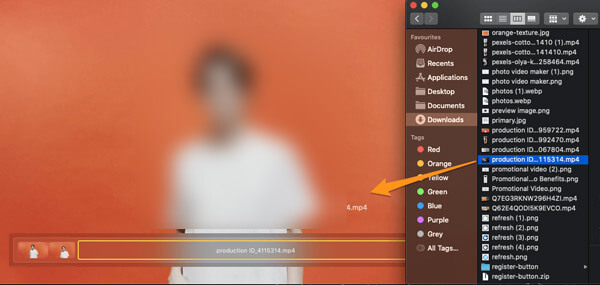 Step 3
On the bottom-right side of the player window, click on the Done button to join video clips in QuickTime.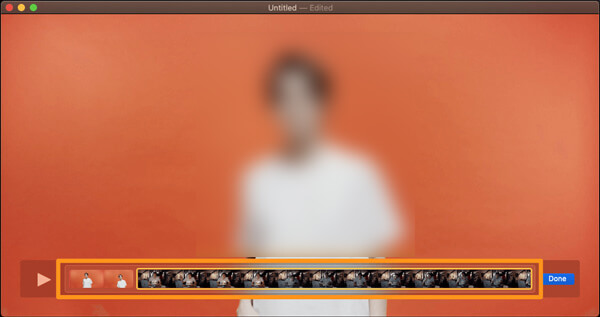 Step 4
Click File menu on the top menu bar and then select Export As from the drop-down list. Select a suitable output resolution you want and save the merged video on your Mac. During this step, you can enter a name for the video and choose a right destination file folder. After that, you can click on the Save button to confirm your operation.
Part 2. Merge MOV Files Online Free
To merge several MOV clips on your Mac or Windows PC, you can also rely on some free online video merger. Here we recommend the popular Free Video Merger for you to combine two or multiple MOV files into one with high quality. This free online video combiner tool supports all frequently-used video formats including MOV, MP4, AVI, FLV, MKV, WMV, VOB, and more.
Step 1
Open your web browser like Safari, Chrome, IE, or Firefox, and go to this Free Video Merger site. When you enter the page, click Add Video for Merging button to quickly install a small-size launcher. You only need to install it once for the MOV files merging. Then add your MOV files through a pop-up window.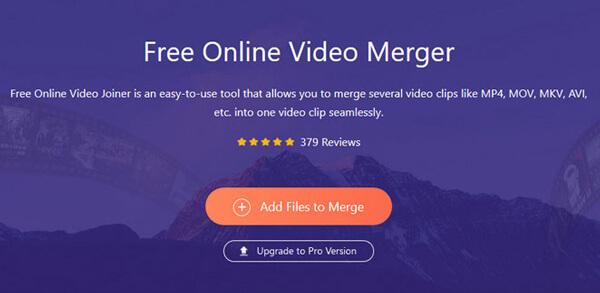 Step 2
When you enter the Merging videos window, you can choose a right video resolution for the merged file. Also, you can select a new output format based on your need. After that, just simply click on the Merge Now button to join MOV files online free.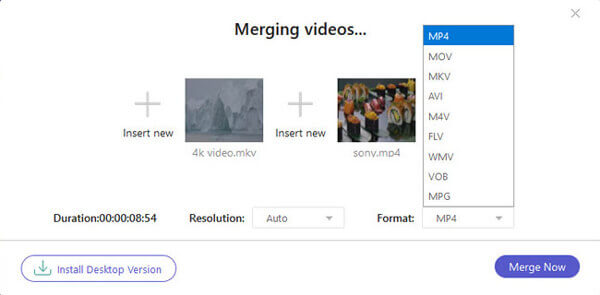 Part 3. Combine MOV Files in Windows 10
You should know that; Microsoft has discontinued Windows Movie Maker from the Windows Essentials apps. So, if you are using a Windows 10 PC, you can't use WMM to join MOV files any more. Instead, you can rely on the built-in Windows Photos app to combine MOV files in Windows 10.
Step 1
Open Photos app on your Windows 10 PC. You can quickly find it through search tab of your computer. Click New Video on the top right and then select New Video Project to arise the editor mode.

Note that, in some other versions of Windows 10's Photos app, you may need to click on Edit & Create option.
Step 2
Name the new created video project and then add your MOV files to it. You can add video clips from This PC, My collection and The web. Choose all the MOV files you want to combine and drag them from Project Library into the Storyboard section.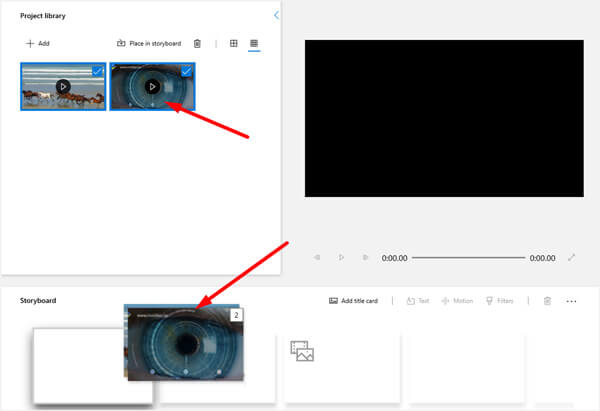 Step 3
Some commonly-used editing features are designed in the Photos app, such as Trim, Split, Text, Motion, 3D effects, Filters, Speed, and more. Before merging MOV files, you can use them to edit your video and adjust the output effects. Moreover, you are allowed to add audio to video and custom its background music according to your need.

Step 4
After all these operations, you can click Export or Share or Finish video option in the top right corner to store the merged file on your computer. You can select a suitable output resolution you want this file to be saved.
Part 4. FAQs of How to Merge MOV Files
How to merge two MOV files with QuickTime Pro?
If you get QuickTime Pro installed on your Mac, you can also rely on it to combine MOV files with ease. Open QuickTime Pro, click Edit and then choose Select All from the menu bar. Click Edit and then Copy. Open your MOV file in QuickTime Pro, move the Progress bar to choose where you want to paste the other MOV file. After combining two MOV files, you can click File and then choose Export As option to save the new merged video on your Mac.
Can I use QuickTime to join MOV files on a Windows PC?
No. Apple doesn't offer a QuickTime version for Windows any more. So generally speaking, you can't use QuickTime to combine MOV files together in Windows. There are some installation packages of QuickTime offered on the internet. But you can only use QuickTime to play videos on Windows PC.
Can QuickTime export MP4 video?
The free QuickTime Player pre-installed on your Mac only allows you to export video in MOV format. You need to upgrade to QuickTime Pro to convert and export MP4.
Conclusion
Whether you want to merge two MOV files on Mac or Windows 10 PC, you can find a good video merger tool to help you do that. If you have any better method to join MOV files, please share it in the comment with other readers.