In-Depth Review of Movavi Slideshow Maker: Slideshow Making Made Easier
Slideshows are indispensable when you are doing some presentations and lectures. Almost everyone uses slideshows to present their proposals clearly and make their lessons more informative. It also helps you get your listeners' attention because of the entertaining animations and music you put into your slideshow. Slideshows are also great for promoting brands and for advertisements. You can download and use plenty of programs to make slideshows for free or paid. But today, we'll be focusing on a famous program, Movavi Slideshow Maker.
To know more about this slideshow program, its capabilities, pricing plans, features, and many more, read this post from start to finish.

Part 1: Movavi Slideshow Maker Review
Before we start making slideshows using Movavi, we must first know this tool thoroughly. Movavi Slideshow Maker is one of the video editing programs of Movavi. And as the name suggests, it focuses on creating slideshows. It is a free-to-download desktop program and a capable slideshow maker because of the tools and features included in it. Some features are 150+ standard and unique filters, 100+ transitions, animation effects, stickers, etc. You can also include music in your slideshow to make it more engaging.
Furthermore, this slideshow program is great for beginners and advanced users. However, the free version does not last long, and the videos you create include watermarks.
Pros:
1. Straightforward and clean interface
2. Quick and direct video sharing to video streaming platforms
3. Available on Windows and Mac devices
4. Vast audio library
Cons:
1. Slow video rendering
2. Limited customizations
3. Not supported for mobile devices
4. Free- trial version lasts 7-days'
Now that you know the important things you need to know about Movavi Slideshow Maker, let's move on to the next part.
Part 2: How to Use Movavi Slideshow Maker
In this section, you'll know how to make a slideshow using the featured program, Movavi Slideshow Maker.
Refer to the simple steps below on how to use Movavi Slideshow Maker. This will help you quickly familiarize and understand the program better.
Step 1
To begin, visit the program's website to download and install the program on your desktop. Open the tool and choose Slideshow Wizard to begin making a slideshow in easy mode.
Step 2
In the Files tab, click Add Files and select the images you will include in the slideshow. After adding the photos, you can arrange them in the order you want by dragging them around the Timeline.
Step 3
For customizations, you can use pre-made themes such as Family or Love Story. It already includes transitions, captions, and background music. You also have the option to include your own music, caption, and transition effect. Click Next to move on to the next step.
Step 4
When you are done making adjustments and editing your slideshow, hit Export, then click Save the Video. You can choose to save the video on your desktop or save it in a format compatible with other devices. You can also click Upload to Youtube to upload it to your Youtube account. Tap Start to begin saving the video.
The next part is about the best alternative tool you can use if Movavi Slideshow Maker is not for you.
Part 3: Best Alternative to Movavi Slideshow Maker
One of the biggest drawbacks of Movavi Slideshow Maker is that the free version lasts 7-days. This is not good, especially for users who cannot afford a plan. Good news! Here's a tool that I gladly recommend to you, Video Converter Ultimate. This program has a free version that does not expire, and the free version is already powerful enough to make excellent slideshows. Using the MV feature, not only can you create slideshows, but you can also do short movies, music videos, and video presentations. In addition, there are themes that will make your slideshows stand out. You can also add filters and effects, texts, background music, do some video editing, and more to make your slideshows even better. This program is also great for both newbies and professional users.
Key Features:
1. Supports 500+ file formats for audio and video (MP3, AAC, AC3, MP4, MOV, AVI, etc.)
2. Plenty of templates and filters
3. User-friendly and clean interface
4. Available on Windows and Mac devices
Step 1
Start the download process by clicking the Download button above. Wait for the executable file to download and proceed to run it. The program automatically opens after the installation. Use the MV feature to start doing a slideshow.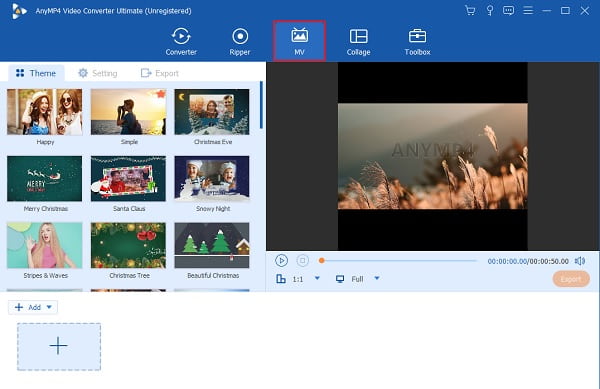 Step 2
On the MV feature, use the premade templates of the program to make stunning slideshows. On the bottom part of the interface, use the +Add button to add the photos to the slideshow. After adding the photos, tap Edit to modify the images included one by one. Head to the Filter & Effects to enhance the photos. You can apply filters using the default ones. Tap OK to save the changes.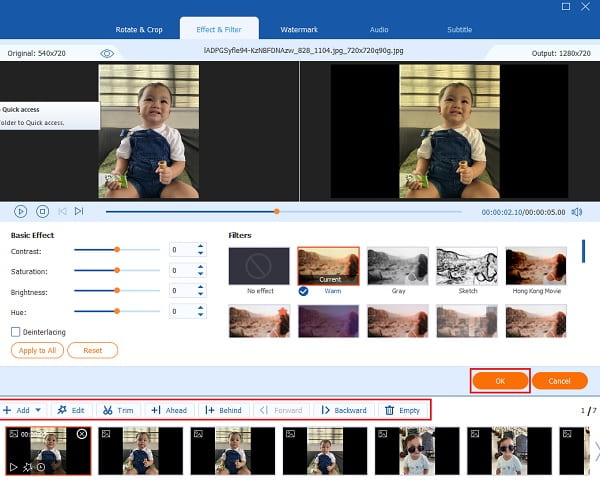 Step 3
Go to the Setting tab to add and change the background music of your slideshow. Use the drop-down list or the Plus sign button to include your desired music from your computer.
Step 4
For the final part, move to the Export tab. Before saving the video, make sure that you choose your output file location to locate the slideshow on your computer easily. Hit Start Export to start the exporting. The slideshow is saved automatically after the process ends.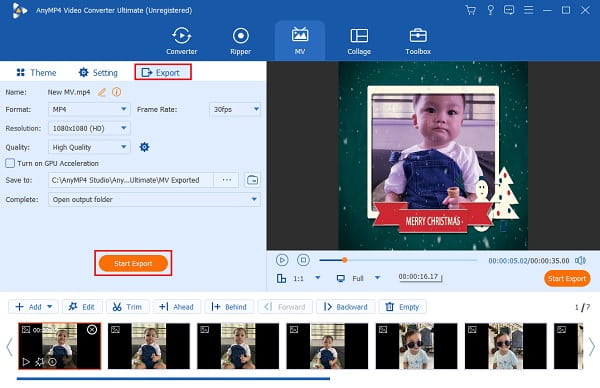 Further Reading
Best Tutorial on How to Make Engaging Videos for Instagram
Top 5 Fantastic Slideshow Makers with Music for PC & iPhone
Part 4: FAQs about Movavi Slideshow Maker
What are the pricing plans of Movavi?
There are three paid versions for Movavi Slideshow Maker aside from the free version. You can purchase a 1-year plan for a personal license worth $39.95 or a professional license worth $59.95. And the business plan costs $79.95 for a year or $99.95 for a lifetime.
What are the supported audio and video formats of Movavi Slideshow Maker?
Movavi Slideshow Maker supports plenty of audio and video formats, including the widely-used ones such as MP4, AVI, MOV, JPG, BMP, MP3, and more. It also supports formats like WebM and OGV, which are compatible with HTML5 for online video sharing.
How to add music to Movavi Slideshow Maker?
Adding music to your slideshow using Movavi is simple and easy. Follow the steps below.
On the Import tab, click Add Media Files to start browsing for audio files on your device.
A dialog box will appear and choose the audio you want to implement on your slideshow.
Tap Open. The chosen music files will be added to the audio track of the Timeline.
Conclusion
To wrap things up, Movavi Slideshow Maker truly is considered one of the best slideshow-making programs right now. Everything you need to make jaw-dropping slideshows are included in this software. But this program still has its fair share of downsides, which we discussed earlier. Good thing that Video Converter Ultimate is here to solve that problem. This reliable and competent program can do slideshows equally or even better than Movavi.