Top Movie Makers for Windows, Mac, and Online Users For Impressive Videos
Movies are not just about capturing videos. In fact, video capturing is just half of the movie creation process. To create a stunning film, you need lots of edits and amend different footage imperfections to deliver outstanding results. That is what movie makers are developed for. Whether you are a professional or an amateur user, having a reliable movie-creating tool makes your task easier to finish.
You will need a tool that can carry out all the functions of video editing. On the internet, you will find thousands of results for video editing tools. The caveat is that not all of them deliver excellent results. Therefore, if you are searching for a movie maker with great modification tools, we bring you the best among the rest. Read on and see which app works for you best.
Part 1: Movie Maker for Windows And Mac
Here's a list of reliable offline programs that can effectively create movies for Windows and Mac devices. Feel free to try the programs included on the list, so you compare them better.
1. Video Converter Ultimate
Video Converter Ultimate is designed and works just like high-end video editing software. Using this program, you can quickly add music to the video, crop, rotate, and add customized text or watermark, effects, and filters. This program will allow you to make incredible, creative movies that will hit more views. Moreover, it comes with an inbuilt player that lets you preview the things you do in your video.
Aside from that, it also enables you to add subtitles to your movies that aid in understanding a foreign language for viewers. Plus, you can customize the subtitle by changing its font style, color, outline, etc. On top of that, this program can be utilized by Windows and Mac users. Find out how this movie creator works by following the steps below.
Key Features:
1. Straightforward and intuitive interface.
2. It provides pre-made effects and filters.
3. Instantly create a slideshow using the MV Maker feature.
4. Use the program without slowing down the computer's processes.
5. Additional functions on Toolbox ( video enhancer, 3D maker, video merger, etc.)
6. It accepts a wide range of formats: MP4, MOV, FLV, MPEG, and many more.
Step 1
Firstly, get the program by clicking the Free Download button above. After that, follow the setup wizard to install the program and launch it on your computer. You should proceed to the app's main interface after successfully obtaining the program. Circumnavigate the program to get familiarized with the tool's interface.
Step 2
Secondly, select the MV tab from the main window. Now, click the Plus sign button at the bottom of the interface. You can also add a collection of videos by uploading them to one folder. Simply hit the Add button and choose Add Folder. After that, select the folder where the compilation of the videos is located.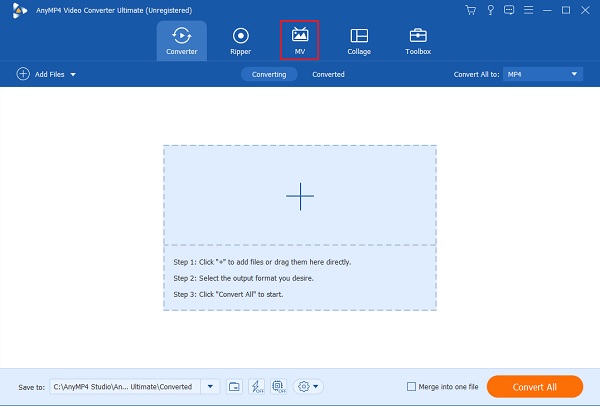 Step 3
To enhance the uploaded videos, click the Edit button, and you will arrive at the editing panel of the program. From here, you can edit the orientation and size of the video under the Rotate & Crop tab. You may also add effects, filters, watermarks, and subtitles as you like. Hit OK at the bottom right corner to save the changes.
Step 4
This movie maker software also enables you to add a background music track to your movie. Navigate the Setting tab and proceed with Audio Track. Uncheck the Keep original audio track and then hit the + button to load a new audio track. After that, you may add effects like fade in and fade out. Or you can adjust the volume and delay preferably.
Step 5
Now, go to the Export tab and modify the output according to your needs. Under this tab, you can rename the video and adjust the formats, resolution, and quality. Once done, set the destination file and click Start Export to save the video.
2. VideoPad Video Editor
Another great free video slideshow maker you should use is VideoPad Video Editor. What is so great about the tool is you can burn your movies directly to DVD, share them on various social media websites, or save them locally on your PC. It has similar functions as Windows Movie Maker, allowing you to split video, add text, cut clips, and many more. In addition, the tool provides video and audio effects that will help you enhance your movies.
Pros:
1. Share edited videos on different social media pages.
2. It provides a wide range of editing tools.
Cons:
Lack some necessary editing features.
3. Shotcut
Shotcut is a good movie maker for video editing. It is an open-access or open-source program that will allow you to make impressive videos with less human intervention. With this tool, you can split, trim, add effects, filters, and a lot more. There is also a preview window that aids in reviewing the changes on your videos. For managing your files well, it provides an intuitive transport option.
Pros:
1. Well laid-out user interface.
2. Comes with multiple audio features.
3. Available on Linux, Mac, and Windows devices.
Cons:
1. Does not support video sharing.
2. Not best for complex video editing.
4. iMovie
If you prefer a native movie maker Mac program, iMovie is probably for you. As we all know, it is a default video editor for Apple's Mac and touch-enabled devices, iPhone or iPad. It offers various editing features, including picture-in-picture, green-screen effects, split-screen, and much more. One benefit to look forward to is using it on your iPhone. Hence, iPhone movie makers could also greatly aid from this tool.
Pros:
1. Easy to familiarize.
2. Accessible on all Apple devices.
3. Great movie templates.
Cons:
1. Exclusive for Mac and iOS users.
2. It may be challenging for beginners.
Part 2: Movie Makers Online
Movie Maker Online tools are an exceptional alternative for desktop programs because you do not need to download the program. Most of these web-based tools are free to access and can be used by everyone. Another great thing about online tools is that they don't consume many resources. The only disadvantage is that it is heavily reliant on the internet.
Below is a list of Free Movie Maker Online that you can try for video making.
1. ClipChamp
ClipChamp is a dedicated movie maker online capable of editing your videos easily. It focuses on the need of small-time businesses and entrepreneurs in creating videos for their advertisements. It is also recommendable for people who want to promote on their social media accounts. Whether for blogs, tutorials, or entertainment purposes.
Pros:
1. Plenty of template selections.
2. Aesthetic effects and transitions.
3. Excellent text and audio track options.
Cons:
1. Limited adjustments over effects.
2. Sluggish export rendering.
3. Requires you to subscribe to access features.
2. Kapwing
Kapwing is a video editing solution and effective movie maker online free for everyone. It allows its users to make a photo slideshow and make videos from scratch collaboratively. Moreover, it provides a vast amount of templates, stock contents, and assets that you can access freely. Also, Kapwing is excellent for educational purposes for students and teachers alike. You can create slideshows and presentations with lots of different effects and enhancements. As it is an online application, you can access it using just a web browser.
Pros:
1. User-friendly interface.
2. Perfect for novice video creators.
3. You can directly share movies on social media platforms..
Cons:
1. Lacks cutting-edge functions.
2. Long hours of rendering time.
3. Somewhat pricey subscription.
3. InVideo
inVideo is a free, web-based application for video and movie making as well as an editing tool that is widely used for business. You can create videos for your vlogs, promotional videos for products, tutorials, video presentations, and videos for social media content. This tool has professional-grade quality with the help of its broad amount of free and premium images, music, templates, and filters.
Pros:
1. Huge video and photo library with more than 1 million media files.
2. Simple to use interface.
3. 24/7 customer service support.
Cons:
1. Exporting process takes a lot of your time.
2. Needs to have a stable network connection.
3. Cannot easily change with a new template.
4. Animoto
Animoto is a free movie maker online that is excellent for creating slideshows, videos, and short movies within minutes. The versatility of this app is the reason why it is popular among users. You can create movies for your family and videos for business presentations and proposals. Several features are fast social media sharing, and custom branding options. The downside is that it only supports videos in 720p HD, which is already obsolete by today's standards.
Pros:
1. Very straightforward user interface.
2. A vast amount of templates.
3. Access to premium video-making features.
Cons:
1. You cannot edit your clips individually.
2. Expensive subscription over competitors.
3. Free templates have watermarks.
Part 3: FAQs about Movie Maker
Does Google have a dedicated movie maker app?
Google has its own dedicated movie maker app called MovieStudio video editor. MovieStudio is a video editing tool and movie-making program that allows you to integrate audio, images, and text into your videos and movies.
What app do movie makers use?
Professional movie makers use Adobe Premiere Pro as their favorite video editing software. Adobe is a well-known software developer that focuses on photo and video editing tools. It can do color correction, audio graphics, advanced video editing tools, and more.
Is there a movie-making app for Android?
Yes. There are movie maker applications for android that you can download for free. The best video maker app is PowerDirector. Power Director supports videos up to 4K HD in resolution, animated titles, video stabilizer, voice changer, produce fast forward or slo-mo videos, etc.
Conclusion
And there you have it. You are now familiar with the movie maker programs listed above that you can use offline and online. You also have an idea that offline programs are still superior to online solutions. And for the top-recommended tool, Video Converter Ultimate, you will never go wrong with it. It has lots of editing features for movie-making and other important tools like file converter, DVD ripper, photo collage maker, etc. There is no one as great as this app.