Best Online and Offline MP4 to MP3 Converters: Change MP4 to MP3 Remarkably
Are there music videos from your childhood that you want to transform into audio? Music videos in MP4 format that you hardly see on the market since they are already phased out? One of the best solutions is to change their formats to MP3. Especially if your main reason to watch them is that you love the music in them. On the other hand, you may wonder why there are so many audio formats to choose from; why MP3? The answer is simple, MP3 is the most common and is the best compatible with all media players. Therefore, you will always go right if you convert your videos from MP4 to MP3.
However, this kind of conversion will only be highly efficient if you use only the best converters. Fortunately, in this article, you won't only meet the video-to-audio converters; you can also use these tools to convert MP3 to MP4. Thus, let us have sufficient knowledge about the tools and their complete tutorial when in the content below.
Part 1. Best Ways to Convert MP4 to MP3 on Windows and Mac
We all have our preferences, including the kind of platform when we convert files. This part is for those who prefer to convert MP4 to MP3 on Mac and Windows offline. Regardless of whether the tool is built-in or downloadable, as long as it serves its purpose in making the task successful, then they will go for it. Hence, here are the most reliable offline tools you can use, even for MP3 to MP4 conversion.
1. Video Converter Ultimate
Video Converter Ultimate is a downloadable media file converter that has been on the top prime list of converters. It allows you to convert your video files into various file types, including audio and MP3. Furthermore, this video converter contains an ultimate acceleration speed technology that helps you convert your media files 70x faster without any damage to quality. It is why millions of users who have acquired this best MP4 to MP3 converter have been highly satisfied, for it also comes with excellent extra features. Such features are the video collage maker, music video maker, video editors, DVD ripper, and many more. On top of that, this all-in-one file converter allows you to convert MP3 to MP4 as easily with its intuitive interface, making you confident to operate this tool even if you are not technically skilled. So, it is made best for beginners and with the empowerment of professional technologies. Not just that, but it lets you convert bulk files swiftly!
As an ultimate tool, Video Converter Ultimate supports 500+ media file formats. Therefore, it enables you not only to convert MP4 to MP3 or MP3 to MP4 but also to change your single file to any format you want. Aside from the mentioned features mentioned, this converter has been very noble in giving additional editing tools added to the Toolbox, such as Video Enhancer, GIF Maker, Video Compressor, 3D Maker, and Media Metadata Editor, which are powered by Artificial Intelligence, advancing the producing of excellent output. Thus, if you wish to use it for your conversion task, please follow the detailed steps below.
Key Features:
1. Ultrafast conversion technology that makes the process 70x faster.
2. Liberty to adjust the frame rate, bit rate, resolution, quality, and encoder of the files in every conversion.
3. Convert your bulk files within the same speed rate as the process.
4. A great number of file formats to choose from as input and output.
How to Bulk Convert MP4 to MP3 or MP3 to MP4 on Windows 10
Step 1
Click the Download Buttons
To start with, you need to acquire this ultimate converter on your computer. To do it quickly, please click the Download button available above. Once done with the downloading process, proceed to install it, then launch it.
Step 2
Upload the MP4 or MP3 Files
To upload multiple MP4 or MP3 files, simply drag them from their local folder and drop them directly on the interface. Alternatively, you may hit the Add Files tab on the top left part of the UI and grab the files.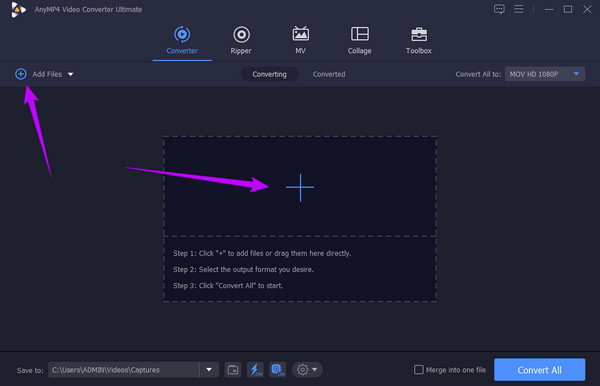 Step 3
Set the Output Format
To convert MP4 to MP3 audio, click the arrow of the Convert All To button. This is located in the top right corner of the interface. Then, a new window will appear, click the Audio option there, and select the MP3 format. On the right side, you will need to choose the encoder, and from there is the Geal icon, where you will see the extra output settings.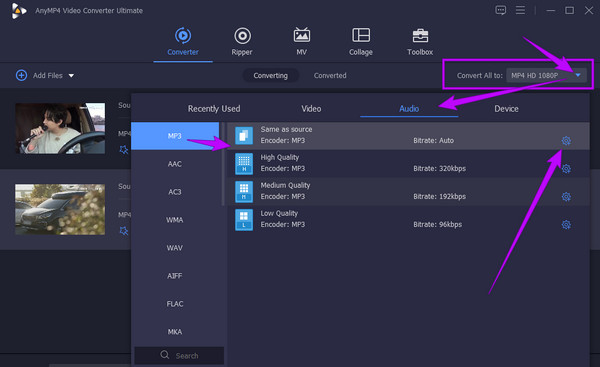 Step 4
Start the Conversion Process
This time, you can choose a folder from your local drive where you want to save the converted files automatically after the conversion process. To do so, go to the Save To section, click the arrow-drop-down button, and click the Browse and Select Folder tab. After that, click the Convert All button to begin the conversion process.
Step 5
Check the Converted Files
After the quick conversion, you may check the completed files in the Converted menu. Also, you may click the Share icon to post the files directly to your chosen platform.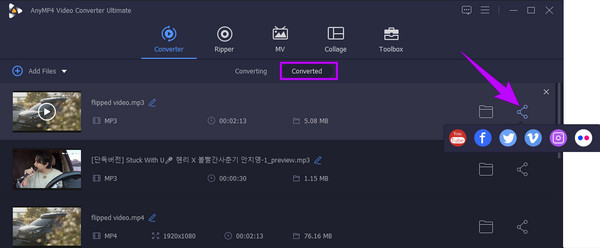 2. VLC - Free Media Player
You read it correctly. VLC, a media player, is a free converter of MP4 to MP3 and MP3 MP4 files. As a matter of fact, it can also be a converter of other video and audio formats while offering several editors to use on multiplatform, which means you can use this tool to convert other videos to MP3. Aside from desktops, you can also run this media player on Mac and mobile devices. However, unlike the computer version, the mobile device version lacks conversion and editing features.
On the other hand, this VLC media player is an accessible software you can acquire without a high system computer demand due to its lightweight size. But nevertheless, we cannot disregard existing users' complaints about the challenging access to its hidden advanced features. Hence, to assist you with one of those hidden treasures, here are the steps to convert MP4 to MP3 on VLC.
Step 1
Initiate the VLC media player on your computer. Then, go to the File menu and select the Convert/Save tab from the drop-down menu.
Step 2
On the popped-up window, upload your files by clicking the Add button. Note that you can upload several files here with the same input content. Then, hit the Convert/Save button to proceed.
Step 3
On the next window, go to the Profile section and choose your MP4 or MP3 as an output. Then, finalize it by clicking the Start button.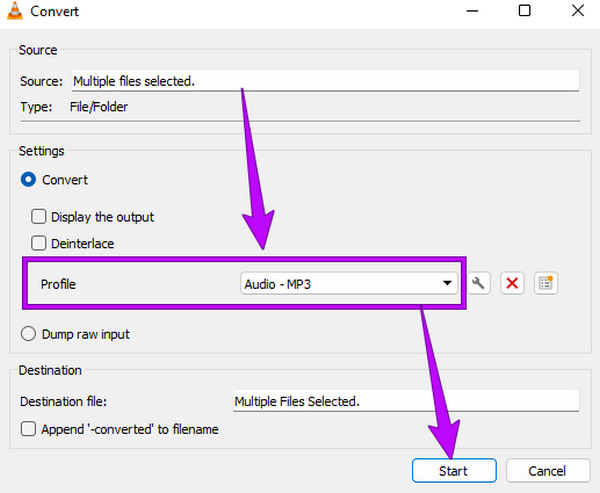 Part 2. Free Way to Convert MP4 to MP3 Online
If you prefer an online tool to accommodate you with your MP4 to MP3 and MP3 to MP4 conversion, then you better use this Free Video Converter Online. It is a converter you can use without demanding any dime. In addition, you can unlimitedly convert your multiple files with the help of its ultrafast technology, which makes the process 70 times faster than others. Furthermore, this best online converter will enable you to work on different formats because it supports many video and audio outputs and inputs. It is impressive that it won't bring in any ads and watermarks on its output despite being a free tool. And if you are a beginner in this task, you will love this converter's easy-to-understand interface, which you can navigate without a guideline. Not to mention the presets you can easily access to customize your outputs. However, here are detailed guidelines to convert from MP4 to MP3 online.
Step 1
Install the Launcher
Click the Launch Free Converter button once you reach the main website of the tool to grab the launcher.
Step 2
Upload MP4 or MP3 Files
When the launcher is ready, hit the Launch Free Converter tab again to upload the files you need to convert. Freely add as many files as you want because it will not limit you with the number.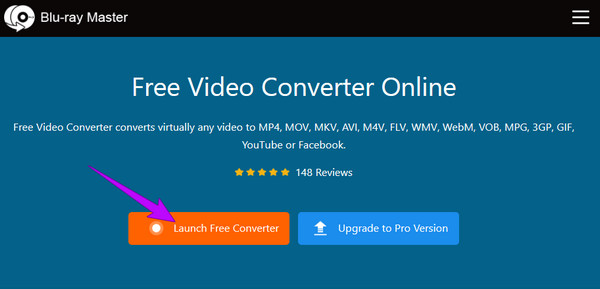 Step 3
Setup to MP3 Output
Once you arrive at the main interface and want to add more files, you can hit the Add File button. Meanwhile, to set the output to your target audio format, hit the Note icon and see the available audio formats. For this sample, let's aim for the MP3. Additionally, the interface has a Coggle icon to access the editing tools.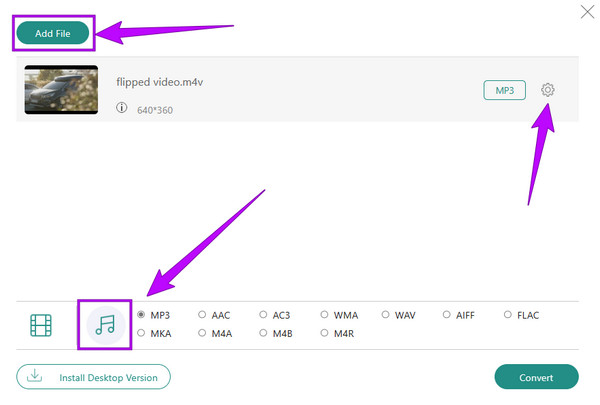 Step 4
Convert the Files
As quickly as that, you can now hit the Convert button. After hitting it, a new window will prompt, requiring you to select your preferred folder for the destination of your converted files. Once you have chosen, the conversion process will start immediately, and the tool will automatically export the files to the folder.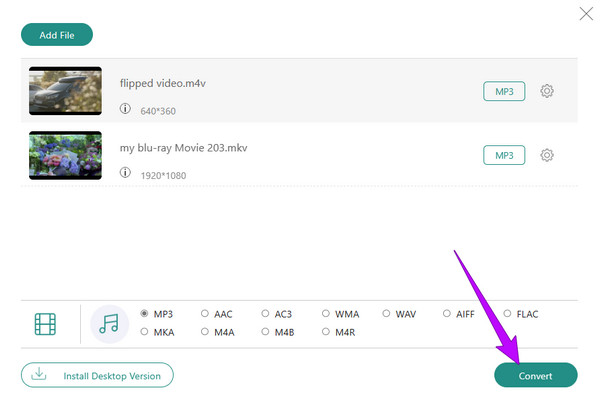 Note: The instruction for the MP4 to MP3 converter online above is just the same as for converting MP3 to MP4 and other video formats.
Part 3. Comparison of the Best MP4 and MP3 Converters
To show you the comparison of the given tools, below is a quick comparison table to grasp.
Features
Video Converter Ultimate
VLC Media Player
Free Video Converter Online
Price
A 1-month License is $29.96.
A lifetime License is $59.96.
Free
Free
With Video and Audio Editor
Yes
Yes
Yes
Utilization Complexity
Low
High
High
Supported Operating System
Windows and Mac
Windows and Mac
Windows and Mac and all their supported browsers.
Part 4. FAQs about Converting MP4 to MP3
Can I still convert the MP4 to MP3 and vice versa without compromising the quality?
Yes. With the help of Video Converter Ultimate. It can work on various videos and maintain or enhance their quality due to its advanced technologies.
Can I convert any video format to an audio type like MP3?
Yes. You can convert any type of video file into an audio format as long as your converter tool can.
Should I compress the MP3 files?
If your MP3 file content is large, then you should compress it. Check first since most of the MP3 files are already shrunk.
Conclusion
Whether you need to convert MP4 to MP3, the tools above will indeed give you an excellent solution. Try all of them. Do not only settle for the free tools because the paid tools are made far more reliable and powerful, just like Video Converter Ultimate.