How to Convert MP4 to OGG Format on Your Desktop or Online
"Does anyone know a way to convert MP4 video to OGG format? None of the converters I've seen online seem to do the job." MP4 is one of the most commonly used video format. OGG, on the other hand, usually refers to compressed audio format or open-source video codec. Sometimes, you may need to convert MP4 video files to OGG format for various purposes. Anyway, you will learn three ways to complete the job on desktop and online from this guide.
Part 1: Best Way to Convert MP4 to OGG on Desktop
When converting MP4 to OGG, you may focus on several factors, like output quality, bonus tools, easy to uses, and more. Blu-ray Master Video Converter Ultimate can meet all your need. It provides a wide range of pro-level features related to video conversion in the way that everyone can learn quickly. No matter beginners or advanced users can get what they want from the converter.
Key Features of the Best MP4 to OGG Converter
* Convert MP4 video files to OGG format without losing quality.
* Batch process multiple video files at the same time.
* Offer extensive custom options and bonus tools.
How to Convert MP4 to OGG on Desktop
Step 1
Add MP4 files
The best MP4 to OGG Theora converter offers two versions, one for PC and the other for Mac. Install the right version and launch it. Click the Add Files menu at upper left side, choose Add Files or Add Folder, and add the MP4 files to the converter.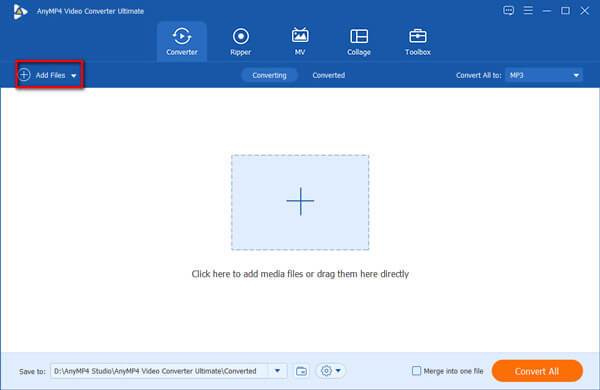 Step 2
Select output format
Click the Convert All to menu at the top right side to activate the profile dialog. Go to the Video tab, search for OGG in the Search bar and select it, and choose a preset. You can also change resolution, quality, and other options by hitting the Gear icon.
Tip: The bonus functionalities, such as Edit, Cut, Audio Track, and Subtitle can be found in the main interface.
Step 3
Convert MP4 to OGG
Move to the bottom area in the main interface, click the Folder icon to set the specific directory for storing output. Finally, click on the Convert All button at the bottom right side. A few minutes, you will find the OGG files on your hard drive.
Part 2: Top MP4 to OGG Converter Online
Sometimes, you just need to convert MP4 to OGG occasionally and do not like to install software. Blu-ray Master Free Online Video Converter is a good alternative. As its name indicated, the web app lets you do the job online. Unlike other web apps, it does not have limit on file size, watermark or signup.
Step 1
Copy and paste https://www.bluraycopys.com/free-online-video-converter/ in a browser's address bar, and hit Enter key to open it. Click the Launch Free Converter button to download the launcher.
Step 2
Hit the Add File button on the launcher and upload the MP4 files from your computer. Then select the proper output format at the bottom panel. The Gear icon will take you to the profile dialog and you can change the options, like resolution and more.
Step 3
Click the Convert button to initiate video converting. Wait for the process to finish and download the output files to your hard drive.
Part 3: How to Convert MP4 to OGG with VLC
As an open-source media player, VLC is popular around the world. However, it is far more than a simple video player but integrates a lot of useful features, such as convert MP4 to OGG. Many users complained that they failed video converting with VLC. Therefore, we share the guide below.
Step 1
Open your VLC from the desktop. If you do not have the free MP4 to OGG converter, download it from the official website.
Step 2
Go to the Media menu on the top ribbon and choose Convert/Save.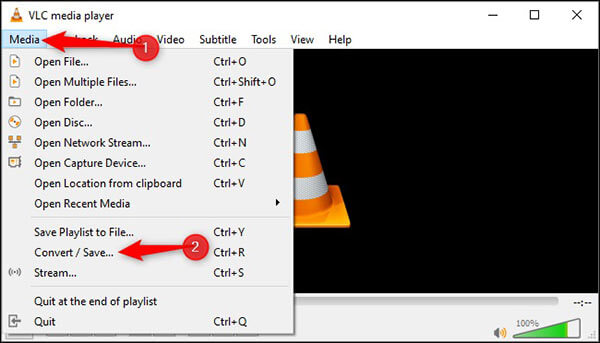 Step 3
Click the Add button on the Open-Media dialog, then find the MP4 file you want to convert, and add it to VLC. Hit the Convert/Save button to move on.
Step 4
Hit the third button next to the Profile dropdown menu. It will open the Profile edition dialog. Select Ogg/Ogm in the Encapsulation tab, write down a profile name, and click Create button.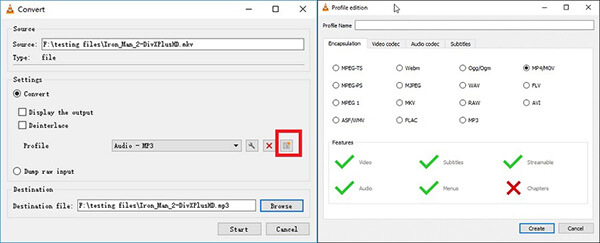 Step 5
Expand the Profile dropdown menu and choose the new profile you just created. Go to the Destination section, click the Browse button and set the destination folder and filename.
Step 6
Click on the Start button to start converting MP4 to OGG. It takes as long as the video length to convert it in VLC, so you must be patient.
Part 4: FAQs about MP4 to OGG
Is OGG a video format?
OGG functions as a container and multimedia file format. It can hold streams of audio, video, and subtitles or other text. OGG may refer to video format and compressed audio format.
Can VLC play OGG files?
Yes, VLC Media Player is able to open and play OGG files since it includes the corresponding codec. If your OGG files are not played in VLC, you can try other OGG players, such as Windows Media Player and QuickTime.
What can play OGG files?
Firstly, some media players are able to play OGG files without extra codec, like VLC, Miro, Elmedia Player, etc. Moreover, a part of online services can open OGG files too, such as Google Drive. If you wish to play OGG files in Windows Media Player, make sure that your WMP includes the Directshow filter.
Conclusion
This guide has talked about how to convert MP4 to OGG format, so that you can enjoy your videos on your media player or device. Although MP4 is widely used, it is not always working well. Sometimes, you have to convert it to other format, such as OGG. Blu-ray Master Video Converter Ultimate is the best choice if you worry about video quality loss during converting. If you have other questions, please feel free to write a message below the post and we will reply on it quickly.
More Reading
Ultimate Guide to Convert WebEx ARF to MP4
How to convert WebEx ARF to MP4? Is there any free way to convert ARF files to Windows Media Player? How do I open an ARF file? You can find 2 ways from this post to convert ARF recordings to MP4.
3 Easy Ways to Convert Between 3GP and MP4
What is a 3GP file? How do I open a 3GP file? How to convert 3GP to MP4? This post shares 3 easy ways to convert between 3GP and MP4 on Mac, Windows PC and online free.
Top 3 Ways to Convert PowerPoint to Video
How do I convert a PowerPoint to video like MP4? How to convert PowerPoint 2007 to MP4? This post shares 3 methods to help you convert PowerPoint 2013, 2016, 2019, 2010, or PowerPoint 2007 to MP4 video.
3 Easy Ways to Extract Audio from MP4 Video
How do I extract audio from an MP4 video? How to convert MP4 to MP3 audio? Can VLC extract audio from video? This post tells 3 easy ways to extract audio from MP4 video.