6 Excellent Photo Slideshow Makers For PC and Phone [2022]
Photo Slideshows are a compilation of your photos turned into a single video. This is helpful if you quickly share your family trips and vacations with everyone. You can also put some animations and music to make it amusing for the viewers. Slideshows are also helpful for students to present their projects. There are photo slideshow makers for your desktop and smartphones which are capable of creating amazing slideshows. If you are too lazy to look for one, we are here to help. Below are lists of picture slideshow makers you can get for free and can make high-quality slideshows for your next project or presentations.
Part 1: Best 3 Photo Slideshow Makers for Computer
When choosing a photo slideshow maker, you should always consider the price, tools available, functions, and supported platforms. That is why we have chosen these three as the best slideshow-making programs today. Feel free to try and explore these programs to understand them better.
Video Converter Ultimate
First in the list is Video Converter Ultimate. This reliable and outstanding file conversion tool is also an amazing photo slideshow maker. Its free version is already powerful enough to create photo slideshows. Not only that, but you can also make music videos, short movie clips, and presentations easily. There are a ton of customizations that you can do using this tool. You can apply themes and templates, add texts, titles, watermarks, include background music, and more. Moreover, this is a beginner-friendly program. Using this tool won't add a burden when making slideshows.
Key Features:
* Very straightforward interface
* Full compatibility with Windows and Mac platform
* Supports 500+ file formats for audio and video (MP3, AAC, AC3, FLAC, MP4, MOV, AVI, MKV, etc.)
* Supports videos in 1080p and 4K HD
* Use various themes and templates with no restriction.
Follow this detailed step-by-step guide to making a slideshow using this highly-trusted and commendable photo slideshow maker program.
Step 1: Use the MV Function
Begin by clicking the Download button above to download Video Converter Ultimate. Wait for the executable file to finish downloading and allow it to run. The program automatically opens after successfully installing it. Use the MV feature to start making a photo slideshow.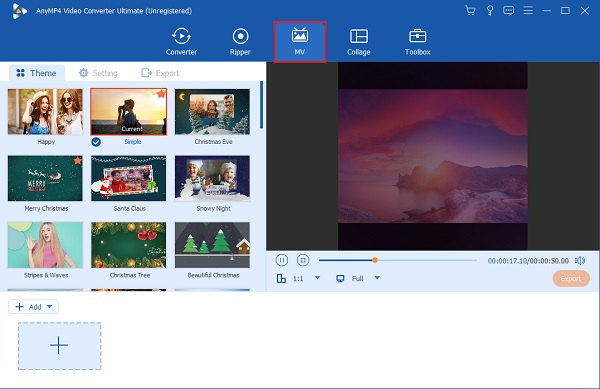 Step 2: Add and Edit Photos
On the MV feature, use the preset templates to make fantastic slideshows. Then click +Add to add the images to the slideshow. After importing the photos, tap Edit to enhance the images. Go to Filter & Effects to enhance the photos. You can apply filters using the pre-downloaded ones. Click OK to save the changes.
Step 3: Add Background Music
Go to the Setting tab to add background music to your slideshow. Use the drop-down list or the Plus sign button to include your preferred music from your desktop.
Step 4: Start Exporting Slideshow
Finally, move to the Export tab. Make sure you choose your desired file output directory to quickly locate the photo slideshow on your computer. Click Start Export to start exporting. The slideshow saves automatically after the process. Enjoy watching your newly created photo slideshow.
PowerDirector
PowerDirector is a highly-praised photo slideshow creator for being an easy-to-use program that can create promising slideshows. You can still access hundreds of themes, transitions, and video effects on its free version. There are AI tools as well, such as sky replacement, motion tracking, audio enhancement, etc., which makes editing faster and easier. You can use this program to create photo slideshows that are perfect for events, occasions, and business purposes. PowerDirector is free to download on Windows and Mac devices.
Pros:
1. Fast video rendering
2. Available on Windows and Mac
3. Built-in screen recorder
Cons:
1. Cluttered interface
2. 30-day free trial with watermarks included
3. Limited free export formats
Movavi Slideshow Maker
Movavi Slideshow Maker is another picture slideshow maker available to download on Windows and Mac computers for free. With the aid of this desktop program, you can create your own personalized slideshows efficiently. You can use 150+ filters and transition effects to enhance your slideshows and add music to make it entertaining. These are ideal when you need to create slideshows for weddings, birthdays, lectures, and more. You can also share your project on social media or save it on Google Drive.
Pros:
1. Easy-to-use program
2. Auto adjustment for images
3. Have a mobile version
Cons:
1. Limited customizations
2. You need to purchase a plan to unlock all features.
Part 2: Best 3 Photo Slideshow Apps for Mobile Phone
We recommend some amazing photo slideshow maker or picture video maker apps for those using a smartphone or tablet to make a slideshow. Aside from their simplicity, these can effectively create slideshows with ease.
SlidePlus
SlidePlus is considered one of the best photo slideshow apps you can get on Android and iOS devices for free. With its simple interface, even first-time users can create a slideshow easily. In addition, there are over 100 templates with preset transitions, effects, filters, and music, which is suitable for those who are in a rush. You can also edit each photo, add subtitles, and adjust the playback speed of the slideshow.
Pros:
1. Plenty of themes and templates
2. Upload images from Facebook and Instagram
3. Auto-trim portrait photos to zoom in
Cons:
1. Limited photos on slideshows
2. Video sometimes glitch
3. The free trial version only lasts for three days
PicPlayPost
PicPlayPost is a mobile photo slideshow maker app that is free to acquire on Google Play Store PicPlayPost is a mobile photo slideshow maker app that is free to acquire on Google Play Store and Apple App Store. The user interface is somewhat simple and easy to navigate, perfect for novice users. You can make photo slideshows as well as video slideshows. The free version is adequate enough for simple slideshows but with watermarks included. You can upgrade to the Pro version to remove the watermark, add GIF stickers, additional fonts and style, and access to 80 premium layouts. You also have the option to share your slideshows with your media library and social media accounts.
Pros:
1. Can create slideshows up to 30 minutes
2. Can create live video wallpapers
3. It supports 1080p and 4K HD
Cons:
1. Unintuitive user interface
2. Ads are present in the app
3. It supports only MP3 files
Videoshop
VideoShop is a photo slideshow maker for mobile, which you can download for free on Android and iOS smartphones. Its primary function is video editing, but you can create slideshows by importing photos or videos and editing them. You will see the tools and functions you usually get on a video editing app. These include sound effects, voiceovers, texts, filters, and transitions. It also has features like adjusting the color, trimming videos, changing the aspect ratio, and doing reverse videos. This app is excellent if you want to make a unique photo slideshow.
Pros:
1. user-friendly interface
2. Plenty selection of sound effects
3. Professional video editing function
Cons:
1. Few numbers of transition effects
2. The Pro version is somewhat expensive
Part 3: FAQs on Photo Slideshow Maker
How many pictures should I use for a 30-minute slideshow?
Commonly, each picture has a 7-second screen time, including the transition between photos. This equates to about 8-9 photos per minute. And if you add a song that usually lasts 3 minutes, you would need to put 24-27 images per song.
Can you add music from a video to a photo slideshow?
Absolutely yes. But there is a proper method to take. Follow the steps below.
Use the Converter feature of Video Converter Ultimate and upload the video to turn it into an audio file.
Choose the audio file that supports the program like MP3, AAC, AC3, etc.
Click the Convert All button and wait for the conversion process to end.
And you are done. Use the newly converted file as your background music for your slideshow.
What is the 10/20/30 rule for slideshow presentations?
The 10/20/30 rule was coined by Guy Kawasaki. It is a concept stating that no slideshow presentation should have more than 10 slides, 20 minutes long, and the font should not be lower than 30 point size.
Conclusion
To sum it up, choosing the best photo slideshow maker is a bit difficult. You need to try them individually to find what is the best for you. This post indeed helped you decide what is best for you in creating photo slideshows. And for desktop users, I suggest you always use Video Converter Ultimate when making slideshows. You won't regret using this tool. You get plenty of templates, highly customizable functions, and features others don't have. Use it for your next photo slideshow.