Reddit Videos Not Playing: Solved with Comprehensive Tutorial
Reddit is an app that helps people converse most interestingly and authentically. It is a community of over a hundred thousand, where users are free to share what they want to share, such as their hobbies, interests, etc. If you are new to Reddit, you will notice that you can actually play and save media files from it, such as images and videos. However, as time passes by, you may experience the same issue as many users also have. And what is that? The most common situation is where Reddit videos are not playing. Many also wonder why this issue keeps progressing and how it can be fixed. To help the community, we have provided the solutions you can acquire as your first aid. Furthermore, additional practical solutions are provided to expound this social support. If you want to see these solutions, read the content below.
Part 1. Why are Reddit Videos Not Playing
You may wonder why this occurrence happens and what the app is doing about it. To keep you posted, Reddit has to maintain a total of ten video players over various platforms. These ten players must be in the loop every time Reddit updates or changes anything. For this reason, it has been acknowledged on their website that in one of their recent updates, something went wrong in one of those video players, leading to the circumstance we face today. Per the Reddit app, they have made another blunder that irritated the users wherein any posted videos with NSFW tagging are virtually not playing. It is a terrible issue that may occur for a week or so. Hence, since the app has acknowledged this mistake, an apology was delivered from its end.
Part 2. Ways to Fix Reddit App When Videos are Not Playing
After learning why Reddit app videos are not playing, the teams and users have devised ways to fix it. Therefore, we have gathered all of them from different users who successfully solved the problem. See them below.
Common Ways to Fix Reddit Videos Not Playing
1. Relaunch the Reddit App
Always check if Reddit is working fine. One way to do so is by comparing other platforms' processes. If the other platforms are working well, then Reddit isn't. Hence, force close the app and relaunch it.
2. Set the Reddit Permission
If your Reddit app doesn't have the proper settings, loading errors will surely happen. You may want to adjust the app's permission to solve the problem. To do so, go to the security & privacy settings of the app and access the permission to allow the app to read and write your storage.
3. Check for the Latest Updates
Go to your App Store or Play Store and check if there is an available version to acquire. Updating the app will help you fix the bugs.
4. Clear Data Cache
The cache data can also be a reason for an issue. Therefore, you may want to go to the app's junk files and clear the cache data to resolve the issue.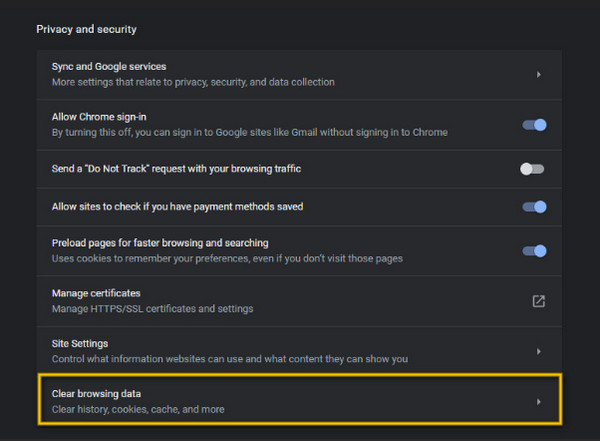 5. Turn Off the Auto Play in the App
By disabling the app's auto play function will help you save much bandwidth that will hinder the video from hanging. To disable auto-play, you need to go to the settings menu and look for the autoplay option. Adjust this option from being always into the never option.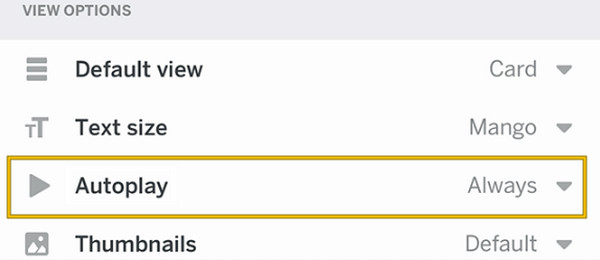 6. Convert the Videos for Reddit
One of the most effective solutions that you can try is video conversion. Convert the Reddit video into suitable formats like MOV and MP4 to enjoy its playback.
Bonus: Best Video Converters for Reddit Videos
1. Video Converter Ultimate
If you are looking for the ultimate video editing software, Video Converter Ultimate is what you should find. As its name suggests, it is an ultimate video converter that supports more than 500 different media file formats, including the ones Reddit supports. With this being said, it will not only enable you to convert the Reddit videos not playing but also the video and audio files you have on your device. Furthermore, this amazing video converter is infused with ultimate acceleration technologies to speed up the conversion process to 70x faster, to speed up your hardware and GPU without compromising the high quality of your output. What's more, it allows you to convert as many files as you want in just one round. You read it right. This Video Converter Ultimate excellently works in batches!
Another reason that makes this awesome video converter the best is its extra features. You will be surprised at the noble Toolbox, which holds all the editing tools you need for file editing, such as Video Enhancer, Media Metadata Editor, GIF Maker, Video Compressor, 3D Maker, and many more. Not to mention the tools here are powered by Artificial Intelligence that empowers them to produce high-quality outputs.
Key Features
1. Ultrafast batch conversion process that works 70 times faster than others.
2. Unique features and editing tools are available to utilize.
3. Easy-share your converted files to your favorite social media platforms.
4. Support for hundreds of various video and audio formats as input and output.
5. It is a multi-platform video converting software for Windows and Mac.
Step 1
Grab the Video Converter
To begin with, take the chance to grab this fantastic video converter on your PC. To help you do it quickly, hit the Download button shown above. Then, proceed to the next step once you finish downloading and installing.
Step 2
Upload the Reddit Videos that Are Not Playing
Run the software, and begin uploading the unplayable videos. To do so, simply drop them directly at the center of the interface after dragging them from your local folder. Also, you can hit the Add Files button or the icon at the center and manually grab the video files to upload.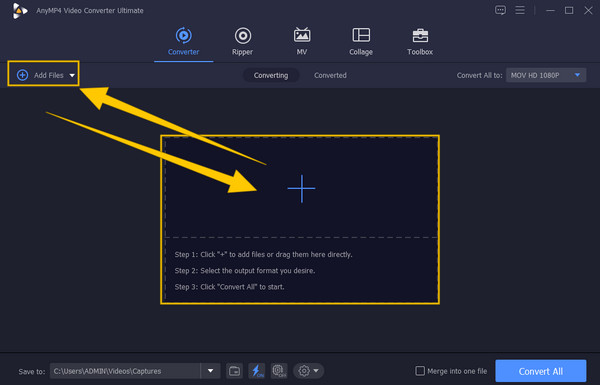 Step 3
Choose the Suitable Output Format
Next is choosing the suitable format for your output. To see the format choices, click the Convert All To section and the Arrow tab. Then, a new window will prompt where you will see the video formats and choose the suitable one you need. After that, you must select the preferred encoder you will apply for the output.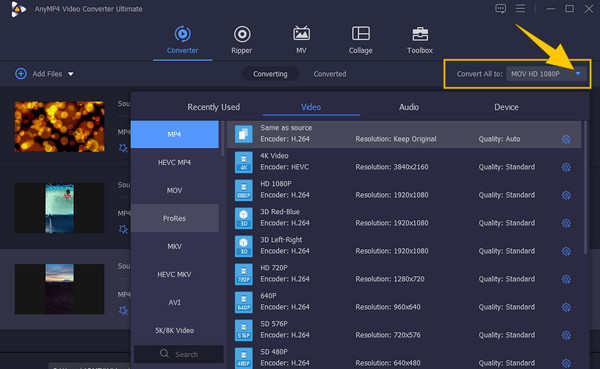 Step 4
Begin the Swift Conversion Process
After that, select a destination for your converted files where you want them to be saved right after the conversion. How? Go to the Save To section and hit the Arrow button. Then, click the Browse and Select Folder tab as it prompts. Finally, click the Convert All blue button at the bottom to start the swift conversion process.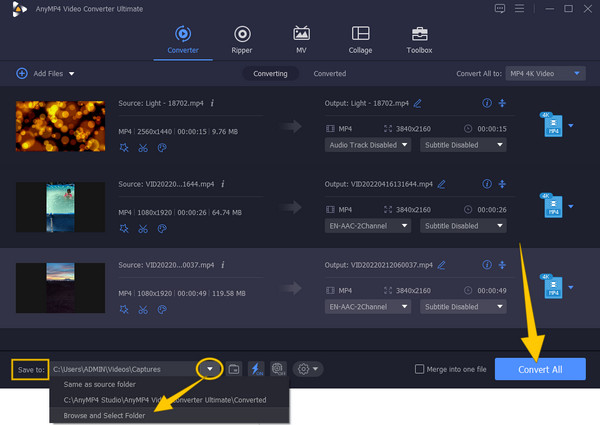 Step 5
Share Converted Files (Optional)
When the quick conversion is done, you have the option to share the converted videos. To do so, go to the Converted section, hit the share icon on every converted file, and choose the platform you want.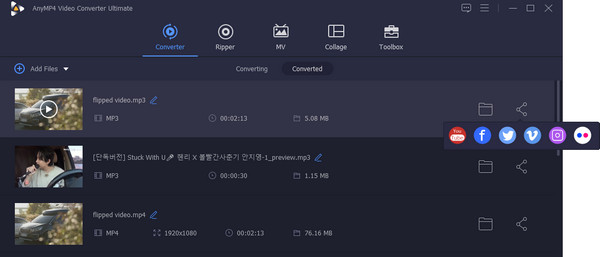 2. Free Video Converter Online
If you think you can't afford to grab a downloadable video converter on your computer, then you can use this Free Video Converter Online. This online video converter enables you to work on the Reddit app videos that are not playing and transform them to your preferred format without any dime. Like the previous software, you can convert batch files unlimitedly with this online tool since it also comes with its ultrafast technology that processes 70 times faster in conversion. Furthermore, this amazing converter also helps you to have different outputs, for it supports many video and audio formats.
Unlike the other online tools, this Free Video Converter online won't bring you any ads that can irritate you while converting files. Additionally, the outputs are all free from watermarks allowing you to take full ownership of your files. Another thing that will surely hook you is this converter's easy-to-understand interface, where you can navigate easily for the first time. And yes, for the extra features? It offers you presets that will enable you to customize the file's resolution, bitrate, encoder, frame rate, and channel. If you want to know how to use it for your Reddit videos that are not playing, see the steps below.
Step 1
Visit its main site and hit the Launch Free Converter button to acquire the launcher. By re-clicking it, you will be able to upload all the videos you need to convert.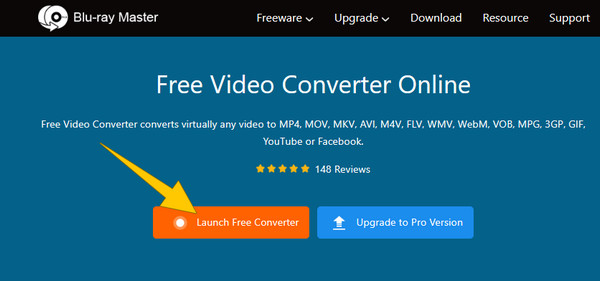 Step 2
Once a file is uploaded, the tool will bring you to the conversion window. You can add more video files from there by clicking the Add File button. Then, hover over the format choices at the bottom and toggle your chosen one for your output. Optionally, you can hit the Coggle icon to access the extra editing presets.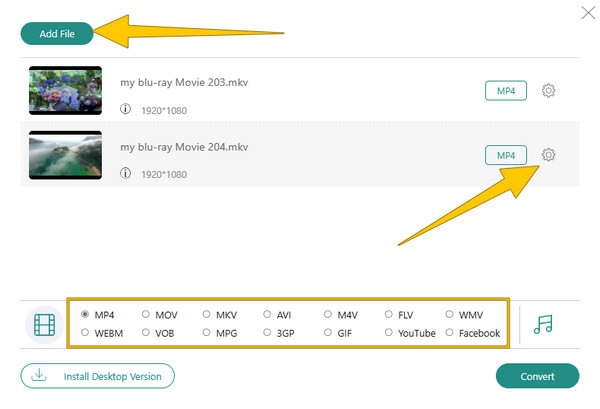 Step 3
You can hit the Convert button and choose a destination folder when all is good. After choosing the folder, the conversion process will start.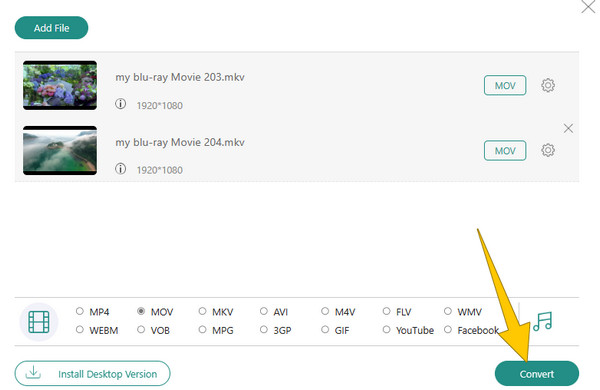 Part 3. FAQs About Reddit App
Are all videos from the Reddit app not playing?
No. Many videos in the app are smooth to play, such as the videos posted by the members.
Why are the videos played but do not have audio?
For the playable videos that you cannot hear the audio, check if they are on mute. If so, just unmute them by clicking the icon.
Is it normal that Reddit doesn't work sometimes?
Yes. An outage or external occurrences often cause this issue. If this happens, it is better to force quit the app.
Conclusion
Do not be dismayed when the videos in the Reddit app are not playing because Reddit admits that it happened to their mistake. Better to solve the issue by using the solutions we presented to you above. And for the best result, convert the videos to different formats using Video Converter Ultimate for offline and for the web, the Free Video Converter Online.