Split Screen on Skype: Instructions on How to Enable and Disable It
We can't deny the fact that skype has been in demand nowadays. We believe it is not only because of the global Pandemic that caused students to take their classes via Skype calls but also the good attributes of Skype itself. But did you know that this telecommunication application also offers a spleen screen mode? And if so, do you know how to access it? This is what this article post is all about exactly. Because here, we will provide you with the instructions on enabling the said function in the app. Along with this, we will also include a tutorial on how to get rid of split screens on Skype accordingly. So, without further adieu, let's start by looking at the content below.
Part 1: How to Enable Split Screen on Skype
As mentioned in our introduction, Skype can enable you to multitask by giving you a split screen mode while on a video call. This way, you can get to note or have a conversation with your peers while listening to a discussion happening through a video call. However, note that the split screen or window view is only available on Chromebooks and desktops running Skype. So if you are interested in enabling this split screen on Skype, then see the steps below.
How to Enable Split Screen on Skype on Chromebook
Step 1
Launch Skype and go directly to your Profile Picture. Then, please hover over the Settings and click the Coggle icon for it.
Step 2
From the Settings menu, select the Appearance selection.
Step 3
Now click the Enable Split View Mode option. Then, you will see that you have a split window for your conversation and contact.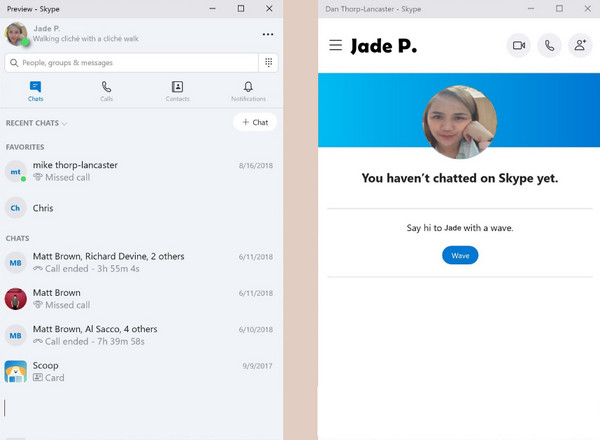 How to Enable Split Screen on Skype on Desktop
Step 1
On your profile, click the Ellipsis icon near your picture.
Step 2
Once clicked, hit Enable Split View Mode under the Settings menu.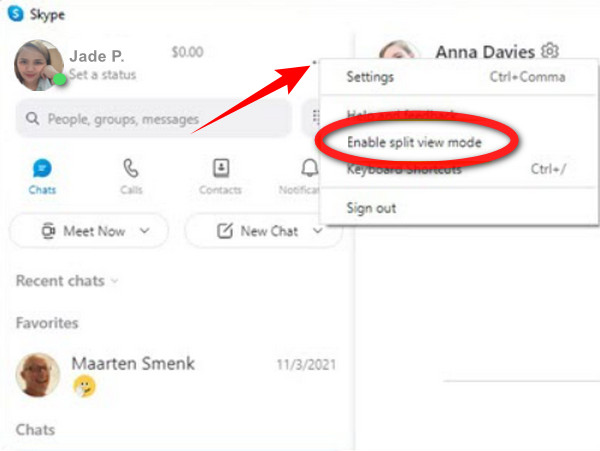 Part 2: How to Get Rid of Split Screen on Skype
You just found the instructions on enabling the split view mode on Skype. And enabling the split view mode will give you the liberty to customize your windows to where you want to place them by dragging them off. And suppose that you want to rejoin the separate windows again. You will just need to disable the mode. This won't actually take a lot of your time because it will be just a piece of cake since you just need to follow the same steps in enabling it. So, go back to your profile, and click the Ellipsis again. This time, the option to Disable Split View Mode is available. Click it, and your split windows will be one again. And that is how simple it is to turn off the split screen on Skype.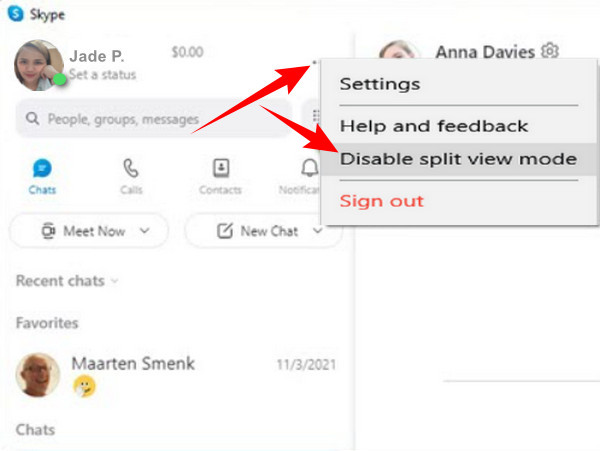 Part 3: Recommendation: Best Software to Make Split Screen Recording Videos for Skype
Indeed Skype nails it when it comes to being an excellent telecommuting tool. However, we cannot deny that its split screen mode has limited functions. Therefore, if you are looking for an all-out split-screen maker, then come to know Video Converter Ultimate. It is a video editing software that works for every video editing task you need, from converting, recording, enhancing, removing the watermark, creating movies, compressing, etc. Name it Video Converter Ultimate has it! So yeah, you can also use this software to screen record your video calls and split-screen presentations on Skype, then edit them according to your need.
On the other hand, if you want to focus on making split-screen videos of your skype recordings, then you can work like a pro with Video Converter Ultimate. But wait, it doesn't mean that you need to be like a pro before using it because it has a surprisingly user-friendly interface that is best for beginners. As a matter of fact, even an elementary user can navigate it due to its simplicity. Well then, you will be more excited to use it as we indulge you with its other features below.
1. Customizable templates, styles, and screen divider.
2. Flexible on Mac, Linux, and Windows computers.
3. With extensive support of more than 300 different file formats.
4. Safe and friendly to your computer due to its hardware acceleration technology.
How to Use Video Converter Ultimate in Creating Split Screen Video
Before you follow the instructions below, please ensure that you have already installed the Video Converter Ultimate on your desktop or Mac computer. To do so, click the Download button presented above to fast-track the task.
Step 1
Launch the Video Converter Ultimate once you have it on your device. Then hover over to its Collage option among the menus at the top-center of the interface.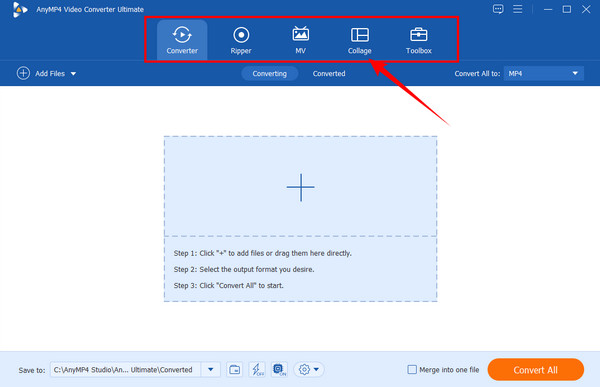 Step 2
On the new interface, pick your choice of template. Then, start bringing your videos in by clicking the Plus icons from the left side of the preview display.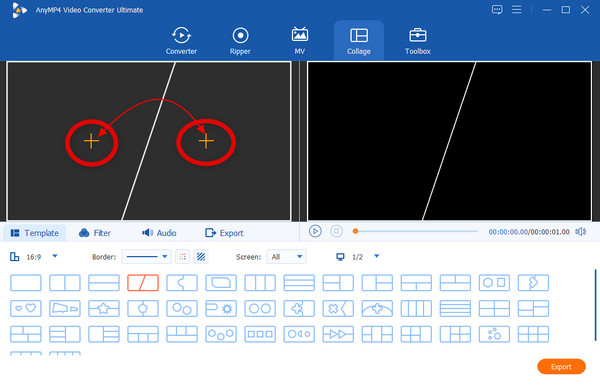 Step 3
Once the videos are in, you can now work to customize them. You can edit the videos individually by clicking on each until the editing window shows up. One way of editing them is by applying a filter to them. You can see the multiple choices for this in the Filter tab.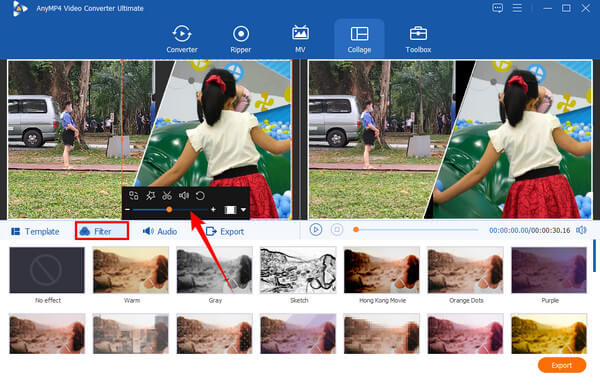 Step 4
After that, go to the Export page. You can customize the file's resolution, quality, and format. Note that it is by your hand if you will produce a good quality video because, in the Resolution selection, you can choose up to 4K video output. Then, click the Start Export once done to process the changes.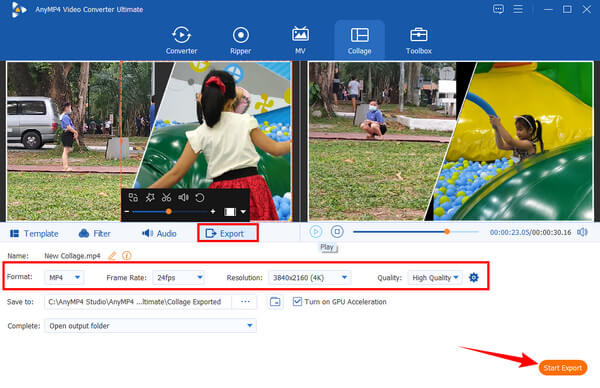 Further Reading:
Two Simple Ways on How to Disable Split Screen in Safari
How to Do Split Screen to Multiple Sections for Windows 10 & 11
Part 4: FAQs about Split Screen and Skype
Can I split the screen on Skype for business?
Yes, you can. Anyway, Skype's split view mode applies to any circumstance you do.
Can I split the view with more than two screens on Skype?
Yes. You can open multiple windows on Skype while using split view mode.
Why can't I find the split screen mode on Skype?
The split screen mode is located in the settings near your profile picture. If you can't find it, you might use Skype on the web or mobile platforms, where the split view is unavailable.
Conclusion
To conclude, the task of enabling and disabling the split screen mode on Skype is as easy as 123. So, if you still have friends who want to know how to get rid of split screens on Skype, then this is the perfect time to share the instructions you learned from this article. Also, share with them the ultimacy of Video Converter Ultimate, which will help you and your friends ease your video editing task.