5 Excellent Slideshow Makers with Music for PC & iPhone 2023
Slideshows are not complete without a piece of music included in them. Music makes your slideshow better, more entertaining, and more appealing to viewers. You can say that it brings life to your boring slideshows, tutorials, presentations, movies, and other media content. But searching for slideshow maker programs can be a bit tedious. We can help you with that. This article lists slideshow makers with music for desktops and iPhones that are free to use and download. They can effectively create slideshows and integrate music into them seamlessly. To know more about these robust programs, continue reading this post until the end.

Part 1. Best 3 Slideshow Makers with Music for Computer
Below is a list of the most reliable and capable slideshow makers with music you can download on your desktop for free. These programs are incredibly good at making slideshows, feel free to try them.
Video Converter Ultimate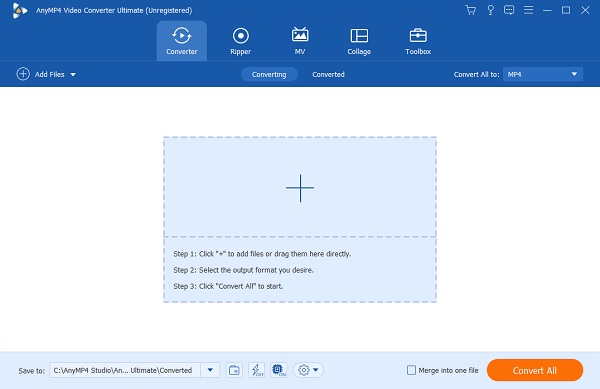 Number one on the list is Video Converter Ultimate. This highly-recommended desktop program is an incredible slideshow maker with music. You can download it freely on Windows and Mac devices with in-app purchases. With the MV feature, you can easily make music videos, presentations, short movies, and slideshows. There are plenty of themes that you can use to beautify your slideshows which already include effects and music. Furthermore, you can add multiple videos and images at once and use any music you have on your device as background music. And for beginners and casual users, this program has a very straightforward interface so that you can master it within a few tries.
Key Features:
* Supports various audio and video file formats ( MP3, WAV, AC3, MP4, MOV, AVI)
* Available on Windows and Mac devices
* Supports high-res videos up to 4K HD
* Supports batch file conversion
* Extra Toolbox features (Volume Booster, Audio Sync, Video Rotator, etc.)
Follow this simple yet detailed step guide to creating slideshows using the best slideshow maker with music on PC.
Step 1
For starters, click the Download button above to start downloading the software. Run the installation wizard and wait for the installation process to finish. The program automatically launches after successfully installing it. Choose the MV feature so you can start creating slideshows with music.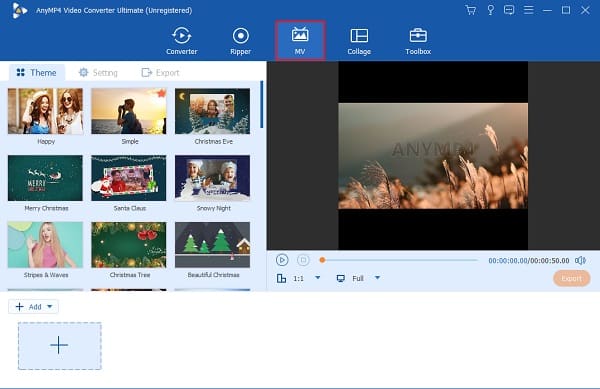 Step 2
On the MV tab, you will see templates for your slideshow. These templates are free-to-use and are suitable for different events and occasions. They also include background music as well. Tap the +Add button to add images and videos from the file folders you will use for the slideshow. You can drag the files from your device and drop them directly on the space below the program's interface.
Step 3
For the next step, head to the Setting tab to change the background music using desired music. Click the Plus sign button to include the music from your folder in the program. Use the slide control of Volume to modify the loudness of your background music. Adjust Delay's slide control to make an echo effect on your audio.
Step 4
Move to the Export tab and click the Gear icon on Quality. A pop-up window will appear where you can adjust the Audio setting of your slideshow. You can modify the Encoder, Channel, Bitrate, and Sample rate to enhance your slideshow's audio further. Hit OK to apply the changes.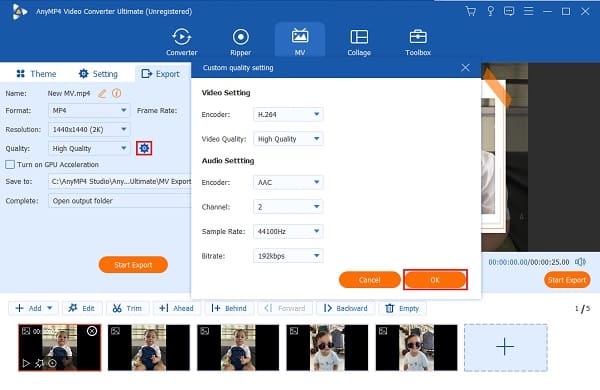 Step 5
For the last step, set the location where you want to save the file on your device for quicker access. Click the Start Export button to begin the exporting process. Once the process ends, your slideshow saves automatically.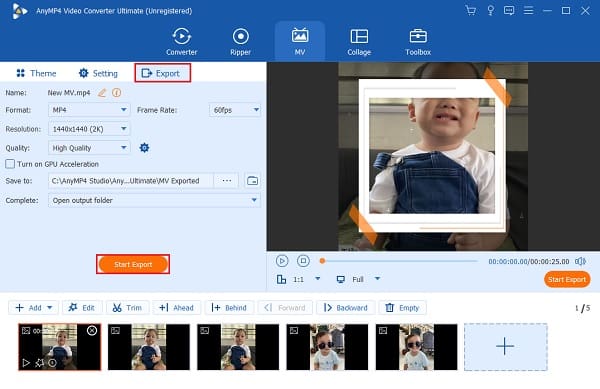 Filmora Video Editor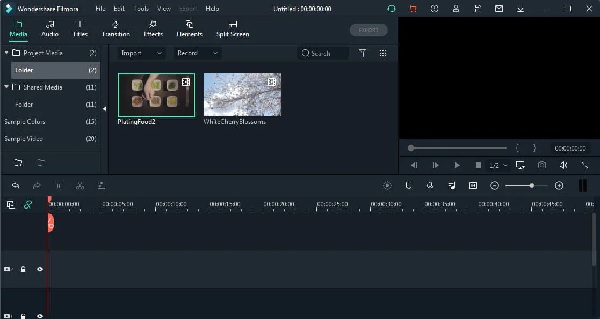 Filmora Video Editor, a product of Wondershare, is a slideshow maker with music for novice users. As a slideshow maker, you get the tools you need to enhance your slideshows. You can use a plethora of transitions and filters for added effects and text templates for better annotations. And when it comes to adding music, you can choose between 172 background tracks. There's also an audio mixer that you can adjust based on your personal preferences. In addition, you can also record and include a voiceover using its inbuilt audio input.
Pros:
1. Fast video rendering
2. Simple and easy-to-use interface
3. Has built-in screen recording tool
Cons:
1. Lacks advanced editing features
2. The free version has watermarks
3. Occasional program crash
PhotoStage Slideshow Pro
PhotoStage Slideshow Pro is a free slideshow maker with a music desktop program created by NCH Software. It may be a simple slideshow maker, but it is more than enough to make one and better than other programs. You get tools and features typical for a video editor and slideshow maker. These features include adding transitions, using effects and animations, putting texts and titles, etc. And for the audio, you can add background music by downloading them to NCH Music Library. Additionally, you can also include your own narration in the slideshow.
Pros:
1. User-friendly interface
2. Has a mobile app version
Cons:
1. The free version has no customer support
2. No advanced editing tools
3. Not available on Mac and Linux platform
Part 2. Best 2 Slideshow Makers with Music for iPhone
iPhones are highly praised for their build, quality, camera, simplicity, and powerful chipset. It's no wonder they are the world's most famous smartphone brand. Don't be surprised that this small device can make slideshows with ease. Here are some of the best slideshow makers with music for iPhone you can download for free.
iMovie
iMovie will be your go-to app on iPhone or any Apple device when creating slideshows. You can also consider this app the best slideshow maker with music on your iPhone. As it supports hassle-free content sharing with other Apple devices like iPad and Mac. When it comes to making slideshows, this program does not lack. It has features such as free templates, themes, and transitions. You can also create and customize text and titles using special fonts and effects. Moreover, you can add background music from your music library and audio narration, which is excellent for lectures and tutorials.
Pros:
1. Excellent movie templates
2. Simple yet beautiful interface
Cons:
1. Only available for Mac and iOS
2. Limited video editing tools
PicPlayPost
PicPlayPost is a well-known app on iPhone for creating photo and video collages. But it doesn't end there. You can also use this app for making slideshows. There are a lot of tools and fun features you will encounter while using this app. Features include adding texts, stickers, effects, transitions, voice-over, background music, and more. You can also create slideshows in different aspect ratios and layouts for added uniqueness. As for the background music, you can use the app's default music or the ones in your music library.
Pros:
1. Straightforward interface
2. High-resolution output
3. Has Android version
Cons:
1. The free version has a visible watermark
2. Limited music
3. Expensive pricing plans
Part 3. FAQs about Slideshow Maker With Music
What is the best online slideshow maker with music for beginners?
The best online slideshow maker with music for beginners right now is Adobe Express, formerly known as Adobe Spark. You can use their thousands of beautiful templates, and tools to animate text, create brand logos, and more. And for adding music, you can use Adobe's music library or upload yours. All of these are accessible for free.
What app is considered the best slideshow maker with music for Android?
Video Maker Music Video Editor is one of the best slideshow makers with music apps for Android users. This app provides powerful editing tools to make a unique and stylish slideshow within a few minutes. You can put animation transitions, add music from its music library, and more. This is a free-to-download program with in-app purchases.
What is the best audio format to use on your slideshow?
The best audio format to use on your slideshow is a lossless audio file format. These formats are FLAC, WAV, or AIFF. These are also considered hi-res audio formats because they are better than CD-quality music. The downside is that these are very large file sizes when used on a slideshow.
Conclusion
You are now accustomed to the list of slideshow makers with music for creating amazing slideshows. This post will be a great reference when you look for a program dedicated to desktops and iPhones. Among these tools, Video Converter Ultimate stands out the most regarding functionality, ease of use, built-in tools, etc. Undoubtedly one of the best right now.