Top 7 Phenomenal Slideshow Makers for PC [Offline & Online]
Slideshow makers are best used on desktops when making slideshows for your school, work, projects, or special events. That is because desktops have higher performance, bigger screens with multi-display support for fast productivity, and better slideshow apps than smartphones. What's better is that you can use an online tool that you can access on the web browser, which is not compatible with smartphones. There are plenty of online and offline programs you can use that are free to access and capable of producing pleasing results. But with plenty of slideshow creators out there, we reduced it to seven programs that we think are the best in this category.
Without waiting any longer, let's proceed to the first part of this article.

Part 1: Top 4 Slideshow Makers Offline
Here are the top 4 slideshow makers you can download on your desktop for free with in-app purchases. The programs included in this list are very capable programs, with each having different advantages and disadvantages. Start reading now to learn more about these tools.
Video Converter Ultimate
Starting the list is Video Converter UItimate, one of the best slideshow maker apps for desktops. This program is a file conversion tool that supports hundreds of file formats. More than that, this tool is also an effective slideshow maker using the MV feature. It includes many templates with unique themes applicable to different occasions and events. You can also apply filters and effects, add subtitles, watermarks, background music, etc., to make outstanding slideshows.
Moreover, it has a straightforward interface with well-laid options making it easy to use for novice and even advanced users. The free version is already great enough for slideshow making, but you can upgrade to the premium version if you want to unlock all features. You can download and access this program on Windows and Mac devices.
Key Features:
1. Import media files with no limitations
2. Plenty of free-to-use templates
3. Support hundreds of audio and video file formats, including MP4, MOV, AVI, MKV, MP3, AC3, AAC
Here's how you create a slideshow using the top-recommended slideshow maker on the desktop.
Step 1
Tap the Free Download button above to begin downloading the program. An EXE file will be downloaded and run on your computer. The app opens automatically after successfully installing it. Select the MV feature to start making slideshows.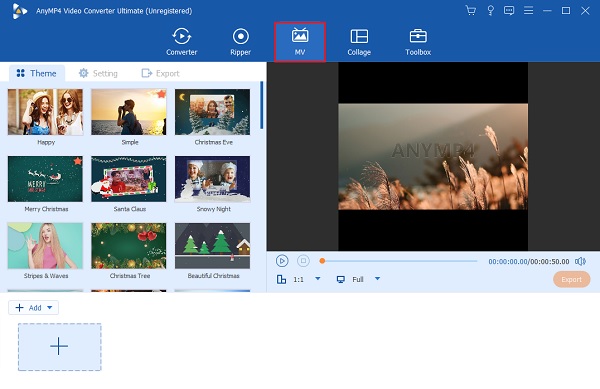 Step 2
On the MV feature, you can choose templates with different themes for your slideshow. Click the +Add button to import images and videos to the program. You can rearrange them on the timeline below in the order you want. Click the Edit button to edit the media files individually. You can use the filters for free and adjust the effects using the provided slide controls. Tap OK to apply the changes you made.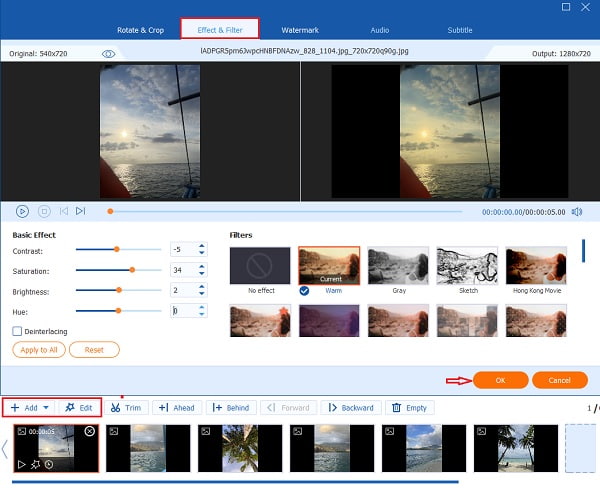 Step 3
Go to Setting to import a song to use as background music for your slideshow. To do that, use the drop-down list beside Background Music and tap the Add button. Choose your preferred music and import it into the program.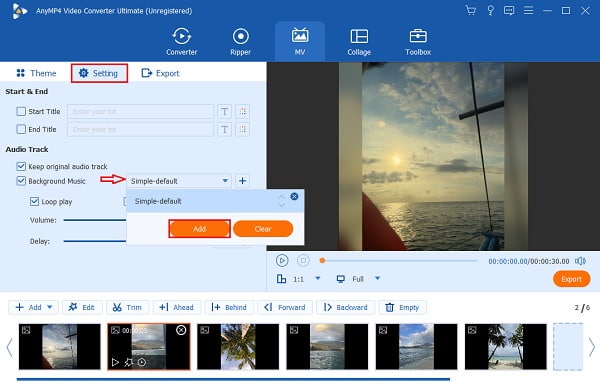 Step 4
Finally, head to Export. Here, you can change the final output resolution of your slideshow. Tap the drop-down list of Resolution and choose between 360p to 4K HD. We recommend using the highest resolution available for the best viewing experience. Click Start Export to save the slideshow on your computer. Wait for the process to end before you close the video slideshow maker.
Wondershare Filmora
Filmora of Wonder is an excellent video editing app for personal or business use. You can create videos with lots of customizations using its different tools and functions. You get basic tools like photo and video editing, transitions, adding texts and subtitles, etc. You also get a customizable interface, motion tracking, and video speed adjustment. These functions make this tool a slideshow creator. You can create unique slideshows using its high customizable functions and plenty of templates. However, you may encounter some occasional lag or program crashes while using this application, which will become bothersome over time. You can acquire and use this on Windows and Mac operating systems.
Pros:
1. Simple and easy-to-use interface
2. Fast rendering of videos
3. It supports a lot of file formats
Cons:
1. Expensive monthly and yearly plans
2. The free version puts watermarks on videos
3. Lacks advanced video editing tools
DaVinci Resolve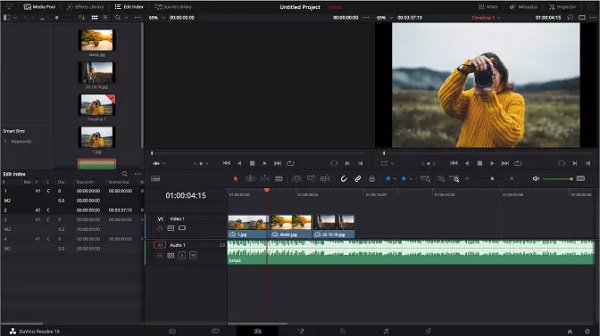 DaVinci Resolve is a free-to-download video editor and slideshow maker with professional-grade capabilities. This program is meant for professional users for video editing with its advanced features. These are color corrections for HDR, audio posts, and the ability to work on several projects simultaneously. There are basic editing tools for making slideshows as well. You get to use templates sourced from supported template makers, insert audio tracks, transition effects, texts, and many more. The slideshow created using this tool is great for high-end marketing promotions. Although, you have to purchase the full version if you want to access all its features, which is quite expensive for general users.
Pros:
1. Feature-rich free version
2. Multiple options for formats and resolutions
3. Advanced color correction
Cons:
1. Not beginner-friendly
2. It does not support 3rd party tools for pre-made templates
3. Needs high-specced computer to run smoothly
SmartSHOW 3D
SmartSHOW 3D is a very useful photo slideshow movie maker program that allows one to create slideshows in a fun way. Using its wide range of graphics and animation effects, your slideshows will come out unique after doing it for a few minutes. The user interface is easy to understand, which is great for beginners, and advanced users might find this less of a hassle. And as the name implies, 3D effects are available in this program. You also get to add and use 200 different songs to make your slideshows more entertaining. This tool is only compatible with Windows devices. The affordability of this tool makes it a great hit with users.
Pros:
1. Built-in video and music library
2. 3D effects for images
Cons:
1. It does not support 4K videos
2. Only Available for Windows OS
3. Lacks photo and video editing tools
Part 2: Top 3 Online Slideshow Makers
Online slideshow makers are the alternative programs for desktop ones. There's no need to download these tools, and you are to access them on your web browsers. Below are the top 3 online slideshow makers you can use and start creating a slideshow now.
Adobe Express
Adobe Express, being part of the Adobe program, is a highly capable online slideshow maker and photo and video editor. Unlike other Adobe programs, this one is mostly free. On the free version, several templates and effects are for you to use without spending money. The tools and functions are well-organized, with some templates having specific purposes like Instagram, Youtube, flyers, resumes, and food menu. You are also allowed to design your templates from scratch. The basic photo editing you get that slideshows will benefit from increased opacity, color and blur effects, image enhancements, and more. There is also a dedicated text field for people doing a lecture or tutorial slideshow.
Pros:
1. There is a mobile version
2. It has an intuitive interface
3. Includes high-res images
Cons:
1. The free version has Adobe Spark branding
2. Poor image rendering quality
3. It does not support adding captions
Canva
Canva is one of the most popular photo editing tools and slideshow makers online. This is a totally free app with a super simple interface with powerful tools meant for promotional materials, posters, resumes, and more. There are several templates readily available to use, pre-built font combinations, stylish elements, etc. what it lacks is the customization of transitions and difficulty finding some features.Just create your Canva account, and you are good to go. When making slideshows, you are allowed to add charts, grids, frames, gradients, and more. You can also change your slideshow's background using a solid color or image.
Pros:
1. Easy to understand features
2. Accessible on all platforms
3. Great for making promotional materials
4. Can download slideshows in PowerPoint format
Cons:
1. Watermarks are added for the free version
2. You cannot back up your projects
3. Internet-dependent program
PixTeller
Pixteller is an online picture and animation maker and a reliable slideshow maker. This program offers plenty of templates for different purposes. You get templates for social media images, posters, animated posts, business cards, online ads, and more. You can also make your own template from scratch. And as for making slideshows, you are free to access over a million pictures or use your own, customize fonts, and use thousands of templates that will add a unique touch to your slideshow. Anyone can see the projects you made and can only be hidden when you purchase their plan.
Pros:
1. User-friendly interface
2. Plenty of pre-made templates, elements, shapes
3. Can save slideshows as MP4 and GIFs
Cons:
1. Not good for beginners
2. Slow video rendering
Part 3: FAQs about Slideshow Makers
What is the best aspect ratio to use for slideshows?
The best aspect ratio to use is 16:9, which is the standard ratio we use when watching TV, smartphones, and projectors. You will mostly benefit from this ratio when you are presenting to a large audience.
What is the recommended resolution for slideshows?
The recommended resolution is 1080p HD. 1080p is the standard video resolution today, below this, your slideshow will have visible pixelations. You can go up to 4K HD if you have a monitor with that kind of resolution. Video Converter Ultimate can create slideshows with 4K video output.
What are the things you should avoid when making a slideshow?
There are five things you should consider when making a slideshow. These are;
You should not put too much text as this may bore your audience
Do not use bad fonts, especially the unreadable ones
Do not use poor-quality videos and images
Do not include exaggerating transitions
Do not use colors with bad contrast
Conclusion
And that's it. Are you impressed with the best slideshow makers included in this post? Whether it is an online or offline program, you are guaranteed to make slideshows with ease using the programs mentioned above. You can try them to see which is suitable for you. And as for offline software, Video Converter Ultimate is worth trying. You get lots of templates, you are free to add images, videos, and music, and you have the freedom to edit your media files. Everything you are looking for in a slideshow maker program can be found in this outstanding software.