Top 6 Slow Motion Video Maker to Slow Down Movie
Perhaps there are videos of yours that you want to highlight by slowing it down. Slow-motion clips are not only made to delay and lengthen the duration of the content. Most of the time, it is by a slow-mo where the video owners can show the significance of their captured moments. It may be to display the most beautiful reaction of a woman during a wedding proposal, a scenario of victory, or to focus on the most unforgettable moment that needs to be highlighted. On that account, having an exquisite slow-motion video maker and editor is a must. Good thing that you made it in this article, for you are about to become familiar with video editors for such matters. Get ready, for we will reveal their boons and banes and their excellent features to help you quickly decide which will be the perfect one for you. So, without further adieu, let's get these recommendations started.
Part 1: Top 3 Best Slow Motion Video Editing Software
Top 1. Video Converter Ultimate
Video Converter Ultimate is an all-in-one slow-motion video editor software that is free to download on PCs and Mac and favorable for all levels of users. This means that even if it's your first time trying video editing, you will not hesitate to use it since it has a straightforward interface. Its slow motion featured function is just a part of its fantastic video speed controller that makes videos slow down up to 0.125x and reverse. On top of that, it provides abundant settings that will turn your videos into superb quality even after undergoing a slow-motion effect. This tool also allows you to optimize your video's audio, where you can adjust the channel, bitrate, sample rate, encoder, and format. This way, you can still control how your video will; sound after slowing it down.
What makes it more remarkable is that it has the movie maker feature, where you can compile all your slow-mo videos into one clip. So no wonder why this video editor that can slow motion hits the rank on top, but to convince you more, read the information below.
Features
1. With a wide diverse selection of powerful tools.
2. It comes with advanced features, including hardware acceleration.
3. Support a wide range of video input and output formats.
4. Support and produce up to 4K quality videos.
How to Use Video Converter Ultimate in Slowing Down Video
Step 1
Install the software on your computer and open it. Once you reach the main interface, go to its Toolbox feature and click its Video Speed Controller tool. Then, proceed with uploading the video that you need to slow down.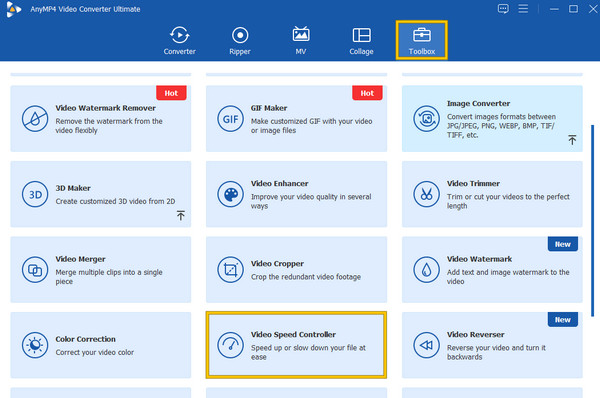 Step 2
After uploading your video on this slow-motion video editor, you can begin to do your task. Glide on the speed controls located under the Preview section, and select the 0.125X option for a slow-mo effect. Then, if you want to see the presets, hit the Coggle icon, as seen in the image. Otherwise, proceed to the next step.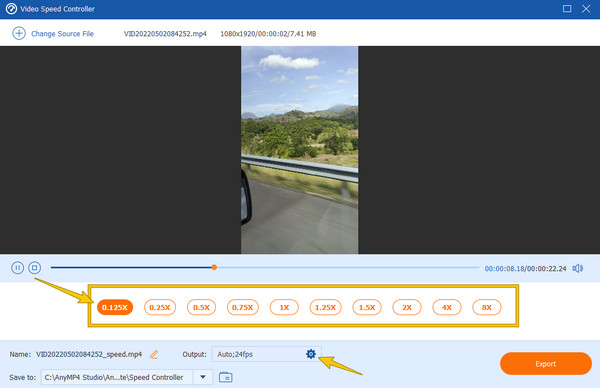 Step 3
Now, click the dropdown arrow of the Save To section if you want to customize your output destination. If not, hit the Export icon to apply the changes.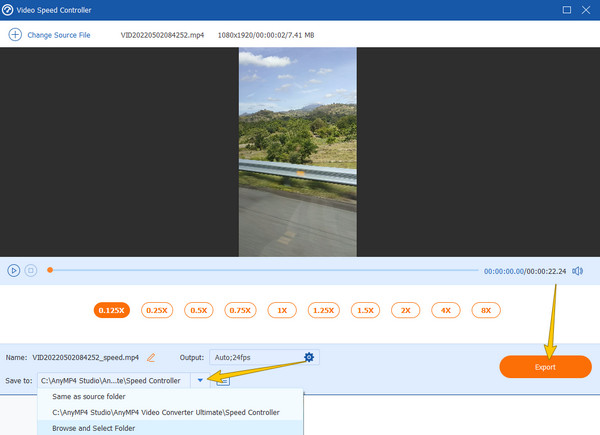 Adobe Premiere Pro
Have you already heard about Adobe Premiere Pro? Well, this software is one of the most popular video editing software in this industry, which is why many professional users prefer it. Another reason for its popularity besides its brand is the extensive list of features it offers. It provides users tools such as autio color corrector, comparison view, tons of graphics, templates, and more. And as a slow-motion video editor for Mac and Windows that pertains to its flexibility. Meanwhile, Premier Pro lets you slow down your video by manually entering your preferred speed rate.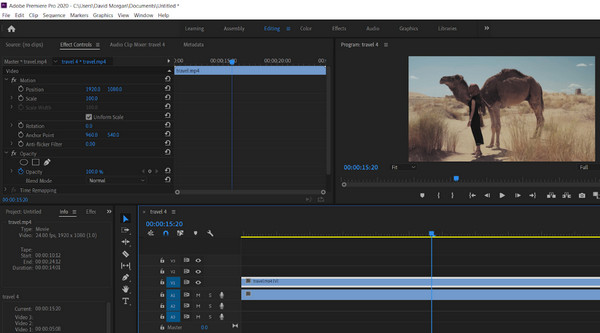 Pros:
1. It offers almost all editing tools for a project.
2. It modifies speed control in several ways.
3. The speed modification is not that challenging.
Cons:
1. For ideal efficiency, it requires a high system.
2. The software is pricey.
3. Not the best for beginners.
Pinnacle Studio
If you want a semi-professional video editing program, then you should see Pinnacle Studio. Similar to the previous one, Pinnacle Studio is not being left behind when it comes to providing numerous features. In fact, this slow-motion video editor for Windows adds up a fit-to-duration function that can save you time when slowing down the speed of your video.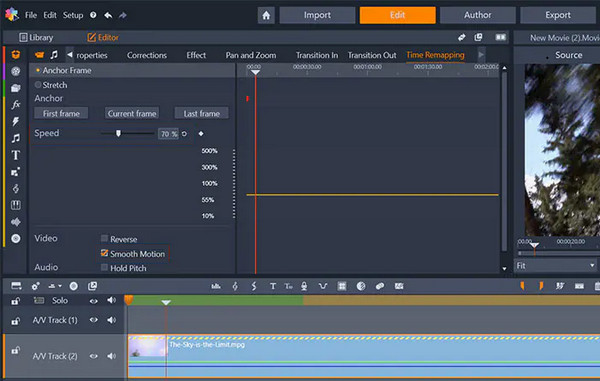 Pros:
1. Provide you with many features and options.
2. It simplifies the speed control by its fit-to-duration option.
Cons:
1. It is not workable on Mac.
2. The interface is overwhelming.
3. Other unnecessary visual effects are tagged along.
Part 2: 3 Outstanding Slow Motion Video Making Apps for Android and iPhone
1. Videoshop
Videoshop is one of the best video editing apps for Android. It is an editing app that is full of features, including the one to apply slow-motion effects on a video. This Android video editing app for slow motion allows you to pick a part of the video where you wish to apply the slow-motion effect.
Pros:
1. Enable you to enhance the quality of the video.
2. Come with essential tools in video editing.
Cons:
1. The free version comes with a limit.
2. It is not suitable for iPhones.
2. SloPro
If you are looking for an app that will let you record and edit a video, then SloPro deserves your attention. It is a versatile video editing app you can acquire on Android and iOS. With its capability to slow down videos on iPhone and Android, SloPro enables you to playback a video at your preferred rate and, simultaneously, get it back to its normal speed.
Pros:
1. It is a free slow-motion video editor.
2. The process of slowing down a video is easy.
Cons:
1. It cannot add new audio to the video.
2. The free version cannot load the videos to the camera roll.
3. Slow Motion Video Maker
Another easy but powerful video editing app you shouldn't miss is this Slow Motion Video Maker app. As you see in its name, this app is intently developed to create slow-mo videos. It provides up to 1.2x speed slow-motion playback. On top of that, you can have this app for free.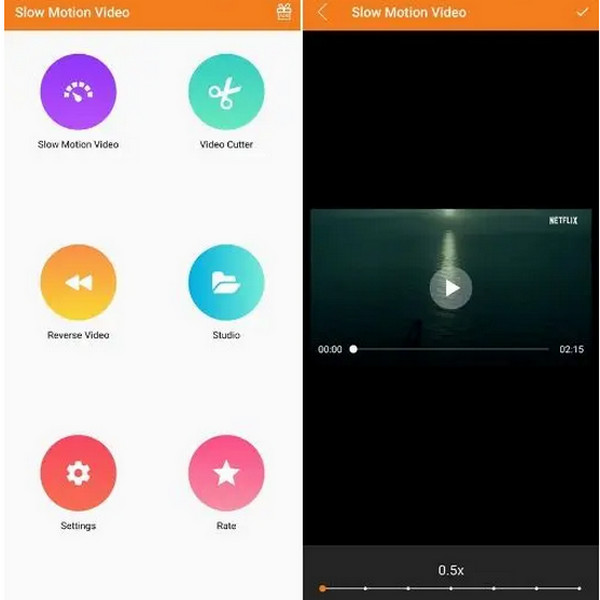 Pros:
1. Enable a reverse speed mode.
2. It is rich in simple yet powerful features.
Cons:
1. It occasionally clashes.
2. Sometimes the exportation process lags.
Part 3: FAQs about Slow-motion Video Maker
Why did the video quality get bad after slowing it down?
Slowing down a video can affect the quality since it changes the rate. Hence, you can use a video editor to slow down and enhance the quality afterward.
Why can't I find the slow-motion feature on my app?/span>
Some editing apps don't use the term slow-motion for this feature. Try to look for the snail or turtle icons for the other terms.
Can I directly record a slow-motion video on my iPhone?
Yes. iPhones have a slo-mo function on the camera roll that will let you record slow-motion videos.
Conclusion
With the slow-motion video apps that are presented in this post, you can now effectively create slow-motion videos anytime. Suppose you want to put your video editing skills to the next level. In that case, Video Converter Ultimate is the perfect choice due to its advanced and powerful tools and technologies. Finally, feel free to leave us a message with any questions or concerns.