How to Slow Down a Video with the Best Video Speed Controlling Software [Offline & Online]
There may be a lot of video editing programs out there, but are you sure about their effectiveness? If you are a noob to video editing, you shouldn't entrust your video files to the software you have just seen for the first time. We are not saying that all of the new programs are bluffs. We mean that there are already proven video editing programs that you can rely on. For making your videos in slow motion, especially if those videos are precious to you, it is a must to be assured that they will handle them securely.
For this reason, allow us to present the four best tools along with their tutorials on how to slow down a video securely and competently. So, what are you waiting for? Let's start digging into the practical learnings for today!

Part 1: How to Slow Down Video Speed with Top 3 Software [Offline]
Slow Down Your Video Via Video Converter Ultimate
Video Converter Ultimate is a prestigious software that provides a tool for controlling the speed of a video. It is practically a tool for video conversion that also functions perfectly on video editing due to its powerful toolbox. And if you want to convert a video to slow motion, this fantastic software will let you easily navigate it to fulfill the task with competence. On top of this, it also provides you with numerous options in speed control, video presets, and even audio settings to perfect your craft.
Furthermore, this Video Converter Ultimate has been a generous software for all. Imagine it has everything you need regarding editing your video and audio files. Besides that, it is a perfect creator of MV, video collages, 3Ds, and GIFs. What will impress you more are the factors added below.
1. Produce your slow-motion videos into popular video formats.
2. Turn your videos into 4K while slowing them down.
3. Customize the quality and frame rate of your output freely.
4. Work on slowing down your video to less than a minute.
How to Turn a Video Into Slow Motion in Video Converter Ultimate
Step 1
Launch this multi-function software. Then, once you get to its main interface, look for the Toolbox among the menu tabs at the center top, then click it.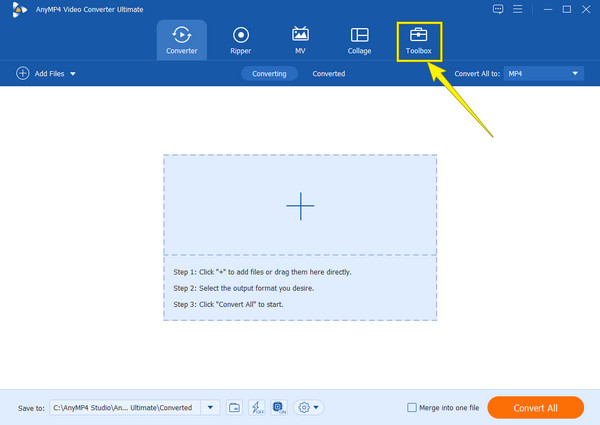 Step 2
When you reach the Toolbox window menu, look for the Video Speed Controller among the numerous options given. After that, work to import your video file when you reach the next window.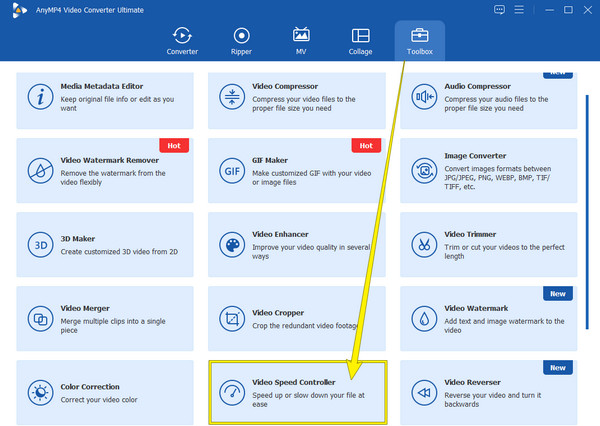 Step 3
Once your video is uploaded, you will reach the editing window. Click the 0.125X option from the speed control to make your video slow-motion.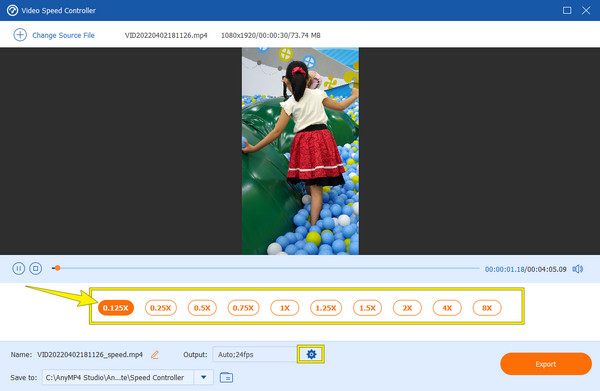 Step 4
(Optional). If you want to adjust your video's format, quality, and resolution, click the Coggle icon in the Output section. From there, you will also be free to make some audio settings.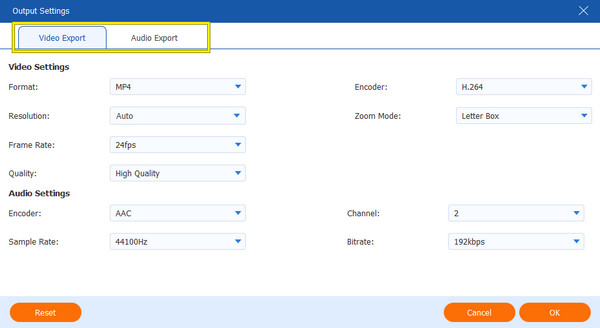 Step 5
Then, you can now hit the Export tab to save the video on your computer device.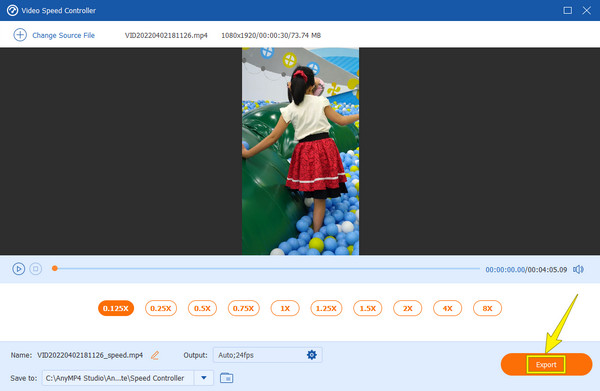 Slow Down Video Clip in After Effects
After Effects is another great software these days, there are many different factors for you to use After Effects, and one of those is that many professionals use it as well. And if that's the case, it means this video editing software is something. To boot, After Effects is known to be a filmmaking tool due to its advanced features that function very well to edit a film and apply to short videos perfectly. However, if you are not a professional video editor, it would probably be a little challenging for you to utilize this tool. Hence, as the saying goes, everything normally starts ambiguously. But good thing you won't have an ambiguous start after seeing the steps on how to make a slow video motion in After Effects below.
Step 1
Open the After Effects software on your computer. Then begin by hitting the New Project option. Then, add the video file to the timeline by clicking Add Files.
Step 2
When you already have the video, right-click on it. Then, choose the Time among the selections and hit the Enable Time Remapping option from the tab options.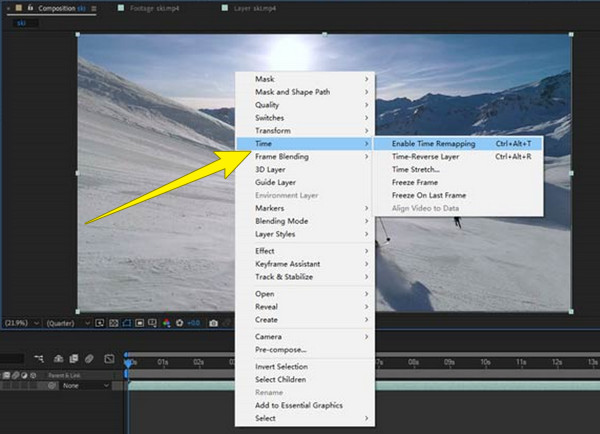 Step 3
Then make two keyframes for your video. To do so, move your cursor to the tiny blue circle inside the red square. Note that you need to place the keyframes to the video part that you need to slow down.
Step 4
So here's how to create a slow-motion video in After Effects. Drag down the adjusting bar to freeze frames. Then, check the preview.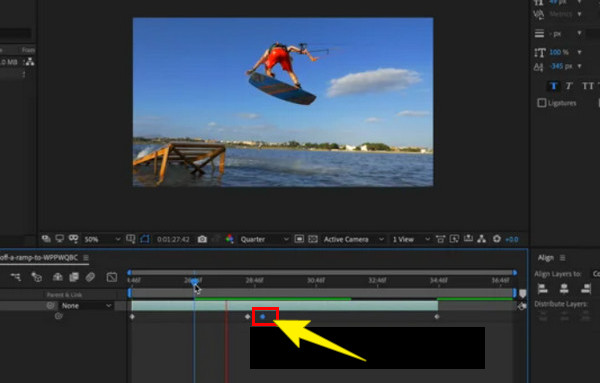 Slow Down Your Video in Premiere
Another competent software that will let you slow down your video competently is Premiere. Premiere is another product of Adobe that functions well in video editing. This, like the first two solutions, is standalone software which means it can work even without the internet. Moreover, everyone has been fond of Premiere due to being a cross-platform that you can acquire on both Mac and Windows computers. If After Effects functions best in filmmaking, this Premiere perfectly works for video editing. As a matter of fact, many who acquire After Effects also end up acquiring Premiere because there are features that are lacking in the After Effects that this software contains, especially in enhancing videos.
Furthermore, there are actually several ways to slow down a video in Premiere Pro. However, we will teach you the most straightforward way among them. So, without adieu, grab your cursor, and follow the steps below.
Step 1
Launch the Premiere Pro with your computer, then import the video file you need to slow down. Please ensure that you put the uploaded video on the timeline after.
Step 2
When the video clip is already on the timeline, get your cursor on it and right-click on your cursor. Then, on the selection tab that popped up, select the Speed/Duration tool from the selections.
Step 3
A popped-up window will appear, where you need to go to the Speed percentage setting. Enter a figure that is lower than 100 to slow down the video speed. Then, click the OK tab to apply the changes.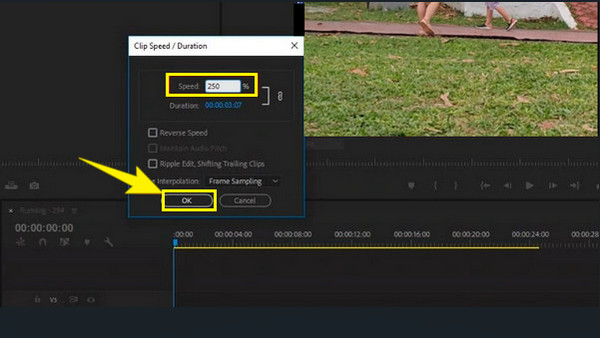 Part 2: How to Slow Down the Speed of a Video Online
Suppose you want to slow down a video online. If that's the case, Kapwing can be a great help. It is an online video speed changer that lets you speed up or slow down your video up to 0.25x. Using it will enable you to edit your video files in many ways for free. However, the free edition is not for a lifetime and produces a watermarked MP4 output. Nevertheless, compared to the other online video speed changer today, Kapwing is what we have seen to be competent. Not to mention its other functions that you can access along with its slow motion maker, like its cropper, trimmer, filter, and more. So, for your online preference, see the steps to follow to slow down the MP4 video with Kapwing.
Step 1
Open your browser and reach for Kapwing's official website. From there, hit the Choose a Video tab to proceed to its main interface.
Step 2
Once you have proceeded to its UI, hit the Click to Upload portion for you to upload the video from your local folder.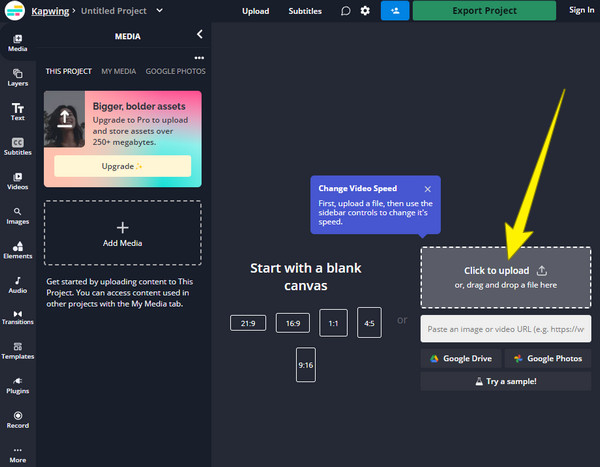 Step 3
Now, on the editing window, go directly to the Speed controller. Hit the Negative icon to slow down the video. Please check the video by playing it once you make changes to the speed. When all is set, hit the Export Project tab to download the output.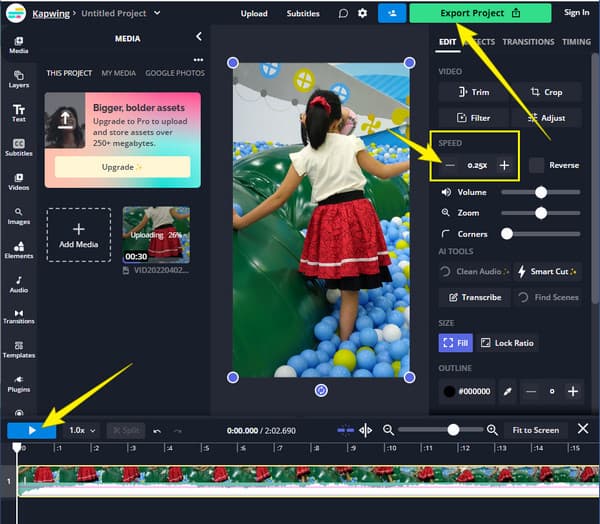 Part 3: FAQs about Slowing Down a Video
How to convert fast-forwarded video to normal speed?
Use the Video Converter Ultimate, and upload your video on its Video Speed Controller. Then, slow down the video using the slow-motions options.
Will I have the same video quality after slowing it down?
Slowing down a video will somehow affect the video quality. Hence, you still have the best option to enhance your video after slowing it down, and that is through Video Converter Ultimate.
What will I do with the blurry videos I have after slow-mo?
When your video gets blurry after slowing it down, then you may try to enhance it with a powerful video-enhancing tool.
Conclusion
You now have the best solutions to how to slow down a video question. You can now slow down your videos like a pro through these learnings. All of the editing tools that are presented here are excellent, but if you seek the best one for its flexibility and features, then go for the Video Converter Ultimate.