4 Best Apps to Add Text to Video: Most Anticipated on iPhone and Android
This article has the best video editing apps to add text to videos. So, if you plan to record a video and turn to a captioned clip that will depict your thoughts about the recording, you can see this post. We know how fun putting text captions on a video is, especially when blogging. Text or captions make the video more persuasive and incredible. Therefore, without further adieu, let's witness which app can give you the best result in putting text captions by reading the entire content below.

Part 1: Top 4 Text Video Apps for iOS and Android
Since iOS has a more demanding system than Android, I am looking for the best video text editor for iPhone. Therefore, we have divided the four apps into separate parts. Thus, the two top apps for iOS and another two for Android are in random order.
Top 2 Apps for iOS
1. Splice - Video Editor & Maker
Are you an online influencer who wants an easy and quick video editing app? Then, Splice is what you need. It is a video editing app available on iPhone that comes with a simple interface. Furthermore, it enables you to apply texts to your blogs easily while allowing you to enjoy its substantial built-in music library. With its easy-to-understand navigation, it serves perfectly for beginners.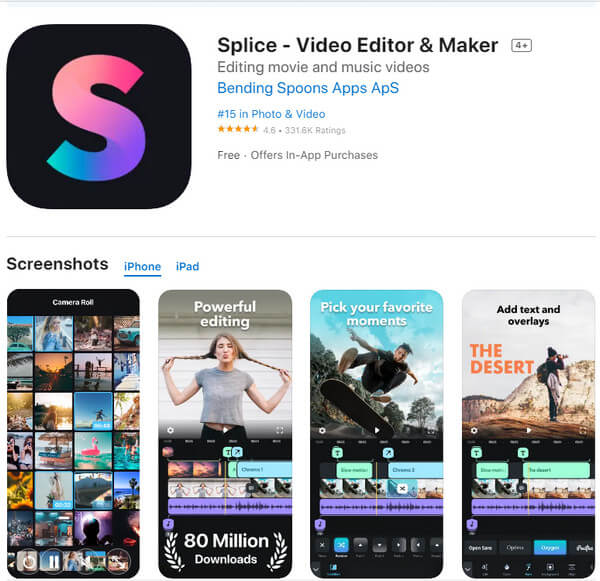 Pros:
1. It is an app that adds text to videos quickly.
2. It comes with additional features that you can enjoy.
3. The tools are also easy to use.
Cons:
The app occasionally crashes.
2. Magistro - Video Editor & Music
Next on the line is Magistro. It is a powerful video editing app that allows you to add text, captions, and titles to your video using various stylish fonts. Moreover, you will also love the simplicity of its interface, where you can share, merge, and extract multiple video clips easily. In addition, it offers a video converting tool, which allows you to convert your videos into audio files. What else? It comes with more than 14 various languages that you can use in transcoding your videos.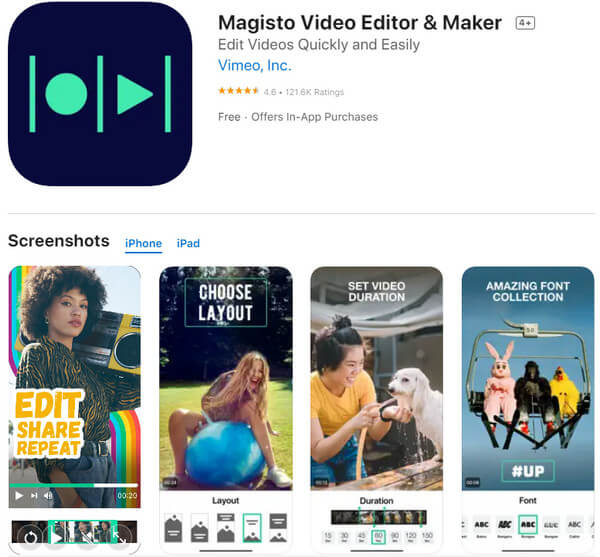 Pros:
1. It is the best text on the video app that comes with a video transcoder.
2. It has an easy-to-navigate interface.
3. Share, and merge your files easily and quickly.
Cons:
The app's feature to add text is paid.
Top 2 Apps for Android
1. Video Editor & Maker AndroVid
If you are an Android user, you must look for AndroVid. AndroVid is an all-in-one video maker and a video and photo editing app. With it, you can easily add text, stickers, watermarks, and emojis to your video while using different and beautiful styles, colors, and fonts. Furthermore, this app also allows you to draw, add music, slide show, collage, cut, trim, and merge your videos.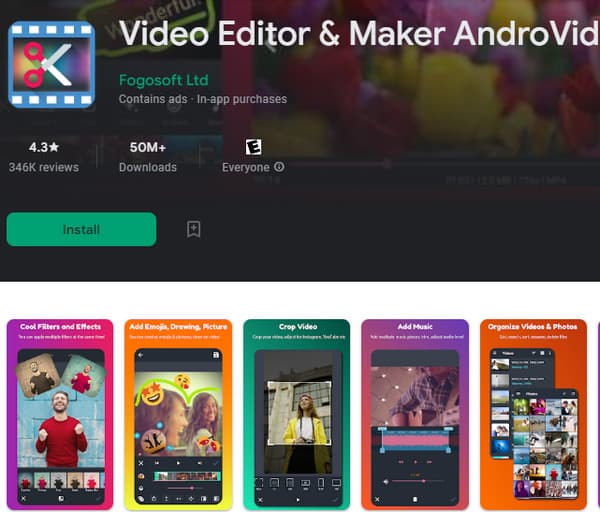 Pros:
1. It is best for making professional videos for promotion.
2. It provides various font styles for your caption.
3. Rotate, add filers, and rotate your video quickly.
Cons:
1. It occasionally runs slow.
2. Saving output is occasionally challenging.
2. VivaVideo - Video Editor & Maker
Lastly, we have this VivaVideo, which is an add-on-text-to-video app that is free to download. VivaVideo is also the best app if you want to teach a product's concept to people while adding some captions to your tutorial. Furthermore, it offers plenty of editing tools where you can add effects, transitions, and music to the video while allowing you to merge and cut the files easily.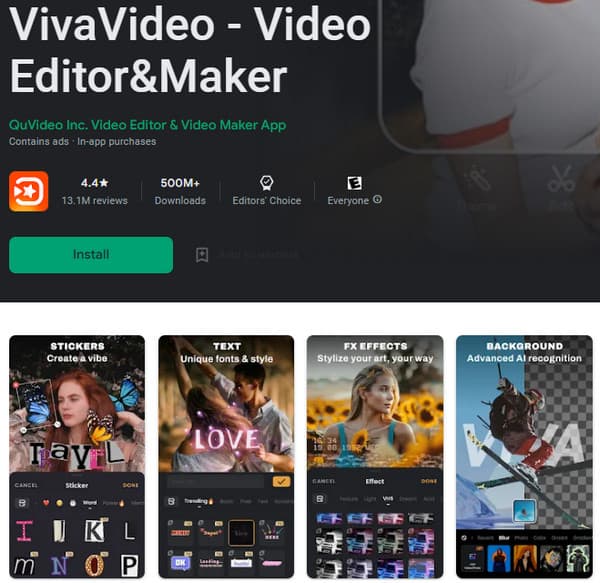 Pros:
1. It is a cool text-adding app with beautiful fonts and styles.
2. You can use it for free while maintaining simple navigation.
3. It contains a full pack of features.
Cons:
1. It is not completely free.
2. It occasionally faces problems with VIP subscriptions.
Part 2: Best Text on Video Software for Windows PC and Mac
Suppose you also look for the best text on a video app for a PC. In that case, we have you covered by introducing you to Video Converter Ultimate. It is a video editing software with all the powerful editing tools and advanced features for your video clips. Furthermore, it lets you enjoy its unique way of adding captions to your videos, in the sense of embedding the texts like a watermark. The good thing is that it provides you with various fonts, colors, and styles that you can use to make the captions creative. In addition, this method also encourages you to embed a logo or photos that you want to include in the video. Amazing, isn't it? The best app for adding text to video is an all-in-one software that you can enjoy in any type of video editing that you need to do. What we mean is that it is the most useful software to acquire.
Main Features
1. Great arrays of editing tools for video, audio, and photo files.
2. Flexible on any type of PC and laptop.
3. Advanced technologies that empower the software.
4. Support over 300 various input and output formats.
How to Add Text to Video Remarkably
Step 1
Install the Remarkable Software
To install the software, you can visit its official page. Or, you can hit the Download button given above, choose between the Mac or Windows version, whichever is applicable on your device, then proceed with the installation process of this video text editor.
Step 2
Access the Text to Video Tool
Once installed, launch it, and go to the Toolbox menu. Under this menu, look for the Video Watermark tool and hit it. Then, upload the video you need to work on by hitting the Plus sign from the next window.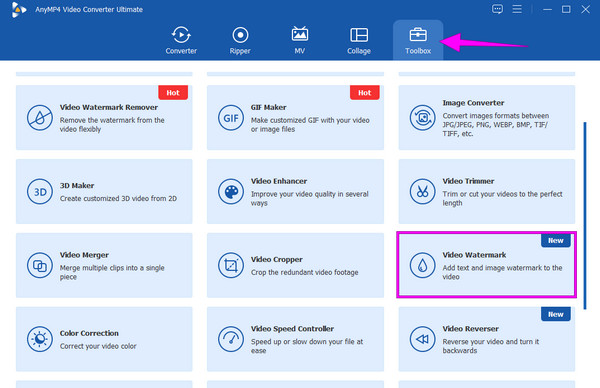 Step 3
Add Text to Video
After that, click the Text Watermark selection on the new window. Then, begin to add the text or caption that you want to add to the video. Don't forget to edit the text according to your preference and place the text in your preferred place by dragging the text.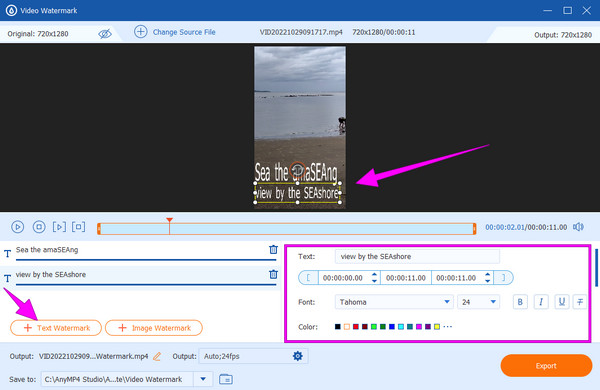 Step 4
Output Setting (Optional)
This time, you can make some adjustments to your output by clicking the Coggle icon. Then, control the settings on the format, frame rate, encoder, resolution, and quality of your output. Then, click the OK button to implement the changes.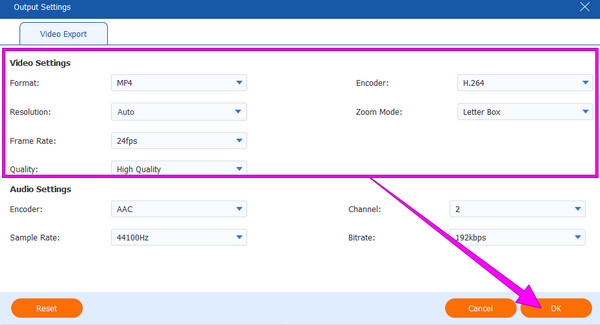 Step 5
Export the Video
Conclusively, click the Export button to save the changes.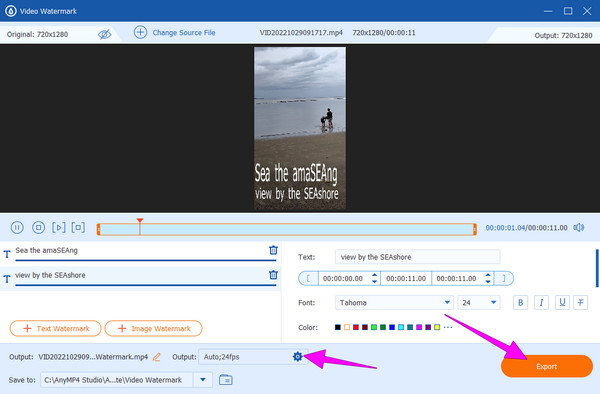 Part 3: FAQs about Putting Text on Videos with App
Is iMovie an app that adds pop-up text to a video?
No. iMovie allows putting text to the video, but not as a pop-up caption.
What is the advantage of adding text to a video?
The biggest advantage is when you add text to a video, you will have a higher impact on the highlight of your video. Viewers will have a clearer understanding of your content by the description you put in there.
Can I add text with emojis to the video?
Yes, you can. All of the apps presented in this post allow you to combine text and emojis in your video.
Conclusion
You've just learned about the apps to add text to video. We guarantee that all the apps you have seen are the best and most reliable for this task. In line with this, you won't need to look for a desktop tool, for we have also provided you with the best software, the Video Converter Ultimate.