Solutions for TikTok Videos Not Playing: Comprehensive Guidelines to Meet
There are specific reasons why TikTok videos are not playing. And whether you use your computer or mobile device to watch TikTok videos, the problem will still persist. For this reason, you should know the precautionary solutions to fix the problem and get back to smooth playback again. Fortunately, we have rounded up the best solutional tricks and tips to help you on this task. Hence, please continue reading below to meet them.
Part 1. Reasons Why TikTok Videos are Not Playing
Before we tackle why TikTok cannot play videos, let's first clearly describe this app. TikTok is an app known worldwide due to the entertaining content users watch. The app reached over five hundred million downloads just a few years after its debut. Furthermore, this TikTok app has been dedicated to providing multiple updates making its users enjoy it more and more. There are many unique features that you can find in this app. Such features include filters, effects, templates, music, beautifications, etc. These features make users enjoy their content creation and make it a goal to make it on trend. However, we cannot deny that even though TikTok has been with frequent updates, there are still some technical issues resulting in users that cannot open TikTok videos. And what are those possible reasons? See the following list below.
Technical Issues in the App
Sometimes, you cannot play the videos due to technical issues on the app. Such app-related issues are the full caches and junk data that are still saved in the app.
Issues in the Device
Problems underlying the device you use are sometimes the reasons why TikTok gets lagged. Such issues as the lack of permission for TikTok to work well, etc.
Issues in the Internet
This is actually one of the common issue-starters that you should look out for. TikTok won't work well if there are some problems in your network, such as weak internet and prolonged connection.
Outdated TikTok App
As mentioned above, TikTok has always had updates. Now, if you cannot open TikTok, check if your app is up to date.
Blocked Account
Sometimes, the only reason why you cannot play the TikTok videos of the account you are following is that you have been blocked from viewing the account's content.
Part 2. Common Remedies When TikTok Videos are Not Playing
With the common reasons why this problem in TikTok occurs, here are the common solutions to use to fix them.
Clear Data Cache and Junks
When you experience lags and crashes when you use TikTok, especially when you play its videos, one of the most troubleshooting to do is to clear the cache and data. To do so, go to your TikTok account and tap the ellipsis icon to access the Settings and Privacy feature. Then, in this feature, look for the Clear cache option and tap it.
Force the App to Stop
To overcome the app issue, forcing it to quit or stop would help. This will allow you to refresh the app on your device.
Reinstall the App
One of the best solutions for this is reinstalling the app. It is because sometimes, due to device-related issues, our phone stops supporting the app, causing it to stop working. For this reason, we encourage you to uninstall the app and reinstall it afterward.
Check the App's Background Permission
The background data plays a good role in keeping your app's latest messages and social media notifications. Therefore, you better set the background data of TikTok on your mobile device. Go to the Settings app and tap the General option to do so. Then, tap the Background App Refresh tab, and toggle the TikTok app to enable it.
Fix Your Internet Connection
Since slow internet can cause your TikTok videos not to play, fixing the internet will significantly help you. To do so, you should reboot your router or modem.
Convert the Videos for TikTok
Another marvelous solution to play videos is to convert them to the type of formats that TikTok supports. Yes, TikTok only supports specific formats like MP4 and MOV. Therefore, if you are about to upload videos that do not have these kinds of formats, they will surely not play on the TikTok app.
Bonus: Recommended Video Converter for TikTok Videos
We recommend the best video converter of all time, the Video Converter Ultimate picked by Blu-ray Master. It is an easy-to-use converter that will complement your skills, whether you are a beginner or an expert in converting videos. When TikTok cannot play video, this Video Converter Ultimate is always to the rescue, for it converts any video you have into MOV, MP4, and 500 more others it supports. With this ultimate software, you can convert not only one but multiple videos at the same time. Yes, it offers you a batch conversion with a 70 times faster speed than others provide. Not just that, it makes you lavish the creative editor in you, for it comes with unique features that will help you do so. Like what? It has amazing filters, themes, makers, and tools that will enhance and customize your videos for TikTok. These will surely make your videos trendy on TikTok!
Key Features
1. Convert your videos to TikTok-supported formats and other 500 plus more.
2. Multi-functional tools perfect for all types of video editing.
3. Easy-sharing functions for posting videos on different social media platforms.
4. High accelerated technologies such as Artificial Intelligence, Hardware, and GPU accelerations.
How to Convert Videos to Other Formats Supported by TikTok
Step 1
Acquire the software on your computer and launch it. Then, under its Converter panel, hit the Plus sign to upload all the videos you need to convert.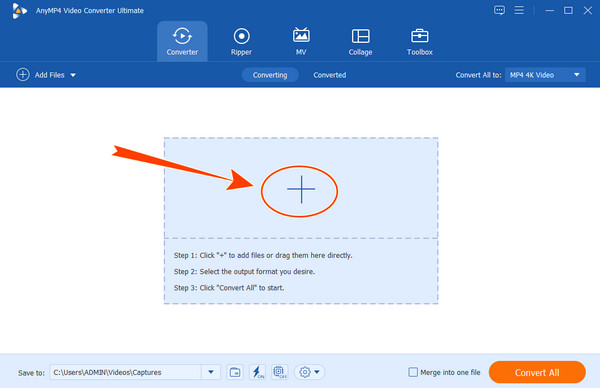 Step 2
Afterward, click the drop-down Arrow button to the Convert All To section. Then, when a new window prompts, choose the format that will fit on the TikTok app, like MOV and MP4.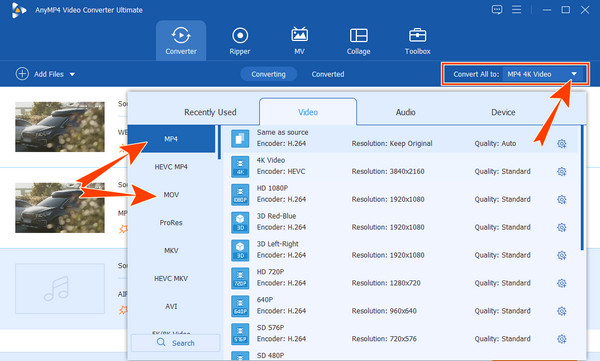 Step 3
As simple as that, you can now click the Convert All button at the bottom-most part of the interface. Then, wait for the rapid conversion process to finish, and check the converted files after.
Part 3. FAQs When TikTok Cannot Play Videos
Is the age restriction a reason why I cannot open TikTok?
Yes. The age restriction is also why you cannot open and create a TikTok account. But, it is not a reason you cannot play TikTok videos.
Is it safe to upload my converted videos to TikTok?
Yes. The converted videos are safe and will not cause problems on your TikTok account if the content is decent.
Can a mobile data connection play a TikTok video?
It depends on whether your data accommodates a more significant video size. More extensive videos are usually unplayable with a limited data cap.
Conclusion
This article outlines the standard solutions when you cannot open TikTok videos. Follow the instructions listed to solve this problem if you ever experience such a problem. In addition, converting videos is also a practical way to solve it. Therefore, you can rely on the recommended video converter, which is the Video Converter Ultimate, to solve it exquisitely.