What Is the Best Video Aspect Ratio for TikTok, Facebook, and More?
What is the video aspect ratio? And what is the relationship between the aspect ratio and video resolution? Maybe you have heard that aspect ratio has a great effect on the video quality, but do you know video aspect ratio is also important. Choosing the video aspect ratio is very important to provide a better viewing experience for viewers. And if you don't set the correct aspect ratio of videos, you can't even upload your videos on social platforms successfully. Thus, you can learn more knowledge about the best video aspect ratio for different video platforms. And this article will also provide an easy way to change the aspect ratio.
Part 1: What Is Video Aspect Ratio? Compared with Video Resolution
1. A Brief Introduction to Video Aspect Ratio
The Video Aspect Ratio means the ratio between the pixels from width and height. It's directly fixed by the ratio of cameras when you take them. Thus, 16:9 and 4:3 are the two most common video aspect ratios. Besides, the monitor screens also have aspect ratios, thus, choosing the suitable video aspect ratio will provide a better viewing experience.
2. Video Aspect Ratio VS. Video Resolution
The video resolution is also the ratio between the pixels of width and height, but it's not equal to the video aspect ratio. Actually, the aspect ratio is the minimum ratio of the resolution. Thus, the 16:9 aspect ratio can refer to 3840 X 2160(4K), 2560 X 1440(2K), 1920 X 1080(1080P), 1280 X 720(720P), etc.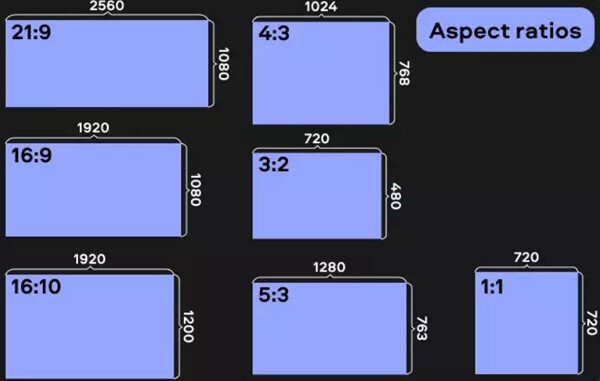 Part 2: The Best Aspect Ratio for Facebook, TikTok, and Instagram
Normally, there are several standard video aspect ratios, including 16:9, 4:3, 21:9, 5:4, 2:1, 1:1, and 9:16. And different video-sharing platforms support different video aspect ratios. Here you can learn about the standard for Facebook, TikTok, and Instagram.
1. Facebook Video Aspect Ratio
Facebook is a social platform not only a video-sharing site, so it supports many video aspect ratios for different areas. As for feed videos, the Facebook video aspect ratio should be 16:9, 1:1, 4:3, 9:16. It also supports uploading 360-degree videos, and the aspect ratio should be 2:1. If you want to upload video ads on Facebook, you'd better use 16:9 or 1:1 as the video aspect ratio. By the way, you can combine videos for Instagram to achieve that.
3. Instagram Video Aspect Ratio
Instagram is a popular platform to share your videos and images, and here are several suitable aspect ratios for different usages. You should note that Instagram always uses vertical video aspect ratios.
Feed video: 1:1, 4:5, and 16:9.
IGTV video: 9:16 or 16:9.
Instagram Stories: 9:16.
Instagram video ad: 1:1.
Bonus Tips: The Easiest Way to Change the Video Aspect Ratio for Uploading
To choose the correct video aspect ratio for uploading videos on different platforms, you'd better rely on Blu-ray Master Video Converter Ultimate. It's a powerful video editor that supports cropping videos to any aspect ratio, adding wonderful effects, converting video formats, compressing videos etc. With the intuitive interface, even beginners can become good video creators.
Key Features:
1. Crop the video aspect ratio freely with simple clicks.
2. Provide all standard video aspect ratios to choose from.
3. Auxiliary lines to help you find the center of the video easily.
4. Additional functions to edit, cut, and rotate the videos.
Part 3: FAQs about Video Aspect Ratio
1. What is the best video aspect ratio for Twitter?
Twitter only supports two video aspect ratios, including 9:16 for landscape videos, and 1:1 for ads. And you should note that the resolution should be less than 1080p.
2. Can I upload videos with horizontal aspect ratios on TikTok?
No. TikTok only supports uploading videos with vertical aspect ratios, including 9:16, 3:4, 4:5, etc. Actually, the recommended aspect ratio is 9:16, and it will automatically add black bars to the videos with other aspect ratios.
3. How to find the aspect ratio of videos on Windows?
Right-click on the video and choose the Properties option. Then click the Details menu in the popping-up window, and you can see the information of the frame width and height.
Conclusion
After reading this article, you have known what is video aspect ratio and the best aspect ratio for Facebook, Instagram, and TikTok. Now, you can easily change the video aspect ratio through Blu-ray Master Video Converter Ultimate and upload videos easily. Welcome to leave your comment below.