Discord Compressor: Discover the Best 4 Compressors for Your Video
We have friends who have experienced receiving notifications from Discord saying, "Your files are too powerful," whenever they send videos to it. This is unsurprising since Discord only allows videos of less than 8MB in size. For this reason, many, not just our friends, have started looking for efficient video compressors for Discord. We know that looking for a compressor is not that hard since various tools are on the market now. However, we cannot agree that they are all efficient. With that said, we prepared this article outlining the most efficient video compressors you can trust. Meet them when you continue reading below.
Part 1. What is Discord and Why to Compress Files for Discord
Before we proceed to the guidelines of meeting the file compressors for Discord, let us have this part of having a piece of further knowledge about this platform.
Discord Overview
Discord was launched in 2015. It is an instant imaging platform with over 300 million users as of this writing. Furthermore, this messaging app promotes various methods of communication, such as video calls, voice calls, voice messages, and text. In addition to this, users can also use this app to send media files within its servers, employing a private chat.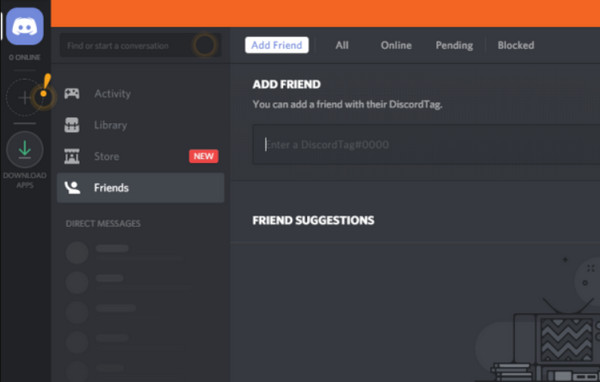 Why to Compress Files for Discord?
With the hundred million users Discord has, we cannot argue about its popularity. However, this platform has kept its limitation on the file size that users can share. In other words, users can only share a maximum of 8MB size for both video and audio files for its free version. See why you need a video size reducer for Discord. Even though a user may decide to upgrade his plan to its premium, which upgrades the size limitation to 50MB, still, it doesn't provide enough argument to support a minute video.
Part 2. 4 Best Video Compressors for Discord
By the enlightenment of the fact statements above, you should have seen how important a video compressor is by now. Thus, here are the four best programs to help you.
1. Video Converter Ultimate
As the name of this tool suggests, this Video Converter Ultimate is where the ultimacy starts. Yes, it is purposely made to convert files, but did you know that it also comes with the ultimate video and audio editing tools, including a video compressor and an audio compressor as well? Focusing on its audio and video size reducer for Discord, this Video Converter Ultimate has been infused with advanced technologies like AI to assist you in an efficient yet simple compressing procedure. In addition, it supports over 500 various formats applicable for input and output, giving you the confidence to work on any type of file you work on. What is more remarkable about this compressor is that it provides a preview and size determinator for the pre-output, allowing you to check the size and the video display before saving.
Key Features
1. Compress your video and audio files in a few clicks.
2. Countless features and tools in one interface.
3. Leniency on the size, resolution, format, bitrate, and file duration when compressing.
4. Support a broad variance of file formats.
How to Use Video Compressor for Discord
Step 1
Download and Install Video Converter Ultimate
Begin by grabbing this amazing video editor by clicking one of the Download buttons above. Choose whether to get an installer for the OS of your computer. When the software is installed and ready, launch it.
Step 2
Choose the Right Compressor
Once launched, go to its Toolbox panel and choose the right file compressor to use. Access whether the Video Compressor tool or the Audio Compressor option as you need for the file you want to share on Discord. In the meantime, let us choose the Video Compressor tool.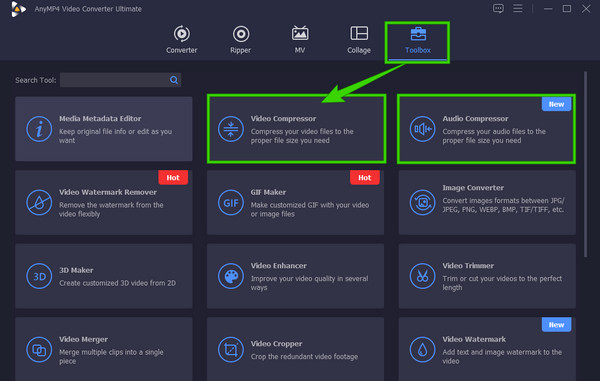 Step 3
Import the Video File
After clicking the Video Compressor button for Discord, a new window will appear. From there, hit the Plus icon to upload your target video file. Browse and select the video from your device's folder via a double-click.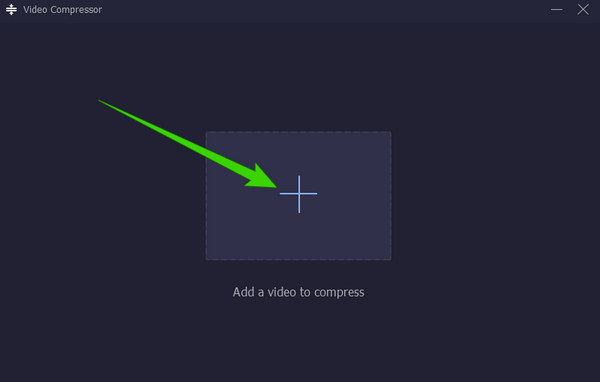 Step 4
Compress the File
You can now adjust the uploaded file by dragging the Size bar to the left to compress it. Also, you can set the other presets given as you wish. Then, click the Preview button to check your pre-output. Subsequently, hit the Compress button to administer the changes.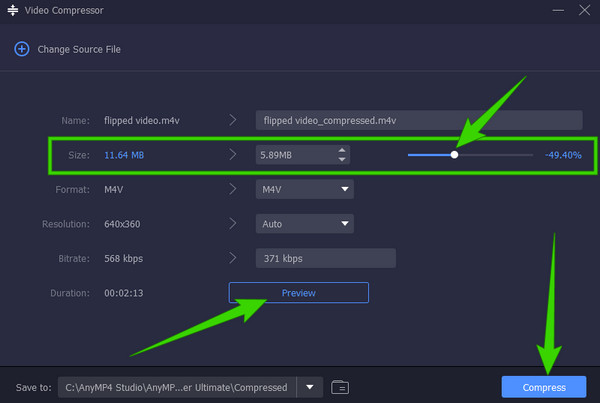 2. 8MB. video
If you are looking for a portable online compressor that you can use for your Discord sharing, 8MB.video is the one to choose. It is also a GIF compressor for Discord. Similar to the previous tool, this web tool provides a simple interface corresponding to its primary purpose, compressing. Furthermore, fitting your video to the required size of Discord has made it easier because you can directly choose to shrink your file to 8MB. However, despite its hype-suppressing properties, you can still notice its sluggish file importation process with the presence of ads.
3. VideoProc Converter
Moving on is the presentation of this best app that converts video to a Discord-sized file, as it claims. What is good about this VideoProc Converter is that users of any level can quickly turn their video into a file with 8MB or lower size using the tool's powerful compressing tool. Aside from the size, you can modify the file's bitrate and resolution as needed. Meanwhile, this video size reducer for Discord comes with a free trial, which urges you to purchase its premium plan to continue using it.
4. Freemake Video Converter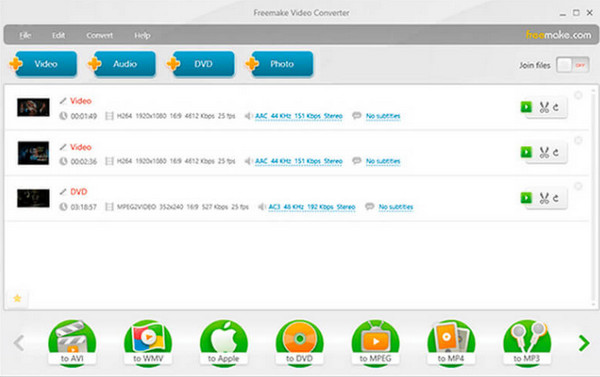 Lastly, let's have this free app, as its name suggests, the Freemake Video Converter. This free app helps you to compress any format of video. Furthermore, it is an all-in-one video editing program that lets you convert, edit, and reduce the file size of your clip within its colorful interface. You wouldn't have trouble utilizing its interface because it is easy to understand. However, you might miss using it if you use a Mac computer since this MP4 compressor for Discord is only available on Windows and on the web.
Part 3. FAQs about the Video Compressors for Discord
Do the compressing tools reduce the quality of the video?
Reducing the quality after the compression is normal. However, you can control the quality loss when you use the right compressing tool like Video Converter Ultimate.
What video format can I use on Discord?
Discord supports MP4, MOV, and WebM video formats.
Can I compress the video using Discord?
No. Unfortunately, Discord doesn't have editing tools like a compressor for your files.
Conclusion
This post has an honest descriptive review of the 4 video compressors for Discord. You can now be confident in uploading your videos on Discord since you know what tools can handle the compression well. Any of them is good, but if you want the best when it comes to procedure, features, and tools, choose Video Converter Ultimate.