Why iPhone Not Playing Sounds and Videos: Best Solutions to Fix
The iPhone is undeniably a high-end mobile device not only because of its expensive price but also due to its powerful features. It comes with a higher hand when talking about high-security protocols, as it is always up to date when dealing with the login details of its users and when fixing bugs and technical issues. It will be alarming to discover that the sounds or videos are not playing on iPhone. Hence, something must hinder your mobile device from playing your file. For this reason, we will show you the possible reasons and how to solve this issue quickly by providing you with the best tips. If you are ready, proceed to the content below.

Part 1. Reasons Why Videos Not Playing on iPhone
There are many possible reasons why you can't play your videos on iOS. And to provide you with some of the possible reasons why, here is the list of what we know makes an iPhone and iPad not play videos.
1. Incompatible Format
Everyone faces this most common problem when playing videos on iPhones. Videos with formats iPhones do not support are impossible to play on the mobile device.
2. Stutter Playback
This is also one of the common reasons why iPhones, especially the old ones. Videos with higher resolution than an iPhone can manage to cause the video not to play.
3. Unstable Internet
This applies to the online videos or the clips you watch from your favorite social media platform. An unstable internet will disable you from smoothly playing the video.
4. Stucked Video App
Sometimes, the video app you use on your iPhone to play videos gets stuck, which also leads to stuck video playback.
Part 2. Solutions on How to Fix iPhone Videos Not Playing
Aside from the given information above, there are still some reasons why. Now, allow us to show you the practical solutions below that you can follow when your iPhone is not playing sound and video.
1. Double Check the Internet Connection
Ensure that your internet connection is working well and fast. So that when you want to watch or save your self-created videos online, no issues can be attached.
2. Force Stop the Video App in Used
Quit the video app that you use in playing the video. To do so, swipe up on the app to exit it. In some cases, you can reinstall the app for an entire washout.
3. Repair the Corrupted Video File
A corrupted file will never play on any device, including iPhone. Hence, when a video is not playing, consider checking if it is corrupted.
4. Free Up Your Storage
Large video files are hard to play, especially when your storage is full. If you are dealing with high-resolution videos, preparing a vast amount of space on your iPhone is better.
5. Convert the Video to Other Format
Another effective solution you can have is via conversion of format. As mentioned above, one of the main reasons why videos are not playing on iPhones is due to an unsupported format. If you are wondering if you can do the video conversion on your iPhone, the answer is no. It is why we recommend you use third-party software to do the job.
Recommendation: Use video Converter Ultimate to Batch Convert Videos for iPhone
As per the previous solution, we encourage you to use this Video Converter Ultimate, the best video converter of all time. It is not just a converter but an all-in-one software you can grab for your Windows and Mac computers. Its easy acquisition complements its simple and intuitive interface, making it remarkable to utilize. When it comes to the conversion process, you will surely be glad about its swift conversion that enables you to convert 70 times faster. Not just that, this Video Converter Ultimate will allow you to work on all the videos not playing on your iPhone simultaneously. Yes, you read it right, this tool does batch conversion at a super fast speed, thanks to its advanced Ultrafast acceleration technology. Moreover, aside from the iOS-supported formats, it also works with over 500 different types of formats!
Another good thing that will make you love it even more is that it comes with a Toolbox that has a massive collection of video and audio editing tools. These tools will help you customize and enhance your video and audio files to the extreme. Who would refuse to use tools powered by artificial intelligence that makes the editing process smooth without a hassle? Well, there are many more features to mention. But in the meantime, let's have a solution on how to get rid of the iPhone not playing videos by looking at the tutorial for converting the files below.
Key Features:
1. Convert your iPhone video and audio files in bulk.
2. Ultrafast acceleration technology that speeds up the conversion up to 70 times faster.
3. Over 500 different video and audio formats to choose from.
4. Massive collection of extra video editing tools to enhance your files.
Step 1
Install the File Converter
Firstly, click the Download button above and freely acquire the software on your computer. Once the software is installed, fire it up and prepare to utilize it.
Step 2
Upload All the Videos for iPhone
You may drop all the videos on the main interface after dragging them from your local folder. Another way to upload is by hitting the Plus icon or the Add Files tab at the upper left part and choosing the Add Files or Add Folder tab.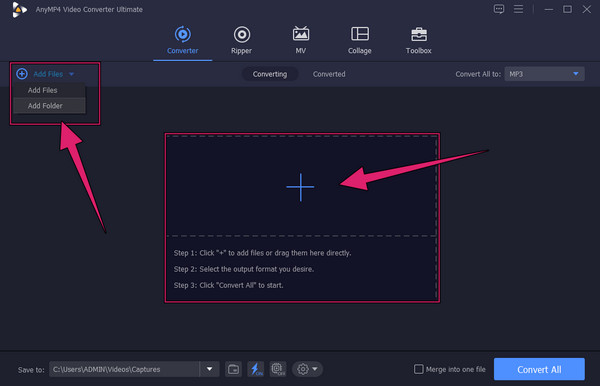 Step 3
Set the Format Output to MOV
When all the videos are loaded, let's set them to the iPhone-supported format MOV. to do so, go to the Convert All To section to click the drop-down arrow. Choose the MOV format under the Video menu tab on the popped-up window. Then, finalize by selecting your preferred resolution.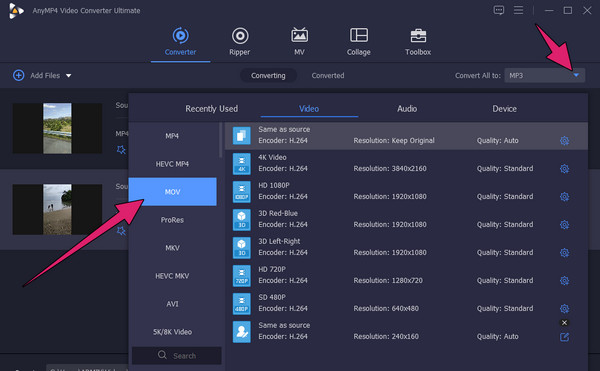 Step 4
Convert the Videos At Once
As simple as that, you can now start the conversion process. How? Simply hit the Convert All button at the bottom-most part of the main interface. Quickly wait for the process to finish, then enjoy your newly converted videos. You also can use this tool to cut videos for your iPhone.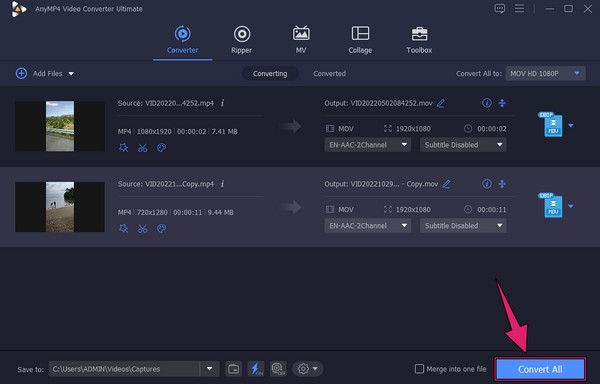 Part 3. FAQs about iPhone Videos Not Playing
Can I also convert the format of the music not playing on my iPhone?
Yes. You can also convert the music files to another audio format using Video Converter Ultimate. Upload the music file, set it to your chosen audio format, then click the convert button.
Why did I lose a video file on my iPhone?
Check if your iPhone's optimized iPhone storage feature is enabled. You may want to check if the missing video file is in your iPhone's internal storage if it is.
Can I play HTML5 videos on my iPhone?
Yes. But there are a series of events where even HTML5 videos are not playing on iOS devices.
Conclusion
You know what to do when your videos are not playing on your iPhone. Try the common yet notable solutions we discussed in this article, and consider the most advisable one, which is converting. Hence, use Video Converter Ultimate to make your conversion process quick yet efficient.