How to watch BBC iPlayer in the USA: Solved with Complete Instructions
If you are unsure if you can use the BBC iPlayer in the USA, you will need to see the content we have prepared for you below. Learn if you can open this largest broadcaster player in the UK in your designated country and what are the things to use to make it happen successfully. Keep reading the outline below for more information.
Part 1. Can I watch BBC iPlayer in the USA
One member of our organization sent us this question "Can I watch BBC iPlayer in the USA?" As she had just subscribed to the player's license and was about to travel back to the USA. And to share the no answer we have given her, here's a good explanation to acquire. BBC iPlayer is one of the in-demand services of BBC. It was the product of a dream Beta proof of concept of one of the BBC employees, namely Ben Lavender, in the year 2005 and was released as it is. Eventually, it underwent updates that led it to what it is today, a player that functions to show TV programs, channels, and links.
The fact that BBC iPlayer can serve you by using its availability on various devices, such as phones, smart TVs, computers, and tablets, will never assure you to experience the same playback outside the UK. This is because this player channel uses geo-blocks and IP addresses based in the UK, which only allows you to access it in the same location. Now, if you are thinking about how to get BBC iPlayer in the USA, you must proceed to the content below.
Part 2. How to Watch BBC iPlayer in the USA
Due to the iPlayer's geo-blocks, accessing the player outside the UK will be hard to swallow. But thanks to some solutions that we gathered below, they can be your quick guides to make this usage possible.
1. Use a VPN to Watch on iPlayer in the USA
A VPN software can help you launch the blocked BBC iPlayer outside the UK. All you need to do is get a good VPN tool that will help you connect to the other country's server and make you appear to be placed in every location you want. It is a tricky way where BBC iPlayer can detect you being available to the country it serves. However, you must know that BBC iPlayer is already knowledgeable about this trick. It is why you should only get VPN software that will enable you to serve overseas.
One of the recommended programs for this is ExpressVPN. It is a user-friendly and secure VPN software offering a 3-month free trial if you subscribe to its 1-year plan. And to show you the steps on how to watch BBC iPlayer in the USA using this VPN software, continue to read below.
Step 1
Download the VPN software and install it on your device. For this sample, we installed it on a mobile device. Once you have installed it, make sure to give the app the permission it requires.
Step 2
When the time comes when you need to select a server, make sure to choose the UK server. This is needed since BBC iPlayer is only workable in the UK area.
Step 3
Wait until you choose the server, and once connected, you can already visit the BBC iPlayer website. Please note that if it is your first time using the iPlayer, it will require you to use a postcode, where you need to use the UK postcode. After that, you can start watching your favorite program via iPlayer.
2. Download an Alternative Player
Do you wonder how to download the BBC iPlayer app in the USA? Well, unfortunately, there is no way for you to do that. And suppose you already have the app but do not have the confidence to use VPN software to use it, due to some legal concerns. Then this next solution is for you. We recommend you use an alternative player that will also provide you with an authentic cinema vibe of movie-watching, and that is Blu-ray Player. This software is flexible software that you can install on whatever OS of computers, such as on Windows and Mac. In addition, it can also cater to all kinds of DVDs, Blu-rays, and digital videos you have, as it is open-to-play discs where your movies are saved.
There's more, for this Blu-ray Player comes with setting tools where you can customize the effects of the video accordingly. You can also crop, deinterlace, and adjust the aspect ratio to your desired one.
Main Features:
● Invaded with advanced technologies like hardware acceleration, Dolby Digital, Intel, etc.
● Support high-quality and up to 4K videos.
● Neat and elegant playback control.
● Snapshot tool to help you capture and keep important scenes from the movie.
● Smooth navigation and playlist transition.
How to Watch on BBC iPlayer Alternative in the USA
Step 1
Grab the software by clicking the Download button above, and install it on your respective computer. Then, launch it directly without the need for a country server.
Step 2
Next, is to click either one of the buttons at the center according to the kind of video you will play. Note that before you click the Open Disc button, make sure that the disc was inserted before you even launch the player.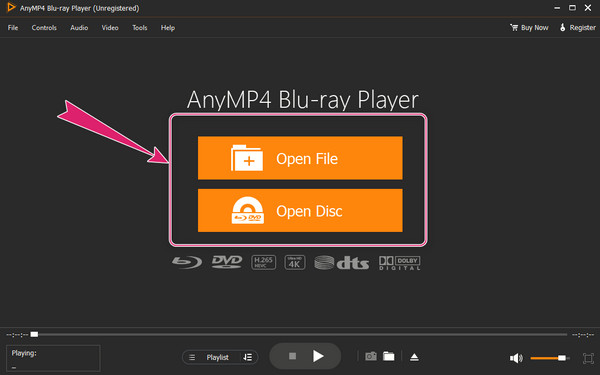 Step 3
Once the video or movie is playing, feel free to navigate the complete playback control at the center bottom. Also the ribbon tabs are also available to use at the upper part of the interface.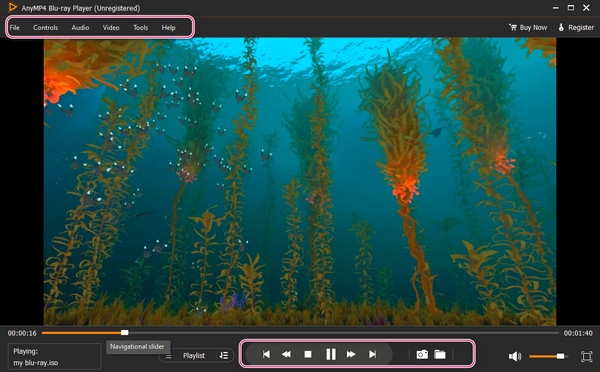 Part 3. FAQs about BBC iPlayer
How do I get BBC iPlayer to work in Australia?
The BBC iPlayer will only work in Australia if you use a VPN with it. Install a VPN tool to your device, and select the Australia server to open the player.
Does BBC iPlayer have a restriction on age?
In general, BBC iPlayer offers programs that are suitable for all ages. However, some programs still contain parental guidance and carry age limit restrictions.
Does BBC iPlayer allow users to download programs?
Yes. BBC iPlayer allows its users to download the available programs for them to watch offline. However, those programs will only be available for a limited time only.
Conclusion
Now that you know the restrictions of BBC iPlayer in the USA due to the geo-blocks, you should also know the best solution to counter restrictions, and that is through a VPN. You can try VPN software anytime when you are overseas. Even when you download a specific program from BBC iPlayer, if you are out of the UK, you will still not proceed with playing it. It is why, for your alternative player, use the Blu-ray Player.