Why Is My Computer Not Playing Sound or Video: Quick Troubleshooting Guide
Having a computer can give us different uses, for work or entertainment. It can be used to watch our favorite films or listen to our go-to music comfort. However, that would not be possible if there was an issue with the audio system of our computer. In connection with that, do you have an issue with your audio on your computers? Having no sound on your computer is inconvenient, but we're here to help. We cover five quick and easy techniques to fix your computer not playing sound. These methods apply to Mac and Windows.
Part 1. Why is my Computer Not Playing Sound Video?
Having issues with your computer can give us tremendous hassle. That is why, before we fix the issue, it is also important that we know the reasons behind it. The issue occurs because of different reasons. Some of these reasons are the following points.
Incorrect or Outdated Audio/Video Drivers
One common reason your computer may not play sound or video is outdated or incorrect drivers. Drivers are essential software components that allow your operating system to communicate with your computer's hardware. If your audio or video drivers are outdated or incompatible, it can lead to playback issues. Updating your drivers to the newest version can often resolve these problems.
Improper Sound or Video Settings
Sometimes, the issue lies in your computer's sound or video configuration settings. The sound output may be set to a different device, or the video playback settings may be misconfigured. Checking and adjusting these settings can help restore audio and video playback.
Faulty or Disconnected Cables
Faulty or disconnected cables are another potential culprit for sound or video playback issues. If the cables connecting your speakers or headphones to your computer are damaged, loose, or unplugged, there can be no audio output. Similarly, loose or improperly connected video cables can cause video playback problems. Ensuring all cables are securely connected and in good condition is crucial.
Part 2. How to Fix my Computer Not Playing Sound Video on Windows and Mac
Method 1: Fix Volume Levels and Muted Outputs
Step 1
Check the master volume bar by clicking the Volume icon in your computer's bottom-right corner; ensure it is not muted or set to an abnormally low level. If muted, an X will appear next to the speaker symbol.
Step 2
Following that, right-click on the same Volume icon and select Open Volume Mixer to see the current volume level for all apps that are playing audio.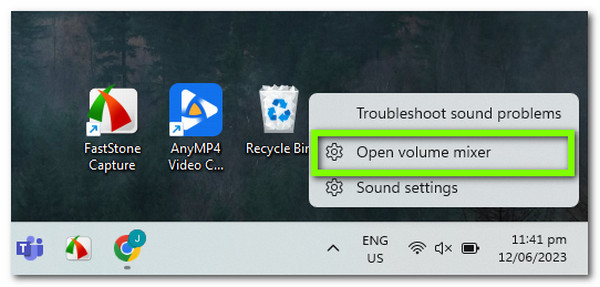 Step 3
Turn these up as needed, ensuring they aren't accidentally muffled or too low to hear.
After following all of the steps above to control a video volume, you hear an issue, or if you hear sound but it is too quiet, you may need to solve poor audio output. This process is the most common solution, but it will not work if the issue occurs in the system of audio codecs.
Method 2: Use the Correct Audio Output
If multiple audio output devices are attached to your computer, Windows may play sound through the incorrect one.
Step 1
Click the Volume icon again to change the device being utilized for playing.
Step 2
If several devices are enabled, the current device's name will appear above the Volume Slider.
Step 3
Click here to access a menu of all possible devices, then choose the output from the list.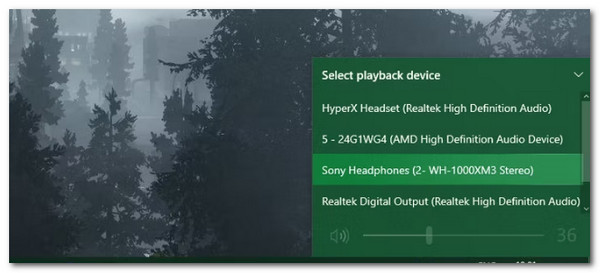 Method 3: Use Audio Troubleshoot - For Windows Only
Before proceeding, you should run the built-in audio troubleshooter. This enables Windows 10 to detect and resolve faults on its own at times. These Windows troubleshooters don't always work, but it's worth an attempt before delving further.
Step 1
Select Playing Audio in Settings, then see, Update & Security.
Step 2
From there, you hit the Troubleshoot.
Step 3
Please go to the Additional Troubleshooters.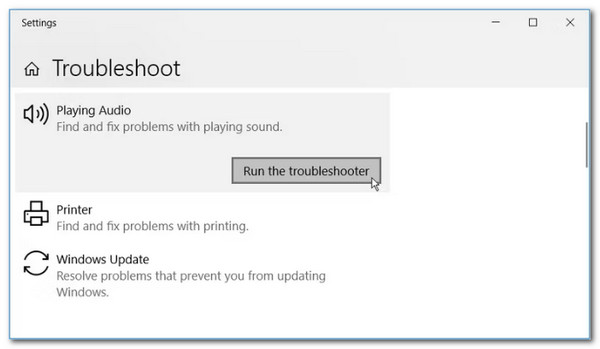 If you complete the procedures, Windows should automatically resolve the issue. When the troubleshooter is finished, you'll see what fixes, if any, it made. This might be effective to use. However, the Troubleshoot feature only fixes the surface of the problem, Which means it does not dig deep to solve the problem. Kindly try the next methods for a sure fix.
Method 4: Blu-ray Master Video Converter Ultimate
One of the main reasons your computer is not playing audio is that your audio or video is not carrying proper media files. The issue occurs because you do not have a proper audio codec that can play on your computer. In this case, we need to simplify the process by converting your files into a supported format. That can be possible if we use Blu-ray Master picked Video Converter Ultimate. That is because converting your media using this is very simple and effective. See the instructions we can follow below.
Step 1
Kindly get the Video Converter Ultimate picked by Blu-ray Master on your computer.
Step 2
Select the Converter option and then click the Add Files button to import the video or audio to be converted.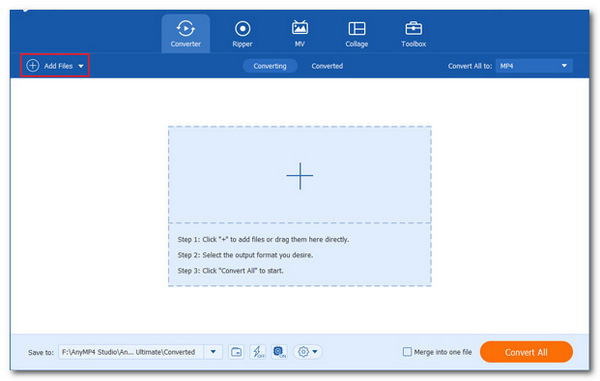 Step 3
For a sure result, please select the desired format by clicking the pull-down icon. It is recommended to choose MP4 for video and MP3 for audio. Finally, click the Convert All option.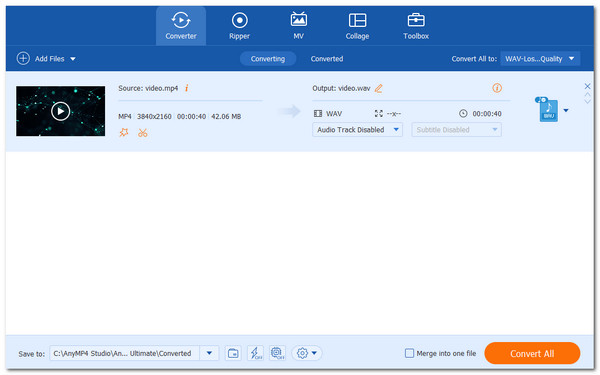 We can now wait for the quick conversion process and enjoy playing your media files with sound on your computer. It is easy and effective to use the software for your problem.
Method 5: Blu-ray Master Blu-ray Player
On the other hand, having media playing with no sound on your computer exists because your player is unreliable. That is why choosing the most amazing player you can use on your computer is recommended. One of the players we can use on Windows and Mac computers is the incredible Blu-ray Master recommended Blu-ray Player. This player makes possible high-quality media playback and supports a wide range of file formats. With that, it is guaranteed that we will not have any problems playing our videos and audio here in this player. Look at the instructions below and see how we can use them.
Step 1
Download, install, and run Free Blu-ray Player on your computer for free. Insert the Blu-ray disc into the drive.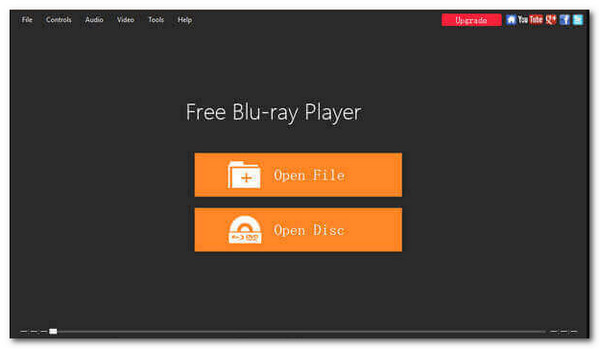 Step 2
To load the Blu-ray disc into the application, click Open Disc in the main interface and then Open Folder.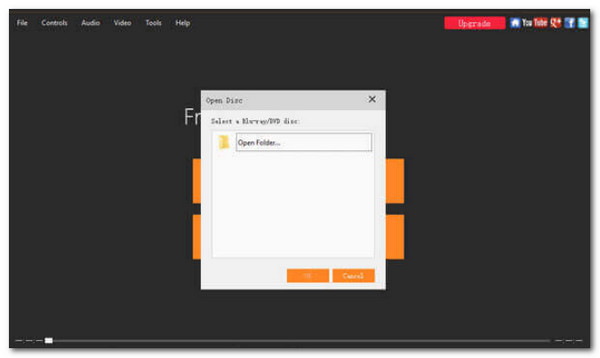 Step 3
You can play the movie and pick a chapter, audio, subtitles, or titles. After completing all the settings, click Play Movie to watch a Blu-ray movie on your computer.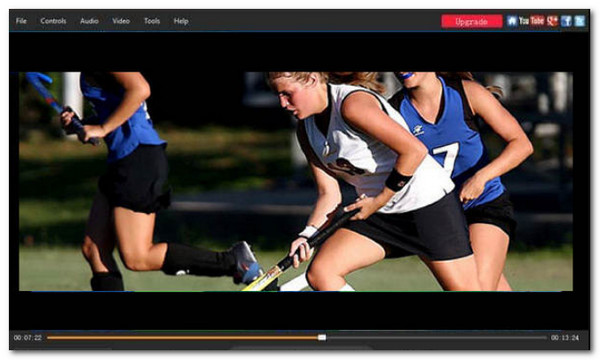 You can now enjoy watching your movies or playing your song with this player with an incredible sound too. We can see that the process is easy and effective too. For that, use it now and experience the immersive and complication-free playing of your media files.
Part 3. FAQs About Computers Not Playing Sound Video
How to update my audio and video drivers?
Updating your audio and video drivers is crucial for resolving playback issues. To update your drivers, you can follow these steps: Identify the make and model of your sound and video cards. Then, visit the manufacturer's website and navigate to the support or drivers section. After that, locate the appropriate drivers for your specific hardware and download them.
What to do if the sound or video settings are misconfigured?
If your sound or video parameters are incorrect, try the steps below to rectify the problem; open your computer's sound or video settings. You can access these settings on Windows by right-clicking the volume icon in the taskbar and selecting Playback devices. Go to System Preferences on macOS and select Sound.
What to do if the computer still doesn't play sound or video after trying basic troubleshooting steps?
If basic troubleshooting steps don't resolve the issue, here are some additional actions: Test your speakers or headphones on another device to confirm they function properly. Also, if possible, try connecting different speakers or headphones to your computer to eliminate hardware issues.
Conclusion
In conclusion, resolving issues with computers not playing sound or video is essential to restore the multimedia functionality of your device. By employing various troubleshooting methods, you can effectively diagnose and address the root causes of these problems. We can also notice how effectively a good Blu-ray master picks the Video Converter Ultimate and Blu-ray Player to ease the issue. These tools will be the go-to software for playing our media files properly.