Is It Possible to Crop Video in Windows Movie Maker? Here is the Ultimate Guide
Can you crop video in Windows Movie Maker directly? It's far easier to edit videos now than it was in the past, owing in large part to the presence of free video editing software on the majority of your basic devices. Is Windows Movie Maker the built-in option to crop the videos? Seat back and relax! You will find the solution after reading the ultimate guide about how to crop videos in Windows Movie Maker.
Part 1: Can You Crop Video with Frame Size in Windows Movie Maker
Windows Movie Maker is a straightforward video-editing tool that enables you to make and edit videos as well as submit them to video-hosting websites. Although Microsoft has officially discontinued Windows Movies Maker, which is no longer included in the Windows Essentials software set, you can still install the software on your PC.
Windows Movie Maker has a comprehensive range of video editing tools. However, when individuals attempt to crop a video's frame size, they constantly come to a stalemate since they cannot locate the crop option in Windows Movie Maker. Is Windows Movie Maker capable of cropping video? Indeed, Windows Movie Maker lacks this capability, necessitating the use of third-party video croppers.
Part 2: The Alternative Method to Crop Video in Windows Movie Maker
Is there an alternative method to crop video in Windows Movie Maker? You can simply utilize the zoom-in feature to get the similar effect. If you merely want to increase a few frames of the film to add some creativity to the video. Here you can get the desired effect with Windows Movie Maker with the following process.
Step 1
Launch Windows Movie Maker on your computer and click the appropriate blank area to browse for and import the video. Even if you are using Windows 10, you can always download the latest Windows Movie Maker from the Windows Store.
Step 2
Navigate to the Animations in the top menu bar, expand the Pan and Zoom effects list, and select the desired zoom-in effect. Because the effect will be applied to every frame of the clip, it may be imperceptible if the video is too long. To resolve this issue, you may split the video into singular clips and apply a zoom-in effect to each piece.
Step 3
On the top menu bar, click the Movie Maker button, then pick the Save movie option to crop video with Windows Movie Maker. To export the video, select an output directory and click the Save button. It will store your videos in MP4 format.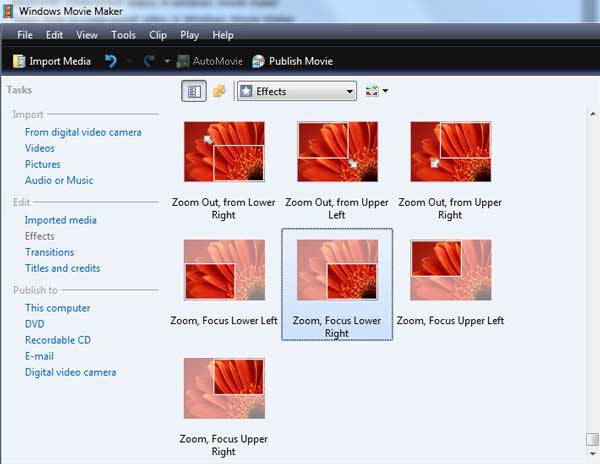 Part 3. Learn How to Set a GIF Wallpaper on Windows 10/11
Since the zoom-in is a process, the beginning part of the video will still stay not cropped, you can then trim off the beginning part, so that the rest of the content is zoomed in. What is the best Windows Movie Maker alternative to crop videos? Video Converter Ultimate is versatile video editor not only enables you to cut out the desired part but also apply the zoom in filter to get a satisfactory video. Moreover, there are some advanced video converting and editing features.
1. Crop the desired videos, split the files, merge videos into one, and more.
2. Modify the resolution, frame rate, quality, zoom mode, and audio settings.
3. Apply the zoom in feature or zoom out feature as Windows Movie Maker
4. Provide multiple effects, watermarks, and more other excellent features.
Step 1
Download and install AnyMP4 Video Converter Ultimate on your Windows. Go to the Toolbox menu and select the Video Cropper option to import the desired video you want to crop.
Step 2
Click the Plus button to import the video. Just use the handlebar to crop the video based on your desired size manually. Moreover, you can enter the desired crop area according to the social media sites.
Step 3
It also enables you to adjust the aspect ratio, resolution, frame rate, video quality, zoom mode, and audio settings. Once you have cropped the desired video, you can click the OK button to confirm.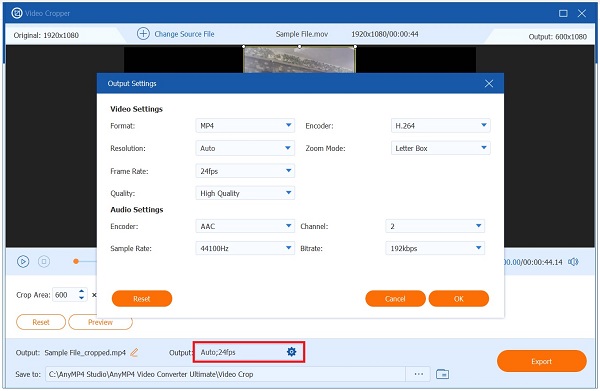 Step 3
Select the Folder option to specify a directory in which to save the output. After that, you can click the Export option to export and save the cropped video on your computer.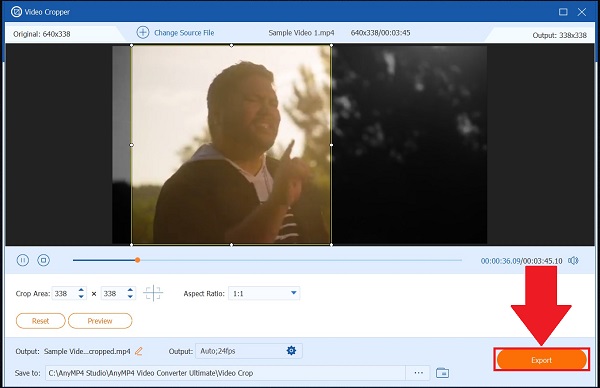 Part 4: FAQs about How to Crop Videos in Windows Movie Maker
What is the successor to Windows Movie Maker?
As for Windows 10, you are probably aware that Microsoft has deprecated Windows Movie Maker in favor of Windows Photos. It's a native Windows 10 picture management application that includes a hidden video editor. Microsoft Photos enables you to make films from a collection of photographs.
Can I crop a video in Windows Media Player?
Windows Media Player is not a video editor either. It is only a video player, so you cannot crop a video with Windows Media Player. Just simple, it cannot crop, trim, or do other video editing related functions. Instead, you can choose Windows Movie Maker to get the desired effect only.
Does Windows 10 have a video editor to crop videos?
Microsoft has packed Windows 10 with a slew of beneficial features. For instance, the Images app makes it simple to manage photos and movies. Additionally, it has rudimentary picture and video editing tools, such as the ability to crop and trim a video as the Windows Movie Maker alternative. But other video editing features are not available.
Conclusion
Windows Movie Maker is a straightforward video editor for Windows PC. It is capable of segmenting video into segments, combining many clips into a movie, and performing other editing tasks, such as cropping video with the zoom-in filter. But there are some restrictions to crop videos in Windows Movie Maker like this, Video Converter Ultimate is an excellent substitute. Not only is it simple to use, but it also has the ability to maximize video output quality.