How to download and install AMD Graphics Driver?
In order to apply to AMD APP technology to accelerate the conversion speed, not only AMD Graphics card is needed, you have to also install AMD Graphics Drivers. The following steps will show you the specific steps to download and install AMD Graphics Drivers.
Step 1: Please open the AMD official site on your browser: https://www.amd.com/.
Step 2: Put your cursor on the Find a Driver column (in the top right corner of the page) to set the following options according to the model of graphic: Component Category, Product Line, Product Model and Operating System. After the well setting, click View Results to display the download page.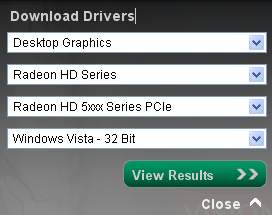 Step 3: Find Catalyst Software Suite in the driver list and click the right Download button. If your system settings support AMD APP technology, you can find the tag of Optional Downloads. Then open the tag and choose AMD Media Codec Package to download.
Step 4: After the download, please follow the instructions to install the drivers easily.
NOTE: We advise you to restart AnyMP4 program after the installation to make sure the right identification.
We Guarantee: