Best Audio Recording Software to Capture Any Sound on Computer
For different needs, you want to capture audio on computer, such as audio track, interviews, voice calls, or other audio tracks. Do you have a good audio recorder to make the audio recording? What is the best audio recording software?

Whether you want to record online music or your voice, you need an audio recording tool. Fortunately, there are lots of audio recording software including many free ones provided on the internet that can help you capture sound on computer. To help you quickly find the audio recording software suits you most, here we introduce you with 5 best audio recorders to choose from.
Part 1. Best Audio Recorder for Windows PC and Mac
First, we like to introduce you with the best audio recording software, Screen Recorder. It is specially designed to capture any audio and video with high quality. This audio recording software has the capability to record any audio track played on your computer, either on a Windows 10/8/7 PC or a Mac.
1. Record any audio track including interview, voice, call and more.
2. Capture sound from system audio card, microphone, or external speaker.
3. Capture activities like online videos, meetings, 2D/3D gameplay, and more with high quality.
4. Save audio recording in any popular audio format like MP3, AAC, FLAC, M4A, and more.
Step 1
When you want to record audio on computer, you can pick a right version and double click on its download button to free install it.
Step 2
Open this audio recording software and choose the Audio Recorder feature. As you can see, it also enables you to record video and take screenshot.

Step 3
Now you can choose to record audio from System Sound, Microphone or both. After that, just simple click on the REC button to start the audio recording process.

Step 4
After recording, you will be taken to a preview window to check your audio recording file and edit it. If you are satisfied with the result, you can click the Save button to save it on your computer.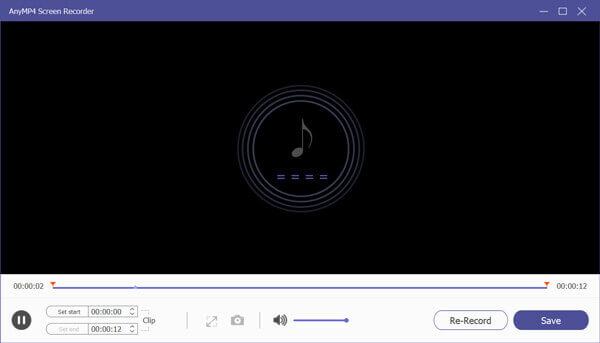 Part 2. Online Audio Recording Software - Free Online Audio Recorder
There a large number of free online audio recording software offered on the market that can help you capture any audio track on computer. In case you don't know which one you should choose, here we recommend the popular Free Online Audio Recorder for you to make the audio recording.

The recorded audio will be saved in MP3 format.
Part 3. Free Audio Recording Software - Audacity
Audacity is a free and open source audio recording application which can capture any sound on computer. This free audio recording software has the capability to record audio or capture voice from a microphone or line-in jack. It supports audio recording in sample rates from 44.1 to an excessive 192 kHz. Audacity is compatible with Windows, Mac OS, and Linux. (Audacity not working?)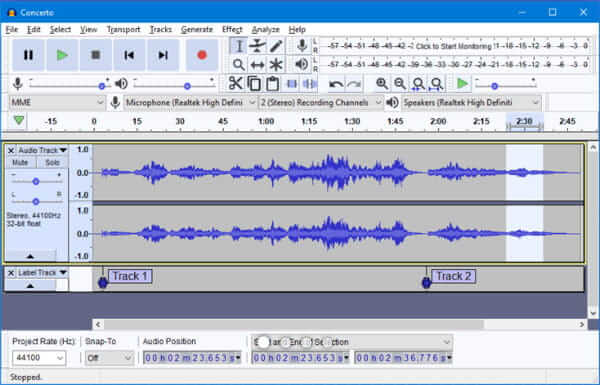 This free audio recorder gives a comfortable and high-quality audio recording experience. While the usage of Audacity, you won't see any annoying ads. Besides the audio recording, it also carries the multitrack editing feature. It is equipped with an equalizer to adjust effects like speed and tempo controls, delay, reverb, compressor, fade in and out, and a noise remover.
Part 4. Paid Audio Recording Software - Adobe Audition
Adobe Audition is one of the best and the most advanced audio editing programs. This audio recording software is designed with many powerful features including multitrack, waveform, and spectral display for creating, mixing, editing, and restoring audio content. It offers a varied array of sound and voice recording features. With this audio recorder, you can handily capture any sound played on your computer and voice-over from microphone with high quality.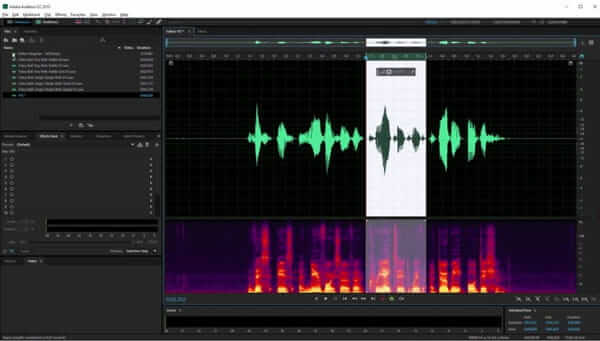 Besides the audio recording feature, Adobe Audition can be used for podcasts, video, and sound effect design. It also provides a Remix function to rearrange any song to fit any duration. This audio recording software has the capability to fix audio. It carries almost all audio recording and editing features you need. One thing you should know is that, similar to other Adobe products, Adobe Audition is not free. On the contrary, this audio recording software is very expensive.
Part 5. Free Voice Recording Software - Voice Recorder
Voice Recorder is the default voice recording software in Windows 10. This free voice recording software allows you to record sounds, lectures, interviews, and other events with ease. It is designed with a simple voice recording feature. You can simply click the Record button to capture your voice from microphone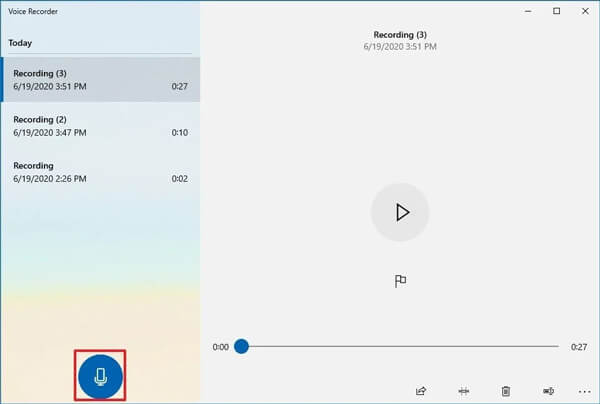 After recording, the captured audio file will be auto saved and stored in your Documents folder for easy access. You can easily check and share your recordings with others. Moreover, you are allowed to play back trim, rename, and delete the recorded voice. The voice recording will be saved in M4A format.
Part 6. FAQs of Audio Recording Software
Question 1. How can I record music for free?
With the recommended free online audio recorder above, you can handily recorderabove, you can handily record any audio with high quality.
Question 2. How to capture voice on iPhone?
iPhone has a built-in voice recording app called Voice Memo. You can open it and capture your voice with ease.
Question 3. How to convert audio recording file to MP3?
When you want to convert a video or audio file to MP3, you can rely on the popular converting tool, Video Converter Ultimate. It highly supports any frequently-used video and audio formats. You can use it to convert you recorded audio in any format to MP3 without quality loss.
Conclusion
We have mainly talked about the audio recording software in this post. You can get some main features of 5 great audio recorders. Whether you want to capture your own voice, or record an online audio track, you can find a suitable audio recording tool from them. If you have any better audio recording software recommendation, you can also share it in the comment with other readers.