Top 9 Game Recorder for Windows and Mac
With the emergence of esports games boom, many game users'd like to upload the game tutorials to YouTube for sharing and gaining popularity. How did they create high-defintion videos? Some of you also want to record the game process and put it on the internet for other players to watch. Though there is a lot of video recording software, not all of them are suitable for game tutorial recording. So we've put together a comprehensive list best game recorder for Windows and Mac and reviews to let you know which game recorder is worth your time.

Part 1. Top 6 Game Recorder for Windows
1. Blu-ray Master Screen Recorder
Want to save your gameplay time in HD? Bluray Master Screen Recorder is the best game recording software recommended for you to record gameplay, online videos, meetings, Skype calls, webinars and lectures on Windows and Mac computer.

Record gameplay videos with audio on Windows 10/8/7 and Mac.
Select the audio source from system sound or microphone voice.
Add rectangle, circle, line, arrow, color paint, text to the gameplay recording.
Preset a gameplay recording task and set the video format, quality, codec, frame rate.
2. OBS Screen Recorder
OBS (Open Broadcaster Software) is the free and open source game recorder for game recording and live streaming. You can start recording and streaming quickly and easily on Windows, Mac or Linux.
Pros:
* Simple and easy to use. The streaming speed is pretty quickly.
* Provide a lot of plugins to add lots of custom functionality.
* You can capture games running in fullscreen mode.
Cons:
* It is not supported on Windows XP.
* It can be complicated at first, but a lot of online tutorials to learn.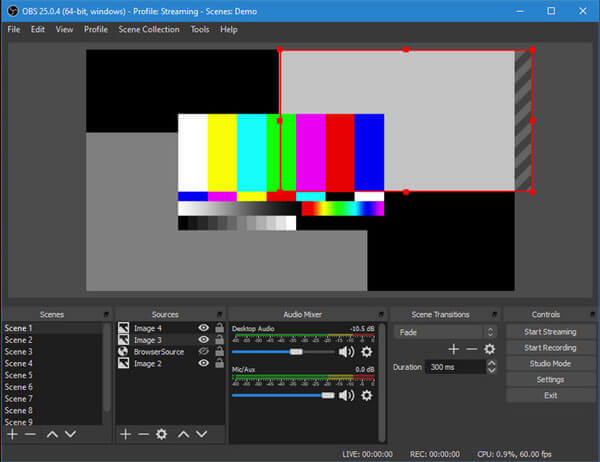 3. Bandicam
Bandicam is the easy-to-use game recording software for Windows. You can capture games, lectures, webinars, Skype calls, video tutorials, etc. It is capable of recording high quality video, record gameplays, and external devices like Xbox, smartphone, IPTV and more.
Pros:
* It is designed for everyone, simple to use with a friendly user interface.
* Easily create game tutorials with webcam and cursor highlights.
* You can draw and outline on your game recording or screenshot in real time.
Cons:
* Sometimes the audio quality is poor with the first 5 seconds of recording.
* Watermark will be added to your video if you are using the free version.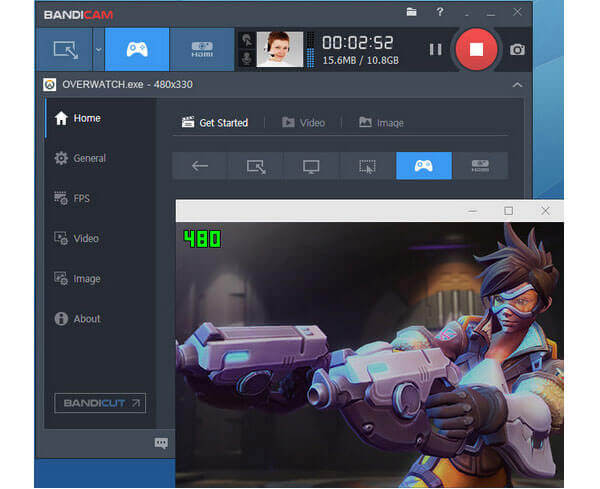 4. Fraps
Fraps is a benchmarking, screen capture and game recording utility for Windows. It runs in the background of your computer without interrupting your awesome game experience. Using DirectX or OpenGL graphic technology, Fraps can perform custom benchmarks and measure the frame rate between two points.
* It shows how many FPS you are getting in a corner of your screen.
* You can export the gameplay recording at high resolution up to 7680*4800.
* The gameplay will be recorded in outstanding quality.
Cons:
* The unregistered version lets you take 30 second long recordings with watermark.
* The recorded gameplay footage tends to be large in size.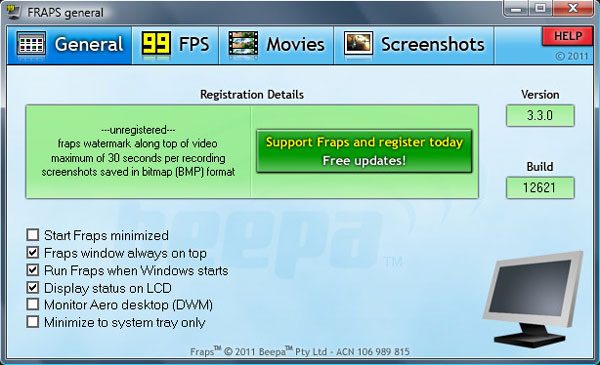 5. Dxtory
Dxtory is an excellent game recording tool for DirectX/OpenGL application. It is easy-to-use for beginners to output high-quality videos of your gameplay on Windows computer. It offers the most extensive collection of editing tools. It is also capable of recording audio from multiple sources, and has the support for third-party video codecs and broadcast output.
Pros:
* You can make numerous configurations before recording a DirectX/OpenGL application.
* You can have different recording settings for each one of your games.
* Customize screenshots with margin, scalling and clipping options.
Cons:
* There are limitations in the trial version, and watermark will be added after recording.
* The recorded gameplay is out of sync with many platforms.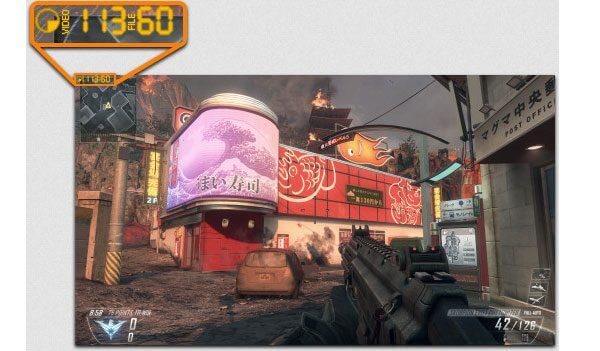 6. Action!
Action! is the most popular screen recorder and game capturing software. It allows streaming and real-time game recording on Windows computer in super HD video quality. With it, you can easily record and stream your gameplay, web player video, record music, capture screenshots, etc.
Pros:
* Supports recording gameplay in smooth 4K Ultra HD resolution with low CPU usage.
* Add webcam to gameplay recordings with optional background remover.
Cons:
* You can't adjust the frame rate. The high frame rate takes up more memory.
* Gameplay recording can't last more than 10 minutes in the free trial.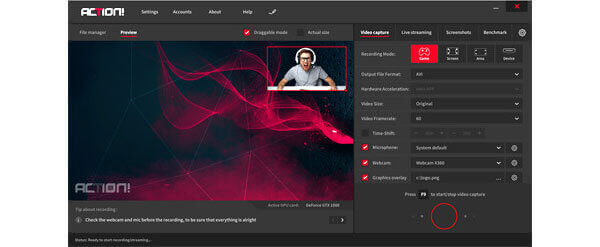 Part 2. Best 3 Game Recording Software for Mac
1. QuickTime
QuickTime Player is not only the default media player for macOS, but also the best game recorder for Mac users to record their voice and computer screen. It also provides advanced video editing features like rotate, cut, split, copy, paste, delete, etc.
Pros:
* It supports recording, playing and sharing vdeos and audio immediately on Mac platform.
* Share the game recording on social platforms like YouTube, via AirDrop, email or message.
* Adjust the video playback controls like adjust volume, fast forward, rewind, play and pause.
Cons:
* QuickTime doesn't natively support the formats like Divx, WMV and MKV.

2. ScreenFlow
ScreenFlow is one of the best game recording and editing software for macOS. With the powerful game recorder, you can capture your game screen in high quality, and directly share the video to YouTube, Facebook, Vimeo, FTP and so on.
Pros:
* The game recording quality is excellent due to a high frame rate you set.
* ScreenFlow works as a lightweight video editor, consuming few CPU and RAM.
* Export or uploading the game recording directly to YouTube, Vimeo, etc.
Cons:
* It lacks the deep customization features to edit the video further.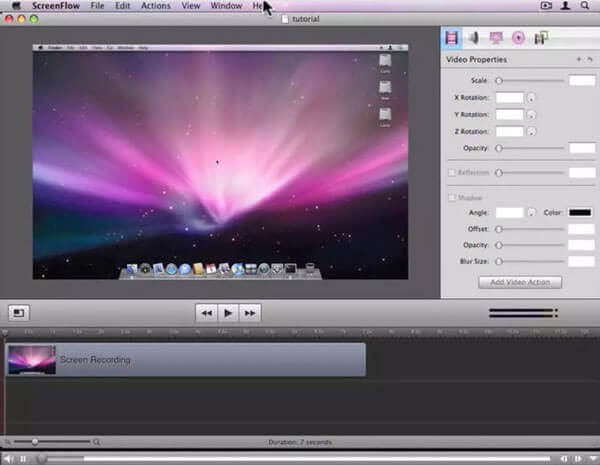 3. ScreenFlick
ScreenFlick is a screen capture app for macOS, which provides the highest quality screen and audio capture. ScreenFlick can record gameplay on your Mac, as well as the game's audio, your own voice, and team chat on Skype or Discord.
Pros:
* Support recording the 3D gameplay, training session, video chats, online videos.
* Easily preview, trim and export the game recording to YouTube, iMovie and Final Cut.
* Record the gameplay up to 60fps, and record audio from game or microphone.
Cons:
* Watermark is applied to the output game recording in the free trial version.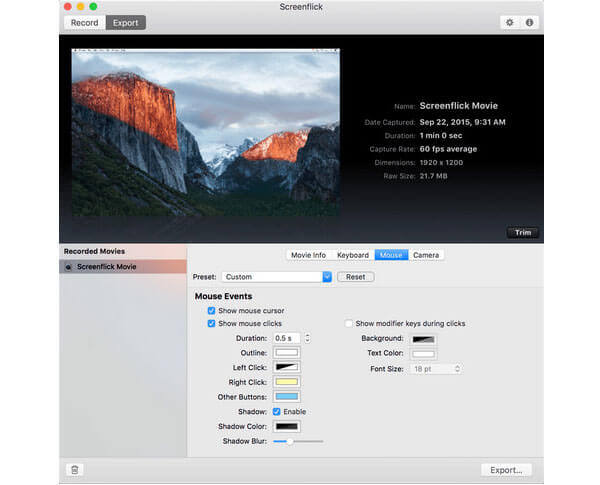 Part 3. FAQs of Best Game Recorder
1. Is Bandicam really free?
No. Bandicam Screen Recorder offers a free trial to record screen on computer. If you want to enjoy more benefits of Bandicam, you can pay at least $39.
2. Is it OK to upload gameplay to YouTube?
Yes. It is OK to upload gameplay footage to YouTube. But you are not allowed to monetize the video.
3. How long can Bandicam record?
The free version of Bandicam limits the recording duration to 10 minutes in length. If you want to record for longer time, you can purchase the paid version of Bandicam.
Conclusion
With the top 9 game recorder for Windows and Mac, you must have found the best game recording software for you. Blu-ray Master Screen Recorder is the professional screen recorder that captures gameplay, videos, music, lectures, tutorials, webinars and more.