6 Best Face-cam Recorder Applications for Windows and Mac
This post will review top 6 best screen recorders supporting face-cam for PCs and Mac. You may be familiar with screen recorder software. They can help you capture everything on your desktop to make video tutorials, gameplay videos, and more. What is face-cam recorder? Face-cam is the camera that is used to focus your face and surrounding when recording and streaming. A screen recorder with face-cam capture will add your reactions to video recordings directly. Now, let's check them out below.
Part 1: Best Screen Recorder for PC and Mac
Today, more and more people are multi-device users, who have or access more than one digital devices and systems. That is why cross-platform screen recorder with face-cam becomes so important. Blu-ray Master Screen Recorder, for instance, is compatible to both PCs and Mac. Moreover, it is flexible and available to both beginners and advanced users.
Main Features of the Best Face-cam Recorder
1. Record screen along with face-cam without lag.
2. Support multiple recording sources at the same time.
3. Optimize video and audio quality automatically.
How to Record Face-cam along with Screen
Step 1
Install the best face-cam recorder
The face-cam recorder offers two versions, one for PCs and the other for Mac. You can install the right one based on your system. Then launch it and choose Video Recorder to enter the main interface.

Step 2
Record screen with face-cam
Set the recording area in the Display section, such as capture Full screen or Custom region. Then turn on the Webcam option and permit the access if it is the first time to capture face-cam. It supports both built-in and external face-cam. Next, you can decide the audio sources, like System Sound and/or Microphone. If you are ready, click on the REC button to start recording screen and face-cam.
Tip: If you just want to capture face-cam, disable Display while enable Webcam.
Step 3
Preview and save recording
When face-cam recording is done, click the Stop button. Then you will be presented the preview window. The built-in media player lets you check the recording before saving. Moreover, you can cut unwanted frames with the Clip tool. Finally, hit the Save button and save the recording to your computer.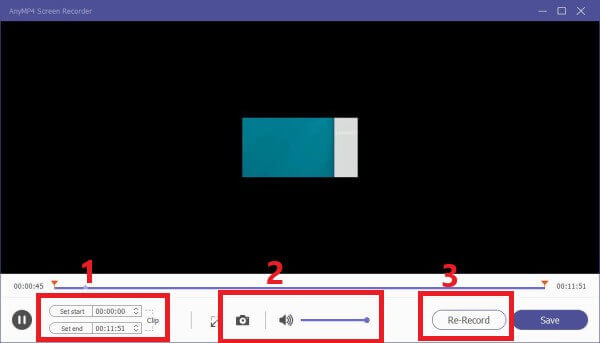 Part 2: 5 More Screen Recorders with Face-cam You Can Try
Top 1: Bandicam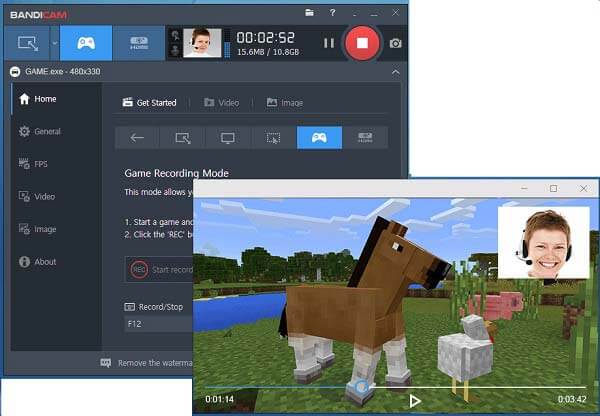 Bandicam is a popular screen recorder with face-cam among gamers. It allows users to turn on or disable face-cam capture when playing games. Moreover, it provides a lot of custom options to create the desired effects.
Pros
1. Offer a variety of screen recording options.
2. Record high FPS games with no lag.
3. Apply Chroma key for face-cam overlay.
Cons
1. It is only available to PCs.
2. There is no video editing tool.
3. It will watermark your recordings in free version.
Here you may like: The Best Bandicam Mac Alternative to Record the Screen on Mac 2023
Top 2: Ezvid
Ezvid is a free screen recorder with face-cam support. Though the developer wishes you to donate for the software, you can use it without paying a penny. More importantly, it is an all-in-one solution.
Pros
1. Record screen and face-cam simultaneously.
2. Build in a video editor.
3. No watermark.
Cons
1. It only allows you to record up to 45 minutes.
2. You cannot save the recording to your computer.
3. It cannot record screen in the background.
Top 3: OBS Studio
OBS Studio is an open-source screen recorder with face-cam support. In fact, you can record from any sources, such as screen, camera, face-cam and more. Moreover, it is totally free of charge with no limit.
Pros
1. Record screen and face-cam for free.
2. Offer plentiful custom options.
3. Stream screen to YouTube or Twitch directly.
Cons
1. It can only save recordings in MP4 or FLV.
2. There are too many options for beginners.
3. Some users reported the crash issue.
Here you may like: Where Do OBS Recordings Go? Find Answers Now
Top 4: Snagit

Snagit is another paid face-cam recorder available to PC and Mac. Though it is a bit pricy, users can get a lot of features in a single application, such as an image editor. However, the learning curve is not friendly to beginners.
Pros
1. Offer a user-friendly interface.
2. Support external device capture.
3. Lightweight and work smoothly.
Cons
1. It does not contain video editor.
2. It is expensive and starts from $49.95.
3. The output quality is not very good.
Top 5: Screencast-O-Matic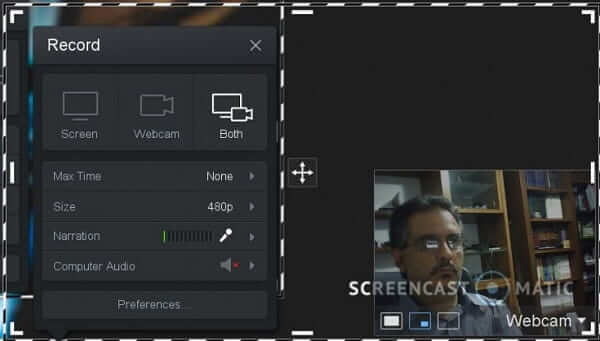 Screencast-O-Matic is an online face-cam recorder. It does not require installation or any payment, so it is a good choice for beginners. Moreover, it lets you decide to capture screen and/or face-cam.
Pros
1. Capture face-cam online for free.
2. Offer basic custom options.
3. Support multiple audio sources.
Cons
1. The maximum length is 15 minutes.
2. It lacks advanced features.
Part 3: FAQs of Face-cam Recorder
How do you record face-cam and gameplay together?
To record gameplay and face-cam together, you only need a screen recorder with face-cam support. We have listed the top tools above.
Can OBS record multiple video tracks?
OBS is able to record multiple video sources at the same time; however, it will combine them together but not record multiple tracks. If you want to produce more than one video tracks, you have to record them separately.
Can you record a face-cam on your phone?
The latest versions of smartphones already have built in the screen recording features, but they cannot record your face-cam or front camera. You still need to download a third-party face-cam recorder app, such as AZ Screen Recorder.
Conclusion
Now, you should learn at least top 6 best screen recorders with face-cam capture ability. They all have unique benefits and advantages. You can choose the most appropriate tool for your device according to your situations. If you are looking for a cross-platform tool, Blu-ray Master Screen Recorder is a smart option. For beginners, it is pretty easy to use. For advanced users, it offers a lot of advanced features, such as record screen with schedules. More questions? Please write them down in the comment area below this post.