How to Reduce Bandicam Lag When Recording
When you record videos or games in an uncompressed format, there is always video lagging in Bandicam. Well, many reasons can cause Bandicam lagging like CPU, GPU, RAM, HDD, etc. Here are many ways avoid lagging problem and keep better recording performance of Bandicam. In this article, we shall listed 5 common solutions to fix Bandicam lag when recording video on your Windows 10 computer.

Part 1. How to Fix Bandicam Lagging
Many reasons can lead to Bandicam lagging. To avoid that happens again, you can follow the simple operations below to ensure a smooth recording in Bandicam.
1. Change Bandicam Settings
To reduce Bandicam lagging, you can reduce the video resolution, video size, FPS, video quality, or try the hardware-accelerated H.264 encoder.
Step 1Select Video tab in Bandicam and click Settings at the bottom. The Format settings window will pop up.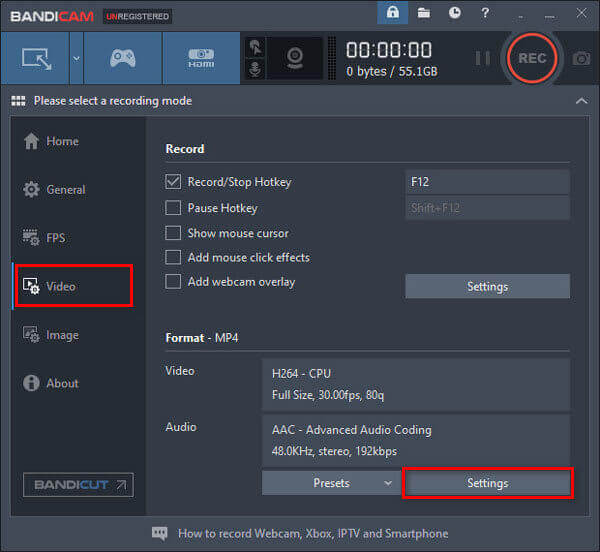 Step 2You can change the Size from Full Size to Half Size, decrease FPS from 30 to 15, change the Quality from 80 to 50. Try H264 (CPU) as the video codec. Click OK to confirm.
Step 3Click the Settings button in Record section. In the pop-up window, select Disable (Recommended) - to disable the Secondary Sound Device.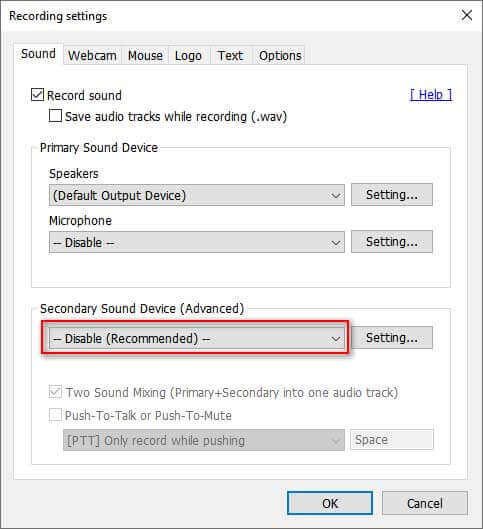 2. Change Recording Mode
To fix Bandicam lagging issue, you can change to the recording mode from Game Recording Mode to Screen Recording Mode, or from Screen Recording Mode to Game Recording Mode.

Don't miss: How to fix OBS black screen
3. Check Update in Bandicam
Every time Bandicam announce updates, it optimizes performance and fix errors. When you encounter Bandicam lagging issue, you can uninstall the current version of Banicam or update it to the latest version. Here are steps below.
Just click the About tab in Bandicam and click Update check. If there is a new version available, click Check for updates now button in the pop-up window. Then restart Bandicam and record again.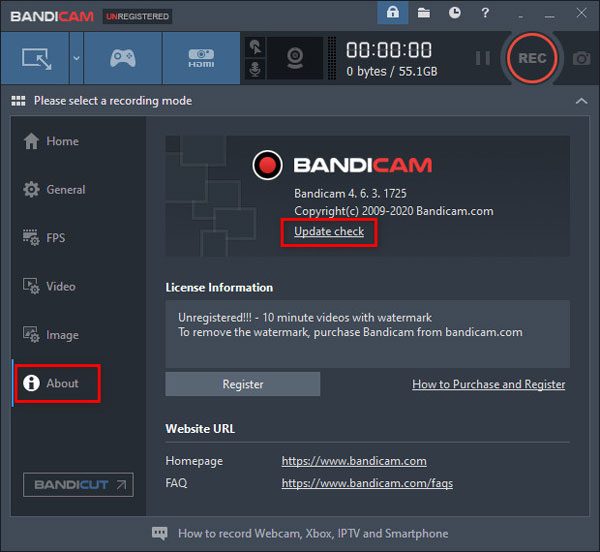 4. Upgrade Your Hardware
If the lagging problem still exists in Bandicam, you can upgrade your hardware like graphic card, CPU and RAM to improve the performance of your computer.
5. Change Graphic Settings
If you are using Windows 10 computer, you can change graphic settings to reduce lag in Bandicam.
Step 1Tap Windows Start menu, enter and search Graphic Settings in the search box.
Step 2In the pop-up window, select Classic app, click Browse button and select C:\Program Files (x86)\Bandicam\bdcam.exe (the default installation folder for Bandicam).
Step 3Click Options button and select Power Saving or High Performance option. Click Save button to save the changes.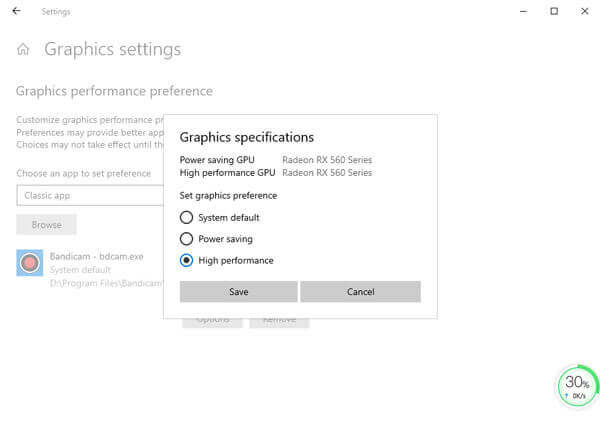 Part 2. Best Alternative to Bandicam
If Bandicam still lags, frees or crashes, you can start capturing videos with Bandicam alternative on your computer. Blu-ray Master Screen Recorder is the best Bandicam alternative software to capture videos, gameplay, video tutorials, webcam videos, lectures and more.
1. Record gameplay, meetings, audio calls and online classes and lectures.
2. Capture videos and audio with high quality.
3. Provide multiple editing features to edit the video recording in real time.
4. Various recording modes to select full screen or one region for recording.
How to record video with Bandicam no lag
Step 1Assuming that you have installed Screen Recorder, launch it on your Windows 10 computer or Mac. Select Video Recorder mode to capture video.
Step 2Click Custom to set the recording window on your own. If you want to capture gameplay with your own voice, you need to toggle on both System Sound and Microphone options. If you just want to capture an online movie for offline watching, you can turn on System Sound option only.

Step 3Start playing the video or begin game you want to capture. When everything is done, click REC button to start recording. Click Stop button whenever you want to pause the recording.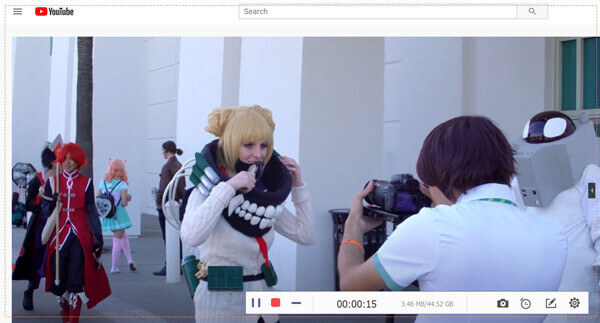 Step 4Once the recording is finished, you can preview the clip and cut down unwanted parts. Then click Save button to save the recording to computer.
Part 3. FAQs of Fixing Bandicam Lag
1. Is Bandicam really free?
Bandicam offers the free version to capture videos from desktop, games or external sources. If you want to remove the watermark on your video, you'd better purchase the paid version of Bandicam.
2. Can I use Bandicam for Mac?
Actually, Bandicam doesn't offer the Mac version, which is only exclusive to Windows. But you can use Blu-ray Master Screen Recorder for Mac as Bandicam alternative to capture games, online videos and audio on Mac.
3. Is Bandicam better than OBS?
Bandicam and OBS are free and easy-to-use screen recorder. Regarding to game recording, OBS doesn't offer game recording service like Bandicam. Well, OBS offers more settings than Bandicam to preset your recording.
Conclusion
This article shares the most comprehensive solutions to fix Bandicam lagging while recording. Hope these methods works well for your problem. Finally, we recommend you Blu-ray Master Screen Recorder, a reliable software to capture videos, gameplay, audio and online webinars in high quality.