How to Take A Screenshot on Alcatel Phone and Tablet
As you know, Alcatel Mobile Phones and Alcatel OneTouch is a mobile brand owned by Fennish firm Nokia, and was licensed by TCL for mobile phones and devices. Alcatel phones usually stay in low price with respectable specs and build.
Alcatel prides itself on value-for-money across its all devices. If you are an Alcatel user, you may get little information on screenshot skills on Alcatel phones. Well, this article will give you answers on how to screenshot on Alcatel devices.

Part 1. How to Take a Screenshot on Alcatel with Gestures
The easiest way for Alcatel phones to take a screenshot is using gestures and motions. The following is the detailed steps to screenshot with gestures.
Step 1 Go to Settings on Alcatel phone. Head to Gestures or Gestures and Motions.
Step 2 Enable Special motion technique to take screenshot on your Alcatel phone.
Step 3 Then go to the screen you want to capture, and follow the gestures you have made to take screenshot on Alcatel phone.
Note: If you own an Alcatel phone that runs the latest Android systems, you can use the Screenshot option in the notification bar.
Part 2. How to Capture Alcatel Screen Images with Buttons
By pressing the shortcut key combination, you can easily capture a screenshot on Alcatel One Touch or other devices.
Step 1 Locate the Alcatel screen you want to take a screenshot.
Step 2 Hold and press Power and Volume down buttons at the same time for about 2 seconds.
Step 3 To view the captured screenshot, you can open the Gallery and see all your Alcatel screenshots.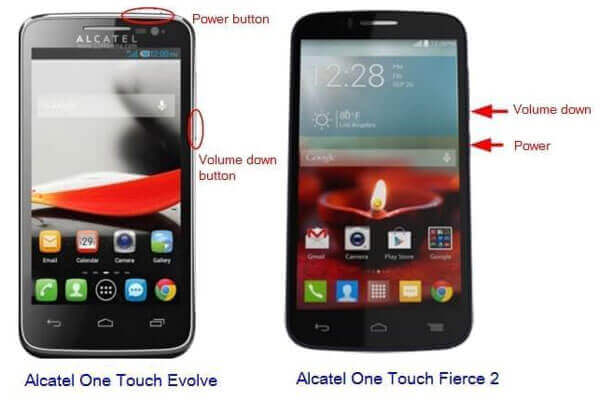 Part 3. How to Screenshot on Alcatel with Third-party App
If the two default methods doesn't work well, you can look for a third-party app like Screenshot in the Play Store and install it on Alcatel 7, Alcatel Fierce 2 or Alcatel One Touch.
Step 1 Search and install Screenshot app from the Play Store.
Step 2 Press Power and Volume down button at the same time for a while until the screenshot shows up.
Step 3 After screenshot, you can trim the screenshot, add text or annotation to the screenshot. The screenshot will be saved in the Gallery app. (See where are photos stored on Android)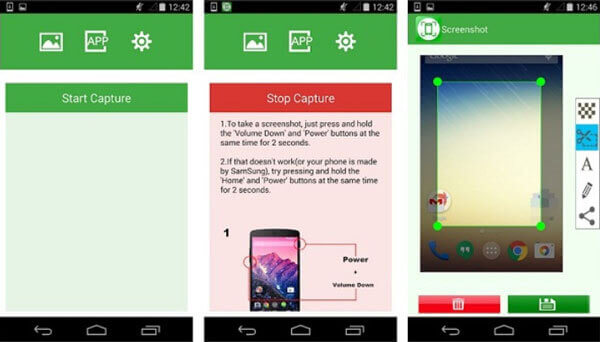 Recommended: Best Screenshot Capture tool
When you mirror the Alcatel phone screen to computer, how do you take a clear screenshot? Blu-ray Master Screen Recorder should be the best screenshot tool for Alcatel devices.
Main features of the best Alcatel screenshot tool
1. Record any actions from gameplay, tutorial, conference, online videos, etc.
2. Record videos with high quality.
3. Take a quick screenshot and edit the image by adding text, line, color, spray, etc.
4. Choose the full screen or a partial region to take a screenshot on Alcatel screen.
Part 4. FAQs of Taking Screenshot on Alcatel
Can I take a screenshot on Alcatel 7?
Yes. You can take screenshot on Alcatel 7 using the default methods from Screenshot in the notification panel, button combination or gestures.
How do I block text messages on my Alcatel phone?
To block text messages on your Alcatel phone, you can open Messages. Tap Menu > Blocked calls. Select the number you want to block, and tap the trash can.
How do I send pictures from my Alcatel phone?
To send pictures from Alcatel phone, you can tap Messaging, then tap the plus sign to create a message. Tap the plus sign again to expand the menu, and tap Pictures to take a new picture. Then tap the check mark icon to insert the picture into the message. When finished, tap Send MMS to send the picture.
Conclusion
There are many ways to take a screenshot on Alcatel devices. Besides the default method we mentioned in the post, there are more screenshot apps you can select to take a perfect screenshot. For professional screen capture, we highly recommend Blu-ray Master Screen Recorder to capture the whole screenshot and edit it with the powerful editing tools.