Everything You Need about Icecream Screen Recorder
Icecream Screen Recorder is one of the most popular screen-recording software that allows you to capture any screen activities on Windows, Mac and Android. You can use it to take screenshots or record games, videos, online meetings, live webinars, etc. along with audio and webcam.
Like many software companies, Icecream offers users a free trial which has multiple limitations. If you want to enjoy more features, you have to purchase the pro version. Now, you may be confused: Is the free version enough for daily use? Do I need to upgrade it to the pro version?
In this post, we will review Icecream Screen Recorder in detail. Hope it will help you make an informed decision.

Part 1. Icecream Screen Recorder Review
To begin with, let's see what Icecream Screen Recorder can do and how much it costs to get Screen Recorder Pro.
• Basic Features
Icecream Screen Recorder enables you to capture full screen or selected area of your computer screen as you like. You can also record audio, such as microphone and system sound, while creating a screencast. You can even input your webcam to interact with your audience better.
During the recording process, you can use the instant drawing tool to add text, arrows and shapes to your recording. If necessary, you can hide the cursor or desktop icons, and disable the screen saver.
After recording, this screen recorder empowers you to upload the recorded video to YouTube, Dropbox and Google Drive with ease. And it is convenient to copy the recordings or screenshots to the clipboard so that you can share them through Skype.
• Additional Features (Windows Only)
Besides the basic features above, Icecream provides some special features which are available in Windows version only.
For example, it can remember the recording area you used last time, therefore, you can quickly start recording without selecting the area again. You can set hotkeys to control the recorder, and schedule the recording task to start capturing without waiting in front of computer.
This recording tool can record gameplay with 60 fps, which is very helpful for game video maker. With Icecream Screen Recorder's editor, you can easily customize your recording by adding logo, showing mouse effects, trimming the video length, changing speed, etc. If you need, you can always convert the recorded video to a different format.
• Free Version VS Pro Version
The free version of Icecream Screen Recorder is quite limited. You can only record your screen for up to 5 minutes. And there will be a default watermark on your recording. The only output format you can choose is WEBM.
As for Screen Recorder Pro, it lets you enjoy all the features above with no time limit or watermark. It supports 4 video formats - AVI, MP4, MOV and WEBM. But these features are based on Windows, which means you cannot perform them on a Mac, even if you have upgraded to pro version.
By the way, the price for the lifetime license of Screen Recorder PRO is $29 95.
• Pros & Cons
Pros
Easy to use
Capture any screen activity with microphone and system sound
Record gameplay in full screen with 60 fps
Create screencasts and share the URLs at ease
Trim, convert and manage all your recording videos
Cons
Free version is too limited (Time limit, watermark, etc.)
Many Features work only on Windows
Finite video formats
Slow down computer while recording
Sometimes audio may get distorted
Part 2. How to Use Icecream Screen Recorder on Mac/Windows/Android
It is quite simple to utilize Icecream Screen Recorder to create screencasts. Please read on and you will know how to record your screen with this screen recording app on both computer and mobile.
1. How to Record Your Computer Screen
Step 1
Download and install the desktop recorder to your PC/Mac. Then launch the program.
Step 2
Click Settings in the bottom right corner.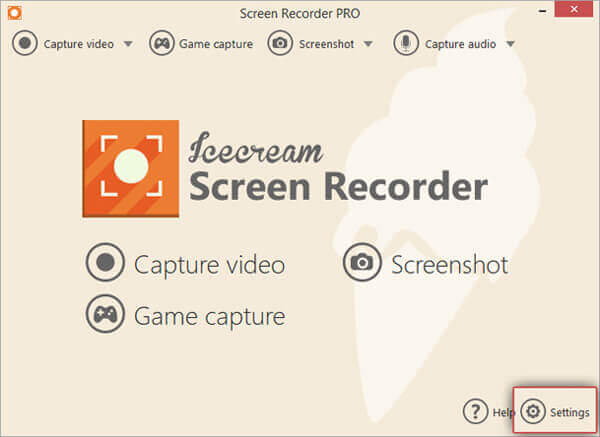 Step 3
To record screen with audio, you need to go to Audio tab and enable Record audio, Record microphone, or both. In the Video tab, you can set mouse effects, and change output video format or quality.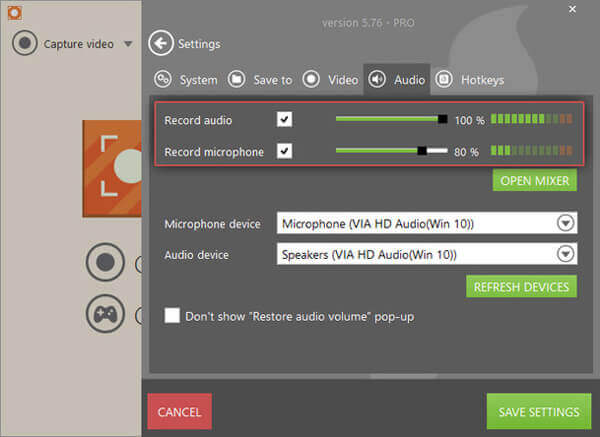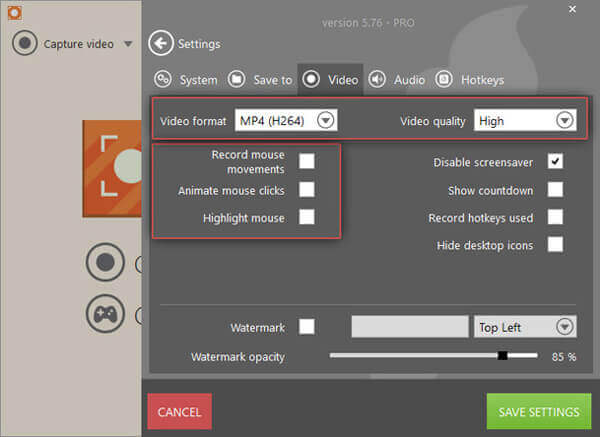 Step 4
Find Capture video in the top left corner. You can select from Fullscreen, Custom area and other modes according to your need.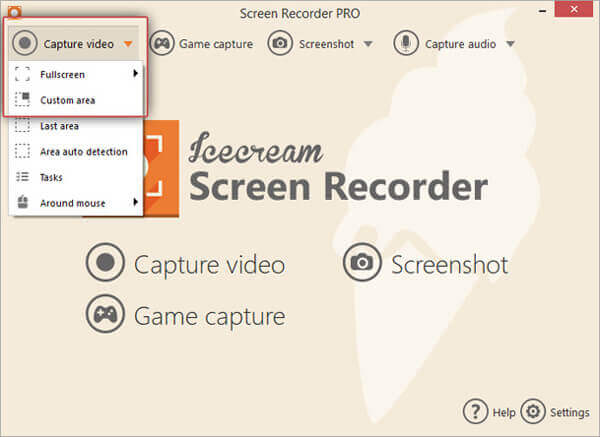 Step 5
Click the Rec button or the F7 key on your keyboard to start recording. When you finish recording, just click on the Stop button or F8 hotkey.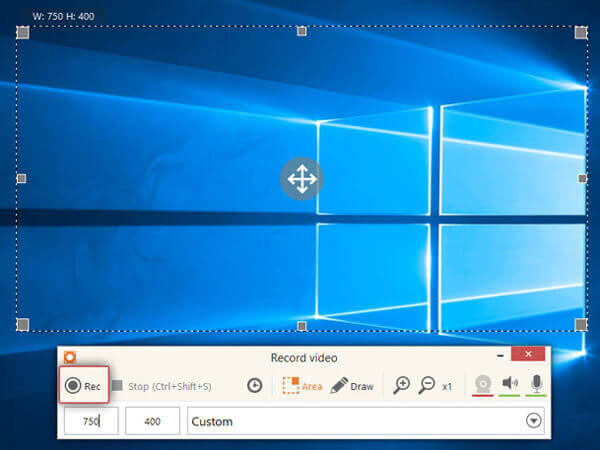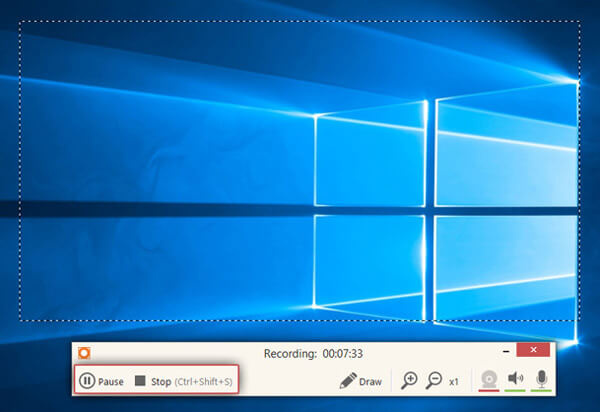 Step 6
Navigate to History and click the Pencil icon behind the video you want to edit. Now you can use the timeline to trim the recorded video. Don't forget to Save your changes.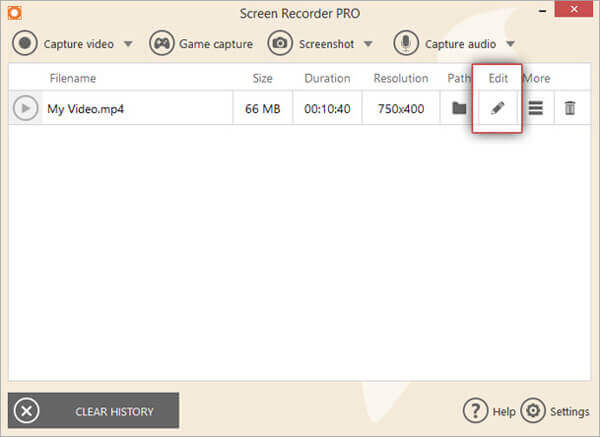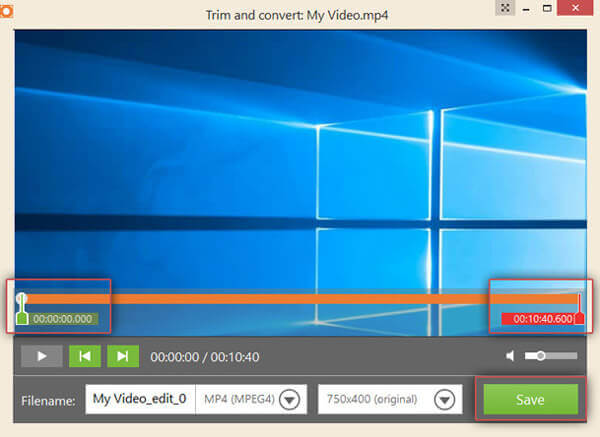 Step 7
If you want to share your video, press More in History window. You can choose Upload to YouTube, Upload to Google Drive, or Upload to Dropbox.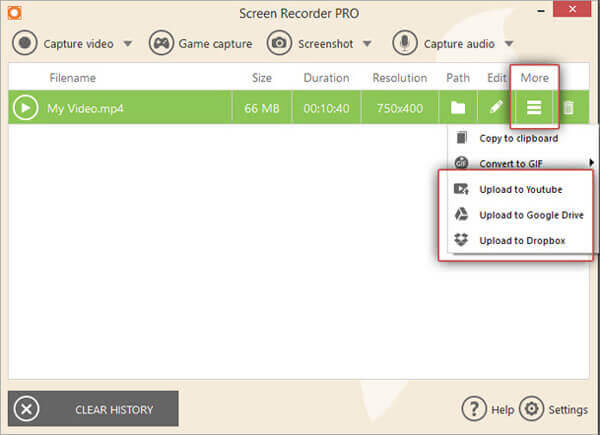 2. How to Use Icecream Screen Recorder for Android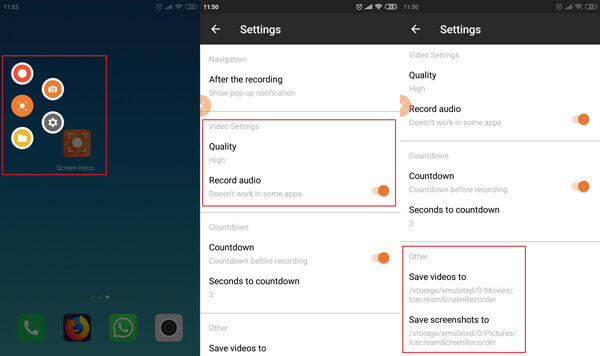 Step 1
Open the Icecream Screen Recorder on your phone. Then you will see a little Record button on the side of your screen. When you tap that icon, a little menu appears. There will be 4 options for you to choose – Record, Screenshot, Settings and Show in Folder. To start screen recording, just tap on the red Record icon on the top. To stop it, you need to swipe down into your Notification area and hit Stop.
Step 2
Tap Settings and you can enable Record audio, change video quality and adjust the path to save your recording.
Part 3. Best Icecream Screen Recorder Alternative
In part 1, we have said that the free version of Icecream Screen Recorder has a lot of limitations. So does the Mac version. Thus, if you find that this screen recorder doesn't meet all your needs, then you can try the following alternative to Icecream Screen Recorder.
Blu-ray Master Screen Recorder is the best screen recorder designed for both Windows PC and Mac. Compared with Icecream Screen Recorder, it has a more intuitive interface and plenty of flexible recording features. You can capture any actions from your games, meetings, courses, etc.
1. Capture all your computer screen in full or customized size.
2. Record any audio, like music, audio calls, narration, etc. with high quality.
3. Add arrows, lines, shapes, text and callouts to your recording in real-time.
4. Remove the unwanted parts from the recorded video/audio after recording.
Step 1
Free download Blu-ray Master Screen Recorder. Install and run the program. Choose the Video Recorder option to record your computer screen.
Step 2
You can adjust the screen recording area according to your needs. Usually, to record video, you can turn on the System Sound option. If you don't want to add your voice to recording, you can disable Microphone.

Step 3
Click on the REC button to start your recording. When the recording is over, you can click the Stop icon and save the recorded video in MP4, MOV, AVI, FLV and other popular video format.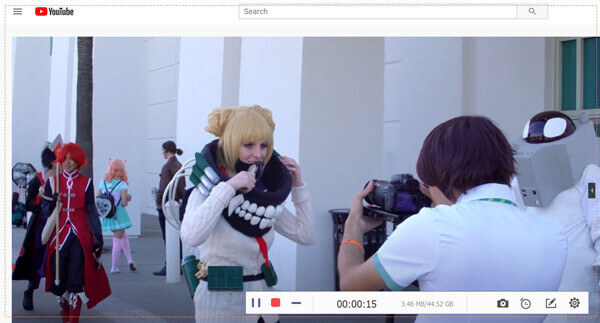 Besides screen recording, Blu-ray Master Screen Recorder also carries many other practical features. For example, the screenshot feature enables you to screenshot any part of your screen via one click.
Part 4. FAQs of Icecream Screen Recorder
Q1: Is Icecream Screen Recorder safe?
Yes, Icecream Screen Recorder is totally safe. There is no virus. And all your information is protected.
Q2: Does Icecream Screen Recorder have a watermark?
There will be a default watermark on your recordings if you use the free trail of Icecream Screen Recorder. But you won't see it if you upgrade your screen recorder to the pro version.
Q3: Does Icecream Screen Recorder support scheduled screen recordings?
Yes, users can set scheduled recording tasks with Icecream Screen Recorder. In fact, Blu-ray Master Screen Recorder also allows users to perform scheduled screen recordings.
Conclusion
In general, Icecream Screen Recorder is a great recording tool for Windows. But if you are looking for a professional screen recorder for your Mac, then you can give Blu-ray Master Screen Recorder a shot.
Hope this Icecream Screen Recorder review is helpful to you. If so, please leave us your comment below.