5 Best Open Source Screen Recorder Software You Won't Miss
An open-source screen recorder is usually a program to capture something on your desktop into video files and was released by a team of developer. The biggest benefit is to let you get the full features without any limit. There are many free screen recorder applications on market, but only a few are open-source. Most free apps have some restrictions, such as watermark, length limit, and more. To help you find the real open-source tool, this article will identify and review top 5 open-source screen recorders in detail.

Part 1: Top 5 Open Source Screen Recorders
Top 1: OBS Studio
As an open-source screen capture, OBS Studio has been around for decades. It is compatible with Windows 10 and earlier, and Mac OS X. Plus, users can get a lot of pro-level features without paying a penny.
Pros
1. Record screen and videos.
2. Live stream screen to YouTube or Twitch.
3. Offer plentiful custom options.
4. Support multiple sources.
Cons
1. The configuration is a bit complicated.
2. Some users reported the crashing issue.
Top 2: ShareX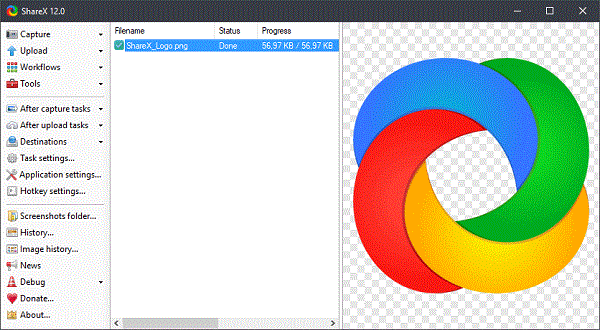 ShareX is another open-source Windows screen recorder. It was released for PC users. In addition to screen capture, it also allows you to make scrolling screenshots for long webpages and more.
Pros
1. Capture everything on desktop.
2. Take scrolling screenshots for free.
3. Compatible with Windows 10/8/7.
4. Share recordings to social media directly.
Cons
1. It lacks a video editor.
2. Some features are not always working well.
Top 3: CamStudio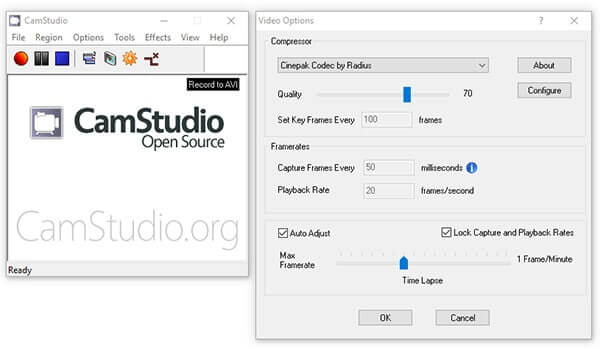 CamStudio is one of the best screen recording software for PCs, especially old machines. It is able to capture screen and videos along with sound and offering extensive useful features, even though it is free to use.
Pros
1. Record screen in AVI files.
2. Convert AVI videos into Flash.
3. Add text comments to screen recordings.
4. Capture cursor path.
Cons
1. It is only available to Windows 7/XP/Vista.
2. The output files are pretty large.
Top 4: VirtualDub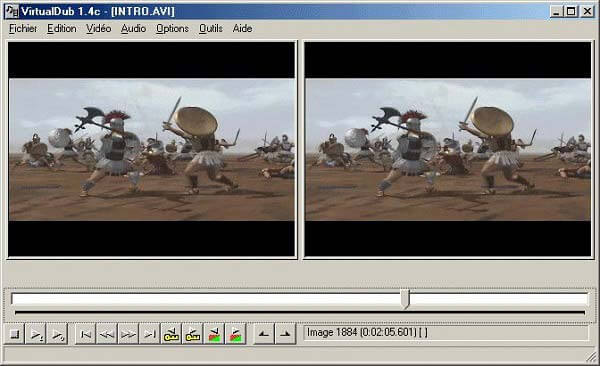 VirtualDub is another open-source video recording and editing software for Windows. In fact, many people use VirtualDub as a free video editor and ignore the screen recording feature. Though it is not as powerful as professional solution, it is worth to use.
Pros
1. Record screen with audio.
2. Optimize disk access in real time.
3. Support noise reduction.
4. Edit screen recordings frame by frame.
Cons
1. The video editor is pretty simple.
Top 5: VLC Media Player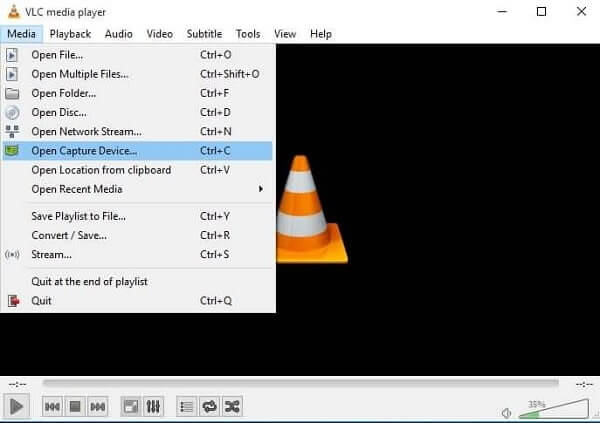 Although VLC Media Player is an open-source media player primarily, users can get extensive bonus features within a single program, including screen capture, online video recorder and more.
Pros
1. Capture desktop with audio.
2. Free to use all features.
3. Preview screen recordings.
4. Record online videos via URL.
Cons
1. The learning curve is not friendly to beginners.
2. The output quality is poor.
Part 2: Best Alternative to Open Source Screen Recorders
As you can see, open-source screen recorders all have some downsides, like limited output formats, poor recording quality, hard to learn, etc. In result, you may need an alternative solution. Blu-ray Master Screen Recorder is one of the best candidates.
Main Features of the Best Alternative to Open-source Screen Recorder
1. Record everything on your screen including online videos.
2. Produce high quality recordings automatically.
3. Support multiple resources, like microphone and webcam.
How to Record Screen in High Quality Video
Step 1
Install screen recorder
Run the best alternative to open-source screen recorder as long as you need to capture something on your desktop. Then choose Video Recorder to enter the main interface. The Audio Recorder option is used to record audio.

Step 2
Record screen in one click
Make sure the Display option is turned on and set the recording area based on your need. It allows you to capture Full screen and Custom region. If you want to add your reactions to the screen recording, enable Webcam; otherwise, disable it. Then decide the audio source such as System Sound and/or Microphone. The former will capture sound from your computer and the latter will record your voice through microphone. Once you are ready, click on the REC button to begin recording screen with the alternative to open-source screen recorder. During the process, you can edit it in real time or take snapshots with the toolbar.
Step 3
Preview and save screen recording
When you want to stop screen recording, hit the Stop button to go to the preview window. Here you can view the recording with the built-in media player and remove unwanted frames with the Clip feature. Finally, click on the Save button and follow the onscreen instructions to export it to your hard drive.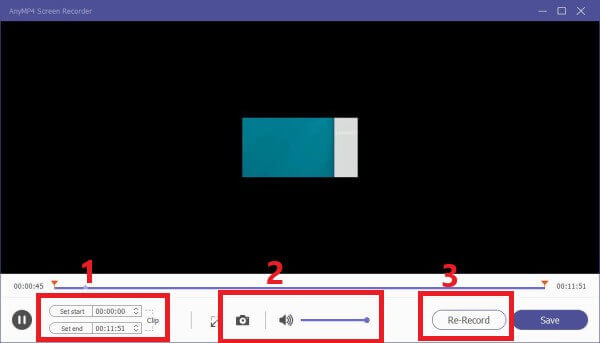 Part 3: FAQs of Open Source Screen Recorder
Is CamStudio safe to use?
According to our research, CamStudio is safe to use. However, the installer file does contain malware and extra software. So, you need to monitor the installation process and refuse the extra software manually.
Can screen recorders be detected?
General speaking, both software and online services cannot detect the screen recorder installed on your hard disk no matter it is working or not. However, some stream platforms, will block it with advanced technology.
Does Windows 10 have a screen recorder?
There is a screen recorder built-in Windows 10. At first, Game DVR is the screen recorder on Xbox One. When releasing Windows 10, Microsoft migrated the feature into the system. Though it was designed for game recording, you can use it to record screen too.
Conclusion
In this article, we have shared the best open-source screen recording software for Windows 10 and earlier and Mac OS X. They all have unique benefits and disadvantages. OBS Studio, for example, gives you full features for free, but beginners may feel frustrated when using it for the first time. However, Blu-ray Master Screen Recorder can meet all your need on screen capture and is easy to use. If you have other questions, please feel free to leave your message below.