How to Record Important Omegle Chat without Losing Information
Omegle is an online platform where people can chat with a random stranger without any restriction. Since it was released Omegle has attracted millions of younger people and become popular among the teenagers. Firstly, it does not require registration, so everyone can use it. Plus, it helps young people to find soul mate based on shared interests. Now, it has added the screenshot feature to capture conversation. However, you can learn how to record Omegle video chats from this guide.

Part 1: Best Way to Record Omegle Chat
As an open social platform, Omegle bring some dangerous. Both parents and teenagers may want to capture the video chats in order to protect their children or themselves. Moreover, it is a good idea to save the interesting conversations with people who have the same interest. Blu-ray Master Screen Recorder can meet your need on recording Omegle video chats.
Main Features of the Best Omegle Recorder
1. Capture Omegle chats along with audio without lag.
2. Support multiple recording sources like webcam and microphone.
3. Produce the best video quality using advanced technology.
Briefly speaking, it is the best option to record your Omegle video chats on Windows 10/8/7 and Mac OS X.
How to Record Omegle Video Chat on PC
Step 1 Install Omegle recorder
There are two versions of the best Omegle recorder, one for PCs and the other for Mac. You can install the right one based on your system. Then launch it and choose Video Recorder to enter the main interface. Advanced users can customize options, like hotkeys, output formats and more, in the Preferences dialog by hitting the Settings button.

Step 2Record Omegle chat
Open a web browser, visit the Omegle website and create a new chat or join a conversation. Turn to the video recorder, make sure the Display option is enabled and set the recording region in Full screen or Custom area. Next, turn on the System Sound option and adjust the volume. If you want to add your face and voice to the Omegle recording, enable Webcam and Microphone; otherwise, disable them. Once the chat begins, click the REC button to initiate Omegle recording.
Step 3Edit and save Omegle recording
During recording, you will be presented a toolbar. To add text or paintings on the image, click the Edit icon and do it directly. At important moments, hit the Camera icon to take a screenshot.
When the chat is done, hit the Stop button. Then you will be taken to the preview window. Check the Omegle recording with the built-in media player. If you are satisfied, hit the Save button. The Clip feature is able to remove unwanted frames from the recording.
Part 2: How to Record Omegle with VLC for Free
Sometimes, freeware is also a good choice to record Omegle if you do not mind the downsides, such as poor output quality, complicated process, etc. VLC, for instance, is not only a free media player, but also able to record screen and video. You can use VLC to save Omegle chat on your desktop. Here are the steps.
Step 1Open your VLC Media Player. If you do not have the open-source media player, install it from the home website. Don't get it from other sites. Your computer may be infected by virus or malware.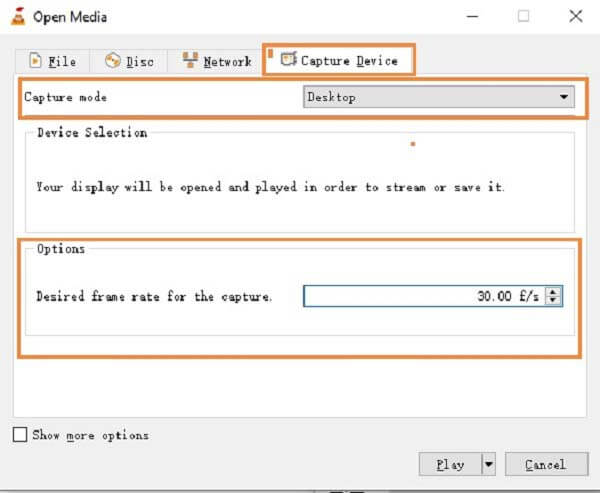 Step 2Go to the Media menu from the top menu bar on PC or File menu on Mac. Choose Open Capture Device option to trigger the popup dialog.
Step 3When the Open Media dialog pop up, click and expand the dropdown menu next to Capture mode, and select Desktop on PC or Screen on Mac. Adjust the frame rate in the Options section. It determines the recording quality. If you need a high quality recording, change it to 30 f/s. However, the better the quality, the larger the output file size.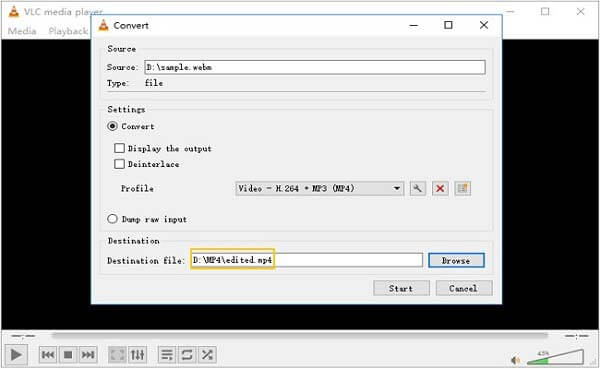 Step 4Click the downward icon next to the Play button and choose Convert to enter the next window. Keep all options in the default status, and hit the Browse button to set the destination folder and filename. In VLC for Mac, if you want to set these options, check the Streaming/Saving box and the Settings button will become available. Click on it and you will get the transcoding options similar.
Step 5Also, open a browser, visit Omegle and create a new chat. When you want to record it, click the Start button in VLC for PC or OK in VLC for Mac to begin recording Omegle video chat. To stop it, hit the Stop button.
Note: VLC cannot work in the background when recording video chat on desktop.
Part 3: FAQs about Omegle Recording
Will Omegle notify others when you record a chat?
No, Omegle neither offers any recording feature nor detects your recording. Therefore, it cannot notify others that you are recording the video chat. In fact, you cannot get the notification too when others are recording you through video chat.
Could someone track my address and stalk me from Omegle?
To be honest, they can obtain your IP address from Omegle, and find out what country you live in, what county, town, etc. They cannot find your exact location. However, it is possible that you could be attacked by DDoS through your IP address.
Why you need to record Omegle?
If you are parents, you should record your children's Omegle chats to protect them with the permission. Other important reasons including save interesting chats, save important information for watching later and more.
Conlusion
In this guide, we have shared two verified ways to record Omegle video chats. Of course, you can try the freeware, VLC, to record your desktop on PC or Mac without paying a penny if you do not mind the complicated setup. However, you might find that VLC not recording sometimes. Viewed from this perspective, you can turn to Blu-ray Master Screen Recorder to help you capture Omegle chats easily. It is not only easy to use, but also able to record video chats in high quality files. If you have more questions, welcome to leave a message in the comment area below this post.