Top 5 Free Conference Call Services You Should Not Miss
Nowadays, you can make conference calls more easily than ever before. Lots of paid and free video conferencing software offered on the market that help you host your own conferences. Conference calling system provides you with a simple and effective way to help team work together, even when everyone is physically apart.
The question is, what is the best free conference call service?

You can rely on free video conferencing software to stay in touch with others. We have tested over 30 conference call services and make a video conferencing software list of 5 best free ones. You can get the basic information and features of each video conferencing software.
Part 1. Top 5 Free Conference Call Services of 2023
Conference call service can help the teams collaborate and communicate easily. Here in this part, we like to cover 5 best free conference call services for you to get started with free conference calling.
Best free conference call service - Skype
Skype is one of the most popular and oldest videos calling apps available. As the free video conferencing software, Skype allows you to invite up to 50 people to your call and enjoy free meetings. There is no time limits of this best free conference call service.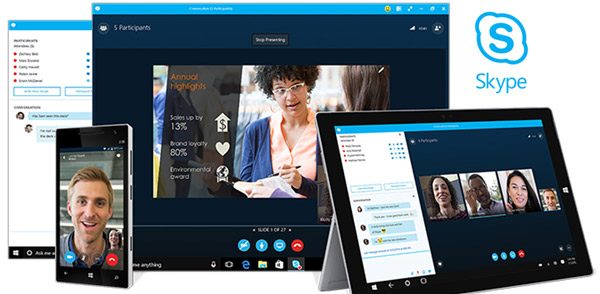 Skype allows you to directly join the meeting even you don't have a Skype account. Besides the free conference call service, Skype also enables you to make audio calls, send messages, share files and more. Moreover, it pays much attention to your privacy. You can blur your background with ease. Skype is available on web, PC, Mac, iPhone and Android device.
Best free conference call service - Zoom
Zoom is the free video conferencing software which allows you to make a conference call with up to 100 participants. The free version of Zoom has a 40-minute duration limit. It gives you the HD video conferences. You can not only host a HD conference call, but share your screen simultaneously. This cloud-based conference call service also offers a paid version, $14.99 per month which carries more features.
Do not miss here to record your Zoom meeting in this post.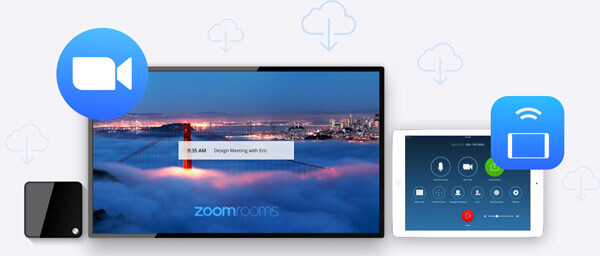 Free video conferencing software - FreeConference
FreeConference is one kind of small and medium-sized business video conferencing software. It allows you to make free conference calls, online meetings, and collaborations with ease. This free conference call service has a free international calling feature. It offers international numbers for your overseas contacts. FreeConference comes with free and paid packages. The free version has some feature and calling time limits.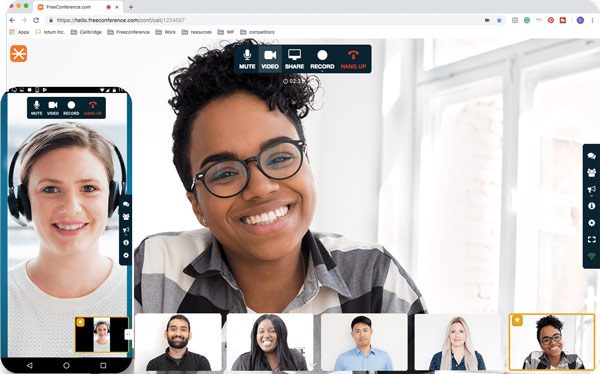 Best free conference call service for Android and iOS - Google Hangouts
Google Hangouts is a very popular video conferencing app which enables you to make a free call up to 25 people at one time. It will automatically connect with your Gmail account and contacts when you get to Google Hangouts.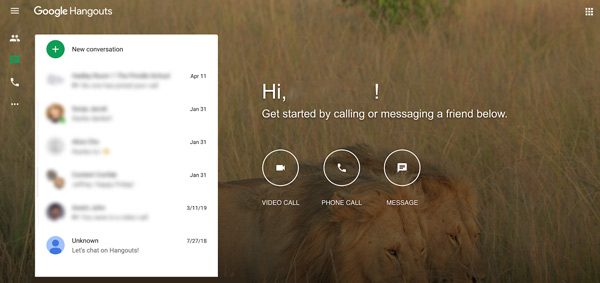 During the free conference call, you can freely talk and share files. But it doesn't give you a screen sharing feature on your mobile devices. Google Hangouts is mainly used for one-to-one meeting. There is no customer support for the free version of this conference call service. Here you can also choose the business-oriented version of Hangouts, Hangouts Meet.
Best free conference call service - Cisco Webex
Cisco Webex is another popular free video conferencing software which provides you with unlimited conference calls and an interactive meeting experience. As a powerful conference call service, Webex carries many useful features including robust audio conference, high-quality video, and rich content and screen sharing. It offers the industry leading solution for conference calls. The free version enables you to hold a meeting with up to 50 participants.
From the built-in Webex recorder and editor, you can save your conference video calls conveneiently.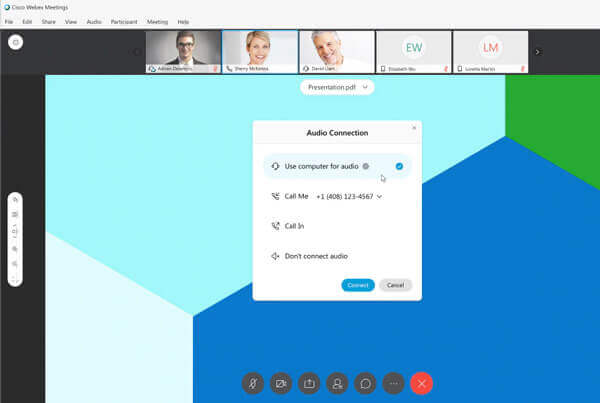 Part 2. How to Record Video Conference with High Quality
For different reasons, you need to record your conference calls. To do that, you can rely on the powerful video conference recording software, Screen Recorder. It has the capability to capture your conference call with its original image and sound quality.
Step 1 Double click on the download button above to free install and run this conference call recorder on your computer. When you enter the main interface, choose the Video Recorder feature to record your video call. If you want to capture an audio call, here you can select the Audio Recorder function.

Step 2 Before you start the free conference call recording, you can adjust the screen recording region based on your need. During this step, you are also able to select the audio recording source, from System Sound, Microphone or both.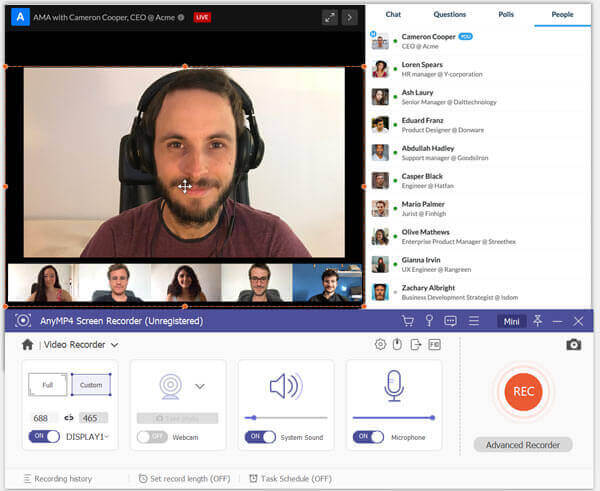 Step 3 When you want to record a conference call, you can simply click the REC button to start the recording process. When the meeting is over, you can click Stop button to finish it.
Step 4 After recording, you will be guided to a preview and editing window to view your captured video and edit it as you like. When you are satisfied with the result, you can click the Save button to save it on your computer.
The free conference call recording will be saved as an MP4 file be default. You can also export it in another popular format like MOV, AVI, FLV and more. Thanks to the latest accelerate technology, it ensures you can record a high-quality video smoothly.
Part 3. FAQs of Best Free Conference Call Service
Question 1. Is Zoom conference call free?
Zoom offers a basic plan for users to free make online meetings. The free version allows you to make unlimited 1-1 meetings. The time limit per each meeting is 40 minutes.
Question 2. What are the different types of video conferencing?
There are two main video conferencing modes, point-to-point video calls and multi-point video conferencing. Point-to-point video call refers to a video session between two participants. Video conferencing means that there are more than two participants.
Question 3. Is it possible to hide my own face during the meeting?
Some conference call services like Zoom allows you to hide yourself without turning off the camera. You need to get the permission to hide your own face during the meeting.
Conclusion
We have mainly talked about the best free conference call service in this post. We give you a video conferencing software list of 5 best ones. When you want to make a video call, you can pick your preferred one from them to do that. If you have any better free video conferencing software, please share it in the comment with other readers.