5 Best Webinar Platforms You Should Know for Business Presentation and Teaching
Webinar platforms are mainly designed for companies to conduct and distribute interactive live, directly interactive with others, share and discuss video presentations, and more. These kinds of video conferencing platforms provide a convenient and effective way to work remotely, and easily collaborate on projects and documents.
What are the best webinar platforms? When you look for a good or free webinar platform, which one you should choose?

In fact, there are a large number of webinar platforms including free ones offered on the market that can help you deal with various video conferencing works. In case you don't know which one you should use, here we make a list of 5 best webinar platforms for you to choose from.
Part 1. Five Best Webinar Platforms of 2023
Here in this part, we like to introduce you with 5 best webinar platforms including free ones. When you need a good webinar platform for a business presentation, discussion or information exchange, you can pick your preferred one from them.
NO.1 Webinar Platform - Livestorm
Livestorm is a popular webinar platform for all your business presentations, customer training sessions and more. It provides you with 3 different flavours for conventional pre-organised, on-demand and automated seminars. Livestorm offers you specific modules and tools like customer training, live event, product demo, and online course and so on.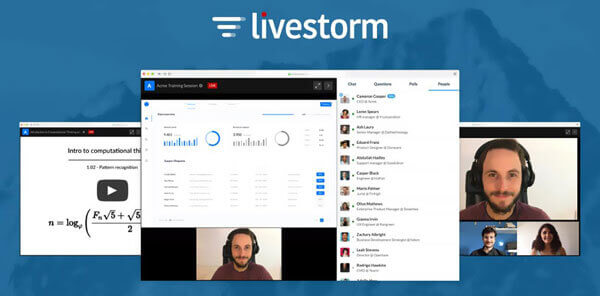 This webinar platform enables you to co-host with another company with ease. You can handily export your webinar content as an Excel or CSV file. It also carries many other useful functions including the emailing tools and recording features. As a free webinar platform, Livestrom allows you to make a single meeting with 4 participants, 10 registrants and 20 minutes. You can also pay $99 per month to upgrade to its Premium version. Moreover, you can record the webinar with the built-in recorder in Livestorm.
Great webinar recorder you may like to know
In many cases, you need to record your webinar content. But many webinar platforms don't give you the recording feature. Some of them only allow host to save the webinar recording. To freely record webinar with high quality, you can rely on this video conferencing recorder.
Screen Recorder enables you to capture webinar with full screen, active window or custom region. It has the capability to record high quality video even up to 4K. Moreover, it this webinar recorder allows you to capture audio from microphone and system sound.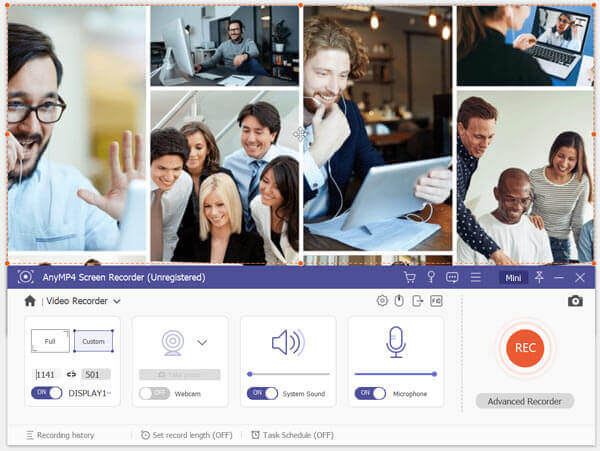 With the adoption of the advanced accelerate technology, it allows you to record any webinar content smoothly. The webinar recording file can be saved in any popular video or audio format including MP4, MOV, FLV, AVI, WMV, MP3, and more.
Get the details here to record a webinar on computer.
NO.2 Online Webinar Platform - Demio
Demio is an easy-to-use and no-download webinar solution for your audience and various marketing tools. This online webinar platform gathers live and automated webinars, registration pages, webinar replays, and everything else. It allows you to make conversations through a modern chat, ask questions, post interactive polls, share handouts, and launch calls-to-action. Demio only gives you a free and 2-minute tour of its platform.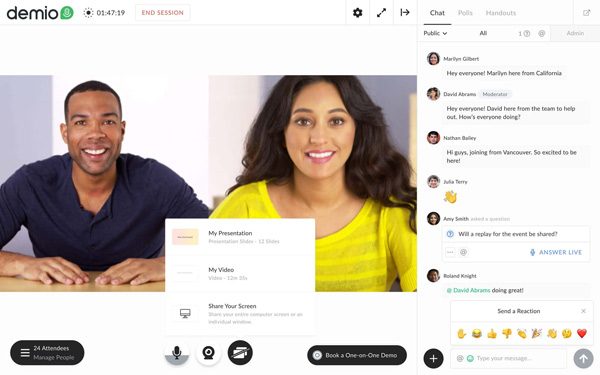 NO.3 Webinar Platform - GoToWebinar
GoToWebinar is another popular webinar solution to host and manage a video, audio or web meeting. This webinar platform allows you to make business presentations on both your computer and portable devices. You can easily turn your video conference into a collaboration center. GoToWebinar is equipped with advanced security features to ensure you have a higher-security web conferencing service.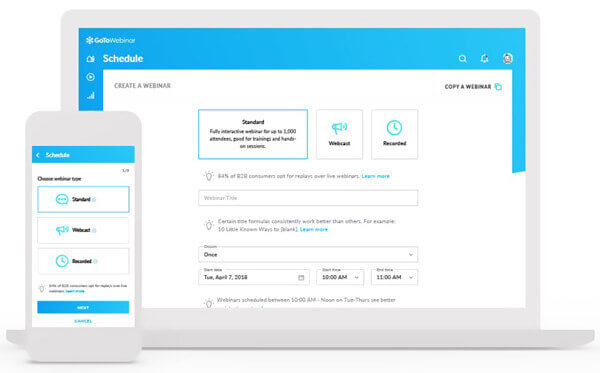 GoToWebinar has the face-to-face HD video conferencing feature. It also carries a recording feature to help you save the valuable webinar content. You can take notes, mark action items, and share as you like. This webinar platform gives you a free trial with many limits.
NO.4 Free Webinar Platform - Google Meet
Google Meet is a free webinar platform can help you hold secure business meetings. If you have a Google account, you can easily get an enterprise-grade video conferencing service. As a free webinar platform, Google Meet allows you to make an online meeting with up to 100 participants. What's more, you can use the video conferencing service for up to one hour per time. If you need more meeting time, you can pay $10 per active user/month to upgrade to 300 hours.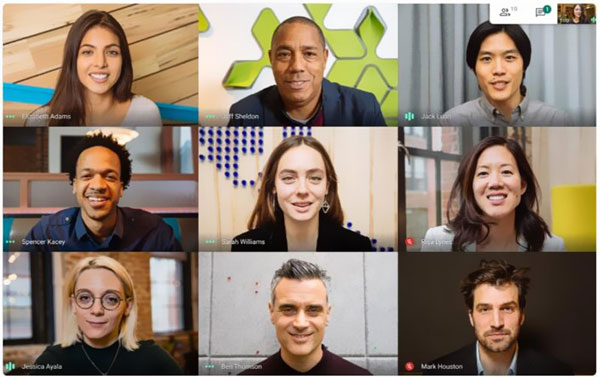 NO.5 Webinar Platform - ClickMeeting
ClickMeeting is our last recommendation of the 5 best webinar platforms. It provides you with a good place to bring your customers, leads, team members and students together. This webinar solution platform has many features like custom branding, Subaccounts, Paid webinars, automated webinars, whiteboard, polls & surveys, customizable call to actions and more. Besides, it is designed with a webinar recording feature to help you save the valuable content. ClickMeeting offers you a 30-day free trial.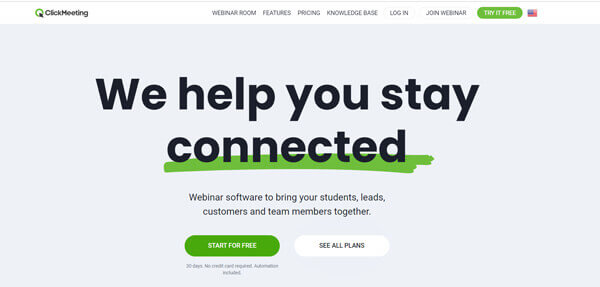 Part 2. FAQs of Best Webinar Platforms
Question 1. Is Zoom a free webinar platform?
Zoom is not a totally free webinar platform. It allows you to free use some basic video conferencing features. It also offers a paid version costs $14.99 per month.
Question 2. Does Google have webinar platforms?
Yes, Google has webinar platforms. Besides the Google Meet above, it also offers you the Google Hangouts to host live webinars.
Question 3. Do you need a Google account to use Google meet?
To participate in Google Meet video meetings, you don't need a Google account. But you have to get the permission to access the meeting.
Conclusion
Compared with some video call software, webinar platforms can give you a more interactive video conferencing experience. After reading this post, you can get 5 best webinar platforms to choose from. If you have any better recommendation, please share it in the comment with other readers.