Most people are interested in turning their 4K Blu-ray movies into various video file formats. We all know that Blu-ray discs come with high-resolution videos. Did you ever wonder if it is possible to rip a 4K UHD Blu-ray? While technology keeps emerging up to this day, it is possible to happen. Luckily, there are many Blu-ray ripping and copying software for PC, but picking the excellent one can be challenging. You don't need to use unsafe websites to watch and download movies. Suppose you have a physical copy and are wondering if there is any 4K Blu-ray Ripper. In this article, we'll provide the best of the best tools that you might use quickly and safely. Let's get started!
Part 1.

Best 4K Blu-ray Rippers
1. Blu-ray Ripper
Blu-ray Ripper is the top pick for the best Blu-ray Ripper. It can handle encrypted discs, like other premium Blu-ray ripper programs. It also includes one of the most capable converters, allowing you to choose from over 500 audio and video formats and fine-tune file size and quality. Using the proper settings, this 4K Blu-ray Ripper can rip and convert regular Blu-rays and 4K UHD Blu-rays without losing quality. If you need reduced file sizes, you can use a lossless format like MKV or keep a 4K resolution with slight quality loss.
Additionally, this tool offers batch conversion and even helps you customize the output settings. To make your Blu-ray file perfect, you can edit Blu-ray movies with multiple editing tools like Clip, Crop, Effects, Watermark, etc. This Blu-ray ripper lets you provide 3D settings. Also, you may add Split Screen effects or Anaglyph 3D to your Blu-ray movies. Aside from being a Blu-ray Ripper, this software also works as a 4K Blu-ray Converter. You may download the free trial version of this tool, but we encourage you to upgrade to the Pro version for a more exciting Blu-ray Ripping experience. The options and quality you get are worth the price.
Extremely fast in ripping
An additional tool like GIF Maker and more
Vast choice of 500+ formats
2. VLC Media Player

VLC Media Player perhaps is one of the most popular media players. Aside from being a media player, this tool can also rip Blu-Rays. Also, VLC Media Player is free, open-source software. This tool is a highly competent video player that can handle most audio and video file formats. The main problem with VLC is that it cannot rip or even play encrypted Blu-ray discs while it is open-source software. To play encrypted Blu-ray discs, you must go through several hoops, and even then, the ripping process is relatively slow.
Free to use and download
Can handle some encrypted Blu-ray
Has limited access
It doesn't work on all Blu-ray
Cannot play encrypted Blu-ray disc
3. Leawo Blu-ray Ripper
Leawo Blu-ray Ripper can copy a Blu-ray disk or Blu-ray folders into any video format while keeping the original quality. Before converting, this Blu-ray ripper can change the video codec, data transfer speed, aspect ratio, resolution, quality, audio codec, sample rate, frame rate, channel, and other settings. It can play over 180 audio and video formats. Furthermore, this software allows you to copy and convert 4K UHD/3D Blu-rays to 4K, 1080P, and 720P resolutions for viewing on 4K TVs and mobile devices.
Easy-to-use
Handles most encryption
Encodes to lots of common formats
It doesn't come with a Blu-ray backup option
Unable to recognize ISO file
Conversion is slow
Expensive
4. Handbrake
Handbrake is a Blu-ray ripping tool that also works with Blu-rays. This tool is open-source software that provides many output options. Aside from being a video converter, the tool is also good in Blu-ray rippers. This tool is available on Windows, Mac, and Linux platforms without limitations and restrictions. Handbrake is too complicated for some users and cannot handle encryption; it can only rip unencrypted Blu-rays. Click here to learn how to rip Blu-ray discs with Handbrake.
FREE
GPU Accelerated
Support multiple inputs and output formats.
Can't handle encryption
Can't handle encryption
Not that user-friendly
4. MakeMKV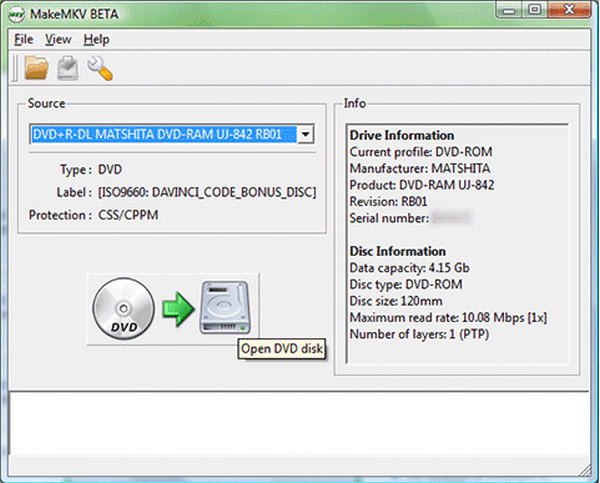 MakeMKV is a freeware and shareware tool that rips Blu-ray to MKV. This tool doesn't compress video while ripping, resulting in a vast file output. In addition, this tool will only allow you to output an MKV file. Windows, Mac, and Linux can use this tool. MakeMKV will remain free as long as it is in beta, but you need to upgrade to access its full version. Converting Blu-ray discs is a shareware functionality and allows you to use it for a 30 days trial period. If you have limited storage space, you need to use an extra video compressor to reduce its size.
FREE
Available in Windows, Mac, and Linux
Encrypt discs with ease
NO GPU Acceleration
Rip Blu-ray to MKV only
Large file size because of no compression
Part 2.

How to Rip a 4K Blu-ray

Step 1.Download and install Blu-ray Ripper on your computer. Launch the freeware and tick the Load Disc or + to add the files, or drag directly to the center of the GUI to import the video file. Therefore, all Blu-ray movies will appear in the library area.
Step 2.After uploading your selected video file, choose the file format button on the left corner of the GUI. Select the compatible output format or target device that you prefer. You also can edit, cut, edit media databases and even enhance as you desire.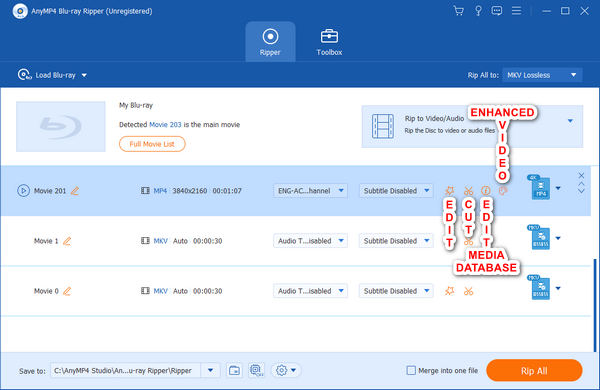 Step 3. After editing and enhancing the video file, Next, browse and set a specific folder to store your output. Finally, tick the Rip All button on the lower-right corner of the GUI to rip your output and start to enjoy watching.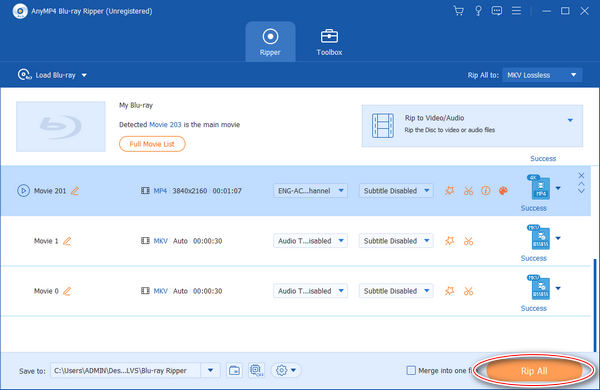 Part 3.

FAQs about 4K Blu-ray Ripper
How long does it take for a 4K Blu-ray to rip?

4K Blu-rays can range from 30 minutes to or few more hours to rip. Depending on the movie's length. 4K UHD Blu-ray discs are generally over 50GB in size.

Can a regular Blu-ray player play 4K Blu-ray?

Regular Blu-ray players can't play 4K Blu-ray. You need a 4K UHD Blu-ray Player to play 4K Blu-ray discs, but you can play 4K Blu-ray discs on a regular HDTV.

Can I play Blu-ray bought in different regions?

Definitely NO. Blu- ray discs purchased in a particular region only correspond with the same region.
Wrapping up
A 4K Blu-ray Ripper might transform and simplify our entertainment experience, allowing us to watch Blu-ray movies offline without needing a Blu-ray drive or device. We will be able to stream and play Blu-ray movies and TV shows on iPhones, iPad, mobile phones and tablets, and any other device that supports video playback. The ability to rip 4K Blu-ray to vast video file formats is one of the most valuable features of Blu-ray Ripper. This program makes it possible to create bespoke discs using any file on your device, making it an even more beneficial tool for those who create digital entertainment.