Top 6 Audiobook Player Apps for iOS/Android/PC/Mac Users
When you read a physical book or an e-book for a long time, your eyes can easily get tired and need a break. In that case, instead of reading books on paper or screen, you can choose to listen to books in audio form, which allows you to relax your eyes and enjoy the stories at the same time. And listening to audiobooks enables you to do other things while consuming a book.
To play audiobooks, you don't need to purchase a professional audiobook player device on Amazon. In fact, you can employ an audiobook player app on your phone or computer to do so. In this article, we will show you the most popular audiobook players for different devices, including iPhone/iPad, Android devices, Windows PC, and Mac.
Part 1. Best Audiobook Readers for Smartphone
There are plenty of audiobook player apps available on your iPhone or Android phone. However, it may be hard for you to tell which app is the best. But don't worry. We have tested them for you. And here are the best audiobook players you can download.
1. Smart AudioBook Player
With Smart AudioBook Player, you can play the local audiobooks that you have already downloaded on your phone with this program. It enables you to control the playback speed, manage your book list, download book covers, playback history, and more. This player also provides a set of practical features, such as sleep timer, dark mode, etc.
But Smart AudioBook Player is not a free application. It only offers you a 30-day free trial to the full version.
Support: Android
Price: $2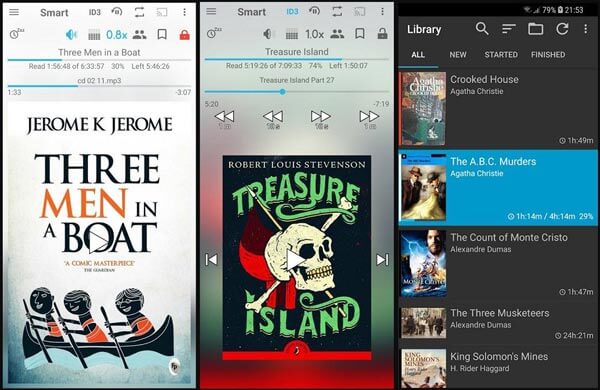 2. Audiobook Player
As a Windows-based program, Audiobook Player enables you to play on any Windows devices. It is able to play a lot of small audio files that are saved in one folder. And you don't have to worry about forgetting the playback position of audiobooks – Audiobook Player will save it for you. It even empowers you to sync the position over all your Windows devices with a network connection.
Support: Windows Phone
Price: Free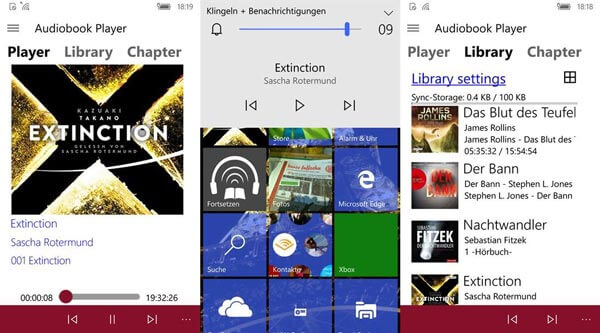 3. MP3 Audiobook Player
If you want to listen to audiobooks on your iPhone, iPod touch, or iPad, MP3 Audiobook Player is a great choice to play audio formats like MP3, M4B, M4A, AWB, FLAC, OPUS, and OGG. It even supports Apple Watch, CarPlay, standard headphone controls, and Control Center controls.
Besides, you can set a sleep timer with a fixed time length or end the playback after a certain chapter automatically. With iTunes, you can add or remove the audiobooks with ease.
The pro version is free on the App Store.
Support: iOS Devices
Price: Free
4. Listen Audiobook Player
Listen Audiobook Player is not free to download. But after the purchase, there will be no ads and no extra fee to unlock full features. Like MP3 Audiobook Player, this app can play audiobooks in MP3, M4B, OPUS, OGG, FLAC, AAC, etc. It allows you to control playback speed (0.5x to 4x), trim silence, and adjust volume effects. And it is quite easy to share your favorite clips with others with the bookmark feature it possesses.
Support: Android
Price: $1.99
5. Audible
Audible, produced by Amazon, is one of the most powerful and popular audiobook players around the world. It has over 150,000 titles in the library and covers almost all bestsellers, for example, Ready Player One.
Support: iOS/Android/Windows Phone
Price: Free / Book prices vary / $9.99 per month
Part 2. How to Play Audiobooks on Windows/Mac
As for Windows PC/Mac users, if you are looking for a free audiobook player, here is the preferred method you can give a shot.
Blu-ray Master Free Blu-ray Player, the best audiobook player software for you, has the capability to play any popular audio formats on your computer with lossless sound quality. With an intuitive interface, you can operate the whole playback process effortlessly.
1. Play audiobooks in any formats including MP3, M4A, OGG, etc.
2. Support DTS-HD and Dolby TrueHD audio encoding technology.
3. One click to share your audiobook files to YouTube, Facebook, and more.
4. Control the playback process and jump to any position as you like.
5. No ads. No in-add purchase. 100% free to use.
Step 1
Free download and install Free Blu-ray Player on your computer. Launch the program after the installation.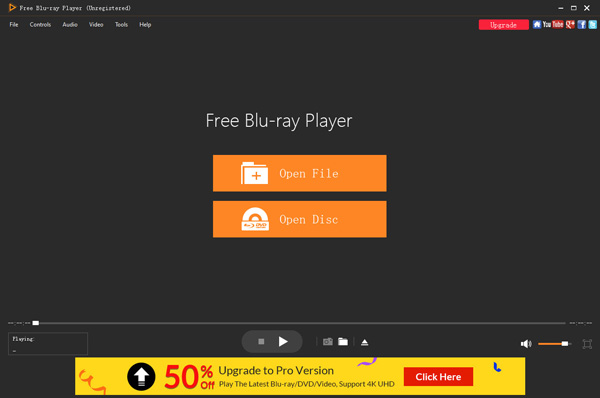 Step 2
Click the Open File button and select the audiobook you want to play. Then click Open.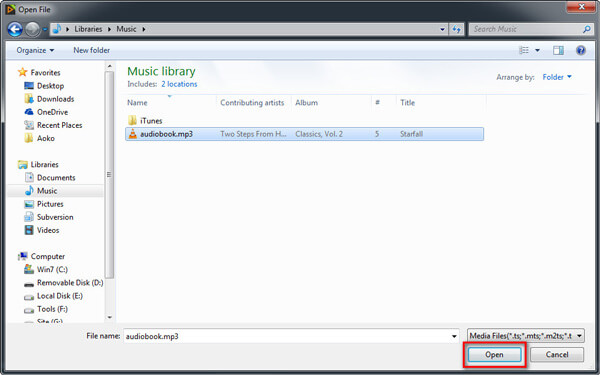 Step 3
During the playback, you can play, pause, stop, rewind, or fast forward the audio as you like.
Besides Free Blu-ray player, there is also an upgrade version with more features – Blu-ray Player Pro. Using this software, you can enjoy the latest Blu-ray or DVD movies with the best image and sound quality. You can watch 1080p HD and even 4K UHD videos with no limitation.
Part 3. FAQs of Audiobook Player
1. What device can play Audible books?
Audible is compatible with a lot of devices. You can play Audible books on Windows/Mac computers, Kindle, Fire Tablets, Sandisk MP3 Players, Creative MP3 Players, Garmin & Tom Tom GPS Devices, etc.
2. How can I listen to audiobooks without WIFI?
To play audiobooks offline, you should download the books to your device in advance.
3. Can I play audiobooks in MP3 format?
Yes, with an MP3 music player like Free Blu-ray player, you can easily enjoy audiobooks in MP3, M4B, and many other audio formats.
Conclusion
We have shared 6 best audiobook players with you to play audio books on your phone and computer. You can select your favorite player and try it yourself. Also, you have learned how to open audiobook files with Free Blu-ray Player. If you have other recommendations, feel free to let us know by leaving your comments below.