3 Must-Try AVI to Blu-ray Converter Programs for Desktop
Do you often watch AVI movie files at home using your computer, and you want to watch them using your DVD/Blu-ray player at home? Are you stuck finding a solution to that problem? This post has the answer you are searching for. What you need to do is to use an AVI to Blu-ray Converter software to watch your movies using a Blu-ray player device successfully. We added three software that we think are up to par and can effortlessly burn videos on a disc. A tutorial is also included to show you how it is properly done. Continue reading below to see and learn everything you need to know.
Part 1: 3 AVI to Blu-ray Converters
Note: You can only use these products for personal use.
Blu-ray Creator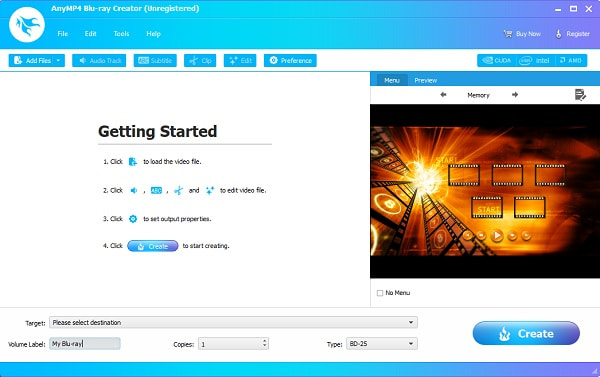 First on the list of AVI to Blu-ray Converters is Blu-ray Creator. This fantastic program is free to download and has a simple yet beautiful interface. First-time users won't have a hard time using it, which may speed them up in file-burning. It has a video editing feature that allows you to edit your videos before you burn them to the blank disc. You can crop unnecessary parts of the videos, change the aspect ratio, add watermarks, and adjust video effects. Furthermore, your privacy is protected while using this tool, so don't worry about information leaks. This tool is only available on Windows as of the moment.
Pros:
1. Burn high-resolution videos without quality loss.
2. Supports the widely-used video formats today (MP4, MOV, AVI, WMV, etc.).
3. GPU acceleration for lightning-fast disc burning process.
Cons:
You must buy the full version to access all features
BurnAware Free
Next is BurnAware Free, a popular AVI to Blu-ray converter program for Windows. You can use this tool to burn files to CDs, DVDs, and Blu-ray effortlessly. One of its strong points is its interface. The icons are readable and organized. Another thing is that you can customize your video before you convert it to a Blu-ray file. Moreover, you can use this program to back up and erase files on a used disc to burn new files. To access the advanced features like file ripping, copying a disc to another disc, and recovering data from corrupted discs, you need to purchase the premium version.
Pros:
1. Can write over used discs.
2. Beginner-friendly interface.
3. Efficient CD/DVD Burner.
Cons:
1. Advanced features not present in the free version
2. Not compatible with Mac OS
Ashampoo Burning Studio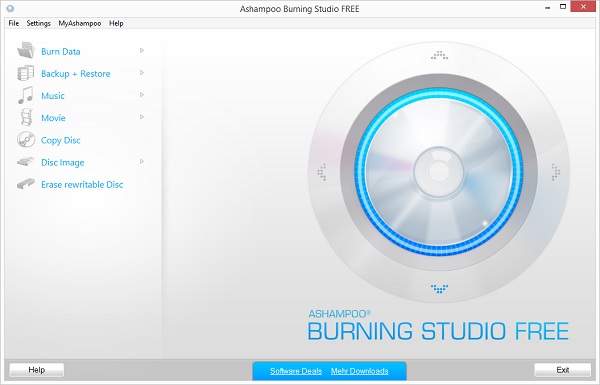 Last AVI to Blu-ray Converter program on the list is Ashampoo Burning Studio. This comprehensive program is one of the most reliable Blu-ray burning tools right now. It has a smart and clean interface that many users may find appealing. You can burn different types of discs, like audio, video, and data. You can also use this tool to copy discs and back up and restore specific files. Another feature that is included is to rip audio on CDs automatically. In addition, you can customize your Blu-ray disc by using different themes available and adding background music on its menu page.
Pros:
1. Simple and easy-to-use program
2. Fast and stable file-burning
3. Offers AES-256 disc encryption
Cons:
1. Does not support AVCHD media format
2. Compatible with Windows only
3. Consumes more data storage than competitors
Part 2: Comparison Table of the AVI to Blu-ray Converters
Here's a detailed comparison table of the best AVI to Blu-ray Converters so you can easily compare the said programs.
| Features/Program | Blu-ray Creator | Ashampoo Burning Studio | BurnAware Free |
| --- | --- | --- | --- |
| Supported OS | Windows | Windows | Windows |
| Supported File Format | 100+ formats | Most commonly used formats | Most commonly used formats |
| Built-in Video Editor | Yes | Yes | Yes |
| File-Burning Speed | Lightning-fast | Fast | Fast |
| Burn video files to DVD, Blu-ray, ISO files, and DVD Folder | Yes | Yes | Yes |
| Pricing | Free | Free | Free |
Part 3: How to Convert AVI to Blu-ray
Here's how you convert your videos using this amazing AVI to Blu-ray converter tool for Windows desktop. Follow the guide steps below, and please do not skip any detail to avoid making mistakes.
Step 1
Insert a blank Blu-ray disc on your computer. To acquire the Blu-ray Creator, you can press the Free Download button provided above. Run the executable file to install the tool on your computer. After installing, open it, then tap Add Files to upload the video into the program. You can add multiple videos at once.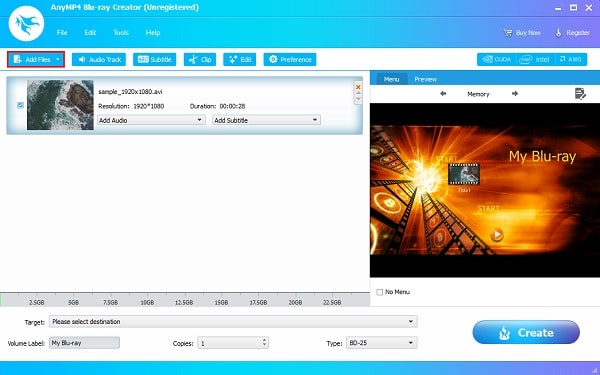 Step 2
After you import the video, you can edit it by tapping the Edit button. The video editing features let you crop and select the aspect ratio, adjust the video effects, and add a watermark. Modify according to your preference. After you finish editing, tap Apply, then hit Close.
Step 3
The next thing you might want to do is add a menu style for your Blu-ray disc. On the Menu tab, there are several menu templates you can use. Choose your desired menu style for an added touch. You can tick the box beside No Menu to remove the menu template.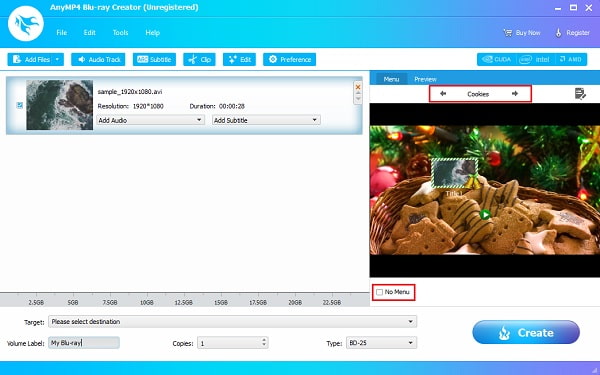 Step 4
Lastly, choose what media file you will save the video. You can select either Blu-ray Disc, Blu-ray Folder, or the ISO file. Tap the drop-down menu of Target and select. You will also pick the location where you save the file on your computer. To end, click Burn and wait for the process to complete before you close the software.
Further Reading:
2 Ways to Convert MP4 to Blu-ray Online and Offline
3 Easy Ways to Burn Movies from iMovie to Blu-ray Perfectly
Part 4: FAQs about AVI to Blu-ray Converter
What makes Blu-ray great compared to DVD and digital video?
What makes Blu-ray great is the superior audio and video quality compared to the other two. But it is much more pricey than a DVD and requires you to buy a Blu-ray player device.
When you burn a video to a Blu-ray disc, will the video quality reduce during the process?
No, it will not. When you burn data and media files to Blu-ray, make sure that you set the correct settings and only use reliable software, like Blu-ray Creator. This program can burn high-quality videos to Blu-ray without quality loss at a lightning-fast speed.
Do AVI files have a large file size?
AVI files have a larger size compared to the likes of MP4. But it's not a problem when you burn AVI files to Blu-ray since this type of disc can store files with a maximum of 50GB.
Conclusion
And that's it. These AVI to Blu-ray Converter programs can easily help you burn your videos to Blu-ray discs so you can watch them in your home theater. They may have different advantages and disadvantages, but all of them are capable of getting the job done. But there is one software that stands out: Blu-ray Creator. This program is 100% free and safe to use, can finish burning large files within minutes, has a useful video editor, and supports plenty of video formats. Everything you are looking for in a program is included.