Straightforward Steps to Burn a Blu-ray for an Immense Watching Experience
Better techniques to occupy yourself in a much better way are developing as technology advances. People used to watch black and white TVs before moving on to color CRT TVs, and today LCD and LED TVs are available for the best viewing experience. Similarly, other things have gone too far. One of these is the method we used to watch and save videos. You can now burn movies to Blu-ray discs, which can save recordings in HD quality and even super HD as much as 2160p. Also, Blu-ray discs are used to store several hours of high-definition video. If you have a large screen TV and want to watch a movie, choose Blu-ray since the quality allows you to experience the film in HD quality even on a larger screen.
Accordingly, we will help you make a Blu-ray disc for your incredible movie moments. Kindly discover the procedure below and make an easy process for it.

Part 1. Why People Like to Burn a Blu-ray
As technology proliferates in wide variety, some of the technology that existed even before is also improving. For example, a simple Compact Disc or CD became much higher-quality, known as the great Blu-ray Disc. For that, many people still love to burn their media files, especially their videos or files, on a Blu-ray. Indeed, we cannot deny that Blu-ray still benefits most of us nowadays. Here are some reasons why we said so:
• Because of solid coating technology, it is extremely scratch resistant. It possesses good scratch protection and will increase its lifespan. The coating on Blu-ray discs is substantially more rigid than that on CDs or DVDs. Different manufacturers employ different names and proprietary processes to do this, but a tougher coating equals better protection.
• The expected lifespan is longer than that of a CD or DVD. For that, we can now expect secure and protected media files from generation to generation. Indeed, Blu-ray discs are better for preserving moments by burning your files. In line with that, collectors will have a great deal with this medium, especially those media practitioners working for media companies.
• People still love to burn Blu-ray because of its greater clarity, more colorful images, or better video quality, especially the 4K Blu-ray movies. This statement is our way of emphasizing how high the quality of Blu-ray can give us.
Part 2. Best Way to Burn a Blu-ray
Blu-ray Creator
Because of its characteristics, Blu-ray Master picked Blu-ray Creator is one of the most excellent tools we can utilize in burning Blu-ray. To summarize, we can now use movies to make Blu-ray discs, folders, or ISO image files. Furthermore, practically all major video formats are supported by this program. Extra capabilities include the ability to cut and crop videos, as well as add subtitles and watermarks. Also, it offers a variety of menu options and the opportunity to customize them easily. Those are the main reasons it also becomes the best way to burn a Blu-ray disc.
In line with that, we are now going toward learning the steps we need to take in making the process easier and better in terms of quality output. Let us now see the instructions below and take them as your guide.
Selecting a Disc and Installing Blu-ray Drive
This portion will tackle two crucial details to prevent hindrances in making the burning process successful. We all need to know the compatible disc and what to do to have a Blu-ray drive that can read our discs.
Then, if your computer does not have the Blu-ray drive and if you are planning to buy an external Blu-ray optical drive, or install here are the things you need to follow:
Step 1
Before we begin, please turn off your computer's power source. Then, gradually remove the Drive Cover from your PC. You must twist it how many times as we create it until it breaks off.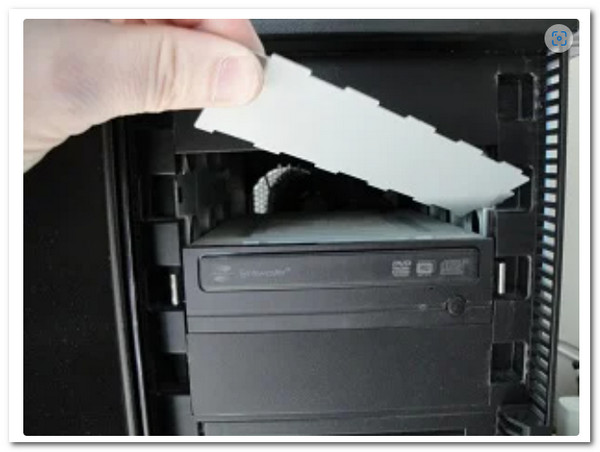 Step 2
It's time to put the Drive on your PC. It is also important to remember some PCs require a screw for security and lock, whereas others do not. However, we merely need to place the Drive appropriately to avoid problems.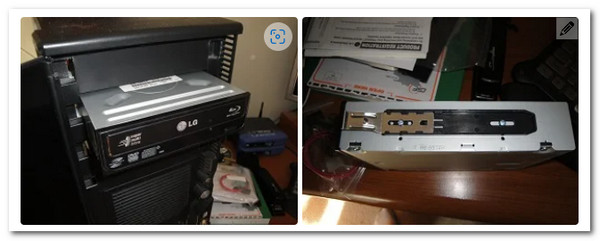 Step 3
The cables must then be connected for the driver to work. Therefore, we need to find the L-shaped line and connect it to the Drive. Then, we must identify the SATA cable among the elements and connect it to your connector's motherboard.
Step 4
Let us now proceed with the SATA Power Cable. Similar to the last step, we need to connect it. This wire is often crimson and more significant than the preceding one. When you are finished, switch on your computer and begin the burning process.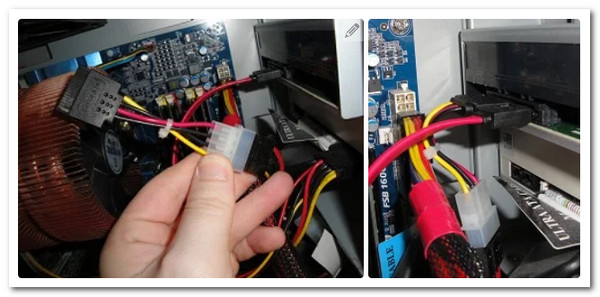 Burning Process
Step 1
Ready your blank disc and insert it into the Blu-ray drive we installed early. Consider the type of disc we present to you above so we will not have a problem.
Step 2
Run the amazing Blu-ray Creator on your computer and access the Add Files button from the left-top portion of the interface. You can now select the media files you want to burn to Blu-ray.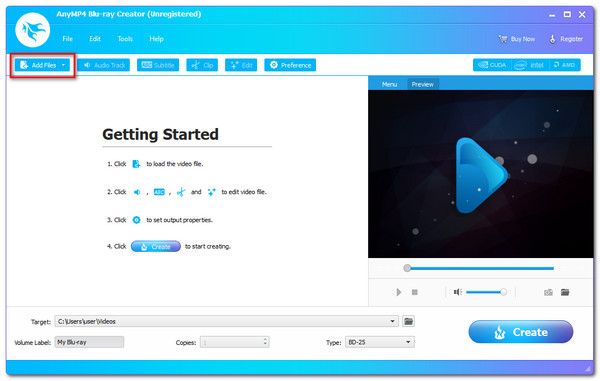 Step 3
On the timeline of the program, see the media files you uploaded. You can do some modification processes for the media using the Edit tab toolbox.
Step 4
If the media is ready to burn in Blu-ray, you can now click the Create button as we start the burning process.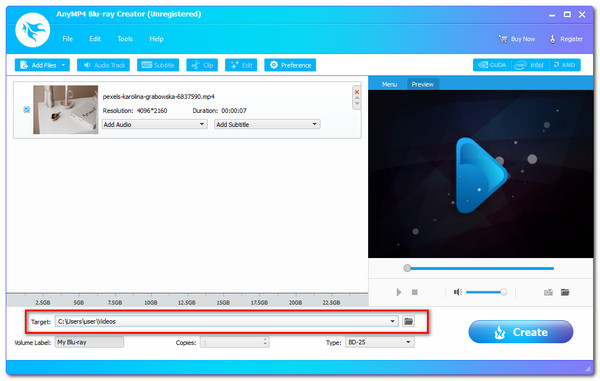 Step 5
Please wait for the software while processing the media. After that, see the result.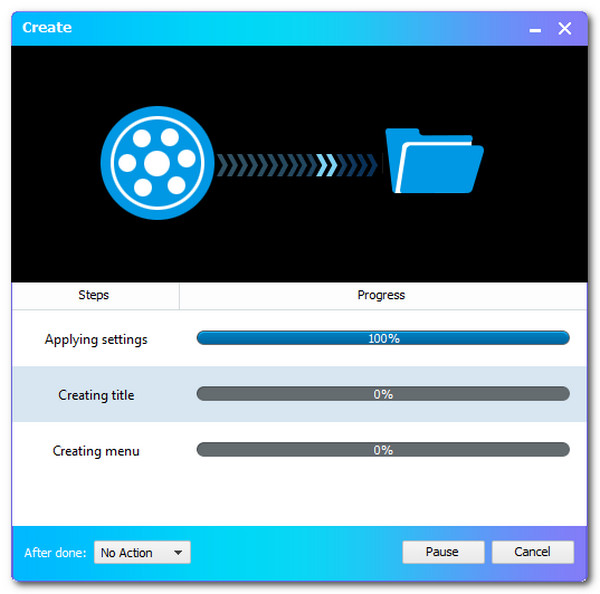 For the extranal Blu-ray creator hardware, you can refer to this post.
Part 3. 2 Alternative Ways to Burn a Blu-ray
Alternative 1: Use Video DVDByte Creator
Step 1
Download and install Video DVDByte Creator. Please open it and see the Blu-ray Disc icon.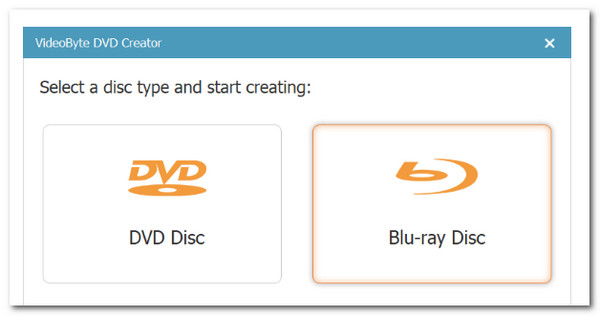 Step 2
Now, insert a Blu-ray drive (if your computer does not have one) as we insert a blank disc.
Step 3
Click the Add Files and select the media files you want to burn.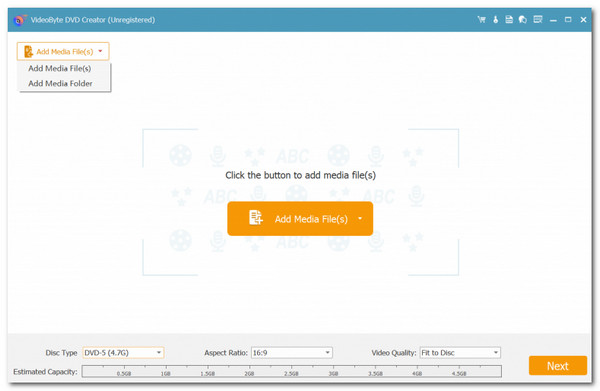 Step 4
We can start burning the disc by pressing the Bun Engine, then proceed with Start.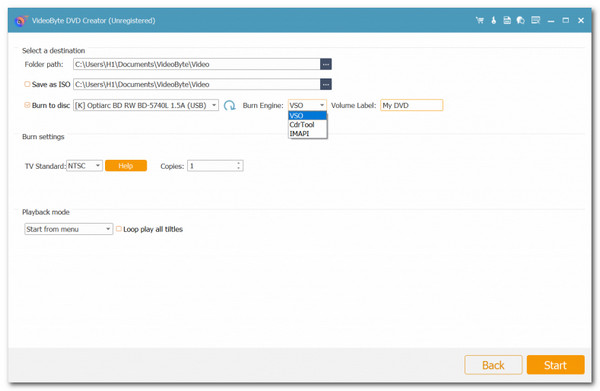 Alternative 2: Use BlurayVid DVD Creator
Step 1
Open the program and choose to Create a Blu-ray Disc. From there, please Add Videos/Pictures. We can add the files we want to burn on a Blu-ray disc.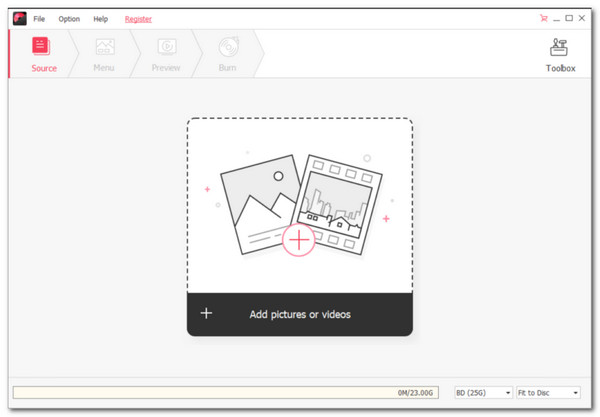 Step 2
Next, it is an optional step if you want to enhance the video before the burning process.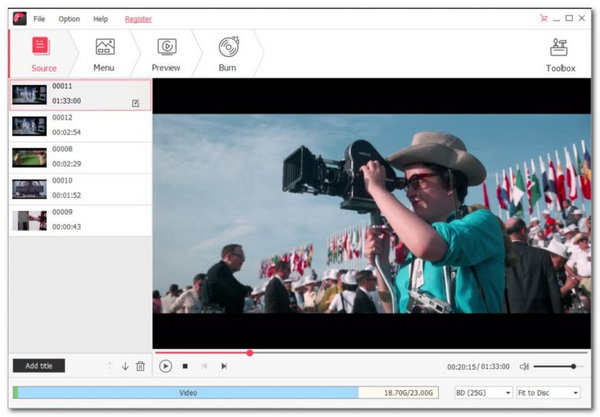 Step 3
Then, insert the disc into the drive. You may now modify the information, click the Burn button, and finish the process.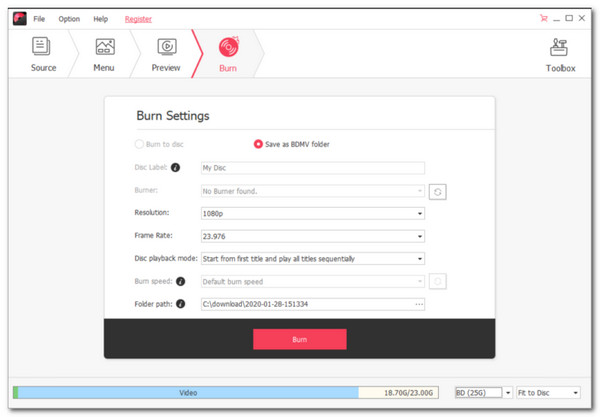 Part 4. FAQs about How to Burn Blu-ray
How many hours does it require before we burn a 1-hour movie to Blu-ray?
The process of burning a Blu-ray will require a couple of times. It varies depending on the length of the file you have. Therefore, if you are burning a 1-hour movie, then it must take at least 50 minutes to 1-hour burning process.
What is the difference between DVD and Blu-ray?
Comparatively, Blu-ray optical disks outperform DVDs in terms of holding high-quality data. In DVD, a red laser with a wavelength of 650 nm is used to retrieve data, whereas Blu-ray utilizes a blue-violet laser with a wavelength of 405 nm. That brings Blu-ray to the top.
What is the most recommended type of Blu-ray Disc?
We came across several queries on the internet that were usually phrased along the lines of Blu-ray disc top of finest. Ultra HD Blu-ray discs answer this query since they deliver high-resolution video and audio services.
Conclusion
Therefore, we can now conclude that having an immense watching experience with Blu-ray is not easy. That is possible if we will use the steps above to burn quickly. We can see the excellent performance of the Blu-ray Creator. You can use it now, and you won't regret it.