Step-by-step Tutorial to Burn Videos to DVD on Windows 10/8/7 and Mac
Many people prefer to burn funny home videos into DVD discs. Moreover, you can burn video clips into a DVD for collection and backup too. No matter why you want to burn a DVD, you just come to the right place. This article will show you free and professional ways to burn DVD on Windows 10 and Mac.
To be more specific, you can use the built-in DVD burning feature, or third-party DVD burner software to burn DVD discs. Of course, you can get much better features by burning DVD with the latter method. Ready to take the challenge and create your own DVD now?

Part 1: How to Burn DVD on Windows 10/8/7
Windows 10 itself has the default DVD disc burning feature that you can burn videos, music, photos, documents and other files to a DVD or CD. Be aware that the burned DVD disc can only be played on computers and DVD players that support the file format you burn into DVD disc, except for burning VIDEO_TS files to DVD. At present, most DVD players support various media formats. Thus, you can still burn DVD disc on Windows10 here.
Step 1: Put a blank DVD-R disc into the DVD burner drive on Windows 10.
Step 2: Open File Explorer.
Step 3: Highlight all files ready to be written to the disc on Windows 10.
Step 4: Right-click on the selected files. Choose "Send to" from the right-click menu.
Step 5: Select the name of your inserted DVD disc from the submenu. Later, you can start burning a DVD on Windows10.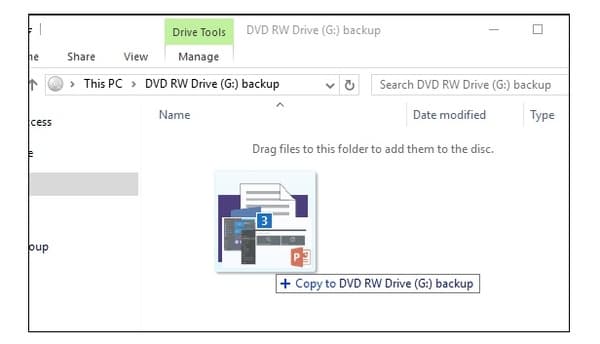 As for Windows 7 users, you can burn DVD and CD with Windows DVD Maker. It is the DVD authoring feature that allows users to create DVD videos and slideshows on Windows 7. You can regard Windows DVD Maker as the official DVD burning software on Windows 7.
Step 1: Insert a blank DVD into the DVD drive on PC.
Step 2: Open Windows Start menu. Choose "Windows Accessories" and then click "Windows Media Player".
Step 3: Click "Add items" on the top toolbar. Browse and add your video files to Windows DVD Maker.
Step 4: Click "Next" to move on Windows 7 DVD burning. You will be in the "Ready to Burn DVD" window.
Step 5: Choose the DVD menu style in the right pane.
Step 6: Click "Burn" to burn DVD on Windows 7 with Windows DVD Maker.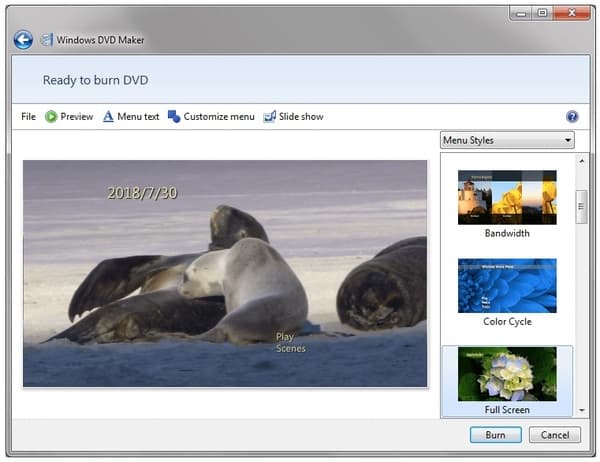 Part 2: How to Burn DVD on Mac
Mac also has the built-in DVD burning feature. Therefore, you can burn files to above DVD discs on Mac. Just check if your Mac computer can write DVDs or not. For instance, MacBook Air computers do not have SuperDrive. You need to burn DVDs on other Mac computers.
Step 1: Create a new folder with all Mac DVD burning data you need contained.
Step 2: Double-click on this folder. Find and click the gear icon on the top of the popping-up window.
Step 3: Select "Burn [folder name] to Disc…" from the drop-down list.
Step 4: Insert a blank DVD into the disc drive. Click "Burn" to burn a playable DVD on Mac. Wait for a while to complete the DVD burning process. Later, you can play or eject the DVD freely.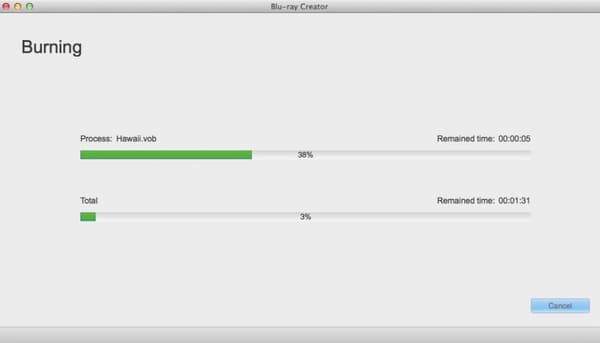 Part 3: Best Way to Burn Any Video to DVD with Various Templates and Editing Tools
What if you can't burn DVD on Windows 10 or Mac with default settings? If you need to burn DVDs frequently, you had better use DVD burning software to get more customizable features. During this time, AnyMP4 DVD Creator can be your best DVD burner for Windows 10/8/7 and Mac. You can burn any popular video to DVD with high image and sound quality in minutes.
In addition, you can edit video and adjust output effects before burning. In spite of common video editing tools, you can add audio track, subtitle, background music and other factors to your DVD disc. Thanks to the advanced accelerate technology, you can burn video to DVD quickly. Well, you can also specify the DVD format and aspect ratio after burning DVD on Windows 10 and Mac.
Main Features of the Best DVD Burning Software
1. Burn almost all video formats and file types to DVD with no quality loss.
2. Select and preview the pre-made DVD menu template, including family, holiday, travel, wedding and more.
3. Edit the thumbnail, button, frame, text, title, background music, subtitle, audio track, watermark and many other tools.
4. Burn video to DVD folder and ISO file.
5. Support DVD-5, DVD-9, DVD-R, DVD+R, DVD-RW, DVD+RW and DVD-RAM.
6. The user interface is clean, safe and easy-to-use.
7. Burn DVD on Windows 10/8/8.1/7/Vista/XP and Mac OS X 10.6 or above (macOS Ventura included).
How to Edit and Burn Files to a DVD
Step 1 Launch DVD burner
Launch DVD burner
Insert a blank writable DVD into the DVD drive. Free download, install and run DVD burning software on your computer. When you launch the program, click "Add Media File(s)" on the top bar. Browse and select files you want to burn to DVD disc to the DVD burning software on Windows 10.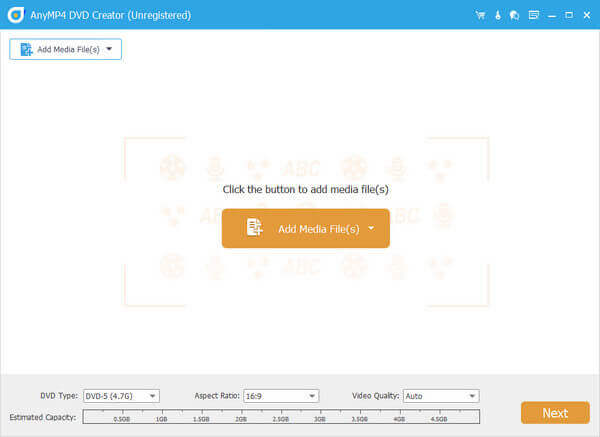 Step 2
Manage audio track and subtitle
Choose your target video. Set the audio track or subtitle option on the right side. In the "Audio" section, you can click "Add Audio" to add the external audio track. Moreover, you can add and manage subtitle based on your needs too.
Step 3
Edit your video
Check your video and click "Edit" to get a new window. Here you can rotate, crop, clip, merge, add watermark and apply other editing functions. The original and output preview windows can show you details directly.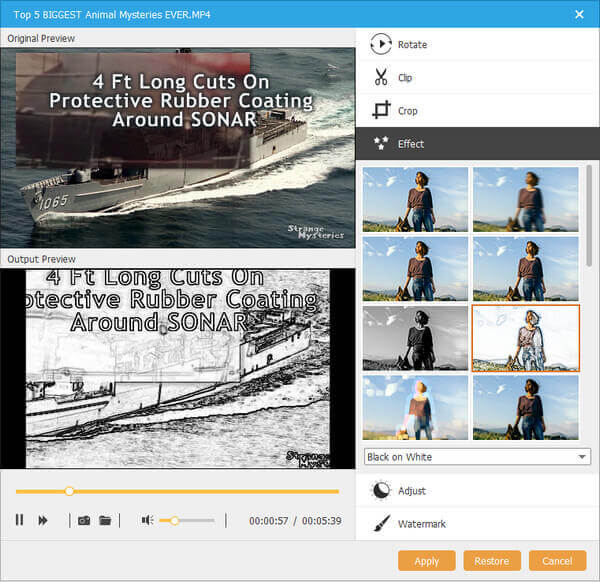 Step 4
Apply DVD menu template
Click "Next" on the lower right corner of the DVD burning software. You can choose your favorite menu style and personalize details. Furthermore, you can add background music and opening film to DVD. Click "Next" to save changes.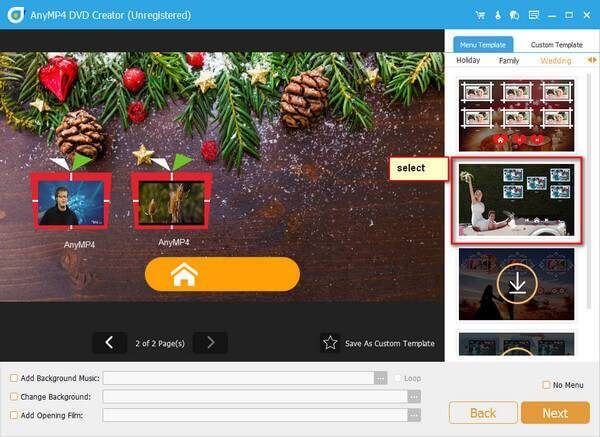 Step 5
Burn a DVD
Go back to the main interface. Click "Preferences" and set DVD as the destination folder. You can set DVD type, aspect ratio and video quality near the bottom. At last, click "Create" to burn DVD on Windows 10.
That's all for how to burn DVD on Windows 10 and Mac step by step. Compared with traditional DVD creation, AnyMP4 DVD Creator offers a one-stop solution for DVD burning and editing. Not only MP4 and common video files, but also recorded videos can be burned into DVDs too. The DVD burning software supports almost all video files in the market. You can get faster DVD burning speed and more built-in video editing tools. Thus, you can burn videos to a DVD more attractive than before effortlessly.
Part 4: FAQs of Burning DVD on Windows 10 and Mac
1. How do I burn a DVD from iMovie on a Mac?
For creating a DVD from iMovie on Mac, you should open the iMovie video on iDVD (Click Share button in the menu and select iDVD). Then choose a DVD theme from iDVD's available options. After that, click Media to drag the iMovie video files and click Burn button to start burning iMovies into DVD on Mac.
2. How to burn a video to a CD on Windows 10?
For burning a video to a CD on Windows 10, you just need Windows Media Player and a blank data CD disc. Here are the steps. Step 1. Open Windows Media Player, select the Burn tab. Step 2. Select the Burn options button and then select Data. Step 3. Insert a blank disc into your CD burner. Step 4. Search and drag the video to the list pane. Step 5. Click Start burn to burn a data CD with a video.
3. Can I burn multiple movies on 1 DVD?
Yes, you can. What you need to prepare is the DVD burning software and a blank DVD disc. The number of the video file depends on the DVD disc capacity. Generally speaking, the capacity of a single-sided and single-layer is 4.7 GB, 8.5 GB for single-sided and double-layer, 9.4 GB for double-sided and single-layer, 17.08 GB for double-sided and double-layer. So, you just need to make sure the total size of the multiple movies is within the size limit of the DVD disc.
4. Can you burn movies from iTunes to DVD?
The movies in iTunes are encoded with protection, which prevents people from converting or burning to DVD.