Can You Play Blu-ray Discs on a Regular DVD Player – Yes or No
The DVD is a digital optical disc storage format for storing digital videos on DVD discs.
As for Blu-ray, it is a new optical disc format designed to supersede the DVD format. Blu-ray and DVD discs look quite similar in size and shape. What's the difference between DVD and Blu-ray? Here are the main factors of the Blu-ray VS DVD.
1. Storage capacity
Single layer DVDs can save a movie for about 5 hours. The approximate storage capability ups to 4.7 GB. While you can store about 25 GB of data with single layer Blu-ray discs. Consequently, you can save nearly 2 hours of HD videos or 13 hours of standard videos.
2. Laser technology
DVD players require a red laser at 650nm wave to read DVD discs. Blu-ray players use a 405nm blue laser to read the stored information in Blu-ray discs. This is the main difference between Blu-ray VS DVD player.
3. Image resolution
The standard definition resolution of DVD is 480p. As for Blu-ray discs, you can play high-definition Blu-ray movies at HDTV 720p and 1080p.
4. Player compatibility
This is also the question what this article wants to talk about. Can DVD Players play Blu-ray discs? Just read the following paragraphs and get your answer.

Part 1: Can You Play Blu-ray on a Regular DVD Player
You can see many similar questions about Blu-ray and DVD compatibility issues. Thus, this article collects some frequently-asked questions.
Question 1: Will a Regular DVD Work in a Blu-ray Player
Yes. You can play a DVD with a Blu-ray player. Because all Blu-ray disc players support blue and red lasers. Therefore, when you put a DVD/CD disc into a Blu-ray player, a red laser will read the DVD automatically.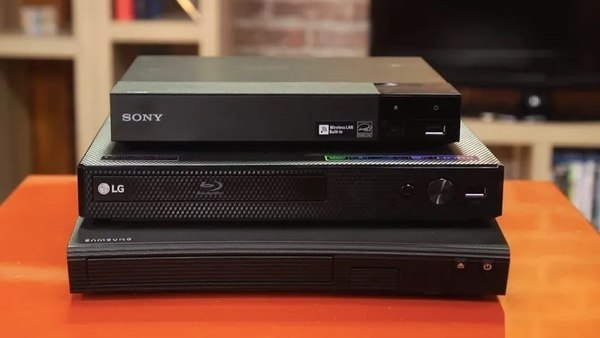 Question 2: What Happens If You Put a Blu-ray in a DVD Player
The Blu-ray movie will be choppy or the DVD player just cannot recognize the Blu-ray disc. Just as above mentioned, you need to read Blu-ray with a blue laser, while a DVD player provides red lasers only. Well, the answer of "Can you watch Blu-ray on a DVD player" is "No".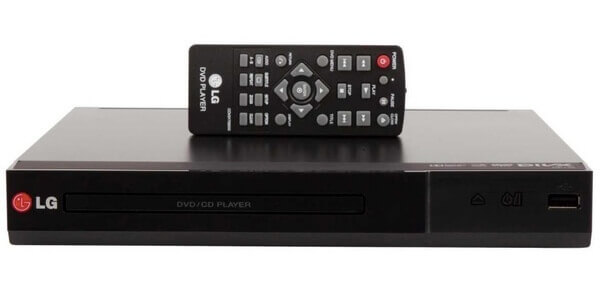 Question 3: Can a DVD Drive Read Blu-ray
No. The wavelength of red laser is longer than blue laser. Thus, the grooves and pits in DVDs are wider than Blu-ray discs. You need to use a Blu-ray player to read Blu-ray discs to access all embedded video and audio information. But you can play Blu-ray, DVD and CD discs with Blu-ray drive.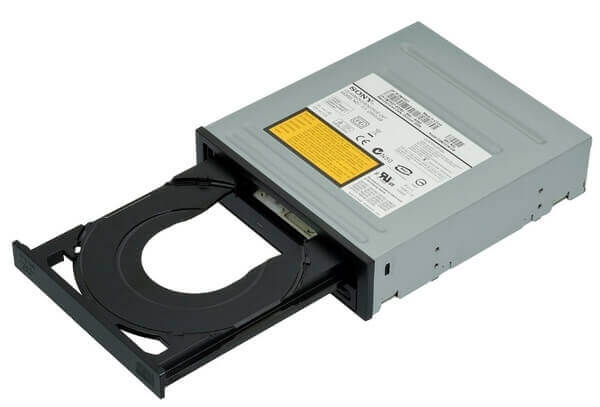 Question 4: HD DVD VS Blu-ray
HD DVD and Blu-ray are both readable and rewritable high-definition optical disc formats. A single layer HD DVD can store up to 15 GB of data. As for a single layer Blu-ray disc, the storage capability is 25 GB. Blu-ray has a faster bitrate for raw data transfer than DVD. Blu-ray discs employ three region codes. However, HD DVDs are region free.
Question 5: What does Blu-ray + DVD Mean
It means you get both the Blu-ray and DVD version of the video. Some studios may also offer a digital copy.
To sum up, a Blu-ray player can play Blu-ray, DVD and CD discs. A DVD player can play DVDs and CDs only. Blu-ray discs cannot work with regular DVD players.
Part 2: Can You Play Blu-ray and DVD Discs on Computer
Actually, you can play any Blu-ray/DVD disc on your computer with 100% image quality by using Blu-ray Master Free Blu-ray Player. There is no need to buy a portable Blu-ray player. You can watch Blu-ray/DVD movies on Windows and Mac for free smoothly.
You do not need to convert Blu-ray to DVD. The advanced Blu-ray DVD player software support the advanced kernel and the newest playing technology. Thus, you can play any Blu-ray/DVD movie and popular video/audio files within the program. Moreover, there are also many powerful audiovisual effects.
Main Features of the Best Blu-ray DVD Player
* Play Blu-ray and DVD discs on your Windows and Mac computer directly.
* Select any video, audio and subtitle track for playing Blu-ray/DVD on PC.
* Watch movies in Blu-ray or DVD version with customized screen size.
* Adjust video effects, including hue, brightness, contrast, saturation and gamma.
* Take a snapshot of the streaming video in one click.
* Play, pause, resume, stop, forward or backward any title or chapter.
* Support Dolby 5.1, DTS, HD audio and other latest technology.
* Compatible with Windows 10/8/7/Vista/XP and Mac OS X 10.5 or above.
How to Play Blu-ray/DVD Movies on Laptop
Step 1
Download, install and launch the free Blu-ray DVD player. Insert a Blu-ray/DVD disc into an internal or external Blu-ray/DVD drive on your computer.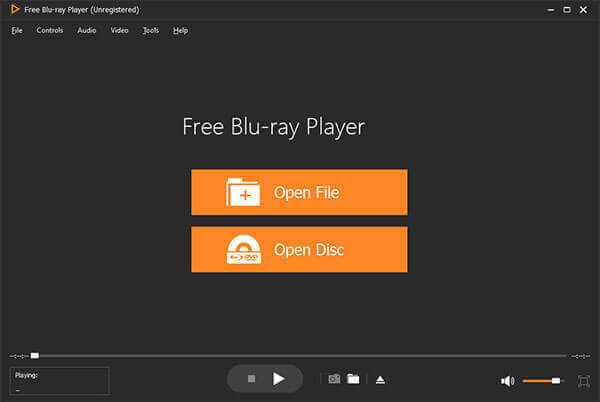 Step 2
Click "Open Disc" and select your disc. Then click "OK" to load the inserted Blu-ray/DVD disc.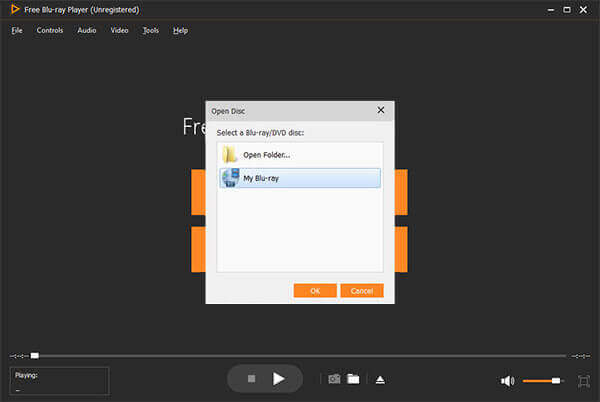 Step 3
Click "Play" to play the main movie. You can select the preferred audio track, video track and subtitle from the "Video" or "Audio" drop-down menus.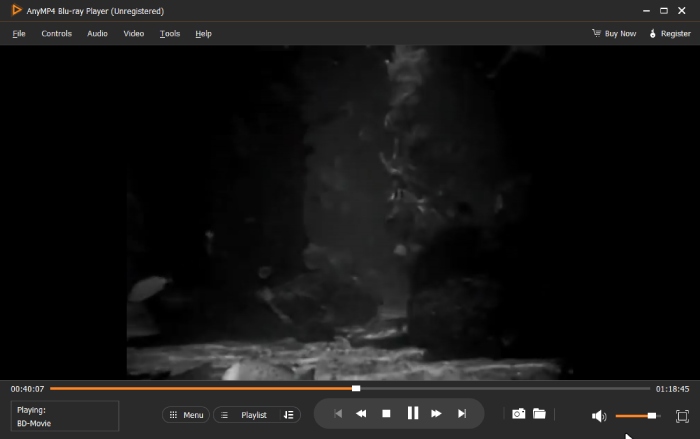 Step 4
Choose "Effects" from the "Tools" list on the top. Here you can adjust visual effects with easy-to-use parameters freely. What's more, you can click the camera-like "Screenshot" icon near the bottom. Your captured video image will be saved in the default "Screenshot" folder.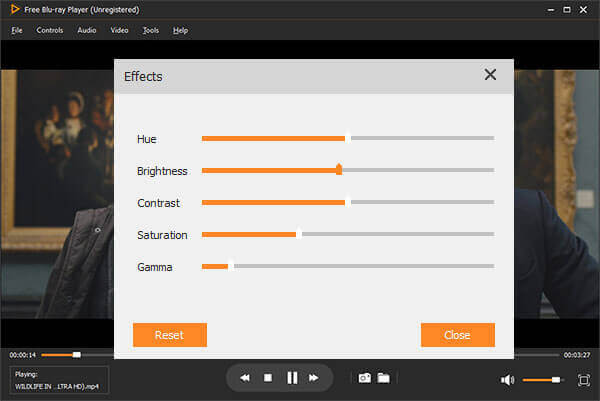 That's all for the best free WMA music player review. You can free download WMA player app for online and offline listening enjoyment according to the latest review. Which WMA music player is your favorite? Do you have any interesting audio experience? You can feel free to share with us.