Comprehensive Guideline on How to Get PS3 to Play Blu-ray Movies Easily
Can PS3 play Blu-ray? If this question still bothers you, this is your chance to see the best solution. Expect that this article will provide you with all you need to learn about this famous gaming console and its ability to play Blu-ray movies. By the end of this article post, you will surely vanish your doubts about your PS3 and will appreciate it more with its flexibility in playing 4K movies. However, there are prerequisites to succeed on this task, which you will learn as you review the entire content of this post. So, without any further adieu, let's get the ball rolling by knowing how to get your PS3 to play Blu-ray movies below.

Part 1. Does PS3 Play Blu-ray Disc?
Once and for all, to answer this endless question of whether this PS3 can play Blu-ray movies, then the answer is yes. To give you a preview, PS3 is, in fact, a console that Sony Computer Entertainment developed to play Blu-ray Discs. Furthermore, it is the maiden of all the gaming consoles to support Blu-ray videos as a primary storage medium. One of the proofs that makes this PS3 qualified to play Blu-ray movies is its equipment and HDMI 1.3 connector. However, we cannot deny that even though the proofs and attributes are convincing, there are still reports that PS3 can't read Blu-ray discs. Here are the facts below to give you the reasons behind this report.
Part 2. Why PS3 Can't Read Blu-ray Discs
As mentioned earlier, there are still reports containing the failure of PS3 to play Blu-ray discs. This is not surprising, for it surely will happen if you don't consider the following when attempting to play Blu-rays on PS3.
1. Outdated PS3 consoles.
To play high definition movies on your PS3, you must ensure that it is updated with the latest version.
2. Scratched Blu-ray disc.
One and probably the most reason why PS3 won't be able to playback a Blu-ray disc is that it has a scratch. It is also an excellent idea to constantly clean the disc carefully before putting it in the disc player PS3.
3. Region-locked disc.
Another reason why PS3 can't read Blu-ray discs is that it is region-locked. Make time to check if the disc you inserted is region-free, or at least if it matches your region. If you do, you will have difficulty playing it back.
4. Analog connector.
Lastly, if you are using an old television with an analog connector to your PS3, expect the Blu-ray never to play. Please remember that Blu-rays use a high definition of connectors or HDMI for them to play.
Part 3. Best Way to Play Blu-ray Movies on PS3
If you want another way to play your Blu-ray discs on your PS3 efficiently, then the best thing to do is to rip the Blu-ray disc. Thus, for your way to get my PS3 to play Blu-ray movies, make way for this extraordinary way. On the other hand, since Blu-ray discs have high quality, you shouldn't rip it anyhow you want, but rip it using the best Blu-ray Ripper. Blu-ray Ripper is a versatile software that effortlessly supports videos in 1080p and 4K movies for ripping. It can rip your Blu-ray discs and convert them losslessly to PS3, WMV, DivX, AVI, MP4, and many other output formats that your PS3 supports. Furthermore, as part of its versatility, this Blu-ray Ripper comes with a handy toolbox containing a video enhancer, 3D maker, GIF maker, video compressor, and a metadata editor that you can use unlimitedly efficiently.
On top of that, you can freely download this fantastic software on your Windows and Mac computer, allowing you to acquire its hardware acceleration. Thus, below are the steps if you want to know how to rip the Blu-ray disc and send it to PS3 using this best Blu-ray Ripper.
Key Features
1. Rip your Blu-ray discs without losing their quality.
2. Rip and convert your Blu-ray discs to all the PS3-supported formats.
3. Experience the safest and quickest ripping and conversion process via hardware acceleration.
4. Most user-friendly ripping software you will ever have.
5. Rip more than numerous titles simultaneously.
Step 1
Install this Blu-ray Ripper on your computer by clicking the Download buttons above. Afterward, launch it and load the Blu-ray disc you have injected into your optical drive. To do so, just click the Load Blu-ray button. Please note that you can upload multiple titles at once.
Step 2
Upon uploading the Blu-ray discs, click the arrow of the Rip All To selection. Then, on the new window, choose the format you want to have under the Video option. Otherwise, if you want to stick to the PS3 format, hit the Device option, search PS3 from the search bar, and hit the format given.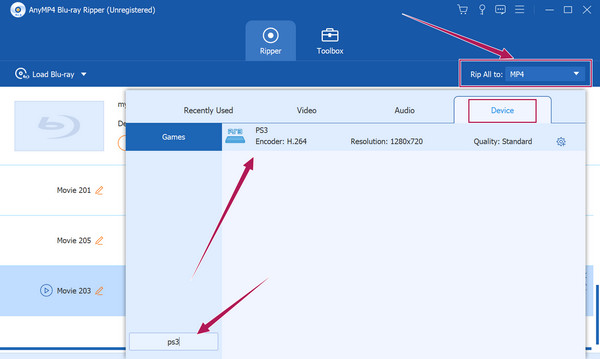 Step 3
After that, you can now hit the Rip All button at the bottom-most part of the main interface. When the ripping procedure finishes, check your ripped files in the destination folder labeled in the Save To section.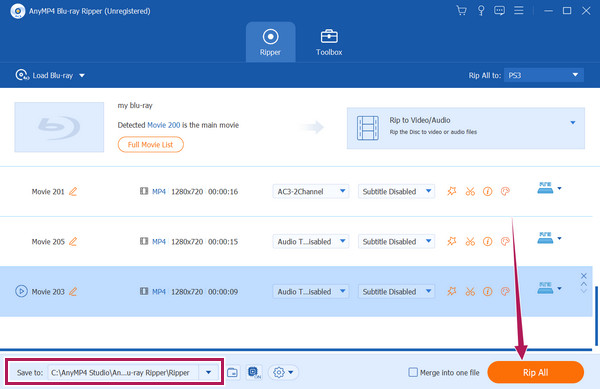 Step 4
Connect your USB to your computer, and transfer the ripped Blu-ray discs to it. After that, you can turn on the PS3 to play Blu-ray movies by going to the Video tab from the PS3 Menu. Then, scroll to reach the USB Device and press the X button from your controller.
Further Reading:
3 Effective Methods to Rip Blu-ray to a PC: Fast and Safe
Topmost Technologically Advanced 4k Blu-Ray Rippers
Part 4. FAQs about Playing Blu-ray Movies on PS3
Are all Blu-rays in 4K resolution?
No, Blu-ray movies have 1080p, and PS3 supports both 1080p and 4K.
Can I play Blu-ray games on PS3?
Yes. PS3 is technically developed for Blu-ray games. But still, you need to ensure that the Blu-ray game is not restricted by region. Otherwise, you will have a problem playing them on your PS3.
Can PS4 play Blu-ray and DVD discs?
Yes. PS4, the successor of PS4, can play Blu-rays and DVDs. This game console also has the ability to stream 4K resolution movies in a more hassle-free way.
Conclusion
You just found out the answers to your question about how to get my PS3 to play Blu-ray movies. We just provided you with the reasons for not playing Blu-ray on PS3, and we have given you the best alternative to use if that's the case. Hence, go ahead if you want to directly play your Blu-ray disc on your PS3. And if some errors occur, don't forget to do the alternative way: rip the Blu-ray disc with the best Blu-ray Ripper, and you will surely succeed in this task while enjoying your PS3 on movie watching.