Add Audio to Screen Recording: Walkthrough Guide on Desktop and Online
Everyone enjoys watching video tutorials, and one of them is via screen recording. On-screen activities are the most in-demand to record because this method of recording gives viewers proven evidence that what they teach is based on what they see on their screens. Many aspiring content creators try screen recording, and since they are still beginning, they need to learn how to add audio to screen recording. This phenomenon is not unusual, for it is common nowadays. As a matter of fact, many tools have risen to accommodate this matter. However, we want to address that not all tools are rookie-friendly and proficiently used. As a beginner, we want to help you create an attractive video tutorial. Therefore, allow us to introduce to you what we highly recommend. Meet them below.

Part 1. How to Add Audio File to Screen Recording on Desktop
For those who want to add audio recording to video, screen recording, and gameplay offline, we have two perfect solutions for you. Let us acquaint you with these best computer programs that have the best solutions for this task.
Way 1. Using the Best Screen Recorder
Here is the most reliable and remarkable Screen Recorder. This recorder is perfect for those who want to record a voiceover, system sound, and their favorite song and add them to their screen recording or record screen with audio. With this method, you can re-record your existing screen recording while recording the audio you want to add, or you can only record the sound and combine it with your video. Aside from that, this amazing computer software offers other recorders for games, webcams, phones, and more. Meanwhile, concerning recording audio, this Screen Recorder holds advanced features that will help you capture a clear and highly qualitative quality of audio to add to your screen recording. It has noise canceling for its built-in microphone, with a volume mixer for the system sound.
Moreover, you will be amazed at the output settings that it gives you. You can select your desired audio and video format among the numerous selections it supports. On top of that, you also have the freedom to set your output's quality, framerate, and codec!
Main Features:
1. Lossless quality of screen recording.
2. Noise-canceling feature and volume mixer for neat and clear audio.
3. Record a video without a watermark.
4. Snapshot to capture the best scene of your screen-recorded file.
Step 1
Install the Screen Recorder on your computer and launch it. Now, on the main interface, click the Video Recorder. Please ensure that you have an available Mic connected to your computer before recording.

Step 2
After that, set up to prepare for the screen recording with audio. Choose the display that you need to record from Full, Custom, or Add Exclusion. This will determine the dimension of the screen you will record. Also, to activate the noise cancellation feature, click the drop-down icon next to the Mic icon and tick the option that gives the said feature.

Step 3
When ready, click the REC button to begin the screen capturing with sound. Then, when finished, you can click the Stop icon from the hanging window, leading you to the saving window. Here you can edit the recording a little and click the Done button to save it.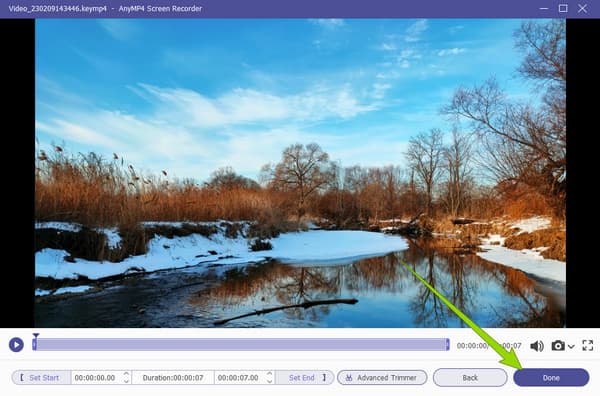 Way 2. Using a Video Editor
If you are looking for an alternative way to add audio to screen recording, use Video Converter Ultimate. It is a media file converter that holds powerful features and functions that will literally help you with all your video and audio editing tasks. Furthermore, this amazing software comes with a bulk conversion where you can also alter the audio of your videos. This way, you can add new audio files to your various videos in one procedure. On the other hand, it also comes with an MV feature that works to create a movie and music videos. This feature allows you to add, change, or mix various audio files into your videos and screen recordings. This will make you add background music to an audio recording. Aside from that, you can edit the video like a pro, for it has powerful enhancements, themes, and filters that you can apply to your screen recordings. Thus, if you want to use this software for this task, please prepare your computer by downloading and installing it using the download buttons below.
Main Features:
1. Add audio files to your videos in several ways.
2. Add multiple audio tracks to the screen recording.
3. Choose among the 500+ various media formats it supports.
4. Advanced technologies run to help it become robust.
How to Add Audio to Screen Recording with the Converter Function
Step 1
Launch the software after installing it. Upon opening, click the Plus icon under the Converter menu to upload your recorded videos.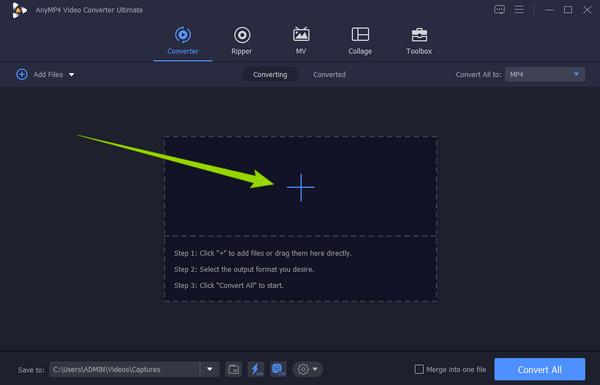 Step 2
When the video files are uploaded, click the arrow in the EN-AAC-2Channel dialogue. Then, click the Add Audio Track button from the option prompt and upload the audio you want to add to that video. Please note that if you want to eliminate the original audio of the video, then you need to uncheck the EN-AAC-2Channel option.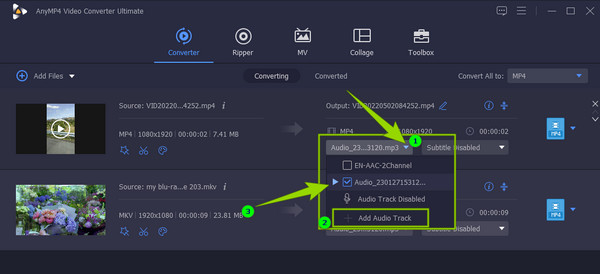 Step 3
After that, when the audio files are well-added, you can now hit the Convert All button.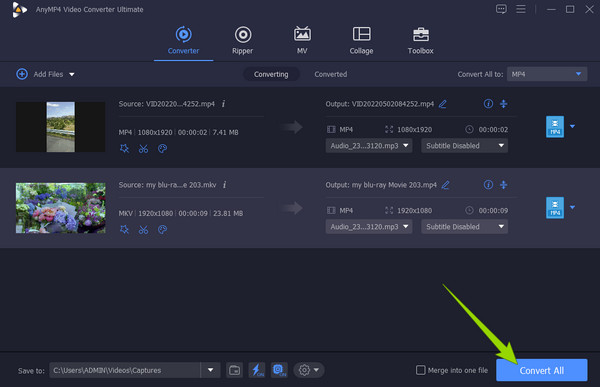 How to Add Audio to Screen Recording with MV Function
Step 1
On the same interface, go to the MV menu. Then, import your recorded video by clicking the Add tab at the bottom of the Theme section.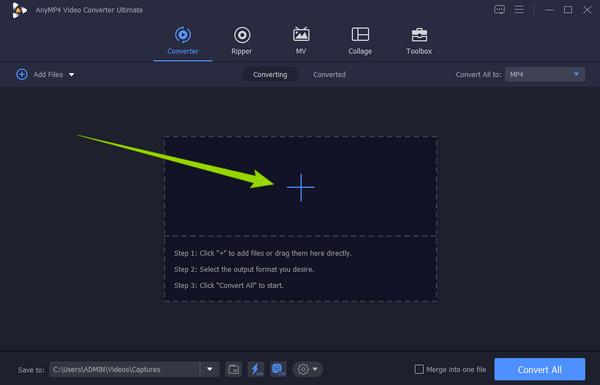 Step 2
Afterward, go to the Setting section to upload the audio file you want to add. Tick the Background Music option for you to click the Plus icon across it. You can now choose the audio file and import it.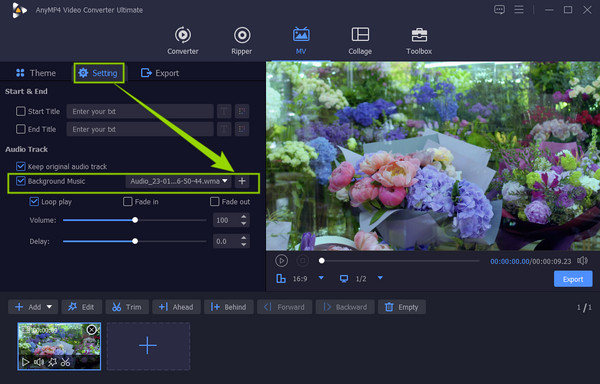 Step 3
Consequently, you can now move to the Export section. Make some adjustments in the presets based on your needs, then click the Start Export button to acquire the new file.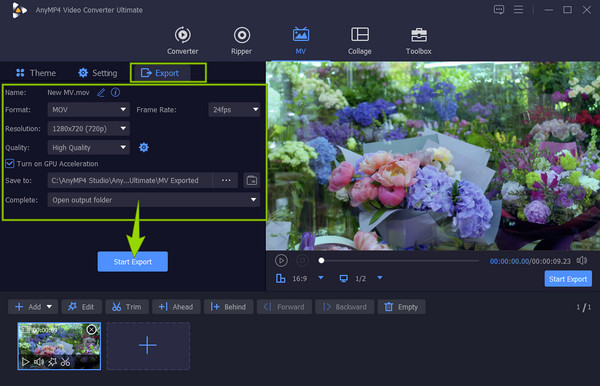 Part 2. Best Way to Add Background Music to Screen Recording Online
If you need to add background music to the audio recording online for free, the good news is you can use Free Screen Recorder Online, chosen by Blu-ray Master. This means you won't need to download an entire software to do your task. This tool enables you to add sound and voiceovers to your screen recording by turning on your external devices such as speakers and mic. Also, you can access it using any browser you use on your computer. Here are steps to follow in doing so.
Step 1
Visit the page of the screen recorder online, then acquire the launcher to begin.
Step 2
When the launcher is obtained, click the Launch Free Recorder button. Then, set the Recording Area and the other presets to your preferences. After that, you can already hit the REC button.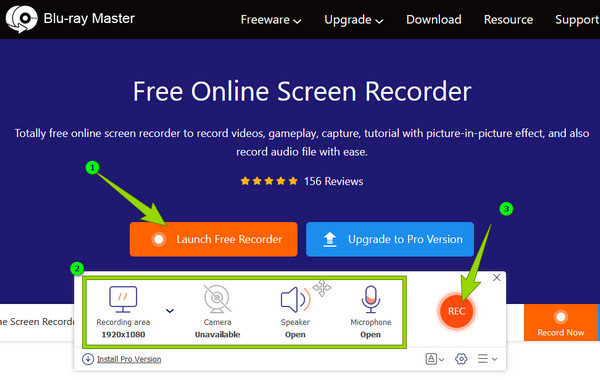 Step 3
Once you're done, hit the Stop button, and your recording will be saved to your local folder without downloading. You can also use this tool to do voiceover on PowerPoint.
Part 3. FAQs about Adding Sound to Screen Recording
How to add audio to a QuickTime screen recording?
To do so, check the external devices you connected to your Mac, such as the mic. Then, launch QuickTime recorder and begin to record your screen with audio.
Can I add online music to my screen recording?
It is safer not to add music you got online to your screen recording.
How to add audio to screen recording on iPad?
You can use the built-in screen recorder of your iPad. Go to your Control Center and tap the screen recorder to start recording with audio.
Conclusion
There you have it, the best offline and online ways to add audio to screen recording. We guarantee you that all of them are efficient. The Screen Recorder for your screen recording task, and Video Converter Ultimate for your video editing task.