Does Play-Station 4 Play Blu-Ray Disc or DVD (4K Included)
How do you take full advantage of Play-Station 4 to play Blu-Ray disc or DVD? PS4 is the successor to PS3 (Play-Station 3), which competes with Nintendo's Wii and Microsoft's Xbox One. It should be a versatile and popular digital device with built-in speakers, headset port, vibration voice control, Internet browser and more. More importantly, PS4 has a build-in Blu-Ray drive, which is able to play regular Blu-Ray disc and even 3D Blu-Ray ones.
Can PS4 play 4K Blu-Ray disc or DVD? Sony still has no intention to optimize the compatibility for 4K. What should be the alternative solutions to play back 4K Blu-Ray and DVD with PS4? Why should be the problems if you cannot play the Blu-Ray disc with the device? Just learn more about the reasons and the ultimate alternative solution from the article now.
Part 1: Why My PS4 Does Not Play Blu-Ray
Just as mentioned, you can play Blu-Ray disc with Play-Station 4.
Does PS4 play DVD or Blu-ray?
Why your PS4 does not work with Blu-Ray discs or movies?
What should be the major problems? s
Here are some important tips you should know as below.
1. PS4 only supports BD-ROM*1 and BD-R/RE (BDAV, BDWV). If you use BD-RE ver.10, BD-R/RE XL or DVDs have not been finalized, you are not able to playback these Blu-Ray discs or DVDs.
2. When there are some AACS (Advanced Access Content System) copyright protected BDs; you should make sure the PS4 is connected to the Internet and updated the encryption key.
3. Make sure the Blu-Ray discs are in a good status, any scratches, dust, or other damage might cause the playback issue. Of course, you should also check and clean the Blu-Ray drive.
4. Your PS4 system must enable the disc playback features over the Internet, which is available only once, or else, the PS4 do not able to connect to the Internet and play BDs or DVDs.
5. There are some rare cases that some DVDs and BDs might not work with PS4 because of the variation in the process or encoding of the software. Just check out whether it works with an ordinary Blu-Ray drive for the cases.
You may be interested in: Does Wii play DVDs?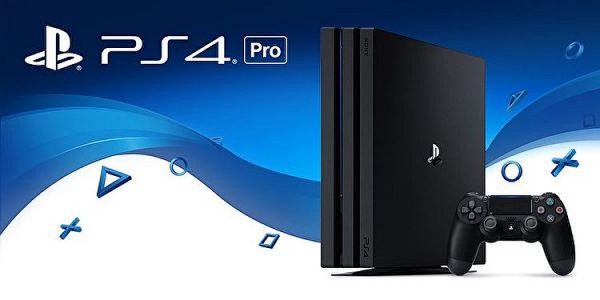 Part 2: How to Play Blu-Ray/3D Blu-Ray on PS4
How to play Blu-Ray discs on PS4? As the Blu-Ray drive installed in PS4, you can play Blu-Ray disc without problem. Later an update to the PS4 improves the sound quality at 1.5X playback and 3D for both Blu-Ray discs and DVDs. Here is the detailed process to play Blu-Ray disc on the PS4.
Step 1: Download PS4 Software Update 1.50
Actually PlayStation 4 won't play Blu-Ray discs and DVDs out of the box, you have to install the software update before playing the Blu-Ray discs and DVDs. Once you connect PS4 to Internet, go to the "Settings" > "System Software Update", which you can update to 1.50 or upper version.
Step 2: Insert the Blu-Ray Disc into Play-Station4
Now you can insert the Blu-Ray disc into the drive of PS4. After that you can find the "Blu-ray Disc" option in the interface. Make sure you connect the PS4 to Internet and play the Blu-Ray disc on PS4 at the same region codec as the game console manufactured.
Step 3: Play Blu-Ray Disc/3D Blu-Ray on PS4
Just click the disc icon and press the "Play" button. You can enjoy the Blu-Ray or 3D Blu-Ray movies within PS4 now. In addition to purchase BD/DVD discs with protection, you can also play copied or burned Blu-ray or DVD movies on PS4 without problem.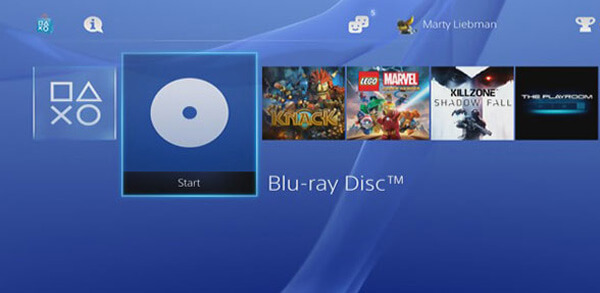 Part 3: Best Method to Play Blu-Ray Discs on PS4 (4K Included)
No mention about the 4K Blu-Ray discs, you can find there are lots of restrictions to play Blu-Ray discs on PS4, such as the region code, DRM protection, Blu-Ray types and more. So if you just purchased or rented a Blu-Ray disc, the PS4 Blu-Ray drive might not work with the disc.
What should you do with the Blu-Ray discs? How to play 4K Blu-Ray movies on PS4 for free? Blu-ray Ripper is the ultimate alternative solution. It is able to rip Blu-Ray movies to 3D or 4K videos with multiple editing functions and output settings. Moreover, it has a batch process to convert Blu-Ray movies with ease.
1. Convert Blu-Ray to 4K/3D/HD videos and more than 300 device presets.
2. Advanced video filters to crop, trim, clip, apply effects and more others.
3. Define the output video and audio settings to get the best video for PS4.
4. Batch conversion algorithm to convert Blu-Ray discs into desired videos.
5. Decrypt most of DRM protections of Blu-Ray discs and DVDs.
Step 1
Download and install Blu-Ray Ripper on your computer. Launch the program and then click the "Load Disc" to load the Blu-Ray movies into the program. It will detect all the movies within the Blu-Ray, which you can find the main movies as well as the clips.
Step 2
Click the "Profile" menu to unfold all the presets for digital devices. You can simply enter the PS4 or PS3 to find all the compatible formats. As for the case, you can play Blu-Ray movies with a PS4 Pro without restriction. Of course, you can also choose 4K MP4 or 3D MP4 as the output format.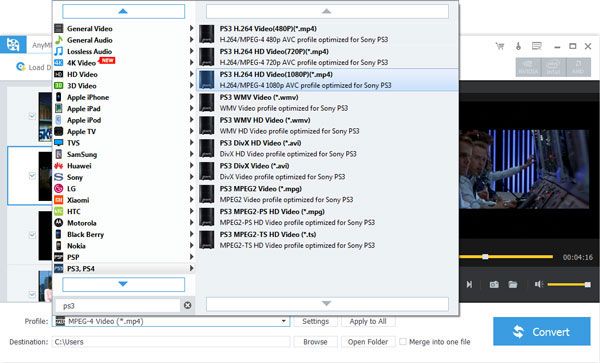 Step 3
In order to convert Blu-Ray disc to other video formats, you can click the "Settings" button to convert a 4K Blu-Ray disc to PS4 compatible format. Adjust the "Encoder", "Frame Rate", "Resolution", "Aspect Ratio", "Sample Rate", "Audio Channel" and more other video and audio settings.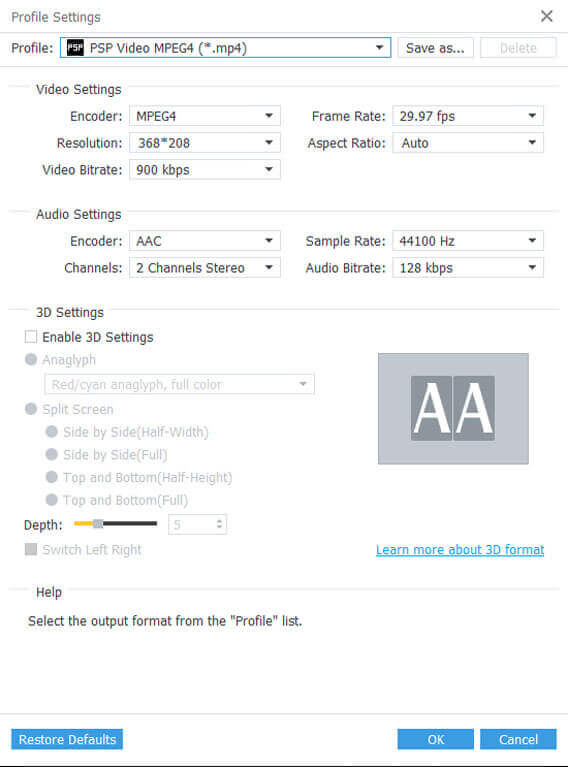 Step 4
If you are satisfied with the result, you can choose the destination folder and click the "Convert" button to transcode the 4K Blu-Ray videos to PS4. After that you can transfer the 4K or 3D movies from Blu-Ray on PS4 to enjoy the videos.
Whether the Blu-Ray disc is a 4K Blu-Ray one, DRM protected or different BD types, you can always get the Blu-Ray movies under the help of the Blu-Ray Ripper. Of course, you can further edit the videos, adjust the settings and even convert the Blu-Ray disc to desired digital devices with ease. After that, you could easily play the Blu-ray files on your Windows and Mac computer freely.
Part 4: FAQs of Playing Blu-Ray on PS4
1. Can I play 4K Blu-ray on PS4?
The recently released Sony PS4 Pro can play 4K games, videos and movies. However, the PS4 Pro doesn't support playing 4K UHD Blu-rays. If you insist on playing 4K Blu-rays, you can rip the Blu-ray movies to 4K/3D Blu-rays with Blu-ray Ripper first. Then, play the 4K/3D movies on PS4.
2. Can PS4 play Blu-ray 3D movies?
Yes, you can play Blu-ray 3D movies on PS4. PS4 has a built-in Blu-ray drive, which can play regular Blu-ray disc and even 3D Blu-ray movies.
3. Can I play Blu-ray on PS4 without Internet?
Before playing Blu-ray disc, you must make sure your PS4 is connected to the Internet. Because the PS4 system must enable the disc playback feature via Internet, can you play Blu-ray discs. After the feature is enabled, there is no need for your PS4 to connect to the Internet.
Conclusion
Can you play Blu-Ray on PS4? Just do not take it for granted that the Blu-Ray drive of PS4 works with all the Blu-Ray movies. 4K Blu-Ray is not the only Blu-Ray disc not supported by PS4. You might find lots of other restrictions that Blu-Ray discs do not work with the device. If you just purchased or rented some important Blu-Ray movies, which do not work with PS4, you can get the ultimate alternative solution to play Blu-Ray movies with your PS4. If you have any comment about the topic, you can share more information in the article.
More Reading
How to play Blu-ray movies on Wii?
Blu-ray Ripper makes it possible for Wii users to play Blu-ray DVD movies on Wii easily. This article teaches you how to fulfill this step by step.
How to convert Blu-ray to WMV?
How to convert homemade Blu-ray to WMV? Blu-ray to WMV Ripper can convert homemade Blu-ray to WMV with unmatchable speed and incredible quality.
How to Use PlayStation 4 as a Blu-ray Player
If you have some Blu-ray discs, you can just use PlayStation 4 as the Blu-ray Player. Find more detail about how to play Blu-ray files with PS4 in the article.
It might not be a difficult choice to choose between Blu-ray and DVD. But How to have the free Blu-ray file for all devices? The article provides the detail about Blu-ray versus DVD.