Must-Try 6 MKV to DVD Converters and Burners (Offline & Online)
For people with media files such as videos and movies on their PC, having a DVD copy is a great way to back up their files. And if you have MKV format files, unfortunately, you cannot directly burn an MKV file to DVD. As such, you need to convert your MKV video or movie files to a format compatible with DVD. What you can do is use software that can efficiently and effectively do file conversion. Thankfully, there are quite a few MKV to DVD video converters online and programs for offline use that are easy to obtain. And for your benefit, this article will provide you with all the necessary information you are looking for in a program, be it offline or online.
Part 1. 3 MKV to DVD Burning Freewares for Desktop
If you are having a hard time deciding which among the programs on the internet you will use to convert MKV to DVD, here's a list of what we think is the best among the rest. The programs included in this list are freewares, meaning they are free to download and use.
1. BlurayCopys DVD Creator
BlurayCopys DVD Creator is an excellent MKV to DVD burner freeware that you can use on Windows and Mac OS devices. With a wide variety of supported formats, you can convert other video file formats like AVI, MP4, and MOV to DVD with ease. You can also edit the DVD menu template and add video effects. As well as add subtitles and audio tracks on your video before you burn it on DVD.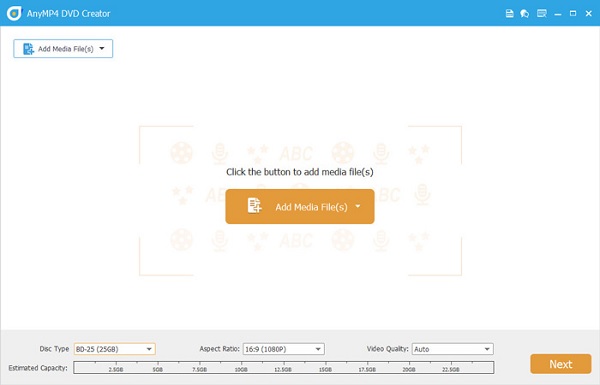 Pros:
1. The interface is user friendly.
2. Uses advanced technology to enhance quality.
Cons:
Sluggish when making HD DVDs.
2. Freemake Video Converter
Freemake Video Converter is an MKV to DVD burner freeware for Windows system users. You can burn videos for up to 40 hours to a disc. Additional features include editing, video conversion, etc. At present, there are 93 million active users of this program. You can access this online solution on your Android devices. Additionally, it boasts robust security against malware and viruses. You can also upload clips to Youtube directly and download videos from social media platforms.
Pros:
1. The interface is easy to use and familiarize.
2. It is entirely free to use, including converting MKV to DVD.
Cons:
1. It does not contain DVD menus when burning MKV to DVD.
2. The list of supported formats is limited.
3. ImgBurn
ImgBurn is a software that allows you to convert and burn MKV files to a format intended for creating DVDs. You can create ISO images out of your save files and can flawlessly burn video to Blu-ray discs. This is a free MKV to DVD burner and supports Windows, Mac, and Linux operating systems, unlike Freemake Video Converter. But since it is not regularly receiving updates, malware, viruses, and bugs are present. You should download it at your own risk.
Pros:
1. This free MKV to DVD creator provides plenty of useful tools.
2. The interface is very intuitive.
Cons:
1. It contains malware and virus.
2. It does not offer DVD menu templates.
Part 2. 3 MKV to DVD Burners Online
If you are wondering, you can also convert and burn MKV to DVD using web-based tools. These online tools are easy to access regardless of the operating system. You only need to have the internet and a web browser. Here's a list of MKV to DVD video converters online that are completely free to access by anyone.
1. ConvertFiles
ConvertFiles enables you to convert MKV to DVD online using any web browser you have on your desktop. You need to choose VOB as the output format. VOB is a format with MPEG-2 file compatible with DVD. It also enables you to select your preferred output file location. Moreover, you can convert video files, audio files, documents, and other media files for free. It is also an MP4 to DVD creator.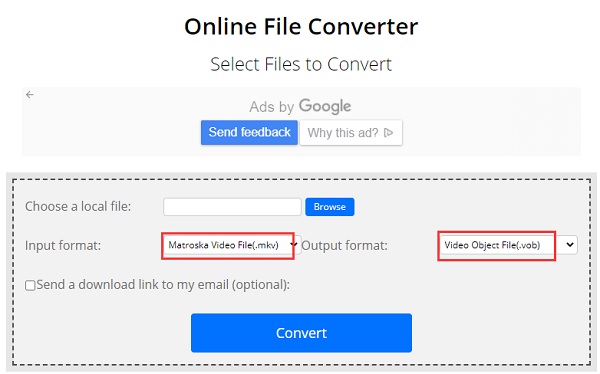 Pros:
1. Provides a less complicated converting experience.
2. Friendly user interface.
3. Safe to use online file converter.
Cons:
1. The interface is a bit outdated.
2. The website contains a lot of advertisements.
2. Office Converter
Office-converter is an online solution and a free MKV to DVD creator accessible on any device using your web browser. You can add and upload files to this website from your PC and cloud storage such as Google Drive and Dropbox. It supports 400+ formats for audio, video, ebook, and archive, including MP4, AVI, MOV, MP3, JPEG, PDF, etc.
Pros:
1. Data security and protected privacy.
2. Pricey subscription for an ad-free experience and a max of 1GB file upload.
3. The free version contains ads.
Cons:
1. The maximum file size limit for the free version is 3MB only.
2. The list of supported formats is limited.
3. Aconvert
Aconvert is an MKV to DVD video converter online that is free to access and can be used by anyone as long as you are connected to the internet. It supports multiple languages, making it easier for those who are non-native English speakers. Besides, it supports various formats for video and audio, documents, images, and pdf such as MP3, MP4, AVI, JPG, etc. You can also do simple edits on your photos and videos.
Pros:
1. Completely free to use.
2. Informative interface.
3. There is a maximum of 200MB file limit for every video..
Cons:
This website contains pop-up ads.
Part 3. How to Burn MKV to DVD with Ease
To Burn MKV to DVD without any difficulties, you can try using this tool. BlurayCopys DVD Creator is a free-to-download software with in-app purchases. It is available for Windows and Mac OS. Additionally, it has the capability to add audio and subtitles to your videos before you burn them on DVD. You can edit your video without losing the quality. Additionally, it offers a large number of DVD menu templates and video effects for additional enhancements.
Quick Guide to converting MKV to DVD with the same original quality
Step 1
Download and install the software and launch it after successfully acquiring the program. Insert a blank disc and select DVD Disc to start creating a DVD. Click the Add Media File(s) button on the top left of the interface or in the middle to add the MKV you want to burn to the DVD.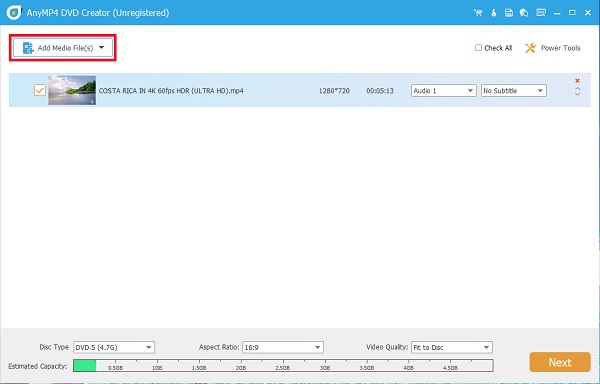 Step 2
Check the MKV file and click Power Tools at the top right section of the window. You can select the Subtitle Edit option to edit subtitles and include audio tracks on your video. Click Apply to save the changes.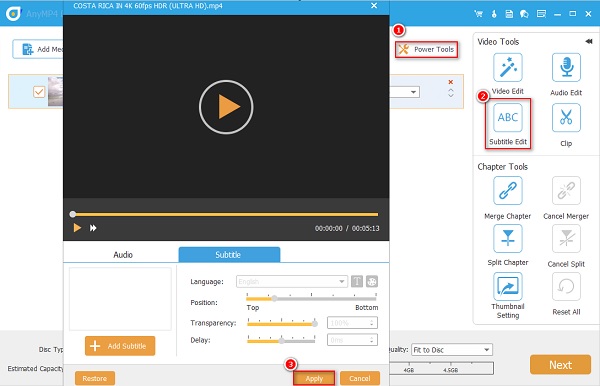 Step 3
Click the Next button to proceed to the DVD menu template window. There are different templates suitable for specific occasions. Choose the best one for your DVD. Click the Burn button to continue to the last step.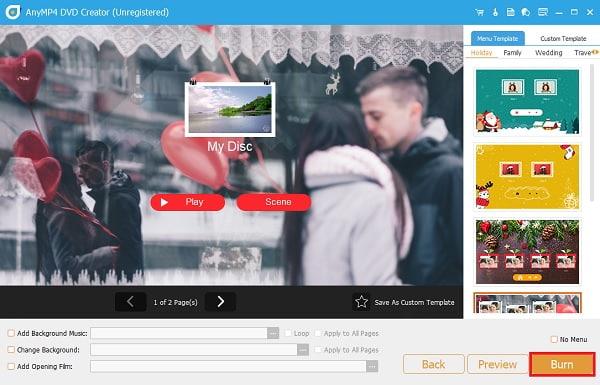 Step 4
For the final step, choose your output file destination on your desktop to locate the file quickly. Click Start to begin converting MKV to DVD. Completion time depends on the length of the video. Click here to learn how to change ISO file to MKV.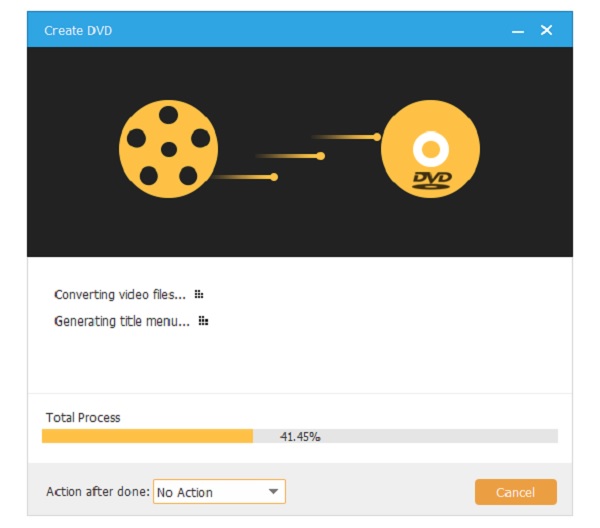 Part 4. FAQs about MKV to DVD Converter
What is MKV?
MKV is the acronym for Matroska video files which originated in Russia in 2002. It is categorized as a video container format that can hold video, audio, photo, and subtitle tracks in one file.
What type of file formats can you use to play on DVD players?
The most commonly used format for DVDs is the MPEG-2 format. It is the standard format for companies like Sony, Samsung, Panasonic, LG, etc., that make DVD players. Other compatible formats are MPEG-1, DVD+R/-R, and DivX.
What is VOB?
Video Object file, or VOB for short, is a DVD movie file that contains MPEG-2 video and AC-3 or other audio data. It is often found in the VIDEO_TS folder with the .vob extension. Moreover, it is also a media file, but most users do not know the method to open it.
Conclusion
If you need to convert MKV video files to DVD, you can always refer to this article. You can use an online solution if you are in a hurry to convert your videos or use an offline tool with many features. Video Creator is one of the programs that can accommodate the needs of most users.