3 Best MPEG to Blu-ray Converters for Windows and Mac 2023
Are you a binge watcher? Especially in movies and other videos? Do you have a large collection of MPEG video files on your computer? Maybe you are wondering if it is time to delete some movies because you are running out of storage. But what if I tell you that you don't have to remove them as you can move them to a storage device? You can use a Blu-ray disc to save your movies and still have a copy. To do that, you must use an MPEG to Blu-ray converter program to safely transfer them to the discs. This post covers all the information about the programs you can use for free. So without further ado, let us go to the first section.

Part 1: Can You Burn MPEG to Blu-ray
Can you Burn MPEG videos to Blu-ray? Absolutely yes. But before we go to the best MPEG to Blu-ray converter software list, let's talk about MPEG first. MPEG is a video format that is widely used for digital streaming and offline watching. They are the perfect choice for that platform since they are quicker to stream and download than other formats. It might be great to have a huge collection of movies on your computer but be reminded that there is a limitation as this depends on the capacity of your hard drives. And that is where Blu-ray discs come in. You can store your MPEG movies and videos to a Blu-ray disc using the MPEG to Blu-ray converters included in this post. Furthermore, you can easily watch these movies using your DVD/Blu-ray players at home. Let's move on to the next section to see the list of programs and a simple guide on how you create a Blu-ray disc.
Part 2: 3 MPEG to Blu-ray Converters
Note: You can only use these products for personal use.
Bluray Creator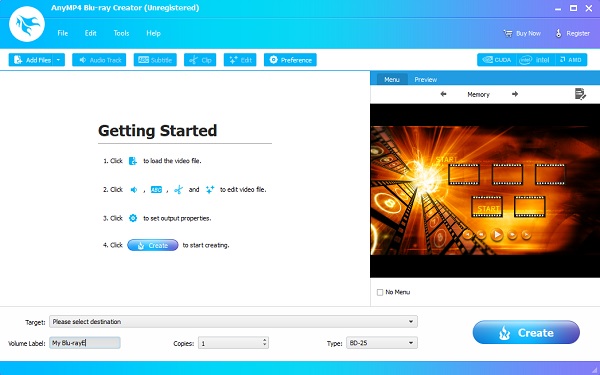 First among the list of MPEG to Blu-ray Converters is Blu-ray Creator. This outstanding program that you can acquire for free is one of the leading programs on making homemade Blu-ray discs. It has easy-to-understand controls that many might find convenient to use. It supports 100+ video formats that you can burn to Blu-ray discs. What's more, you can edit your videos and save them on a disc using the video editing function. You can add subtitles and watermarks, cut and crop videos, and adjust volume and effects. It is 100% safe to use with privacy information protection. This is only available on Windows as of the moment.
Pros:
1. Can easily handle long and heavy process.
2. Can burn high-quality videos with no quality loss.
3. GPU hardware acceleration for faster file burning process.
4. Can create Blu-ray discs in 4K video resolution.
Cons:
All features can only be unlocked by purchasing the product.
Here's how to convert and save your videos in MPEG to Blu-ray discs using the most recommended program for video file burning.
Step 1
Download Blu-ray Creator on your computer, then install it by following the instructions thoroughly. After that, insert a blank Blu-ray disc into your PC and run the application. Click Add Files to import the MPEG movies you need to burn to the Blu-ray disc.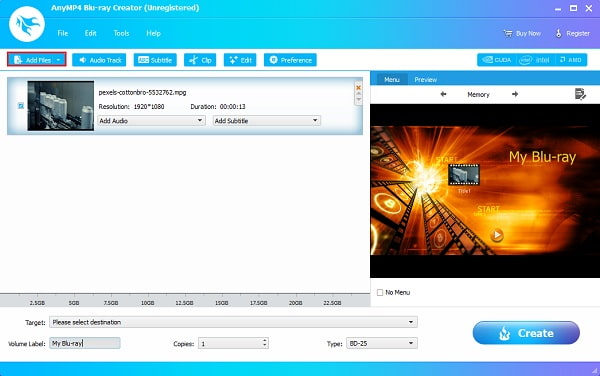 Step 2
After importing, Click Edit to improve the video before burning. A window will appear that allows you to customize the video. You can crop the video, change the aspect ratio, and adjust the brightness, contrast, hue, and saturation. You can also add watermarks of your desired choice. Tap Apply to save the adjustments, then Close to exit the window.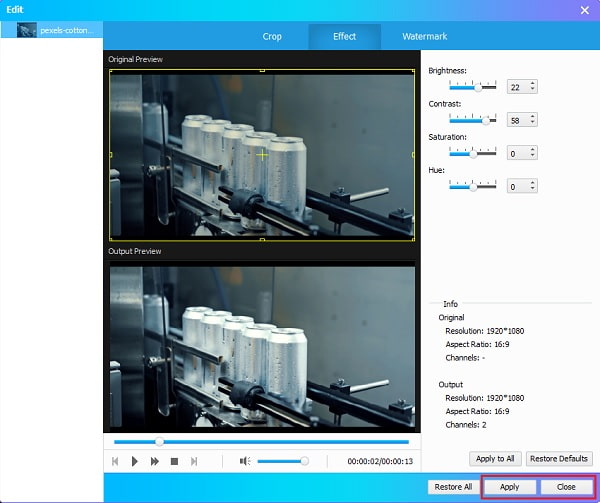 Step 3
On the right side of the interface, you can change the style of your menu template. There are plenty of templates you can choose to make unique Blu-ray discs like Memory, Reminiscence, Music, etc. Select one according to your preference.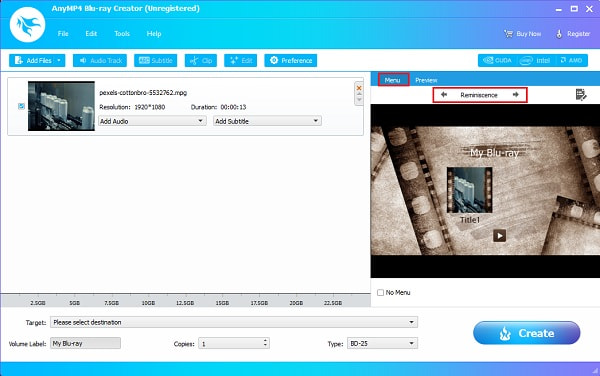 Step 4
For the final step, tap the drop-down menu next to Target to save the video on a Blu-ray disc or in the following option: Blu-ray Folder or ISO file. Afterward, tap Create to start file burning. Please wait for the process to be done before closing the program. Try your newly made Blu-ray movie and watch it in the comfort of your home.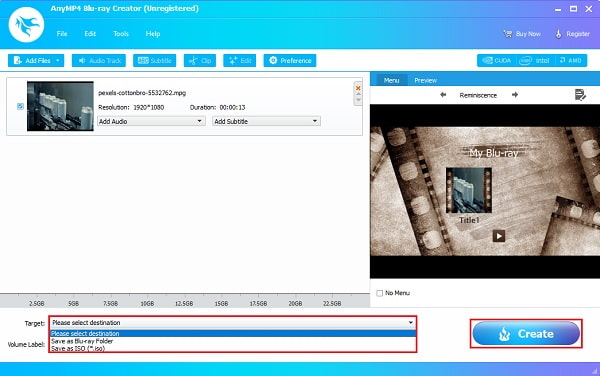 DVDFab Blu-ray Creator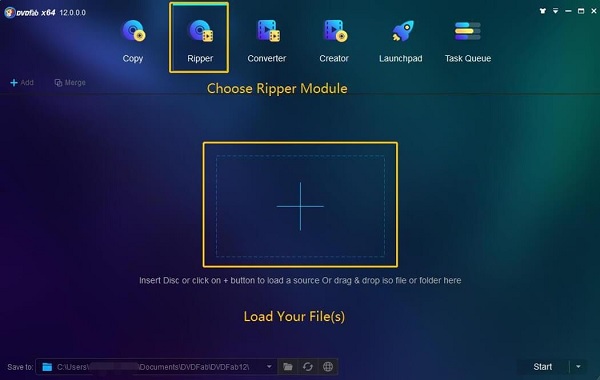 The following MPEG to Blu-ray Converter software on this list is DVDFab Blu-ray Creator. This comprehensive software allows you to burn videos to DVD/Blu-ray discs quickly and easily. The user interface is so simple that almost anyone can use it effortlessly. There are extra functions included as well, like DVD Ripper, DVD Copy, DVD Converter, and other nifty features. It supports several video formats, including the most commonly used ones such as MP4, AVI, MTS, MPEG, etc. You can customize your menu template to add a more personal touch to your Blu-ray disc. This program is free and available on Windows and Mac.
Pros:
1. AI-powered upscaling resolution
2. Hardware-accelerated processing
3. Merge several videos into one Blu-ray disc
Cons:
1. No option to add subtitles on DVDs/Blu-ray
2. Somewhat expensive pricing
NCH Express Burn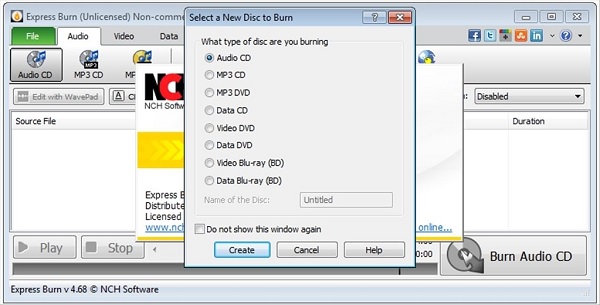 NCH Express Burn is the last MPEG to Blu-ray Converter on the list. It is a competent, free-to-download program that enables users to burn, write and copy video, audio, and data discs. It has a very straightforward interface, so even first-time users can use the program correctly. You can also create and customize your Blu-ray disc by using the 20 menu template or create a unique template, add pictures, and more. In addition, this program allows you to back up data to discs easily. But for users to access all the features it has, you must first purchase the premium version.
Pros:
1. Mac and Windows versions are available
2. Very stable application
3. Fast and easy to use
Cons:
1. Can't create audio DVDs
2. More expensive than other products
3. Lack of security options
Further Reading:
Best 5 MP4 to Blu-ray Video Converters: Burn Blu-ray from MP4 Videos
3 Best AVCHD to Blu-ray Converters in 2023 [100% Working]
Part 3: FAQs about MPEG to Blu-ray Converter
What are the different types of MPEG?
The makers of MPEG had finalized four famous encoding standards and these are MPEG-1, MPEG-2, MPEG-4, and MPEG 7.
What makes MPEG a great format?
MPEG is a great format because of its high compatibility, as it can be played on various players like QuickTime, iTunes, VLC, and Windows Media Player. It is also great to use as the format for backing up videos on CDs, DVDs, and Blu-ray.
Can you play MPEG videos on mobile?
Yes, you can play videos in MPEG format, but not all types of MPEG. You can only playback videos in MPEG-4. So if you have MPEG-1 or MPEG-2 videos, you must first convert them into other formats.
Conclusion
There you have it. Converting and saving your MPEG videos to Blu-ray discs is fun and easy, especially if you use the right MPEG to Blu-ray converter. Blu-ray Creator is one of those programs. You can have a very intuitive, versatile, and powerful DVD/Blu-ray creator for free. Convert your videos now into Blu-ray and have fun watching them with your family and friends.