Simple Approach to Rip Aftersun Blu-ray on Your Computer Efficiently
Aftersun is a film that contains emotional and painful content. It is about the father and daughter relationship that experiences lots of struggles. If you are curious about the film, you can have a good insight by reading the post. We will review the film to help you learn more about it. Also, we will offer an easy way to rip the Aftersun Blu-ray with other video formats. So, check all the essential details by reading the review about Aftersun Blu-ray.
Part 1. What is Aftersun Blu-ray
Aftersun Blu-ray is a 2022 drama film directed and written by Charlotte Wells in her directorial debut. Starring Frankie Corio, Paul Mescal, and Celia Rowlson-Hall, the movie follows an 11-year-old girl with her father at a Turkish resort for his 31st birthday. The movie Aftersun premiered at the Cannes Film Festival on May 21, 2022. It happened when Wells was nominated for the Golden Camera.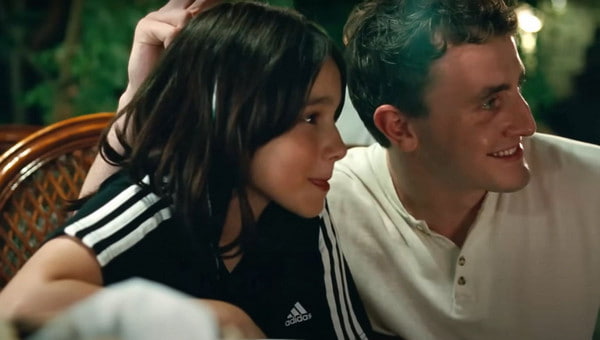 The film received excellent acclaim from critics, who praised and appreciated Wells's screenplay and direction. Aside from that, Aftersun was nominated and named as one of the best movies of 2022 by the National Board of Review. Sight and Sound also awarded it top place.
Part 2. Aftersun Blu-ray Review
In this review, we will give you the movie's simple plot. After that, we will show you its video and audio quality and other necessary information. So, read all the details below to learn more about Aftersun.
Plot of Aftersun
Sophie, an eleven-year-old from Edinburgh, travels to Turkey for a summer vacation. She is with her devoted father, Calum, age 30. He divorced Sophie's mother and then relocated to London. Sophie uses a MiniDV camera to capture the holiday. The footage is included in the movie at various points. Sophie watches older British adolescents at the resort throughout the vacation. They interact and talk about it. She meets Michael, a little boy her age, and they play video games together. Calum struggles with his job and his finances and shows indications of depression. He makes an effort to remain hidden from his daughter. He's maintaining a happy facade throughout the holiday.
Sophie is blind to her father's depressive symptoms. They went scuba diving one day, and she lost her pricey dive mask in the water. Sophie could tell that her father was disappointed in her. She reassures her father that she realizes the mask is pricey. The diving instructor sitting next to them overhears Calum's admission that he is astonished he's still alive at 30. They go to a karaoke event the following night, and Sophie signs Calum and herself up for a song. Despite Sophie's persistence, Calum declines to sing alongside her. As Calum looks on, Sophie enters the stage and sings "Losing My Religion" herself. Sophie is upset at being left alone by him. She declines to go with Calum back to their hotel room and instead hangs out with the kids. She meets Michael again, and their reunion culminates in a kiss by a pool.
The adult Sophie in the rave scenes is the same age as her father when they were on vacation. But she is married and has a young kid of her own. Sophie doesn't have Calum, but the rug he bought is displayed in her apartment. Examining the video footage and her memories, she thinks of the trip to Turkey with her father. She's trying to piece together what happened to him. The movie ends with Calum putting away the camera and leaving Sophie at the airport. Then enters the rave room after strolling down the airport hallway.
Aftersun Video Quality
Thanks to A24, Aftersun is available on Blu-ray in a 1.85:1 AVC-encoded 1080p transfer. Shot on film with Arricam LTs, with some digital footage used as filler. This presentation, finished at a 2K DI, looks stunning. But, there are some deliberate stylistic oddities. Like the frequent rapid cuts to what appears to be videocam footage from the 1970s. The substance is what can then be further "stylized." The sunny outdoor location work in Turkey helps the major narrative presentation. The water's turquoise color and the frequent use of backgrounds with almost saturated reds. It can offer a wide range of tonal ranges in this way. The degree of detail is superb. Wells and Gregory Oke use close-up shots, which explains why.
Aftersun Audio Quality
Aftersun features a fun and immersive DTS-HD Master Audio 5.1 track. The film has lots of interesting source cues underlying several scenarios. There's a memorable karaoke bar that won't be spoiled here. There is a lot of music that can provide some pretty robust support to scenes. There is also a glut of outdoor material, especially with so much water around, which provides solid engagement of the side. The rear channels are for ambient environmental effects.
Genre
Drama
Languages
English, Spanish, and Turkish
Part 3. Aftersun Blu-ray Release Date
Aftersun was released in the United States on October 21, 2022, and in the United Kingdom on November 18, 2022. The movie was released for video-on-demand in the United States on December 20, 2022. Then, it will be available to stream on Mubi on January 5, 2023, in countries where Mubi distributes the film.
PartPart 4. Rip Aftersun Blu-ray
Do you want to rip your Aftersun Blu-ray and turn it into digital? Then use Blu-ray Master Free Blu-ray Ripper. This downloadable program offers a hassle-free method for ripping the Aftersun Blu-ray to other video formats. You can rip the film to MP4, MOV, MKV, WMV, AVI, FLV, and more. Also, the Blu-ray converting process is very quick. You can get the final file in just a few seconds. In addition, the Blu-ray Master Free Blu-ray Ripper can also be ripping multiple Blu-rays in a single go. With that, you can save more time instead of ripping them individually. Plus, you can develop the video with the help of editing tools. The program is not only reliable in ripping. It can also enhance the video using crop, watermark, filters, and effects functions. With that, after enhancing and converting the Aftersun Blu-ray, you can ensure to have an amazing film. See the tutorials below and learn how to rip Aftersun Blu-ray.
Step 1
Download Blu-ray Master Free Blu-ray Ripper on your computer. Then, go to the installation process and open it. But before that, you must ensure that the Aftersun Blu-ray is connected to your computer.
Step 2
Click the Load Disc from the program's interface to load the Aftersun Blu-ray. You can select the Blu-ray from the computer folder.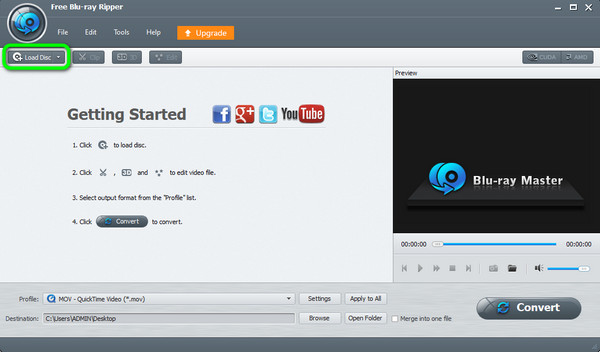 Step 3
Afterward, view various output formats at Profile > General Video. Then, choose your desired video format and click it.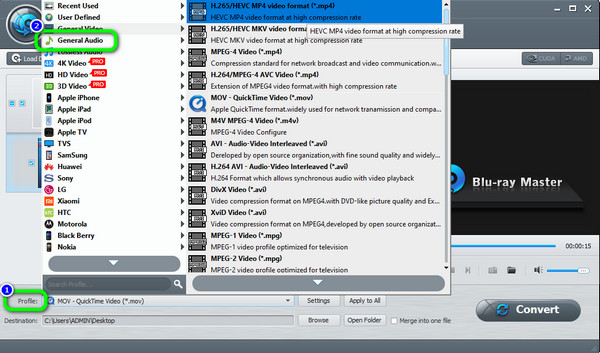 Step 4
To start ripping the Aftersun Blu-ray, click the Convert button. Then, you can already have your final output.
Further Reading:
Excellent Ways to Convert 3D Blu-ray to MKV on PC 2023
How to Rip 15 Minutes Blu-ray: The Best Review and Method
Part 5. FAQs about Ripping Aftersun Blu-ray
What happens in Aftersun?
It is a painful film, to be honest. It is about the fates of every character, and the crippling weight of loss, memories, and mental health issues.
Why is Aftersun so great?
The film is great because of the message it imparts to viewers. It is about the relationship of father and daughter that has painful moments. It is great since it gives a deeper impact to the audience, especially when watching the film.
Is Aftersun a slow burn?
Yes, it is. The Aftersun that starts Paul has a long, slow-burn exploration of parenthood and mental health issues. It is according to Charlotte Wells, the writer and director of the movie.
Is Aftersun just moisturizer?
It is not just a moisturizer. Aftersun does contain other soothing ingredients that can calm skin after burning. It also helps to reduce redness.
Is aloe vera or aftersun better?
The two are both better. Aloe vera and aftersun can help you soothe the damaged skin.
Conclusion
Now, you have become knowledgeable about Aftersun Blu-ray. Aside from that, you discover how painful yet amazing the film is. Plus, the article included the best way to rip the Aftersun Blu-ray using Blu-ray Master Free Blu-ray Ripper. You can follow the hassle-free methods above to rip your Blu-ray quickly.