Best 12 Places on How and Where to Watch Euphoria
Euphoria became the most-watched show since its release in 2019. The series has captured many fans across the world and on the internet. Since the show is exclusively aired on HBO, some want to know other streaming services to watch it. If you're one of them, keep reading this guide. Here, we list down the top places to answer your question, 'Where can I watch Euphoria?'. Without further ado, let's head to the following parts of this post.

Part 1. What is Euphoria
Euphoria, created by Sam Levinson, is a television series that first premiered in 2019 on HBO. The show explores different complex and sensitive themes. It includes drug addiction, mental health, sexuality, relationships, and identity. The central storyline follows Rue, a teenager struggling with addiction, and her attempts to overcome it. Her life takes a dramatic turn when she meets Jules Vaughn. Jules is a transgender girl who moves to town. The two form a close bond, which becomes a central element of the show's narrative. The series has received approval and praise for its portrayal of the struggles faced by young people today. It has sparked important conversations about these issues.
You can proceed to the next section to find places to watch Euphoria.
Part 2. Where to Watch Euphoria
1. HBO Max
Technically, Euphoria Seasons 1 and 2 are exclusively aired on HBO. Yet, if you plan to watch all the episodes of the show, you need to subscribe to HBO Max. With it, you can access more content that's not included in the standard HBO cable plan.
Prices: HBO Max - $9.99/month; HBO Max (No Ads) - $15.99/month
Limitation: HBO Max is available only in Latin America and the Caribbean.
2. Amazon Prime Video
You can also watch Euphoria with Amazon Prime Video. But note that it is not for free. To stream the series, you need to buy or rent each season or episode individually.
Prices:One episode costs $3.99 each; One season costs $24.99 each.
Limitation:Amazon Prime Video is not available in Mainland China, Iran, North Korea, Russia, Belarus, and Syria.
3. Hulu
Although Hulu doesn't have the Euphoria series on their platform, you can sign up with their free 7-day trial. Then, you can access HBO Max and watch the show for 7 days. After the trial, Hulu will begin to charge you per month and additional for HBO Max if you continue.
Prices:Hulu - $7.99; Hulu (No Ads) - $14.99; Hulu+Live TV (Disney+ and ESPN+ included) - $69.99; Hulu+Live TV (No Ads) (Disney+ and ESPN+ included) - $82.99
Limitation:Availability depends on your Hulu subscription package.
4. Google Play Movies & TV
Another way to watch the series is through the Google Play Movies & TV application on your iOS and Android device. As the app's name implies, you can watch movies and TV series using it.
Prices:Each episode costs $2.99; Parts 1 and 2 (Special) cost $4.99; The Complete First Season costs $19.99; Season 2 costs $22.99.
Limitation:Availability may vary by region.
5. Vudu
With Vudu, you can also watch Euphoria. It is a movie and TV show streaming service app. In addition, it offers the option to buy or rent episodes or seasons.
Prices:Each episode costs $3.99; One season costs $22.99.
Limitation:Availability of the show on the app may vary by region.
6. 1movieshd
How to watch Euphoria without HBO? 1movieshd can help you. It is another workable way to watch the series for free online.
Prices:Free
Limitation:The page has loads of ads.
7. Blu-ray Disc
The Euphoria TV series also released its Blu-ray version. It allows you to watch the series with enhanced sound and 1080p video resolution. If you're a disc collector, you will enjoy this version.
Prices:Season 1-2 Blu-ray - $35.99
Limitation:Blu-ray player is needed.
8. iTunes
Everyone must be familiar with iTunes. Aside from helping you organize your data on iTunes, you can stream videos and movies on it. Yet you need to buy Euphoria, and it depends on your region.
Prices:Each episode costs $3.99; One season costs $22.99
Limitation:Availability of the show on iTunes may vary by region.
9. Crave
If you're from Canada and looking for where to watch Euphoria online, you can try Crave. It is a streaming service that enables you to stream HBO and STARZ movies and TV Shows.
Prices:CA$9.99 a month (1 device); CA$19.99 a month (5 devices and viewing offline).
Limitation:Available for Canadian residents only.
10. Sky
Last but not least is Sky. Sky allows UK residents to stream Euphoria. Users can also link their Netflix account with it.
Prices:Sky TV, Netflix & Superfast Broadband - £39/month; Sky Stream, Sky TV & Netflix - £26/month
Limitation:It might not be available in some regions.
Part 3. How to Watch Euphoria Offline
Option 1. Play Euphoria in Blu-ray
'Where can I watch Euphoria offline?' is one of the commonly asked questions. If you have a Blu-ray disc but do not have a player, try the Blu-ray Player chosen by Blu-ray Master. It is the best and most professional way to play Blu-ray films on your computer. With it, you can keep the quality of your disc while watching. In addition, it offers playback controls. You are allowed to pause, stop, forward, and backward the movie you're playing. What's more, using its Menu options, you can play the movie immediately, choose chapters, subtitles, and so on. Not only that, Blu-ray Player enables you to watch Blu-ray folders and ISOc image files. Now, start your Euphoria series offline using this tool. Here's how to use it:
Step 1
First and foremost, insert the Euphoria Blu-ray on a disc drive. Then, download Blu-ray Player on your Windows/Mac computer. Next, install and launch the tool.
Step 2
After that, click the Open Disc on the tool's main interface. Now, select the Blu-ray disc you have inserted on the small window that appears.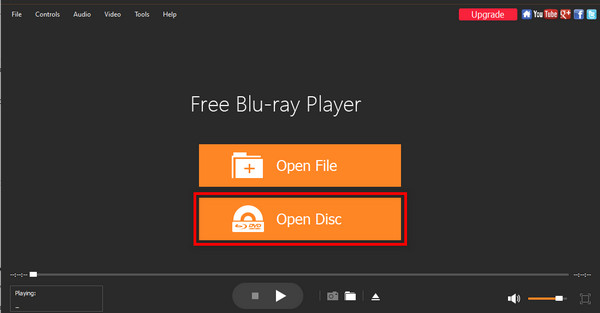 Step 3
Finally, watch Euphoria Season 1 and 2 with the software. Optionally, you can use the playback controls and Menu options to customize streaming. Also, you may take a snapshot with it.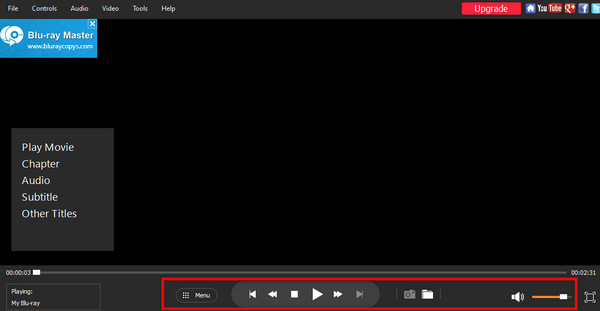 Option 2. Record Euphoria
If you plan to save the Euphoria show on your computer, it is possible with Screen Recorder. It is the software that lets you record your computer screen. With it, you can watch Euphoria and record it to export it locally. Apart from movies or series, you can record gameplay, conferences, video calls, etc., with the Screen Recorder. Another thing, you can customize the various settings depending on the function you've chosen in the software. That is why Screen Recorder is another best option to watch Euphoria offline and save it on a computer afterward.
Step 1
Download and install Screen Recorder on your PC. Open the tool after the installation.
Step 2
Then, keep the computer screen on the Euphoria interface you wish to record. Afterward, choose Video Recorder on the main interface of the software.

Step 3
Now, you can customize the Display and System Sound settings to your desired output. Then, hit the REC button to execute the recording of the Euphoria series,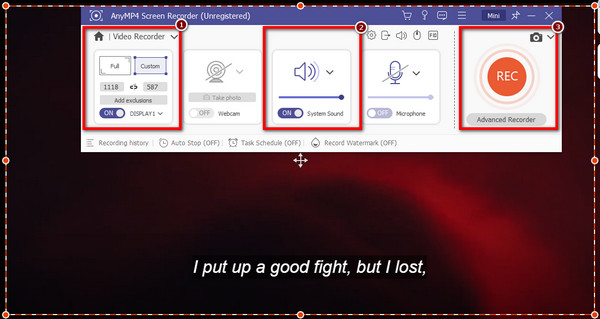 Step 4
After recording, you'll see a preview of your recorded screen. Finally, hit the Done button to save it in your local folder. That way, you'll be able to watch Euphoria offline.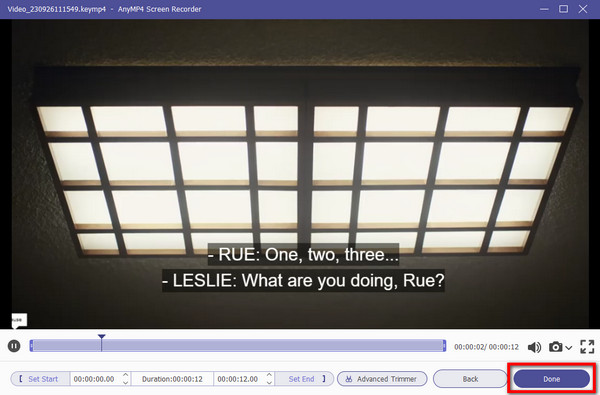 Further Reading
Top Reliable 3GP Players for PC and Mobile Devices
5 Incomparable Ways to Play Blu-ray on PC & Mac
Part 4. FAQs About Where to Watch Euphoria
Is Euphoria available on Netflix?
Unfortunately, no. Currently, Euphoria is not available on Netflix. It is primarily available on HBO platforms.
Is HBO Max free?
HBO Max is not free. It is a subscription-based streaming service. Also, you need to pay a monthly fee to access its content. In addition, there is no free trial version.
Is Euphoria on Netflix or Prime?
Euphoria is not available on Netflix. It can be purchased or streamed through platforms like HBO Max, Amazon Prime Video, or other options mentioned earlier.
Is Euphoria on Netflix or Disney Plus?
The TV series Euphoria is not on Netflix, as well as on Disney+. You can rent or buy it on the platforms discussed above.
Conclusion
In conclusion, you've learned what you can watch Euphoria on, including how and where to watch it. Aside from the streaming services mentioned, there are more ways to watch the show. If you already have a disc of the series, you can watch it on Blu-ray Player with ease. At the same time, save it on your computer for future purposes through Screen Recorder. These tools will enable you to watch Euphoria offline and more conveniently. So, try them to experience their full features and capabilities.